In a Domino's SWOT analysis, we look at how "the largest pizza company in the world" has cornered the pizza restaurant industry. The pizza industry is a 141 billion dollar (USD) industry and Pizza Hut, Papa John's, and other pizza competitors have ensured competition remains stiff against Domino's. In this SWOT analysis of Domino's, we will look at its strengths, weaknesses, opportunities, and threats.
Domino's History
In Ypsilanti, Michigan, Tom Monaghan and his brother James established Domino's Pizza, a national chain of pizza eateries. When the business encountered legal issues with another eatery with a similar name, it changed the restaurant's name from "Dominick's" to "Domino's Pizza" in 1965.
In 1967, Domino's opened the doors to its first franchise location; by 1978, there were 200 Domino's locations spread across the country. After opening its first location in Canada in 1983, the business started to grow internationally in the 1980s, opening additional locations in Europe, Australia, and Japan.
In a Domino's SWOT analysis, focusing on delivering hot, fresh pizzas quickly was one of the main factors in Domino's success. The business implemented a 30-minute delivery guarantee, which turned out to be a well-liked marketing gimmick, as well as a specialized delivery system that made it possible for quicker and more effective pizza delivery.
In addition, Domino's was an early adopter of technology in the pizza industry. The company was one of the first to use computers for ordering and tracking deliveries, and it also developed a popular mobile app for ordering pizza.
The largest pizza restaurant chain in the world today, Domino's has more than 17,000 locations spread across more than 90 countries. In order to better serve its customers' changing needs, the company has kept up its innovative practices by adding new menu items and enhancing its online ordering and delivery capabilities.
Domino's SWOT Analysis At-A-Glance
| | |
| --- | --- |
| Company | Domino's |
| Industry | Restaurant, Pizza |
| Founder | Tom Monaghan, James Monaghan |
| Year founded | 1960 |
| CEO | Russell Weiner |
| Headquarters | Ann Arbor, Michigan |
| Number of employees | 11,000+ (2022) |
| Revenue (FY 2022) | US $4.537 Billion (2022) |
…
Domino's SWOT Analysis:
A SWOT analysis is a framework used to assess a company's competitive situation and to create strategic planning. By taking Domino's strengths, and weaknesses of Domino's threats of Domino's as well as opportunities of Domino's into account, we may better gain in-depth knowledge about Domino's company. In this article, we'll be taking a look at Domino's SWOT framework to better understand its competitive position and potential for future growth. See how Domino's competitors fare against them and learn about Domino's Strengths, weaknesses, opportunities, and Domino's threats.
Domino's SWOT Analysis Strengths:
The areas where a company excels above average or in a manner that distinguishes it from its rivals are its strengths. Domino's strengths are outlined in this Domino's SWOT analysis. In a SWOT analysis of Domino's, some of its strengths compared to competitors include:
Established brand: Over the years, Domino's has developed a loyal customer base thanks to its recognition as a leading pizza brand. The business is renowned for its quick and effective delivery times and has built a solid reputation for its delivery service.
Worldwide reach: With over 17,000 locations spread across more than 90 countries, Domino's has a sizable global footprint. The result is a sizable customer base and a dominant market position for the business.
Efficient supply chain: In a Domino's SWOT analysis, pizzas from Domino's are quickly delivered to customers because of its effective supply chain management system. The business can control ingredient quality and cut costs because its supply chain is vertically integrated.
Technology-driven: Domino's has invested heavily in technology to enhance its customer experience. The company's online ordering system is user-friendly, and customers can track their orders in real-time. Additionally, Domino's has also introduced new technology-driven innovations like its AI-powered virtual assistant, Dom. Learn more about Domino's use of AI tools, including self-driving cars:
Product innovation: Domino's is constantly innovating its menu and introducing new products to cater to changing customer preferences. For example, the company introduced a gluten-free crust in response to the growing demand for gluten-free options.
Domino's also has a dough manufacturing plant that helps them cut down on supply-chain issues. In a Domino's SWOT analysis, this manufacturing facility mixes, kneads, portions, proofs, freezes, and packages the pizza dough.
Domino's SWOT Analysis Weaknesses:
Weaknesses of a company are those that limit its potential, make it less competitive, and prevent it from achieving its goals. In this section of Domino's SWOT analysis, we'll look at Domino's weaknesses.
Dependence on franchisees: Domino's relies heavily on franchisees to run its business, so it has less control over the caliber of its goods and customer support. Franchisees might not always follow the company's standards and regulations, which could cause inconsistent brand experiences.
Limited menu: While Domino's is known for its pizza, it has a limited menu compared to some of its competitors. This may limit its appeal to customers who are looking for a more extensive range of menu options.
What are Domino's Weaknesses?
Negative health perceptions: The fast-food industry has faced criticism for its impact on public health, and Domino's is no exception. The company's menu is high in calories, saturated fat, and sodium, which may deter health-conscious customers.
Limited international growth potential: While Domino's has a significant global presence, it may face challenges in expanding further into certain international markets due to cultural differences, local competition, and regulatory hurdles.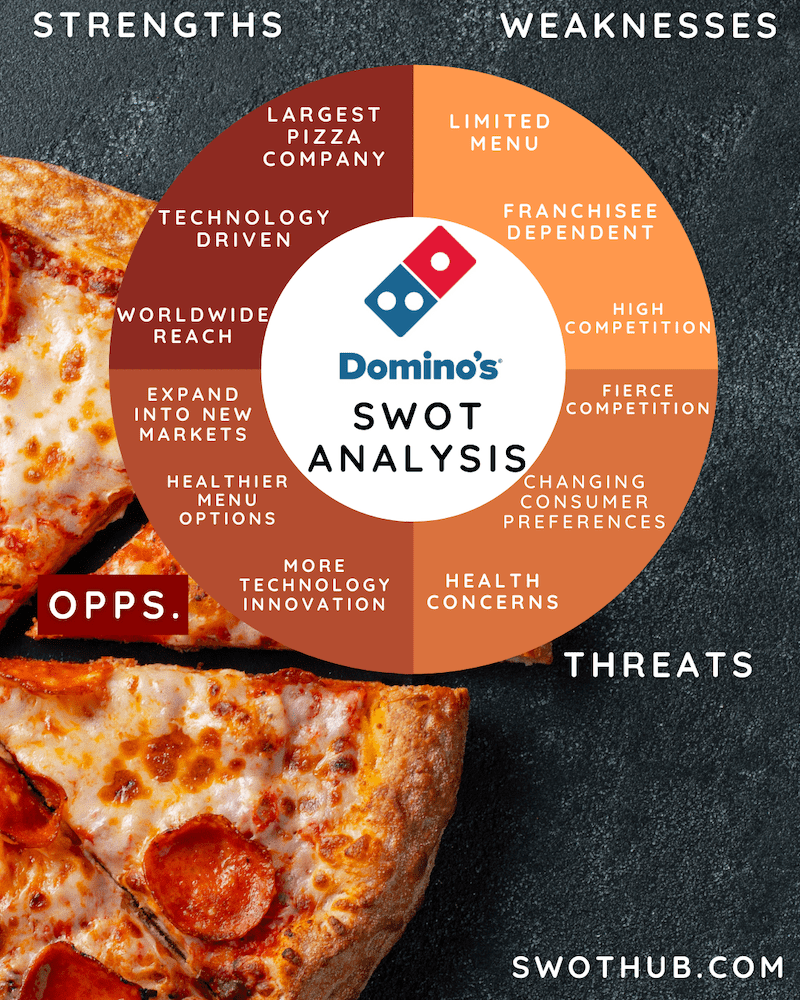 Domino's SWOT Analysis Opportunities:
Domino's exists in a world full of opportunities. The following portion of Domino's SWOT analysis will examine some of Domino's opportunities compared to competitors including:
Expansion into new markets: In a Domino's SWOT Analysis, Domino's can continue to expand into new geographic markets and capture a larger share of the global pizza market. This includes expanding into emerging markets with high growth potential, such as Asia and Africa.
Online ordering and delivery: The increasing popularity of online ordering and delivery services presents an opportunity for Domino's to enhance its online ordering platform and delivery capabilities. This can help to attract new customers and increase sales.
Healthier menu options: There is a growing trend towards healthier eating habits, and Domino's can take advantage of this by introducing healthier menu options, such as low-calorie pizzas, salads, and vegetarian/vegan options.
Collaborations and partnerships: Domino's may team up with other businesses to enhance or diversify its product line. For instance, collaborating with beverage companies to provide soft drinks and other beverages or with technology companies to improve their online ordering platform and delivery system.
Technology and innovation: To improve its goods and services, improve the customer experience, and stay one step ahead of its rivals, Domino's can continue to invest in these areas. This includes utilizing artificial intelligence (AI) and machine learning to speed up deliveries and provide more personalized customer service.
Domino's SWOT Analysis Threats:
Threats pose a risk to every company's stability and profitability. In a SWOT analysis of Domino's, we will address some of the threats that are important to examine.
Changing consumer preferences: Consumer preferences and trends can change rapidly, and Domino's may struggle to keep up with these changes. If the company is slow to adapt to changing tastes and preferences, it may lose customers to competitors.
Economic downturns: Economic downturns and recessions can impact consumer spending, which can affect the demand for Domino's products. If consumers are cutting back on discretionary spending, they may be less likely to order pizza, which can result in lower sales for the company.
Health concerns: Health concerns related to fast food and processed foods can impact the demand for Domino's products. Consumers may be increasingly health-conscious and opt for healthier food options, which could result in decreased sales for Domino's.
Domino's needs to increase its marketability: In a Domino's SWOT analysis, the ability to attract more customers while keeping its product offerings affordable is a big threat for Domino's.
Intense competition: The pizza industry is highly competitive, and its largest competitors: Pizza Hut and Papa John's, have increased their marketability over the years.
Who is Domino's Biggest Competitor?
In a SWOT analysis of Domino's, its competitors would fall under the "threats" category. Here are some of Domino's main competitors in the pizza chain restaurant industry.
Domino's Pizza faces stiff competition from several other pizza chains, including:
Pizza Hut: One of the biggest pizza chains in the world, Pizza Hut has more than 18,000 locations spread across more than 100 nations. The restaurant chain is well-known for its specialty pizzas, including its stuffed crust and traditional pan pizza.
Papa John's: Papa John's is a popular pizza chain with over 5,000 locations in 45 countries. The chain is known for its use of high-quality ingredients and its commitment to customer service.
Little Caesars: With more than 5,000 locations in the US and abroad, Little Caesars is a rapidly expanding pizza chain. Pizzas from the chain are well-known for being "Hot-N-Ready" and always available for pick-up right away.
Pizza Express: Pizza Express is a popular pizza chain in the United Kingdom with over 470 locations. The chain is known for its freshly made pizzas and innovative menu items.
Papa Murphy's: In the United States, Canada, and the United Arab Emirates, there are more than 1,300 Papa Murphy's take-and-bake pizza restaurants. Customers can take their customized pizzas home and bake them themselves at this franchise, which is well-known for this.
California Pizza Kitchen: is a casual dining franchise with more than 200 locations both domestically and abroad. The restaurant chain is renowned for its inventive pizzas with distinctive toppings and flavor fusions. 
Dominos SWOT Analysis: Conclusion and Recommendations:
Domino's needs to focus on a number of key strategies to remain competitive in the pizza restaurant chain industry. To increase its marketability Domino's should consider:
Expand the menu: Domino's could add more items to its menu, such as salads, sandwiches, and appetizers, in addition to pizza. Customers seeking a more varied menu selection may be drawn by this.
Concentrate on product innovation: To keep up with shifting consumer preferences and distinguish itself from rivals, Domino's should innovate its products going forward. Topping and crust options can be increased, or healthier menu options may be introduced.
Enhance ingredient quality: To enhance the flavor and standard of its products, Domino's may want to look for high-quality ingredients. By doing this, the brand may be able to stand out from the competition and draw in customers who value quality.
Personalize the customer experience: Domino's could use technology to personalize the customer experience, such as by offering customized toppings or personalized recommendations based on previous orders.
Enhance the online ordering platform: Domino's could invest in improving its online ordering platform to make it more user-friendly and seamless. This can make it easier for customers to order from Domino's and increase customer loyalty.
Offer healthier options: Domino's could introduce healthier menu options, such as low-calorie pizzas or vegan/vegetarian options. This can appeal to health-conscious customers who may have previously avoided fast food.
FAQs for Domino's SWOT Analysis
What makes Domino's different from its competitors?
Domino's emphasizes technology-driven delivery and ordering solutions, like its mobile app and real-time tracking feature. This focus enhances customer convenience and improves operational efficiency.
What business model does Domino's operate?
Domino's operates on a franchise model, which allows for rapid global expansion. The company earns through franchise fees, royalties, and also by selling ingredients to franchisees.
How does Domino's make profit?
Primarily, Domino's profits through franchise royalties and fees. It also earns by selling dough, toppings, and other supplies to franchisees. Advanced technology and efficient delivery services contribute to better margins.
Overall, these strategies can help Domino's to increase its marketability and appeal to a broader customer base, which can ultimately drive growth and increase profitability.