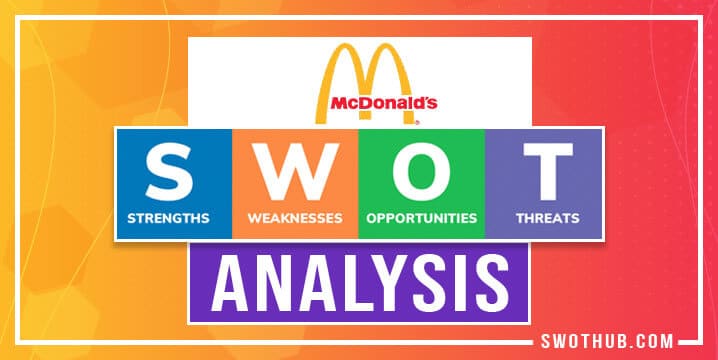 McDonald's is an American fast-food company that mainly focuses on fast food. It sells its product in 118 countries. It has over thirty-four thousand outlets. It was founded in 1940 as a restaurant owned by Richard and Maurice McDonald's. The very first outlet was in California, United States. A McDonald's SWOT analysis helps the company executives to analyze and assess all the internal and external factors of the community.
A McDonald's SWOT Analysis is a proven management framework that enables McDonald's to benchmark its business & performance as compared to the competitors and restaurant industry.
McDonald's – At A Glance
| | |
| --- | --- |
| Company Name | McDonald's |
| Industry | Restaurants |
| Founded | May 15, 1940 |
| Founders | Richard and Maurice McDonald |
| CEO | Chris Kempczinski |
| Headquarter | Chicago, Illinois, U.S. |
| Annual Revenue | $21.076 Billion (FY 2019) |
| Website | www.mcdonalds.com |
McDonald's SWOT Analysis
SWOT analysis is a strategic planning frame that can be used by the company managers to get a successful situation analysis of the company. A McDonald's SWOT analysis framework can assist them to realize their internal strategic factors such as strength and weakness, and also their external strategic factors such as opportunity and threats.
McDonald's maintains its intimidating presence in the business sector only by reviewing the SWOT analysis regularly and improving itself. So, a McDonald's SWOT analysis will be of great use for this company.
Strengths of McDonald's in SWOT Analysis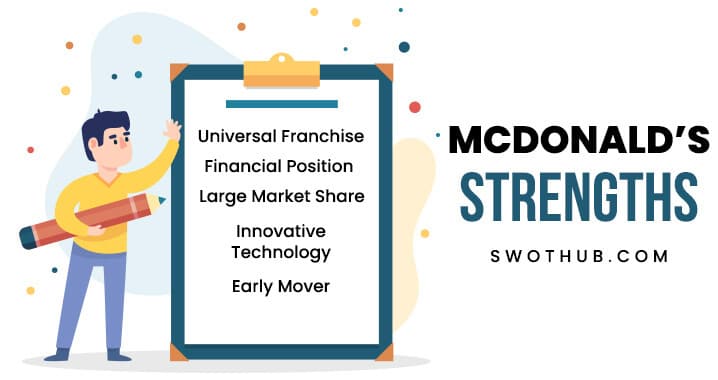 McDonald's has a plethora of strengths that will help it to thrive in the main field. A McDonald's SWOT analysis will help to focus on these strengths. Some of these strengths are enlisted below:
Universal Franchise: McDonald's is a worldwide multinational company. It is famous for its fast food in 118 countries across the globe. So, it has a great deal of the global footprint. This makes it more recognizable to the public and helps with its publicity. So, it can implement its global thinking with local execution. This means that it can pursue its ubiquitous goals and can still win the hearts of its consumers.
It is also the most popular for studies regarding fast serving and fast-food restaurants. It is also the most commonly used brand name for college articles. These speak volumes about its popularity and famousness. All of this help them to gain new customers in an effortless manner. It is also effective in intimidating their competitors.
Financial position: McDonald's has a strong financial base. It has garnered a total of fast food. It has been gaining market slowly but surely for about 80 years. It has earned the public trust as a star company. Its financial position has it on a point of a pure advantage that increased its market value and brand name by leaps and bounds. In 2019, it earned a revenue of 21.98 billion dollars So this financially secure position does good for the company.
Large market share: McDonalds is considered the largest player in terms of size and global reach. When Wendy's or Burger King lost market share in 2006, McDonalds was still increasing its market share. McDonald's market share was recently around 19%, while Yum! Brands is 9% and Wendy's and Burger King are 2%.
McDonalds Win Plan – The customer-centric initiative: McDonalds Win Plan provides a common framework for your global business, but allows for local customization. By implementing initiatives around the five elements of your plan to win: people, products, location, price, and advertising – McDonalds has improved the dining experience for customers around the world, increasing sales and customer visits. This plan, combined with financial discipline, has produced solid results for the company's shareholders.
Innovative technology: McDonald's remains state-of-the-art worldwide; In Brazil, for example, McDonald's is currently exploring the installation of Internet access terminals in some outlets, and in addition to allowing customers to order online, resulting in a more efficient process that reduces the waiting time between a customer's order and order pick-up.
Specialized manager training: McDonalds takes manager training very seriously. This company has its own program for professional management training, the Hamburg University. As a result, McDonalds has many good managers who can support the company's development well.
Early mover: McDonalds is considered the first to enter the fast-food industry, initiates another brand to enter this industry. When they think of fast food, customers always remember McDonalds first. In fact, in some large countries, particularly the US, McDonalds is the number one choice for many customers.
Weaknesses of McDonald's in SWOT Analysis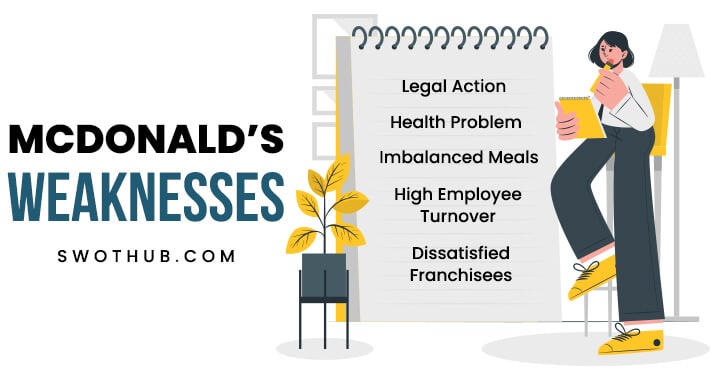 Weaknesses are part of the internal factors of a company. A McDonald's SWOT analysis will bring many of these to light.
Legal Action: McDonald's was involved in a number of legal proceedings and other legal cases during the course. For example, there are many cases related to the trademark problem. McDonald's rebranded many other restaurants and one-coffee-shop businesses. Due to the retention of the letters "Mc".
Health Problem: McDonalds use Trans—fat and beef oil in their food. Though it's not illegal, it affects badly on customer's health badly as a result of Trans—fat is the cause of any reasonable cancer. Consequently, a variety of consumers who care about their health stop indigestion at McDonald's restaurants. It makes the revenue of the company decrease.
Imbalanced meals: Although McDonalds tries to update its menu with healthy criteria, McDonald's meals remain unbalanced, for example, there are many dishes with chicken (both grilled and fried), bacon, beef, ribs or egg. Salad with vegetables and fruits, the number of fruits or vegetables is also not much.
High employee turnover: Although McDonalds has many good managers and skilled employees, the turnover rate is still high. Many of his employees are laid off from restaurants every year. In addition, many others quit their jobs, especially part-time workers because of low salaries and excessive work pressure.
Dissatisfied Franchisees: Franchisees are getting very dissatisfied with the fees McDonald's is putting on them, and as the company continues to expand, they are also increasing the fees franchisees have to pay for using the infamous brand of fast food. People are not very happy about it and many franchisees are selling their businesses as a result.
Opportunities for McDonald's in SWOT Analysis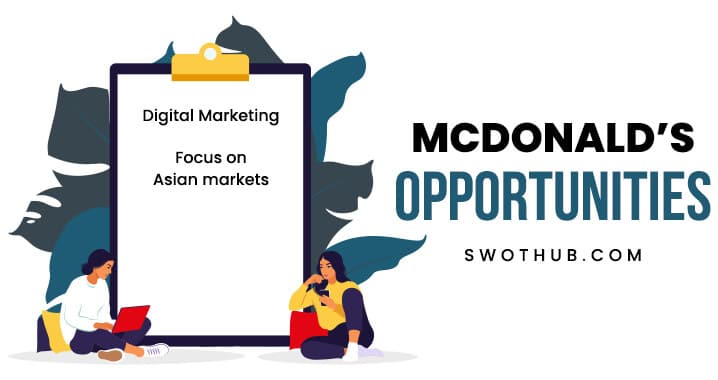 The opportunities are outside factors of a company that they can exploit for profit and benefits for themselves. A McDonald's SWOT analysis will help the executives to contemplate them before their next big move.
Digital Marketing: Today's world is talking about digital marketing and it has driven many leading brands around the world to increase their market share and sales. McDonald's is also increasing its competitive advantage by dedicating itself to be digital. McDonalds is already using important digital channels for marketing purposes. In addition to the various social media platforms, other digital marketing channels include corporate websites, loyalty blogs, and marketing. Digital marketing can make the brand accessible to many. McDonald's uses digital technology for employee engagement, engagement and supply chain management and franchise management.
Focus on Asian markets: The Asian market offers enormous business opportunities. In countries like China, Singapore, Malaysia and other Asian countries, there is a great demand for fast food in the current generation. Many people prefer a quick bite. Asian countries have flourished in recent years, increasing the purchasing power of middle-class customers, so McDonald's should find various strategies to increase its entry into Asian markets, which would increase the brand's customer base and income.
Threats for McDonald's in SWOT Analysis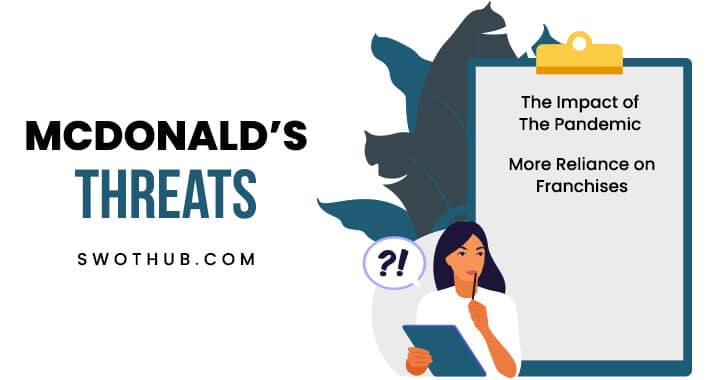 Threats are the most important part of a swot analysis. A McDonald's SWOT analysis will point out the threats to this community that has been holding it back.
The Impact of the Pandemic: This is the time of pandemics. McDonald's is one of the leading companies in the consumer goods department. Even though this pandemic has failed to make any big impact on the sales figure, that does not mean that the magnitude of the situation is any less. This pandemic has affected the manufacturing, distribution, and purchasing of McDonald's products. This has fueled major changes in McDonald's business strategies.
More reliance on franchises: McDonald's business model is more dependent on its franchises, which primarily run about 90% of McDonald's business. McDonald's business has been stable so far, franchise problems keep cropping up on franchise units. There would also be additional control. If the franchise does not cooperate and its financial performance is not too good, it becomes difficult for the company. Sometimes executing the main campaign or a major strategic decision would be difficult without a franchise recognized. Hence, the overall role of the franchisee in general becomes critical and important in order for the company to run its franchisee well.
McDonald's SWOT Analysis Overview Template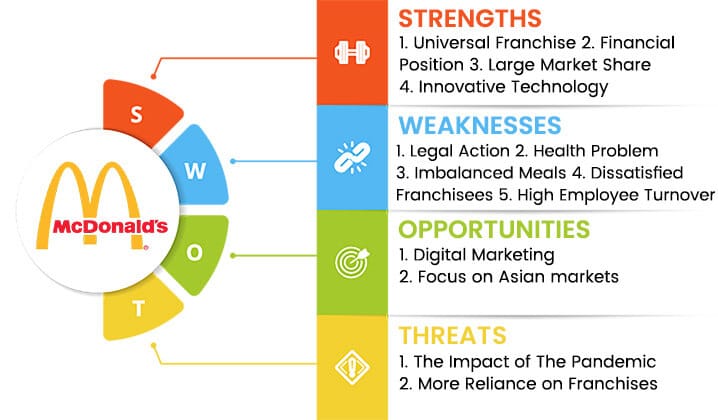 Conclusion & Recommendations for McDonald's
Here are some recommendations for McDonald's to improve their market game from the experts:
Improving the health and safety of the company's employees.
Enhancement of the people by a long shot.
Encourage the workers to be creative
Lifting the team morale by achieving the team goals.
In conclusion, it can be said that a steady line of profit and global reach are the key strengths of McDonald's. As for its greatest weakness, that would be ELEPHANT. It may not look like much, but it is a huge load to carry.
A McDonald's SWOT analysis helps the company in many different ways. Only because it would allow the executive directors to theoretically take apart the company's strategic approach to this day and scrutinize them.