The world of logistics and efficiently transporting freight worldwide is big business! This FedEx SWOT analysis will highlight the strengths and weaknesses of this company and see how they remain a high competitor in the logistics niche.
FedEx Corporation (FedEx) supplies its customers under the FedEx brand with a broad range of services in transport, e-commerce, and business. The company's strong market position and diverse business operations are its key strengths, despite its low operational efficiency and return on equity. Global economic conditions and intense competition may stifle its growth in the future. However, strategic expansions and a positive short- and long-term outlook for air freight and logistics may provide the company with ample growth opportunities.
FedEx SWOT Analysis – At A Glance
| | |
| --- | --- |
| Company Name | FedEx Corporation |
| Industry | Courier |
| Founded | 1971 |
| Founders | Frederick W. Smith |
| CEO | Frederick W. Smith |
| Headquarter | Memphis, Tennessee, USA |
| Annual Revenue | $193.959 Billion (FY Ended May 31, 2021) |
| Website | www.fedex.com |
The History of FedEx and their Logistics Empire
FedEx SWOT Analysis
A FedEx SWOT analysis will assist in determining the company's current position as well as assessing its business prospects and future growth.
FedEx SWOT Analysis Strengths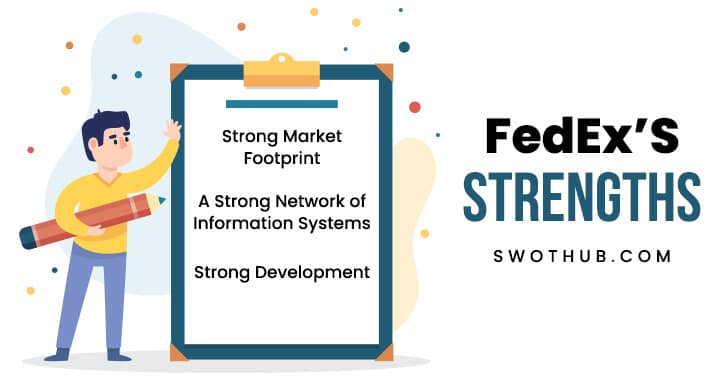 First off, in the swot analysis chart, we should analyze the strength of FedEx.
Strong Market Footprint: It has an advantage over its competitors because FedEx has a solid market position. FedEx is the world's largest express transportation company with a one- to three-day shipment schedule and markets that cover more than 90 percent of the world's gross domestic product. It offers deliveries in the US and 220 other countries of small packages. More than 31,500 corporate trailers have been installed in FedEx Ground. In 2021, FedEx ranked 16th in the "World's Most Admired Companies" magazine FORTUNE "World's Most Admired Companies".
The company was ranked in the top 20 in this year's ninth consecutive year. In 2010, FORTUNE was included among the "100 Best Working Companies in America," and in 12 of the last 13 years, the company became listed. In addition, Black Enterprise magazine ranks among the 40 best diversity companies. Furthermore, in the category of express delivery, FedEx continued to hold the highest level of customer satisfaction in the US Customer Satisfaction Index of the University of Michigan Business School. In 2010, FedEx Express won the "Best Global Cargo Hub" award for its Memphis World Hub from the Institute of Transport Management.
With over 280000 team members, the company has an excellent human network that focuses on security, ethics, and professional standards. The strong market and brand equity footprint are supporting the enterprise's inception into new markets and the launch of new services.
A Strong Network of Information Systems: FedEx's information systems help FedEx to serve its customers efficiently and connect with various companies. The integration of information helps the enterprise to gain synergies through its various operating units. Their website, fedex.com, offers all their customers a single point of contact.
It provides its clients with shipment tracking, invoicing, customer service, and other FedEx Office services.
Similarly, the company may be contacted and the different surface and air freight shipping options provided by FedEx can be quickly and easily assessed and the best option can be selected. A strong network of information systems, therefore, enables the company to offer its customers an efficient freight service based on pick-up and delivery requirements, product character, and time sensitivity.
Strong Development: At the end of the financial year 2010, FedEx traded at a price/earnings ratio of 22.47. This is over the average of 18.19 for the S&P 500 companies. More than the average P/E company S&P 500 indicates high growth prospects, reflecting the premium pricing of the company's stock.
FedEx SWOT Analysis Weaknesses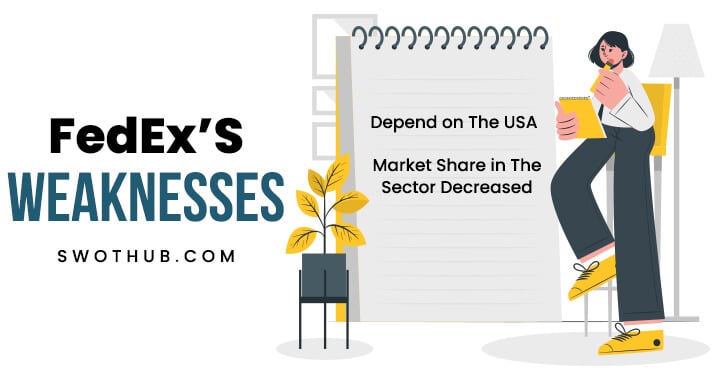 The weaknesses or areas to be improved are discussed next in the FedEx SWOT analysis.
Depend on The United States: Although the company operates in more than 220 countries all over the world, its revenues depend heavily on the US market. The company is at risk as political, business or climatic changes in the region become over-dependent on a particular market.
Market Share in The Sector Decreased: For Fiscal Year 2010, the operating margin for FedEx was 5.75%. This is below the average of 7.26 percent of S&P 500 companies'. A lower operating margin than the S&P 500 companies indicates a weak cost management strategy for the company. The company's compound annual growth rate has decreased as a result of the decline in operating margin.
Opportunities for FedEx in SWOT Analysis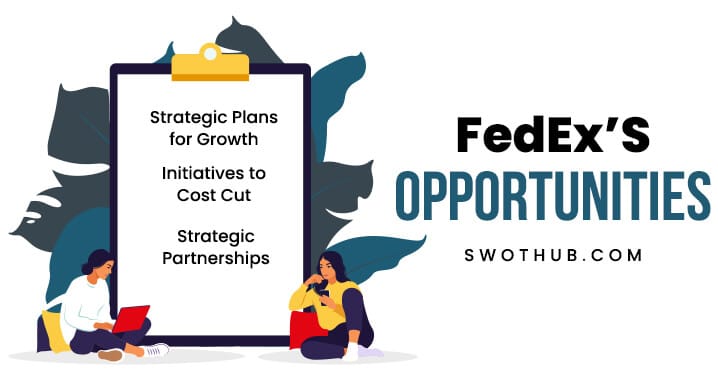 FedEx swot analysis offers the brightest part of the opportunities offered by FedEx. Let's look at them. Let's just take a look.
Strategic Plans for Growth: FedEx pursues various strategic plans for growth that drive its top performance. Offices in the Middle East, Europe, and Africa have been opened by FedEx Trade Network, a subsidiary of FedEx. This is the latest step in the ongoing global plan of expansion, including new businesses in the United Arab Emirates, Warsaw and Gdynia, Poland, and Dubai. In the last nine months, the company opened 20 international freight transport sites, bringing the total company to 22 new international sites since 2008. Furthermore, FedEx Ground builds the packages, sorting, and delivery station with a total area of 214,000 square feet.
Initiatives to Cost Cut: FedEx has pursued various initiatives to improve the efficiency of its operation. It plans to increase the efficiency of FedEx Express vehicles by 20% by 2020 and to extend renewable generation and renewable energy procurement in the field. Increasingly, hybrid vehicles have been inducted into the fleet, which reduces costs and increases efficiency.
The hybrid power supply fleet of the company is the largest in the industry. In addition to reducing pollution, its constant focus on hybrid and Powertrains is likely to minimize its fuel cost. The company retires and substitutes for older ones to achieve its objective of low-cost vehicle efficiency.
Strategic Partnerships: Strategic alliances could give the company a huge possibility of expanding its service portfolio and addressing a broader customer base and improving its profit margins. For over 900 US OfficeMax retail outlets, FedEx has a multi-annual agreement with OfficeMax for offering domestic FedEx Express and FedEx Ground. In cooperation with Canada Post Corporation, FedEx SmartPost expanded its services for USA shippers in Canada. These alliances and combinations help the company to make cost-effective use of the combined assets. By partnering with or acquiring such potential companies, the company might further expand its service offerings and geographical presence.
FedEx SWOT Analysis Threats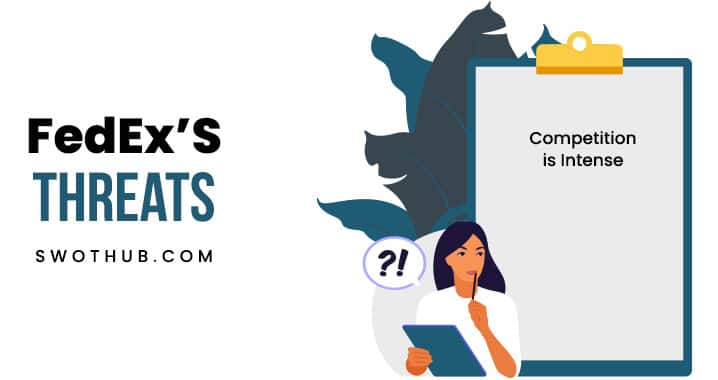 Every good FedEx SWOT analysis comes with a great perspective for threat concerns.
Competition is Intense: The express and freight markets are highly competitive and could affect the company's growth. Industry companies compete on factors such as price, geographical coverage, confidence, frequency, planned service capacity, package tracking ability, and innovative service offerings. Among the company's key competitors are United Parcel Service (UPS), Inc., US Postal Service, DHL International Limited, Con-Way Inc., Geodis SA, and TNT NV. Some of these competitors have higher resources, lower costs, and better conditions. If the company does not start or efficiently serve its customer's innovative services. Competition could also compel the company to compete on product pricing as well, resulting in lower profitability.
SWOT Analysis of FedEx Overview Template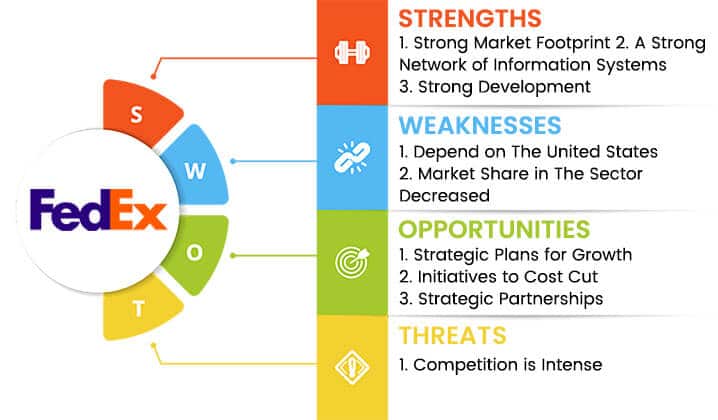 FedEx Conclusion & Recommendations
In summary, FedEx's strategy for market success is based on a combination of customer understanding, operational excellence, and product leadership. In order to provide faster, more convenient, and at less cost than its competitors, FedEx relies on its excellent operating system.
FedEx focuses on its sales, adverts and IT systems enabling its package delivery system to be automated extensively.
● Continued growth through procurement
● pursue growth through alliances and partnerships
● Growing revenue with existing products through new markets
FAQs for FedEx SWOT Analysis
What is FedEx and its business?
FedEx is a global courier delivery services company that provides shipping, logistics, and freight services to businesses and consumers. It offers express, ground, freight, and international shipping solutions.
What is FedEx's competitive strategy?
FedEx's competitive strategy revolves around the "Purple Promise," which emphasizes delivering exceptional customer service and reliability. They invest heavily in technology and infrastructure to maintain fast and efficient delivery networks.
What problems does FedEx face?
FedEx faces challenges like increasing competition from e-commerce giants, rising fuel costs, labor shortages, and complex global logistics. Additionally, economic fluctuations and geopolitical issues can impact their operations.
What gives FedEx a competitive advantage?
FedEx's competitive advantage lies in its extensive global network, innovative technology, and strong brand reputation for on-time deliveries. Their commitment to customer-centric services and continuous improvement also contribute to their advantage.
With this SWOT analysis, the company highlighted each of the strengths, weaknesses, opportunities, and threats of FedEx on the market. To increase its market share and financial stability, FedEx must take vigorous action. However, in spite of the negative factors, it is without a doubt a symbol of progress and innovation.