The logistics giants of the world are what help packages and deliveries occur globally. Without FedEx and UPS, the world would look a lot different, especially after the pandemic. This UPS SWOT analysis will highlight how this logistics company has managed to stay ahead of the competition.
UPS is the largest parcel delivery service globally, formed in 1907. UPS, or United Parcel Service Inc., is a logistics and product shipping and receiving company based in Atlanta, Georgia. The company serves 1.5 million people and delivers to more than 9 million people. In 2017, the company had around 20 million parcels every day, totaling approximately 5.1 billion packages. Based on consistent and reliable service delivery, the brand has established itself as the finest in its field.
UPS is in a great financial position, as seen by its financial performance in prior years. According to statista.com, In 2021, UPS had around 97.3 billion dollars and a net income of about 12.9 billion dollars. UPS has the largest share of the market in the US, with 35% of the market.
UPS SWOT Analysis – At A Glance
| | |
| --- | --- |
| Company Name | United Parcel Service (UPS) |
| Industry | Courier |
| Founded | August 28, 1907 |
| Founders | James E. Casey |
| CEO | Carol Tomé |
| Headquarter | Sandy Springs, Georgia, U.S. |
| Annual Revenue | $84.628 Billion (FY 2020) |
| Website | www.ups.com |
UPS SWOT Analysis
SWOT Analysis is a compelling dynamic process requiring excellent coordination across multiple organizational departments: strategic planning, marketing, finance, management, and logistics. The internal variables of a UPS SWOT Analysis are strengths and weaknesses, while the exterior aspects are opportunities and threats.
UPS SWOT Analysis Strengths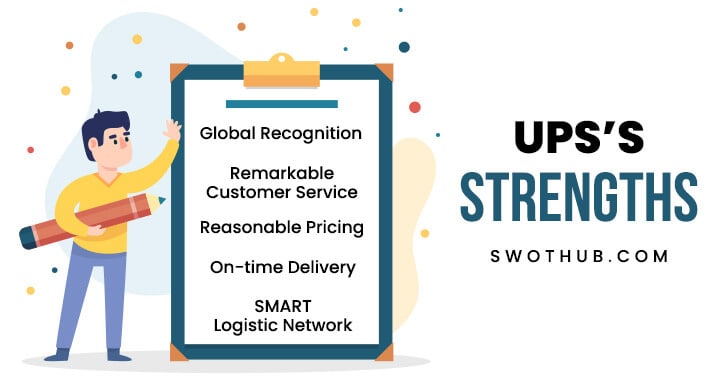 In this UPS SWOT Analysis, strengths are what a company does best, giving it a plus point over its competitors. UPS has a few benefits that help it succeed in the marketplace. These advantages help it maintain market share in commercial zones and help it break into new ones. UPS's strengths include the following:
Global Recognition: UPS has added 40 more countries to its UPS Worldwide Express, and UPS Express Plus service, giving businesses in 140 countries and territories guaranteed delivery. In addition, its International Package operations provide modest delivery services in over 220 countries. In 2019, the United States alone took in $58.6 billion, with $15.4 billion coming from other overseas markets.
Remarkable Customer Service: Satisfied customers are always a primary goal since they are the only way to keep it going in the long term. For more than a century, UPS has provided tremendous customer service. As a result, UPS was previously ranked first in the courier transportation industry's customer satisfaction index. UPS is growing financially and geographically due to its customers' delight.
Reasonable Pricing: The most successful strategy to attract and maintain clients is to provide high-quality service at reasonable costs. Customers will choose your service if your pricing is lower than your competitors. Because the number of rivals in this specific area has increased, pricing significantly influences the buying choice. UPS provides reasonable costs for overnight shipping and various other services in the logistics and delivery industry.
On-time Delivery: UPS package delivery might take up to two days on average. On the other hand, if a consumer places an order on a working day, there's a good possibility it'll be delivered the very same day. Clients may also choose from various delivery choices, including overnight delivery, rapid delivery/shipping, and same-day delivery, which cater to all types of customers.
SMART Logistic Network: The Southeast Metro Automated Routing Terminal (SMART) logistic network infrastructure costs UPS more than $20 billion. It establishes a link between all of the network's devices. A mix of technical instruments determines the distribution system's efficiency. UPS spent $20 billion in Atlanta to create its SMART logistic network facility, which integrates all of the company's systems and equipment.
UPS SWOT Analysis Weaknesses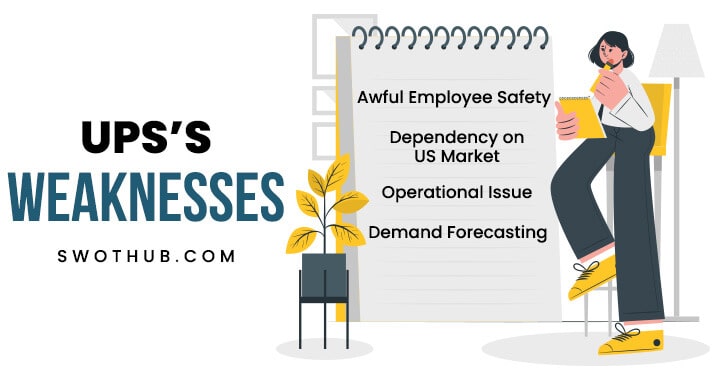 Weaknesses are areas in which UPS may improve. The approach is about making decisions, and weaknesses are areas where a corporation may strengthen its market edge and strategic posture by applying UPS SWOT Analysis. Here are some of the weaknesses:
Awful Employee Safety: Employee safety is particularly crucial for a company since it may seriously affect its reputation. Unfortunately, UPS has a horrible history when it a matter of employee safety. UPS doesn't offer adequate safety for its staff, so there have been multiple mishaps in which UPS employees have been wounded while on the job. UPS has a terrible image among employees and consumers due to this.
Dependency on the US Market: UPS's income is excessively reliant on the US markets. The United States accounts for about 80% of its revenue, demonstrating its reliance. UPS will be severely impacted if the United States has economic difficulties. Domestic package transportation and freight in the United States took in $58.6 billion in 2019, while foreign package delivery brought in $15.41 billion. UPS will be harmed if the US market slows down due to the recession.
Operational Issue: UPS's operating expenditures have risen steadily over the years. Aside from the upkeep of industrial equipment and aircraft, the brand's labor costs have increased. Compensation and benefits account for a significant portion of its operational costs. In 2017, its overall operating expenditures were 58 billion dollars, compared to 65 billion dollars in revenue.
Demand Forecasting: UPS is not particularly effective at estimating product demand, which results in a higher percentage of missed chances than its rivals. UPS's inventory is so large compared to its competitors because the corporation isn't very good at forecasting demand. As a result, it keeps more stock both in-house and through channels.
UPS SWOT Analysis Opportunities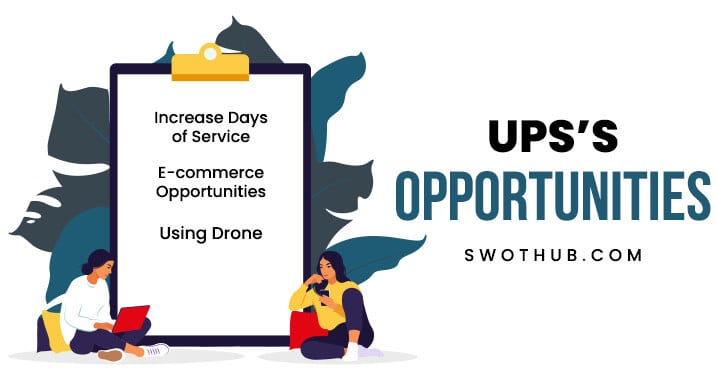 The UPS SWOT Analysis identifies prospects for a company to grow and expand its market share. Even though UPS now leads the business, UPS has several chances to influence the international market further. Here are the opportunities:
Increase Days of Service: UPS has begun delivering packages, every day of the week. Initially, they delivered the goods in six days. UPS started to provide products on Sundays due to increased internet shopping. To enhance income, the corporation might diversify into other companies. It can broaden its target market and employ cutting-edge technologies to distribute its goods. Adopting these new procedures will help the organization grow.
E-commerce Opportunities: The E-Commerce industry is quickly expanding, with new firms entering the market regularly. This industry is dependent on delivery services, which UPS may take advantage of by increasing its e-commerce services. UPS should take advantage of the e-commerce market since it has a lot of promise and can help the firm generate money.
Using Drone: In a SWOT analysis UPS has received the Federal Aviation Administration's 135-standard certification as a permit for its upcoming drone delivery services. As a result, UPS has the chance to integrate this as one of its business solutions to win more outstanding market share.
UPS SWOT Analysis Threats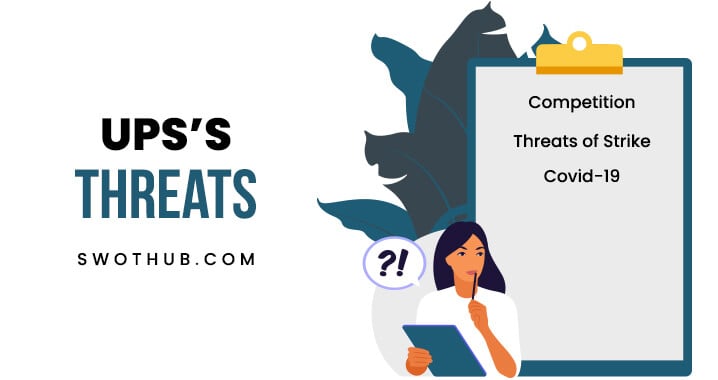 A corporation must find rapid responses to threats and act on them quickly, or it would be deadly to the company. Therefore, UPS SWOT analysis is essential for the organization. Threats are environmental elements that have the potential to affect a company's growth. The following are some of the threats:
Competition: UPS's market share and revenues are always in danger from Amazon, FedEx, DHL, Old Dominion, YRC, etc. With the service they provide, they have complete market dominance. Increasing competition has led to increased spending, and as a result, UPS's market share and profitability have fallen.
Threats of Strike: Although UPS employees have not struck since 1997, their irritation and fury are growing. It is due to the pandemic, low safety regulations, and other workplace difficulties. If they go on strike, the corporation will lose millions of dollars.
COVID-19: UPS's primary business is transportation, and the limits on international mobility represent a significant danger to the company. The COVID-19 epidemic has boosted sales revenue, but the firm's total profitability has declined dramatically.
UPS SWOT Analysis Overview Template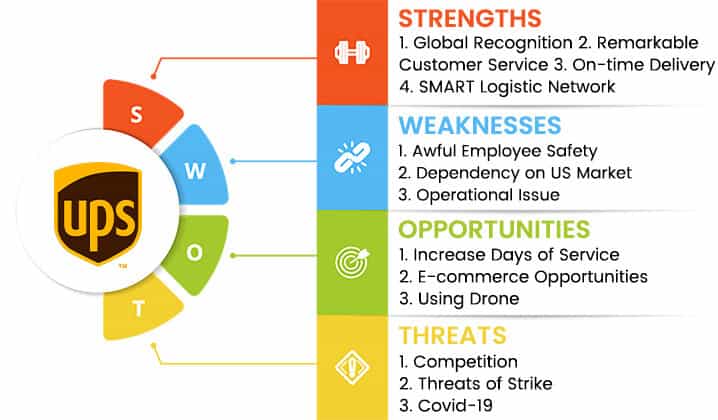 Recommendations in UPS SWOT Analysis
Investing in a strong digital infrastructure: can enable UPS to provide real-time package tracking, optimize delivery routes, and improve customer satisfaction. Competitors' digital tools are constantly being upgraded; UPS should stay ahead by implementing cutting-edge technologies.
Service Offerings Should Be Diversified: UPS can differentiate itself from competitors by expanding into services other than package delivery, such as warehousing solutions or supply chain management. Diversification can also provide additional revenue streams and appeal to a larger customer base.
Increase the effectiveness of sustainability initiatives.
Concentrate on Sustainability: Consumers and businesses are increasingly concerned about sustainability. UPS can establish itself as an industry leader in sustainability by improving the fuel efficiency of its fleet, investing in electric vehicles, and implementing green packaging solutions.
Improved Last-Mile Delivery Solutions:
Improve Last Mile Logistics: The last mile is frequently the most difficult and expensive part of the delivery process. Creating innovative solutions, such as collaborating with local businesses or using drones for delivery, can provide UPS with a competitive advantage in terms of efficiency and customer satisfaction.
FAQs for SWOT Analysis of UPS
What are the problems faced by UPS?
UPS faces challenges such as fluctuating fuel prices, stringent regulatory environments, competition from both traditional logistics providers and new entrants, and the complexities of international shipping and customs procedures.
What competitive advantage does UPS have?
UPS boasts an extensive global network, cutting-edge tracking and logistics technology, a trusted brand reputation, and a commitment to sustainability, positioning it ahead of many competitors.
What are the strengths of UPS?
UPS's strengths include its broad international presence, efficient operations, highly trained workforce, and continuous investment in innovation and infrastructure.
UPS has risen to the top of its industry by focusing on and expanding on its core competencies. By evaluating the UPS SWOT Analysis, they may improve their strategies and services so that they can stay ahead of their competition.