It's impossible to think of online shopping and not think of the shopping mecca of Amazon's strengths. An Amazon SWOT Analysis is a proven management framework that enables Amazon to benchmark its business & performance as compared to its competitors and industry.
Amazon is an American multinational company focusing mainly on e-commerce, cloud computing, artificial intelligence, and digital streaming. It was founded on July 5, 1994, by Jeff Bezos. It sells its products and provides its services in 190 countries. Its headquarters are in Seattle, Washington, US. An Amazon SWOT analysis helps the company executives to analyze and assess all the internal and external factors of the community.
Amazon SWOT Analysis Competitors
In a SWOT analysis for Amazon its essential to look at the other power players in their arena. Walmart, Apple, Microsoft, and Google are Amazon's top SWOT competitors. While Apple, Microsoft, and Google are all technological giants and market leaders in their respective fields, Walmart is a behemoth in the retail sector. Amazon must take into account the distinct strengths and weaknesses of each of these businesses when forming its own strategic plans. Amazon can stay ahead of the competition in the market by carefully analyzing these strengths and weaknesses and using them to its advantage.
Amazon – At A Glance
| | |
| --- | --- |
| Company Name | Amazon |
| Industry | E-commerce |
| Founded | 5 July, 1994 |
| Founders | Jeff Bezos |
| CEO | Andy Jassy (2021- present) previously, Jeff Bezos |
| Headquarter | Seattle, Washington, U.S. |
| Annual Revenue | $524.89 Billion (FY 2022) |
| Website | www.amazon.com |
Amazon SWOT Analysis
In a SWOT analysis for Amazon a strategic planning frame that company managers can use to get a successful situation analysis of the company. An Amazon SWOT analysis framework can assist them to realize their internal strategic factors such as strengths and weaknesses, and also their external strategic factors such as Amazon opportunities SWOT and threats.
Amazon maintains its intimidating presence in the business sector only by reviewing the SWOT analysis regularly and improving itself. So, an Amazon SWOT analysis will be of great use to this company.
Amazon SWOT Analysis Strengths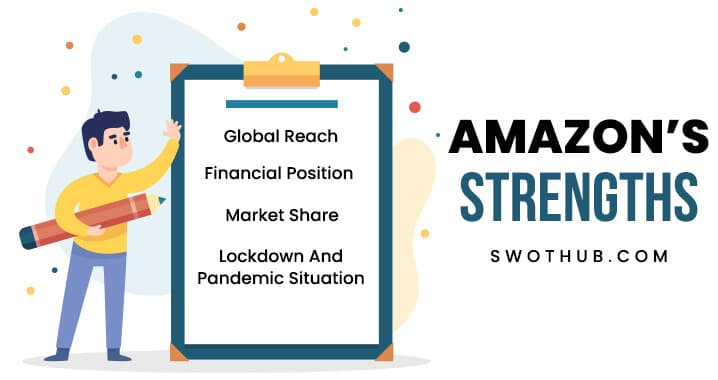 Amazon has many strengths that will help it thrive in the main field. An Amazon SWOT analysis will help to focus on these strengths. Some of these strengths are enlisted below:
Amazon Strengths – Global reach:
Amazon is a worldwide multinational company. Amazon operates in different countries across the globe. So, it has a great deal of a global footprint. This makes it more recognizable to the public and helps with its publicity. So, it can implement its global thinking with local execution. This means that it can pursue its ubiquitous goals and can still win the hearts of its consumers.
Financial position:
Amazon has a strong financial base. It has garnered a total of 570 billion dollars only during the pandemic. It has been gaining the market slowly but surely for about 30 years. It has earned the public trust as a star company. Its financial position has it on a point of pure advantage that has increased its market value and brand name by leaps and bounds. With a total market profit of 149 billion dollars, it is catching up to its biggest rivals in the technology department. So, this financially secure position does good for the company.
Lockdown and pandemic situation:
Ever since the covid pandemic hit us, people have been forced into isolation. Ever since then people have been more and more dependent on online services. This gave Amazon a major boost in its sales. They have upped their profit by 70 percent this year alone. This shows how much they profited during the pandemic years and how much they grew overall.
Market Share:
It is speculated that Amazon has almost two-fifths of the e-commerce market under its control. This is to say that almost two people among five shops from Amazon. Its closest rival, in this case, is Walmart and it only owns 5.3 percent of the market. This gives us a clear idea of Amazon's dominance in the market sector.
Amazon SWOT Analysis Weaknesses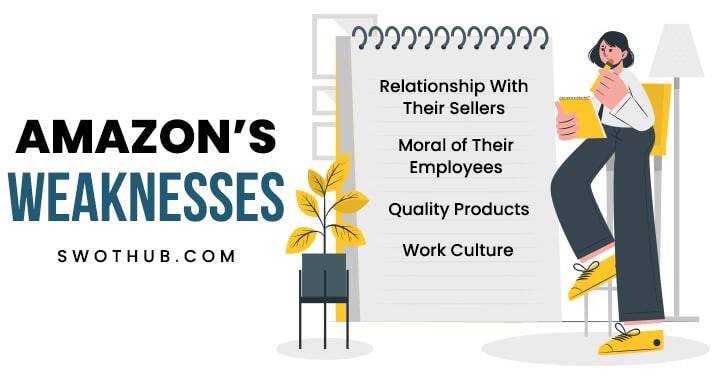 How can Amazon improve its weaknesses? An Amazon SWOT analysis will bring many of these to light.
Relationship with their sellers:
People who regularly sell their products on Amazon are in a bit of a dilemma. They are very concerned about competition with Amazon's products. They are also worried about the increasing unethical hacks that are happening at Amazon. Also, the fast delivery demands and inventory storage limits are worrisome. If Amazon does not resolve these issues customers can mass migrate to many of its rivaling companies.
Moral of their Employees:
As Amazon has very high expectations from their employees, they are often burned with extra work. Not to mention all the extra mental pressure that they deal with. Their holidays are also very scarce. This is why many of Amazon's warehouse workers are resorting to strikes and protests to gain their rights as workers. They mostly demand better health protection and hazard pay.
Quality Products:
As Amazon is mostly focused on utilizing, they often cannot confirm public claims of their products. As a result, people cannot rely on their reviews. They have to depend on different social media personnel to get reviews, but even then, they can't be sure of it. So, it is about time Amazon stopped obsessing over its delivery speed and easy buying features, and focus on monitoring those reviews. Because if they don't start doing these people will eventually leave this platform.
Amazon's Work Culture:
Amazon has a very harsh work culture. It is excessively competitive and critical. The most problematic feature is the total lack of work-life balance. Each and every work has to be done perfectly to avoid insensitive and unfair comments. Even if a job is done well the workers are never appreciated. This whole situation creates lots of mental stress and uneasiness. Building camaraderie amongst Amazon employees and employers is how can Amazon improve its weakness.
Amazon SWOT Analysis Opportunities: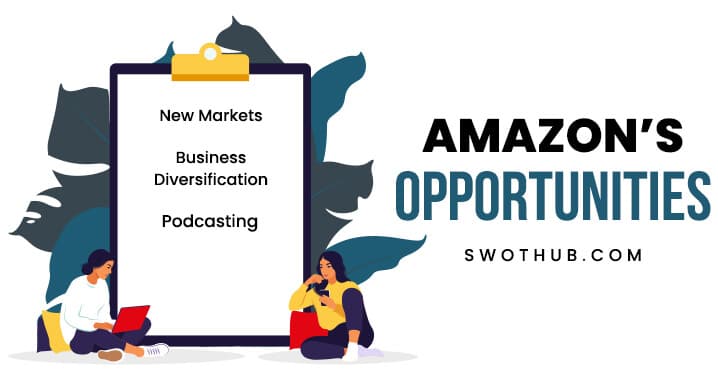 The opportunities are outside factors of a company that they can exploit for profit and benefits for themselves. An Amazon SWOT analysis will help the executives to contemplate them before their next big move.
New markets: As the government has agreed to lend a hand to economic development there are new markets in the making. This will help Amazon broaden its already wide horizon of business. This may soon cause Amazon to be the biggest thing in the world market.
Business Diversification: Even though Amazon has plenty of products to sell, there are many new products that it could launch. People are now aware of its presence. So, this will be advantageous for the company. Business diversification can get people more interested and invested in the company. This will work as publicity and raise the profit.
Podcasting: Recently Amazon has come up with the idea of initiating a podcast system. They are planning to merge this with their available music platform which as named Amazon Music Platform. This will allow them to rise and compete against famous music platforms like Spotify. This service can also pair up well with Amazon's Alexa.
Amazon SWOT Analysis Threats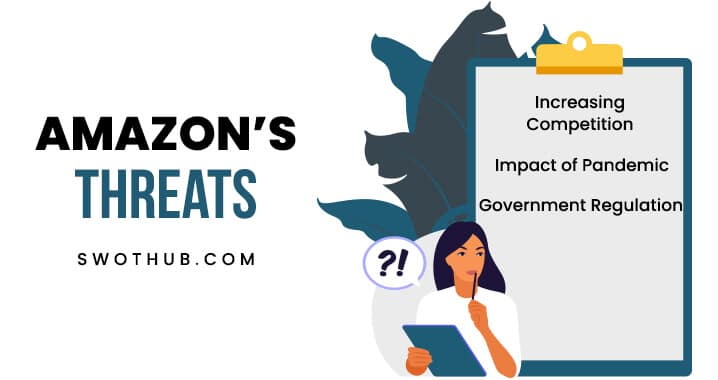 Amazon threats are the most important part of an effective Amazon SWOT analysis. An Amazon SWOT analysis will point out the threats to this community that has been holding it back.
Increasing competition: In recent times, many new companies are mushrooming in this new market. This increases the competition. In the consumer sector, Amazon's most deadly rival is Walmart. It has become even more of an issue after they announced their Walmart Fulfillment Services. This service provides an alternative system of Amazon to third-party sellers. Even though the gap in profit is quite large they are expected to become smaller over the coming years. Etsy can be considered also a competitor for Amazon.
Impact of the Pandemic: This is the time of the pandemic. Amazon is one of the leading companies in the consumer goods department. Even though this pandemic has failed to make any big impact on the sales figure, that does not mean that the magnitude of the situation is any less. This pandemic has affected the manufacturing, distribution, and purchasing of Amazon products. This has fueled major changes in Amazon's business strategies. Whether it will be beneficial or harmful for them will be decided by how they handle the situation.
Government Regulation: The rules and regulations that the government imposes may be a major threat to Amazon, especially if it does not abide by its profit-based agenda. Also, during the pandemic, Amazon faced a major ban on non-essential items from the government of India. This resulted in a loss of 398 million dollars.
Amazon SWOT Analysis Overview Template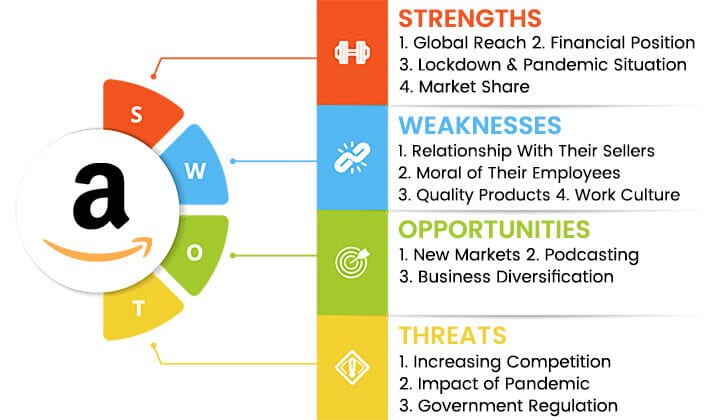 Amazon Recommendations in SWOT Analysis of Amazon
Here are some recommendations for Amazon to improve its market game from the experts:
Improving the health and safety of the company's employees.
Enhancement of the people by a long shot.
Encourage the workers to be creative
Lifting the team morale by achieving the team goals.
Continuous innovation: Across all of its business segments, In a SWOT analysis of Amazon they should continue to give priority to innovation. Spend money on R&D to investigate cutting-edge trends and technologies like blockchain, augmented reality, voice assistants, machine learning, and artificial intelligence. Introduce new goods, services, and features frequently to give customers a unique experience.
Boost supply chain and logistical capabilities: Amazon's success is strongly dependent on these areas. The business should continue to improve its logistics network, including last-mile delivery choices, inventory management systems, and warehouse automation technology, to preserve a competitive advantage. Enhance supply chain operations to guarantee prompt and effective order fulfillment.
Improve the consumer experience: In the e-commerce industry, customer centricity is essential. The user experience should remain a top priority for Amazon, and this may be done by giving tailored recommendations, enhancing search techniques, and ensuring smooth checkout and payment procedures. Spend money on convenience-enhancing technologies like voice-activated shopping, auto-replenishment, and simple returns.
Increase product and service offerings: To draw in and keep a wide spectrum of customers, Amazon should diversify and grow its product and service portfolio. This may entail diversifying into new sectors, including healthcare, entertainment, and finance. Investigate the potential in developing areas and think about modifying your offerings to suit local preferences and demands.
Relationships with third-party vendors should be strengthened because they are essential to Amazon's marketplace. The company should make investments in services, tools, and support for sellers to improve their success on the platform if it wants to compete effectively. To assist sellers in growing their companies, streamline seller processes, enhance customer support, and offer data-driven insights.
Invest in artificial intelligence and data analytics to improve decision-making by utilizing the massive amounts of transactional and customer data. Improve AI's capacity to customize product recommendations, improve pricing plans, and enhance search outcomes. To discover patterns, forecast demand, and make wise business decisions, use data analytics.
Focus on sustainability: In a SWOT analysis of Amazon they should give sustainability projects top priority as environmental worries rise. Use eco-friendly procedures for operations, logistics, and packaging. Set challenging objectives to reduce carbon footprints and advance the use of renewable energy. Establish trust with customers by letting them know about your eco-friendly initiatives.
Boost Amazon's advertising and cloud services, including Amazon Advertising and Amazon Web Services (AWS), which are significant growth areas. Continue to invest in these markets to increase market share, improve offerings, and contend with rival cloud service and digital advertising suppliers.
Encourage strategic alliances and acquisitions: Work with strategic partners and take into account targeted purchases to expand into new markets, gain access to new technology, or improve current capabilities. Strategic partnerships with other businesses can give Amazon a competitive advantage and enable it to reach new markets.
Expect regulatory changes and prepare for them. As laws change, especially those pertaining to data privacy and antitrust, Amazon should be proactive in anticipating changes and modifying its operations to meet the new standards. Develop regulatory frameworks that support fair competition and innovation by working with regulators, business associations, and legislators.
In a SWOT analysis of Amazon it can be said that a steady line of profit and global reach are the key strengths of Amazon. As for its greatest weakness, that would be low staff morale. It may not look like much, but it is a huge load to carry.
An Amazon SWOT analysis helps the company in many different ways only because it would allow the executive directors to theoretically take apart the company's strategic approach to this day and scrutinize them.
FAQ's for Amazon SWOT Analysis
What is the difference between Amazon and Amazon Business?
Amazon is an online retail platform for individual customers, while Amazon Business caters to business customers by offering bulk pricing, business-specific features, and tax exemption options.
Who competes with Amazon online?
Amazon faces competition from various online retailers, including Walmart, eBay, and Alibaba.
What are Amazon's strengths and weaknesses?
Strengths: Extensive product selection, efficient logistics, and a loyal Prime membership base.
Weaknesses: Counterfeit product challenges, labor practices scrutiny, and concerns about third-party seller quality control.
For more retail giants take a look at IKEA and Ebay SWOT analyses.