Airbnb is a service that caters to online bookings for lodging, vacation residence services, and tourism activities. The service was initially operated from San Francisco, California. It mainly operates through websites and mobile apps. It is mainly an Uber for real estate. Airbnb doesn't own any of the residential property that is available via their service; rather, they receive a commission per booking, which is their main cash generator.
Airbnb is the acronym for Air Bed and Breakfast, which was founded in 2008 by Brian Chesky, Nathan Blecharczyk, and Joe Gebbia.
Airbnb – At A Glance
| | |
| --- | --- |
| Company Name | Airbnb, Inc. |
| Industry | Lodging |
| Founded | August, 2008 |
| Founders | Brian Chesky, Joe Gebbia, Nathan Blecharczyk |
| CEO | Brian Chesky |
| Headquarter | San Francisco, California |
| Annual Revenue | $3.378 Billion (FY 2020) |
| Website | www.airbnb.com |
Airbnb SWOT Analysis
An Airbnb SWOT analysis will assist in determining the company's current position as well as assessing its business prospects and future growth.
Strengths of Airbnb SWOT Analysis: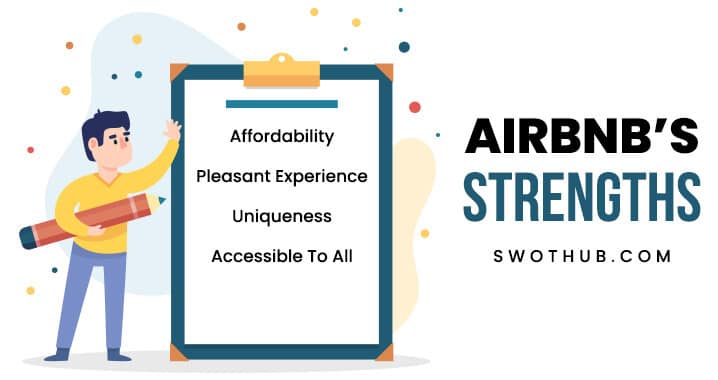 First off, in the swot analysis chart, we should analyze the strength of Airbnb.
Affordability: Affordability is one of Airbnb's unique selling points. Airbnb is considered a modmoderatelyy expenditure option in comparison to other residential options that is available. In Airbnb, you have the privilege to search around and pick the most preferable plan for your stay. You can go through reviews to get a fourth-wall-breaking idea of the place. This particular structure of business helps Airbnb gain the trust of emerging consumers with every passing moment.
Pleasant experience: Even if you're not someone who needs to work within a budget, Airbnb can still be a preferable idea for you because of the pleasant experience it provides you with. It has different, less corporate-smelling walls and sheets that would not constantly remind you of not being able to enjoy the comfort of your home. It almost feels like you are in a much-desired spare room.
Uniqueness: The uniqueness of the idea of Airbnb will mesmerize you the most. The thrill of living in different interiors as your own home will give you the adrenaline rush to wash away your monotony. You live in the comfort of your own personal boundaries, and you don't even have to own it. Basically, it's an affordable version of feeling like a real estate prince.
Accessible to all: Anybody from anywhere in the world can select their preferred room and book according to the vacancy state. This selection can help track down an excellent room, considering Airbnb operates in more than 190 nations. That is in excess of 30,000 urban communities. On the off chance that you have extra time, peruse more than 1 million postings. That is the number that is accessible, at this moment. The organization has effectively expanded around the world. They give no indication of halting.
Weakness of Airbnb in SWOT Analysis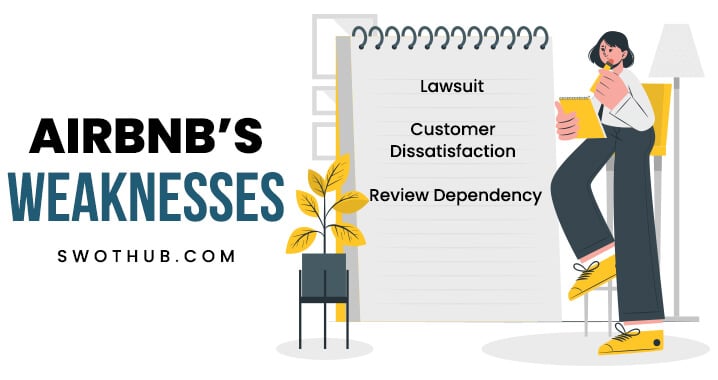 The weaknesses or areas to be improved are discussed next in the Airbnb SWOT analysis.
Lawsuit: Airbnb lets people rent their house with an amount of commission. Their payment is pretty hassle-free too. This lures in a lot more people than you might want to think. Many people post about renting their house illegally means they do not have permission, but they open it up for lease anyway. For this reason, a lot of lawsuits and guideline infringement issues come the way of Airbnb.
Customer dissatisfaction: Some people rent space while it's clearly mentioned not to be rented for personal benefits. The customers taking their offer might not know it before getting in. This causes the customers to have a bitter experience during their stay. In this dreadful situation, Airbnb has to suffer and pay the price of some other people's lack of morality.
Helpless hosts can likewise be harmful to the organization's standing. On the off chance that a host doesn't follow Airbnb's rules, there are ramifications. Helpless evaluations and reaction via web-based media is everything necessary to boost an organization's benefits nowadays. Considering their plans of action depend intensely on has around the world, Airbnb is helpless against the outsiders they work with.
Review dependency: On the off chance that a host doesn't follow Airbnb's rules, there are ramifications. The host's poor sense of judgment results in Airbnb's reputation damage. Airbnb is mostly an online service and it depends a lot on virtual word of mouth. A negative review causes a bad business reputation for Airbnb.
Airbnb SWOT Analysis Opportunities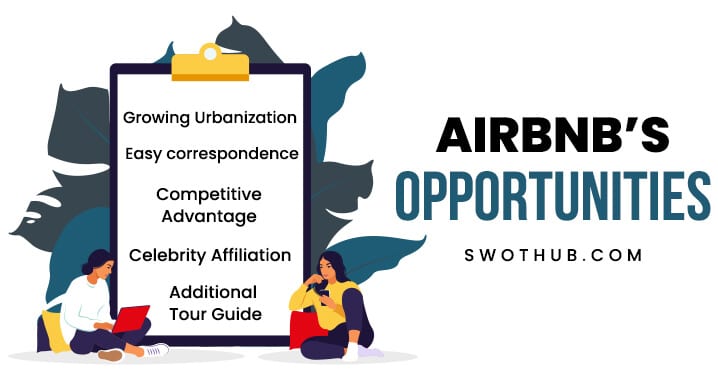 Airbnb SWOT analysis offers the brightest part of the opportunities offered by Airbnb. Let's look at them.
Growing Urbanization: In recent times Airbnb has been trying to support urban area establishments with their lodging guidelines and laws. Many establishments that were refraining from enlisting with Airbnb were having hard times with legal issues. Now that Airbnb is coming forward to take responsibility this opens up more doors to emerge with their company and grow bigger and shine brighter.
Easy correspondence: Hotel correspondence is minimized to the maximum in Airbnb. The mobile application is the checkout and check-in point for both parties. This mitigates the needed amount of paperwork and human contact which is easier for everyone, environmentally friendly and another easter egg is, this is pandemic safe.
Competitive advantage: The competitive advantage of Airbnb serves them well enough and leads to more opportunities than anything. In case you go for hotels, motels, or inns, they are too overpriced for their services. But Airbnb offers you luxury within affordability. The lodging facilities are far better than that of their competitors.
Celebrity affiliation: Celebrity affiliation can take a company sky high. Airbnb has made the next-level fantasy come true. Famous people like one of the Jonas brothers, Elizabeth Taylor, and Bill Cosby are leasing their rooms on Airbnb. People get to experience firsthand their favorite celebrities' comfort and residential choices. The mass population trusts the celebs. Any business thrives and builds on the basis of trust. The celebrities opening up their entry doors are becoming a luxurious opportunity for Airbnb to just enlarge their paycheck.
Additional tour guide: Airbnb is expanding its business in the surroundings of lodging facilities too. They're starting to cater to other facilities the people might need. They have a tour guide service where people can take a person to show them around the city at a specific cost. This is soon expected to be expanded into a vehicle rental and other needs that a tourist might have.
Airbnb SWOT Analysis Threats: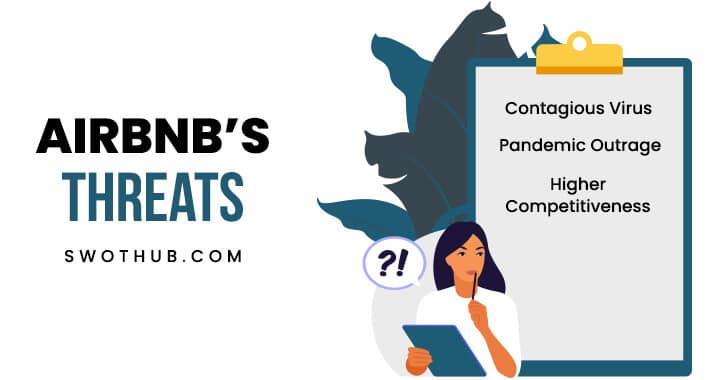 Every good SWOT analysis comes with a great perspective for threat concerns. Airbnb SWOT analysis has a few, like;
Contagious Virus: During this worldwide COVID-19 pandemic outbreak, Airbnb can face some health-hazardous threats, Since it works as a temporary stay for many people, it means this could be an avid media to spread the deadly pandemic virus.
Pandemic outrage: With the raging pandemic all over the world, the traveling business is facing one of the most severe economic depressions, and this could be a very prominent threat to Airbnb.
Higher competitiveness: Airbnb has always tried to stand out in its own business persona. But the thriving market is regularly enriched with more and more new businesses every day. These new businesses could be a constant threat to the Airbnb franchise.
Airbnb SWOT Analysis Overview Template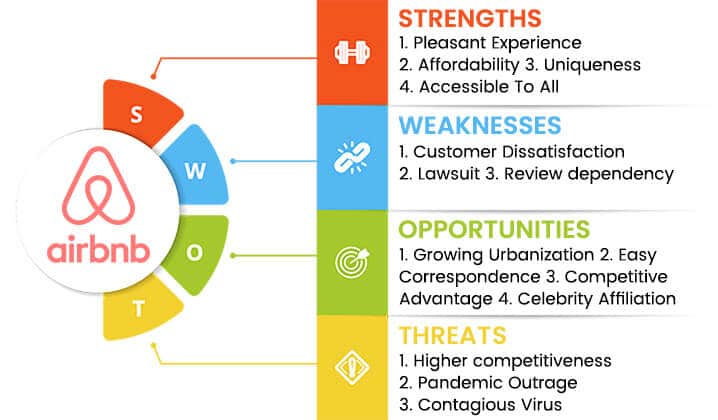 Airbnb SWOT Analysis Conclusion and Recommendations:
In an Airbnb SWOT analysis, the company has a few advantages when compared to its rivals.
They have a competitive advantage due to their strong brand recognition and extensive global reach. Additionally, they have a sizable customer base, which they can use to market their services to a wider customer base.
Diversify Offerings: Expand beyond accommodations to offer unique experiences and services, tapping into the broader travel market.
Strengthen Trust and Safety: Continuously improve security measures and quality control to build trust among hosts and guests.
Localization Efforts: Tailor services to specific regions, acknowledging local cultures and preferences.
Sustainable Practices: Embrace eco-friendly initiatives to appeal to environmentally conscious travelers and reduce the company's carbon footprint.
FAQs for Airbnb SWOT Analysis
Who owns Airbnb?
Airbnb is a publicly traded company, and its ownership is divided among its shareholders. In 2008, Brian Chesky, Nathan Blecharczyk, and Joe Gebbia co-founded it.
What are the pros and cons of hosting Airbnb?
The upsides include making additional money, having more freedom, and interacting with new people. The need for hospitality skills, as well as maintenance and the possibility of risk, are all potential drawbacks.
Are Airbnb's a good investment?
It is dependent on the location, the demand, and the objectives of your investment. Before making a decision, it is important to conduct market research, determine the costs, and think about the long-term potential.