The entertainment industry of streaming services has a huge portion of the market share of customers. This Netflix SWOT analysis will break down its competitive advantage. Netflix has a strong presence in the streaming service industry and has several advantages when compared to its competitors. In terms of strengths, Netflix has a wide variety of content, a strong customer base, and a strong brand. Additionally, with the release of its own content, Netflix has a distinct advantage over competitors in terms of originality and fresh content.
Netflix is an American content platform and production company that mainly focuses on subscription-based streaming services. Marc Randolph and Reed Hastings founded it in 1997 in Scotts Valley, California. It provides its services all over the world except mainland China, Crimea, North Korea, and Syria. Its headquarters are in Los Gatos, California. A Netflix SWOT analysis helps the company executives analyze and assess all the internal and external factors of the community.
A Netflix SWOT Analysis is a proven management framework that enables Netflix to benchmark its business & performance as compared to the competitors and industry.
Netflix SWOT Analysis – At A Glance
| | |
| --- | --- |
| Company Name | Netflix |
| Industry | Entertainment |
| Founded | 29 August, 1997 |
| Founders | Reed Hastings, Marc Randolph |
| CEO | Reed Hastings |
| Headquarter | Los Gatos, California, U.S. |
| Annual Revenue | $25 Billion (FY 2020) |
| Website | www.netflix.com |
Netflix SWOT Analysis
SWOT analysis is a strategic planning frame that can be used by company managers to get a successful situation analysis of the company. An analysis framework can assist them to realize their internal strategic factors such as strengths and weaknesses, and also their external strategic factors such as opportunities and threats.
Netflix maintains its intimidating presence in the business sector only by reviewing the SWOT analysis regularly and improving itself. So, a Netflix SWOT analysis will be of great use for this company.
When compared to its rivals, Netflix has a significant market share in the streaming service sector and a number of advantages. Netflix has a strong customer base, a diverse selection of content, and a strong brand. Additionally, Netflix has a clear advantage over rivals in terms of originality and new content thanks to the release of its own content.
Netflix SWOT Analysis Strengths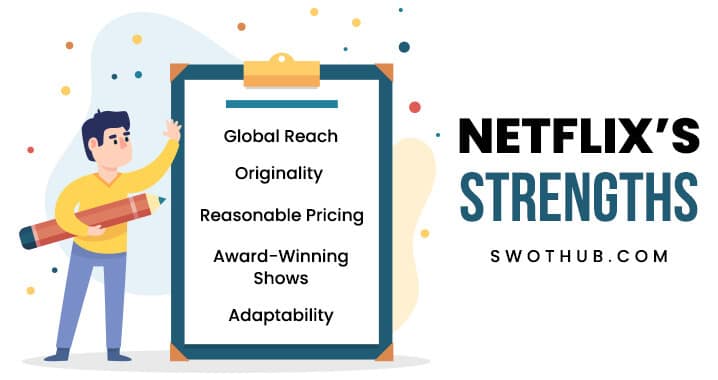 Netflix has a plethora of strengths that will help it to thrive in the main field. A Netflix SWOT analysis will help to focus on these strengths. Based on Fern Fort University's studies, some of these strengths are enlisted below:
Global Reach: Netflix is a worldwide multinational company. It operates in almost all countries across the globe. So, it has a great deal of a global footprint. This makes it more recognizable to the public and helps with its publicity. So, it can implement its global thinking with local execution. This means that it can pursue its ubiquitous goals and can still win the hearts of its consumers. In April of 2021, Netflix had 208 million subscribers all across the globe. Almost 70 percent of the subscribers binge various series.
Originality: Netflix is known to produce high-quality original content. Some of these original contents are now quite a hit with the young generation. Stranger Things, Money Heist, Narcos, Tiger King, Orange, and Mindhunter are some of the more famous shows. These shows bring more audience to their platform. They make sure that Netflix can keep its steady flow of income. Because if someone wants to watch these shows they will have to watch them on Netflix. So, in the long run, Netflix is the winner.
Reasonable Pricing: Netflix takes pride in its ability to come up with reasonable pricing. Its pricing management gives it a major boost against its competitors. The subscription plans that Netflix introduced are easy to afford and public-friendly. Subscribers have to pay a small fee of 8.99 dollars to have access to unlimited movies and shows. As it is cheaper than most cable TV operators, it is affordable for the general population.
Award-winning shows: Unsurprisingly, the popularity of Netflix's original productions continues to rise. In the Emmy of 2021, Netflix received 160 nominations for its original productions. On the other hand, HBO, NBC, ABC, FOX, and CBS received the following numbers of nominations 107, 47, 36, 33, and 26. This proves that Netflix is surpassing regular cable TV suppliers in the production sector.
Adaptability: Netflix is a quickly adaptable platform that has proven its adaptability from time to time. Even now Netflix has quickly adjusted its platform to support various types of modern technology. Netflix can now be streamed live on Android, Apple, computers, televisions, and iPods. This has caused their business to improve rapidly over the years.
Netflix SWOT Analysis Weaknesses
Weaknesses are part of the internal factors of a company. A SWOT analysis will bring many of these to light.
In terms of weaknesses, Netflix's main challenge is its high cost of production, which leads to high prices for many of its services. Additionally, Netflix faces increasing competition from other streaming services and may struggle to keep up with the pace of innovation from its competitors.
Rising Debts: Netflix telecasts its programs all over the world, and this takes a lot of resources and money. To keep this up Netflix needs more funds. For this reason, Netflix keeps adding new debt to its long-term debt sector. Netflix has declared 14.17 billion dollars of debt. This huge amount of debt is sure to be considered a fatal weakness. But even after this big amount of debt, they are thinking about raising another billion dollars.
Overdependence on a certain market: Overdependence is never a good sign for a global company. Netflix may be a global company, but it indeed depends on the market of North America more than any other market. About half of their total revenue comes from the services they provide to the North American market, which is roughly 20.15 billion dollars. This overdependence may be the cause of many of their future obstacles.
Increasing prices: Many other companies provide similar services to Netflix. Even though these companies are decreasing their prices to engage more customers, Netflix is raising its subscription prices. Disney+ is introducing its subscription prices for only 6.99 dollars per month and Apple TV+ is giving it away for a meager 4.99 dollars per month.
Netflix Opportunities in SWOT Analysis
When it comes to opportunities, Netflix has the potential to expand into new markets and acquire additional subscribers. Additionally, Netflix could benefit from the emergence of new subscription-based streaming services or virtual reality platforms.
The opportunities are outside factors of a company that they can exploit for profit and benefits for themselves. A Netflix SWOT analysis will help the executives to contemplate them before their next big move.
Mobile Streaming Facility: In present times, people feel more comfortable watching something on their phones rather than watching it on their computers, laptops, or TVs. So Netflix is thinking of introducing a new subscription offer that is completely mobile-friendly. It will cost only 3 dollars per month. This can be a great opportunity for Netflix to widen its customer range.
Advertisement Exploitation: Many social media and entertainment media companies tend to make a good amount of money from advertisements. Google, Facebook, YouTube, and many other renowned companies are making millions of dollars from their revenue from advertisements. This can be a great opportunity for Netflix to make profits that will surely give a boost to its business.
Niche Marketing: "Niche Marketing" usually refers to region-specific marketing strategies. Niche marketing systems can be beneficial for Netflix as its trials were well-respected by the public. It has released "Sacred Games" in India and "La Casa De Papel" for Spanish folks which were well-received. This means it has a bright future in niche marketing. This can be a big opportunity for the future.
Netflix SWOT Analysis Threats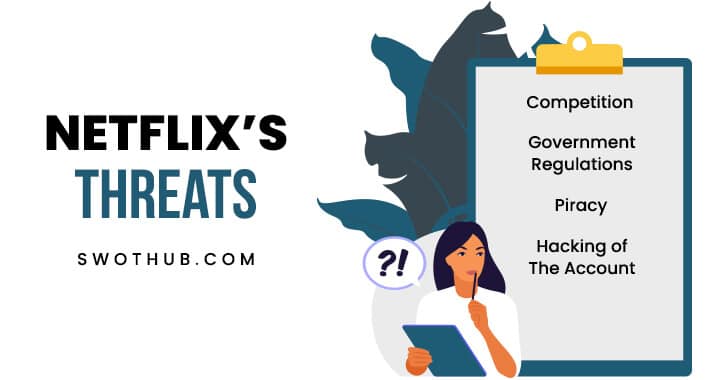 Finally, in terms of threats, Netflix faces a number of threats from competitors such as Amazon Prime Video, Apple TV+, and Disney+. Additionally, Netflix may face regulatory issues as governments look to tighten their control over streaming services.
Threats are the most important part of a swot analysis. A Netflix SWOT analysis will point out the threats for Netflix that have been holding it back.
Competition: Netflix has many competitors in the entertainment field. Disney+, Apple TV+, Hulu, YouTube, Amazon, and HBO are its current big-league competitors. These companies are continuously coming forth with new ideas that can overwhelm Netflix. So It always needs to stay one step ahead in its endeavors to stay in the top position.
Government Regulations: Netflix being a global streaming service has to abide by all laws of the government. As many countries have laws that forbid many activities of Netflix, it makes operating tricky for the company. For example, due to different governmental regulations, it's obvious that Netflix will not be able to extend its services to China any time soon.
Piracy: Digital piracy is something that has asked its way into almost everything. No digital content, be it a music piece or a movie, is safe from piracy. Since Netflix is a platform that sells these contents to people at a low cost, these piracy attempts can cause them quite a loss. That is why piracy is a prominent threat to Netflix. Unfortunately, this is not a type of problem that can be fixed overnight. So, Netflix will continue to suffer until this issue is completely resolved.
Hacking of the account: Hacking is also another threat that clouds the future of Netflix. In 2020, the number of hacked personal Netflix has gone up exponentially. Experts think that this may be because of the continuous lockdown the world is facing. However, this does not help the fact that if Netflix does not take this issue seriously and fix it, its users might move to different rival companies.
Netflix Competitors:
The streaming market leader, Netflix, is up against some formidable rivals. Here are some of Netflix's primary rivals and some suggestions for how the company can stay ahead of the competition:
Top Competitors
1. Amazon Prime Video: It provides a wide variety of content and the perks of being an Amazon Prime member, making it a formidable rival.
2. Disney+: Makes the most of its extensive collection of cherished classics and exclusive rights to movies and TV shows from Disney, Marvel, and Star Wars.
3. HBO Max: Famous for its original, high-quality programming and its access to Warner Bros. films.
4. Apple TV+: Becoming a rival with its own distinctive programming and seamless incorporation into Apple's surroundings.
Strategic recommendations for Netflix
1. Maintain a focus on investing in a wide range of original, high-quality material to set yourself apart from the competition.
2. Global Expansion: Deepen our penetration of global markets by adapting our material to the unique tastes and customs of each country.
3. Technology Innovation: Invest in advanced streaming technology, enhancing the user experience with features like better personalization and interactive content.
4. Partnerships and Collaborations: Create strategic alliances with content creators, telecom carriers, and device manufacturers to increase the reach and library of material.
Through the implementation of these tactics, Netflix can make the most of its capabilities, protect itself from rivals, and seize opportunities as they arise in the dynamic streaming industry.
Netflix SWOT Analysis Overview Template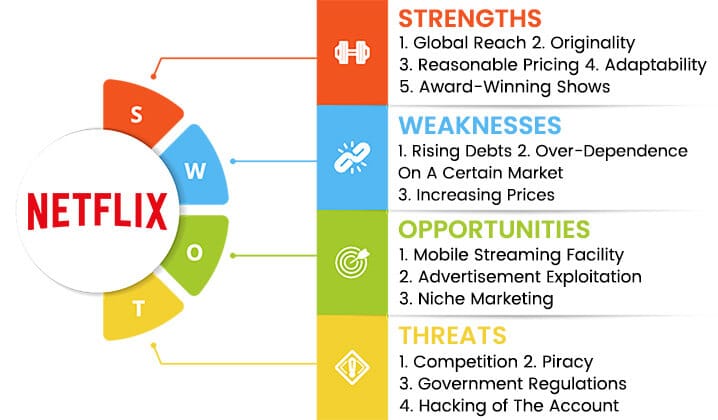 Recommendations & Conclusions for Netflix
Here are ways this Netflix SWOT analysis conclusion can help improve its market game from the experts:
They need to pair up with different rating media to provide various ratings for their shows.
They need to enhance their safety measures to make sure their customers get their privacy.
The need to introduce a more user-friendly interface for their application and website.
They can start providing region-based entertainment programs by collaborating with local service providers.
In conclusion, it can be said that a steady line of profit and global reach are the key strengths of Netflix. As for its greatest weakness, that would be over-dependence on a certain market. It may not look like much, but it is a huge load to carry.
A Netflix SWOT analysis helps the company in many different ways. Only because it would allow the executive directors to theoretically take apart the company's strategic approach to this day and scrutinize it.
FAQs for SWOT Analysis of Netflix
1. What are Netflix's internal weaknesses?
Netflix's internal weaknesses include high content creation costs, leading to significant debt. It also struggles with retaining subscribers amidst rising competition and faces challenges in content curation that aligns with diverse global audiences.
2. What are Netflix's external challenges?
Netflix's external challenges involve fierce competition from streaming services like Amazon Prime and Disney+, changing consumer preferences towards short-form content, and navigating varied international content regulations and censorship laws.
3. What are Netflix's strengths over its competitors?
Netflix's strengths include a vast, diverse content library, a strong brand reputation, and advanced personalization algorithms that enhance user experience. Additionally, its early entry into the streaming market gives it a unique edge in understanding and adapting to evolving market trends.
Overall, while Netflix is well positioned to continue to be a major player in the streaming service industry, it will need to remain agile and continue to innovate to stay ahead of its competitors