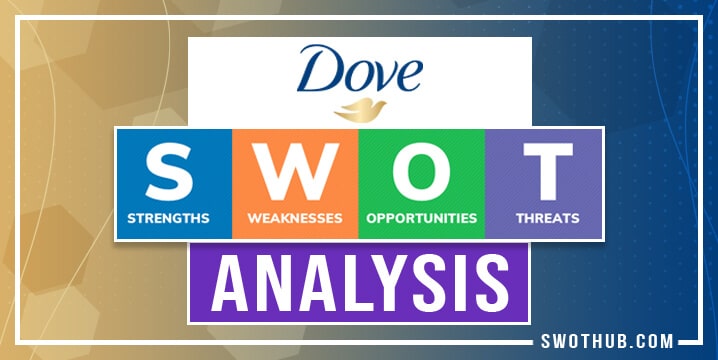 Dove is a popular personal care brand that offers gentle and nourishing products. Unilever, a global consumer goods corporation, owns the American personal care brand. William Hesketh Lever invented Dove in 1957 as an alternative soap that was less harsh to the skin. Dove has earned a reputation for being a reliable personal care brand over the years. Dove goods are made in various locations across the world. Since Dove is made from tallow in some countries, it is not considered vegan, unlike soaps made from vegetable oils. The products are available for women, men, and babies and are sold in over 150 countries.
Dove – At A Glance
| | |
| --- | --- |
| Product Name | Dove |
| Industry | Toiletries |
| Introduced | March 8, 1957 |
| Owner | Unilever |
| Country | United States |
| Website | www.dove.com |
Dove SWOT Analysis
A SWOT Analysis is a method organizations use to objectively measure and evaluate their entire performance and rivals. All these criteria assist business owners in making better decisions for their firm, such as whether to expand into a new industry or rebrand.
Dove SWOT Analysis may assist businesses in reaching decisions by allowing them to view the larger picture. Companies can only build a sophisticated strategic plan if they had collected valuable data and knowledge.
Furthermore, Dove SWOT Analysis will challenge them to assess their business's strengths and weaknesses in fresh and exciting ways. This study not only allows them to be prepared for any obstacles that may arise in their business, but it also allows them to have a better awareness of prospective possibilities and dangers in the marketplace.
Strengths of Dove in SWOT Analysis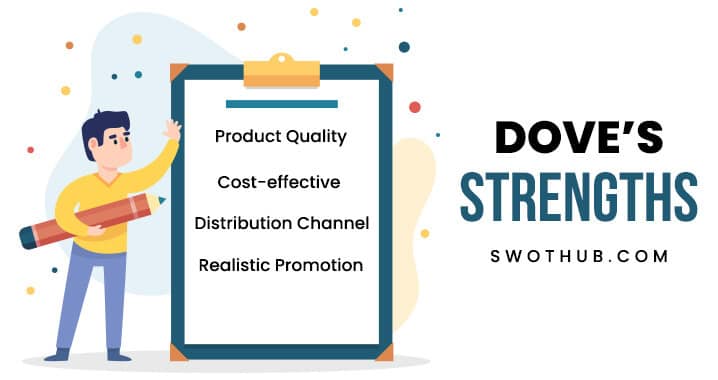 Dove's strengths are the significant elements that the company excels at, giving them a competitive edge in their market and benefiting their consumers. Identifying and improving a company's strength can help it harness its assets.
Product Quality: Dove products are famous for being skin-friendly. Dove's researchers and developers created technology and substances that are gentle and non-irritating to the skin. They have done research to produce products that nourish and safeguard the hair and body. Dove's is a combination of soap and cream, making it both fresh and soft, which Dove consumers love.
Cost-effective: A diverse group of ordinary persons generally promotes Dove's brand. The brand saves much money on advertising since it doesn't hire celebrities. Although, it cannot be termed a total cost reduction because the brand promotes itself heavily through many channels simultaneously.
Distribution Channel: Every HUL (Hindustan Unilever) brand's distribution route is valuable. However, Dove wants to project a "Premium" image; the hand-picked delivery is even more advantageous. Dove is available at major grocery chains and high-end stores. HUL is focusing on both conventional and modern channels to sell Dove products.
Realistic Promotion: Dove's promotion of "beauty in all forms" is one of its selling points. They are true to their brand and don't set unrealistic high criteria for beauty. Dove provides their products to a different range of individuals. That's why they have a strategy of promoting themselves through ordinary people. Consumers think that their brand speaks for them. Therefore, they prefer it over others right away.
Weaknesses of Dove in SWOT Analysis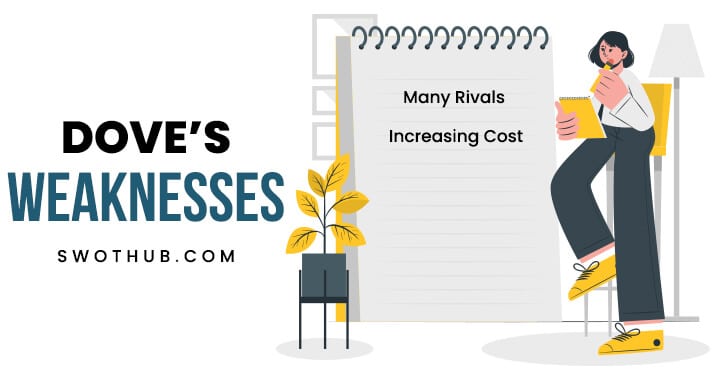 Weaknesses are flaws of a company that could be improved. It's extremely vital at this time to be honest with themselves and accept their imperfections in order to make progress.
Many Rivals: Every beauty sector company seeks to reinvent their goods and develop clever marketing to win the fierce competition. The greater the number of product possibilities, the more options the consumer has, but the lower the market share. Because there is much rivalry in the skin care category, the organization will have to provide discounts and special offers, diminishing the product's margin.
Increasing Cost: The cost of transportation and distribution is rising due to rising fuel prices, and changes in labor costs influence product pricing. Alan Jope, the CEO of Unilever, states that material prices are rising. They've declared that the prices of their goods would increase too.
Opportunities for Dove in SWOT Analysis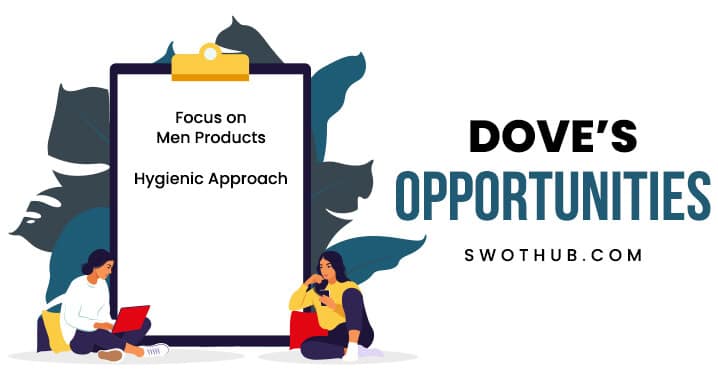 Identifying opportunities are a crucial step so that the company can take advantage of them before the competitors. Similarly, they should do so at the moment that makes the most sense for their company, based on the stage of development they are currently in.
Focus on Men Products: Dove has primarily focused on women's products, but it is now time to turn its attention to men's products as well. Men are also getting more concerned about their appearance and skin. By advertising over the years, they understand that skin care is essential for good impressions. As a result, Dove's outstanding product can easily satisfy this market.
Hygienic Approach: One of the worldwide health crisis impacts has been consumer behavior in the health and beauty industries. There is a never-ending desire for hygiene-focused beauty. Dove may develop more items focusing on personal hygiene and market them as a product that promotes excellent daily sanitation.
Threats for Dove in SWOT Analysis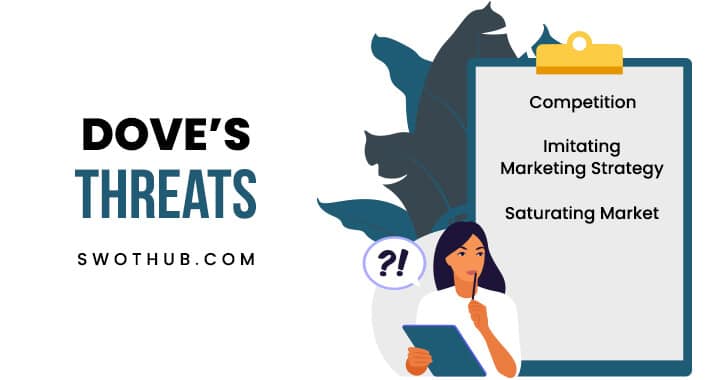 Threats are external elements that can harm a company's reputation. It is important to understand how to reduce them and eliminate them from becoming long-term problems. Threats can occasionally inflict irreparable damage if the organization does not act swiftly.
Competition: Every Personal Care company confronts a strong challenge from the competition, which necessitates that each brand preserves its key strengths while solving the other weaknesses. Dove has tough competition from Nivea, Olay, and other national and international brands. All of them are pursuing acquisitions, and product advancements to expanding their product offerings and attain market domination in their respective areas.
Imitating Marketing Strategy: Dove's marketing strategy was recently imitated by Olay, which started employing real-life clients and putting them on the screen to demonstrate the impact of their products. When your competitor's brand removes the one thing that drives your brand, your marketing plan becomes worthless. If consumer testimonies are used as a messaging medium for a long time, Dove will have to experiment with other strategies.
Saturating Market: The personal care industry is saturated, and the premium target market has several goods in mind to purchase. The market is packed, with Neutrogena, Olay, and Nivea all selling Cream or Soap, shampoo, or conditioner separately. Instead of buying Dove shampoo, customers might buy their chosen shampoo and then use L'Oréal conditioner.
Dove SWOT Analysis Overview Template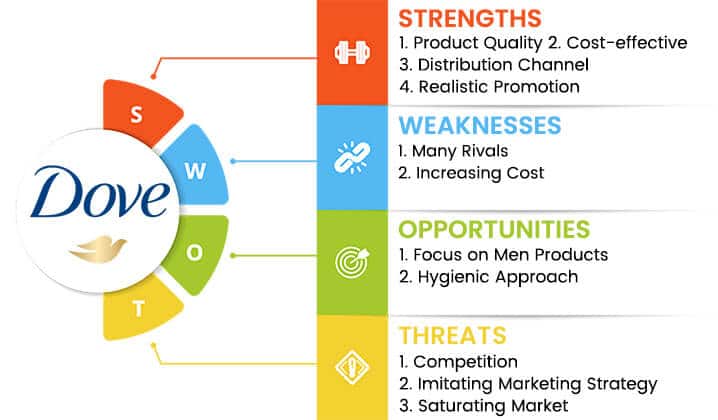 Conclusion & Recommendations for Dove
Here are a few recommendations for Dove's future development:
They may concentrate on E-commerce and leverage their social media presence for marketing and attracting customers to their website. Many of its items are available for purchase via e-commerce sites. As a result, consumers may find Dove items online easily.
They should produce ecologically friendly goods at a relatively low cost to be marketed at a low price.
They should invest in intellectual property rights, taking advantage of their strong financial position. It would help the company compete in a market that is becoming increasingly competitive.
They may offer incentives, improve engagement, or create a better work environment to keep talent. This will stop employees from leaving to work for rivals.
Over the years, the Dove brand has successfully established a distinct brand value.
In conclusion, they should seize this opportunity to adjust to trends without jeopardizing their brand. Dove inspires men and women by urging them to showcase their natural beauty. Despite the market's intensity and saturation, this type of branding distinguishes Dove.