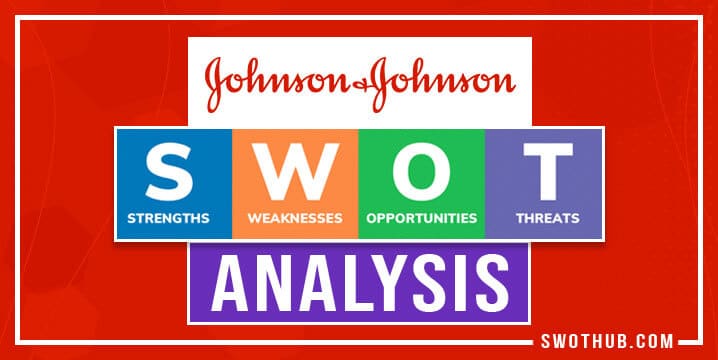 The Johnson and Johnson is a family company that started its journey a century ago. Johnson and Johnson is one of the current leading industries in its fields. Its headquarter is in New Jersey, United States. It is well known for its production and distribution of pharmaceutical and consumer packaged goods, and medical devices. A Johnson and Johnson SWOT analysis helps the company executives to analyze and assess all the internal and external factors of the company.
Johnson and Johnson SWOT Analysis is a proven management framework which enables a brand like Johnson & Johnson to benchmark its business & performance as compared to the competitors and industry.
Johnson and Johnson – At A Glance
| | |
| --- | --- |
| Company Name | Johnson and Johnson |
| Industry | Pharmaceutical |
| Founded | January 1886 |
| Founders | Robert Wood Johnson I, James Wood Johnson, Edward Mead Johnson |
| CEO | Alex Gorsky |
| Headquarter | New Brunswick, New Jersey, U.S. |
| Annual Revenue | $82.584 Billion (FY 2020) |
| Website | www.jnj.com |
Johnson and Johnson SWOT Analysis
SWOT analysis is a strategic planning frame that can be used by the company managers to get a successful situation analysis of the company. A Johnson and Johnson SWOT analysis framework can assist this company to realize their internal strategic factors such as strength and weakness, also their external strategic factors such as opportunity and threats.
Johnson and Johnson maintain its intimidating presence in the business sector only by reviewing the SWOT analysis on a regular basis and improving themselves. So, a Johnson and Johnson SWOT analysis will be of great use for this company.
Strengths of Johnson and Johnson in SWOT Analysis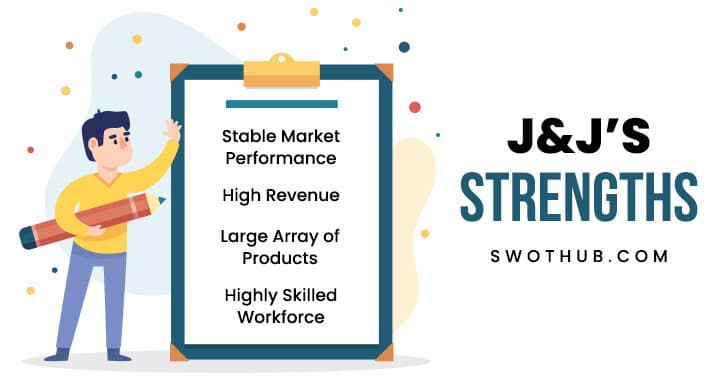 Johnson and Johnson has a plethora of strengths that will help it to thrive in the main field. A Johnson and Johnson SWOT analysis will help to focus on these strengths. Some of them are witnessed below:
Stable Market Performance: Johnson and Johnson have been in the market for almost 130 years. All these years they have managed to maintain a steady performance. Johnson and Johnson have recorded 58 consecutive years of a dividend increase in their investor fact sheets. The products they have introduced make up 25% of their sales. They provide an 11.8% 10-year total return to the investors. So, it is the most stable and reliable business company in the world.
High revenue: The Johnson and Johnson company earns a large revenue. In the last 12 months, it has earned about 80 billion dollars. The revenue stream puts them into a dominant position in the competition. Not only that but also it is 66.23% ahead of its biggest rival.
A large array of products: Johnson and Johnson has a huge array of products. It makes health products, consumer products, and different medical devices. Pencil, Tylenol, Band-aid, Listerine, and several other home brands are also owned by it. This variety of products act as the primary strength of this company. Johnson and Johnson produce over 380 types of products.
Research and development: Johnson and Johnson spends a large sum of its profits on research and development purposes. In the year 2020, the company spent about 21% of its gross income on its research facilities. Research and development are an important part of the pharmaceutical industry. So the high investment in research and development is one of the core strengths of Johnson and Johnson.
Highly Skilled Workforce: Johnson and Johnson proudly flaunt their highly skilled workforce. They train their newbie employees through different training regimes. So, they always stay ahead of their game thanks to their crew.
Global dominance: This company has a notable presence in about 60 countries. It sells its products in almost 140+ countries. People from all over the world use its products, whether they know it or not. This company is a worldwide presence. It is because of its connection with the common people's day-to-day life that the company is standing strong even after all this time.
Strong community: As this company has been in the market for over a century, it has gained many followers that have put their trust in its production. Its experience has gained them a loyal follower base who contributes largely to its yearly income.
Weaknesses of Johnson and Johnson in SWOT Analysis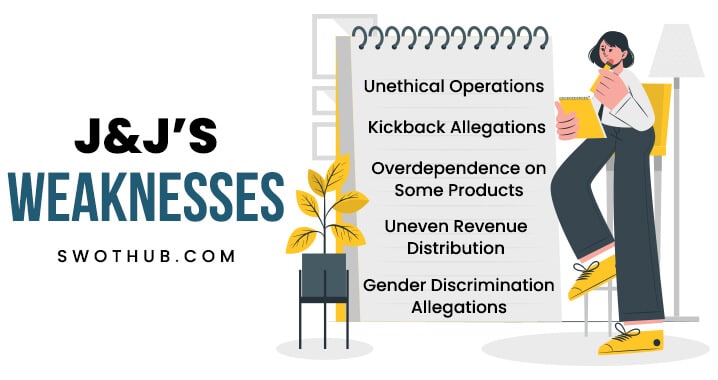 Weaknesses are part of the internal factors of a company. A Johnson and Johnson SWOT analysis will bring many of these to light.
Unethical Operations: Johnson and Johnson have been found guilty of many unethical activities. Not long ago, it was discovered promoting "false, misleading and dangerous marketing campaigns" for Opioids by a judge in Oklahoma. At the hearing, the judge also mentioned that these campaigns encouraged an exponential rise in a drug overdose. It also caused a rise in the number of deaths from a drug overdose. There are also many allegations that paint Johnson and Johnson guilty of violating the health code.
Overdependence on Some Products: Rather than expanding its horizon, Johnson and Johnson prefers to stick to its mainstream products. This is a glaring weakness in this company's strategic planning. For example, only three drugs drive sales for the immunology sector. This will inevitably make them fall behind their competition.
Uneven Revenue Distribution: About half of this company's revenue comes from the pharmaceutical sector. And more than half of these sales come from the immunology sector. If looked closely, only three products drive this whole sales department. Now, these items can easily be patent expired. Also, they have a lot of competition. This lack of variety acts as the key weakness of the company.
Gender Discrimination Allegations: A few years ago, its former senior executive sued for gender discrimination in the workplace and sexual harassment, the public image of the company is taking a good hit. People are losing their faith in the company.
Kickback Allegations: Kickbacks are a form of bribery. Many different pharmaceutical companies offer these doctors so that they will prescribe these drugs to their patients. These allegations are fairly common for Johnson and Johnson.
Opportunities for Johnson and Johnson in SWOT Analysis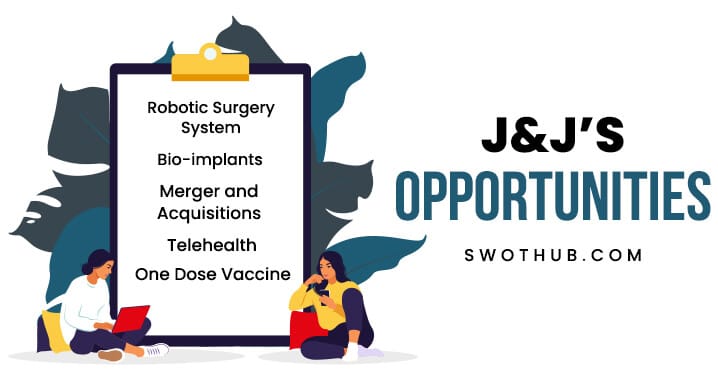 The opportunities are outside factors of a company that they can exploit for profit and benefits for themselves. A Johnson and Johnson SWOT analysis will help the executives to contemplate them before their next big move.
Robotic surgery System: In recent days, Johnson and Johnson have introduced their own robotic surgical system named Ottava. Since a robotical surgery system, if programmed correctly, will have a higher chance of success, this company can explore this field with very less risk of loss.
Bio-implants: Bio-implants are basically artificially made support for our internal organs. In the future, the increase in population will most certainly put this field in high demand. So if the company explores this sector, it will benefit them greatly in the future.
Merger and Acquisitions: Johnson and Johnson are well known for their ability to merge with the correct companies at the correct time. If they keep up this practice it will obviously lead them to success.
Telehealth: Over the next few years, the telehealth market will grow by 14.9%. If Johnson and Johnson manage to snatch up this market, it will work as a good promotional service that will help sky-rocket their sales.
One Dose Vaccine: Johnson and Johnson have developed a new type of COVID-19 vaccine that will require only one dose. Even though its rivaling companies Pfizer and Mordenna have already invented such vaccines, their vaccines require two doses. So for each vaccine that is sold the Johnson and Johnson earn twice as much profit as its rivals.
Threats for Johnson and Johnson in SWOT Analysis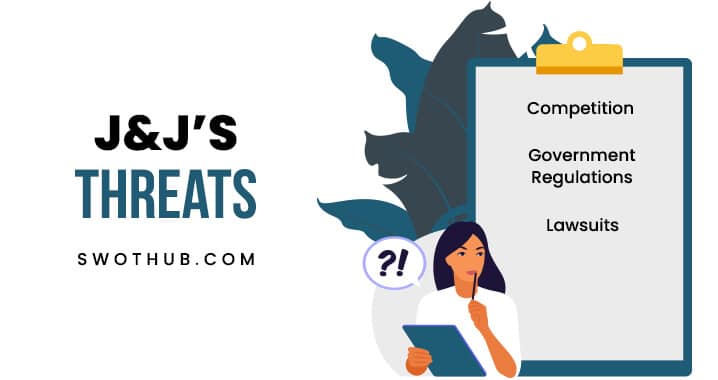 Threats are the most important part of a swot analysis. Johnson and Johnson SWOT analysis will point out the threats to this company that has been holding it back.
Competition: The market is getting more competitive each and every day. New competitors are arriving from all over the world. Also, many small companies are trying to mushroom their way into the market. These are all rivals of the Johnson and Johnson's. However, their biggest competition is Pfizer. They have the early arrival advantage.
Government Regulations: The governmental regulations for the pharmaceutical industry are quite brutal, to be honest. These regulations put a limit to how much the companies can profit from a singular product. Staying compliant across the world is also a great challenge.
Lawsuits: There are many lawsuits against the company. These tend to ruin the Johnson and Johnson's public reputation. It can shake the public trust. Recently, the Johnson and Johnson have declared that they had to pay about a 100 million to settle over a hundred cases. This is one of the greatest threats to this company.
Johnson and Johnson SWOT Analysis Overview Template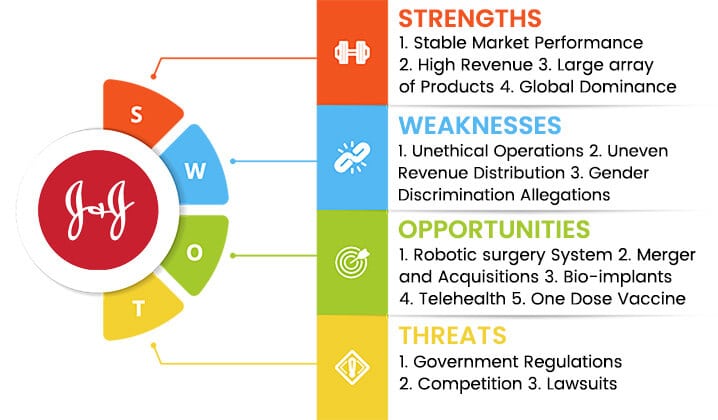 Conclusion and Recommendations for Johnson and Johnson
Here are some recommendations for the Johnson and Johnson to improve their market game from the experts:
Maintaining a proper work environment to ensure the best results.
Boosting consumer health products to increase its sales.
Ensuring a fair distribution of acquired revenue.
Widen its reach of products.
In conclusion, it can be said that a steady line of profit and global reach are the key strengths of the Johnson and Johnson. As for its biggest weakness, that would be the absence of product variety.
A Johnson and Johnson SWOT analysis helps the company in many different ways. Only because it would allow the executive directors to theoretically take apart the company's strategic approach to this day and scrutinize them.