In this Kodak SWOT analysis, we look at this longstanding photography company that brought iconic film, digital, and imaging technology to life. While it was a leader in this space for generations, Kodak's weaknesses and threats brought the company into bankruptcy. Kodak even tried to get into the pharmaceutical industry, which was an epic fail. Let's look at how this iconic photography and imaging pioneer brought the company back with their strengths and opportunities.
Kodak History
George Eastman founded Kodak in 1888, and it has a long history in the photography industry. The business's initial focus was on making photographic plates and film, and it became well-known for its iconic Kodak Brownie camera, which was released in 1900 and made photography affordable for the public.
For much of the 20th century, Kodak remained the market leader in photography and was instrumental in many advancements, including the introduction of the first digital camera in 1975. However, the emergence of digital photography disrupted Kodak's business model in the late 1990s and early 2000s, and the company found it difficult to adjust to the shifting market.
In a Kodak SWOT analysis, the Kodak company underwent significant restructuring and filed for bankruptcy protection in 2012. The company, which concentrated on digital printing and imaging technology, emerged from bankruptcy in 2013 as a smaller, more efficient business.
Kodak has established itself as a supplier of digital printing software and solutions for business and industrial applications in recent years. The business has also entered the cryptocurrency and blockchain industries, introducing its own cryptocurrency in 2018 under the name KODAKCoin.
They have carved out a niche for itself in the industrial printing market, despite the fact that it still faces competition from other companies in the printing and imaging sector, including HP, Canon, and Epson. Its emphasis on digital printing and imaging technology has helped it stand out from rivals and expand its clientele.
Kodak SWOT Analysis At-A-Glance
| | |
| --- | --- |
| Company | Kodak |
| Industry | Technology, Digital Printing & Imaging |
| Founder | George Eastman, Henry A. Strong |
| Year founded | 1888 |
| CEO | Jim Continenza |
| Headquarters | Rochester, NY |
| Number of employees | 4,200+ (2022) |
| Revenue (FY 2022) | US $1.21 Billion (2022) |
…

Kodak SWOT Analysis:
A SWOT analysis is a framework used to assess a company's competitive situation and to create strategic planning. By taking Kodak's strengths and weaknesses, as well as Kodak's threats and opportunities, into account, we may better gain in-depth knowledge about Kodak. In this article, we'll be taking a look at Kodak's SWOT framework to better understand its competitive position and potential for future growth. See how Kodak's competitors fare against them and learn about Kodak's strengths, weaknesses, opportunities, and threats.
What are Kodak's main products?
The two main categories of Kodak's top goods and services are digital printing and software solutions and digital imaging solutions. Here are a few examples:
Kodak's strengths include their Digital Printing Solutions and Software:
Kodak Prinergy Workflow: This software platform enables the management of prepress production processes, such as job submission, file management, color management, and proofing.
Kodak Magnus Q800 Platesetter: In a Kodak SWOT analysis, this is a high-speed, automated platesetter that can produce up to 80 printing plates per hour. It is designed for high-volume commercial printing operations.
Kodak NexPress Digital Production Color Press: With speeds of up to 131 pages per minute, this digital printing press can produce high-quality, short-run color printing. It is made for use in commercial printing operations, such as those for packaging, direct mail, and promotional materials.
Kodak Prosper Press: With high-quality output, this quick, web-fed inkjet printing press can print variable data at speeds of up to 1000 feet per minute. It is designed for commercial books, catalogs, and newspaper printing.
Digital Imaging Solutions:
Kodak Alaris Document Scanners: These are high-speed scanners that can digitize paper documents at speeds of up to 210 pages per minute. They are designed for use in document management and workflow automation applications.
Kodak Moments: This is a mobile app and website that allows consumers to upload and order prints of their digital photos. It also offers a range of personalized photo products, such as photo books, calendars, and mugs.
Kodak Professional Film: In a SWOT analysis of Kodak, traditional film products, such as color negative film, black-and-white film, and color reversal film, are still produced and offered by Kodak. Professional and amateur photographers who prefer the appearance and feel of film photography are big fans of these products.
Kodak SWOT Analysis Strengths:
The areas where a company excels above average or in a manner that distinguishes it from its rivals are its strengths. Kodak's strengths are outlined in this Kodak SWOT analysis.
The expertise Kodak possesses in digital printing and imaging technologies, it's standing as a reliable brand, and its capacity for innovation and market adaptation are its key competitive advantages. Following its bankruptcy, Kodak reinvented itself and positioned itself against rivals in the following ways:
Emphasize the use of digital printing and imaging technology solutions. Kodak's attention has shifted from conventional photography to digital printing and imaging technologies. Kodak has been able to stand out from rivals and benefit from the rising demand for digital printing solutions. To develop cutting-edge printing and imaging technologies that provide high-quality, high-speed, and cost-effective solutions for commercial and industrial applications, Kodak has made significant investments in research and development.
Streamlined Operations: In a Kodak SWOT analysis, as part of its bankruptcy restructuring, Kodak reduced its workforce, divested non-core assets, and streamlined its operations. This has allowed the company to become more agile and responsive to changing market conditions and to focus its resources on its core businesses.
Cryptocurrency: To grow its business, Kodak has embraced new markets and technologies. For instance, by introducing KODAKCoin, a blockchain-based platform that enables photographers to securely license and sell their work, the company has forayed into the cryptocurrency and blockchain space. Additionally, Kodak has collaborated with organizations like GOEX to create eco-friendly printing solutions and with the US government to create essential medicines.
Overall, Kodak's ability to innovate, adapt to changing market conditions, and focus on its core strengths has allowed the company to reinvent itself after bankruptcy and compete successfully.
SWOT Analysis Kodak Weaknesses:
The weaknesses of a company are those that limit its potential, make it less competitive, and prevent it from achieving its goals. In this section of the Kodak SWOT analysis, we'll look at Kodaks's weaknesses against its competitors in the digital printing and imaging industry:
Limited Market Share: Kodak is up against fierce competition from well-known companies with a larger share of the market in the printing and imaging sector like HP, Canon, and Epson. This restricts Kodak's capacity to enter new markets and acquire new clients.
Narrow Product Line: In a SWOT analysis, Kodak's product selection is more limited than that of some of its rivals, which might reduce the company's appeal to clients who need a wider variety of goods and services.
Dependency on Traditional Markets: Even though Kodak has made sizable investments in digital printing and imaging technologies, it still heavily depends on its traditional markets, like photographic paper and motion picture film. Kodak will need to keep refocusing on new markets and technologies as the demand for these products declines.
Dependence on Third-Party Suppliers: For some essential parts of its products, like inkjet printheads, Kodak depends on outside suppliers. This reliance might make it more difficult for Kodak to keep costs under control and react quickly to market changes.
Limited Brand Awareness: While Kodak has a strong brand, it may not be as well-known in some markets as its competitors. This can make it more difficult for Kodak to win new customers and expand its business.
While Kodak has made great strides in reinventing itself after bankruptcy and positioning itself against rivals, the company still faces a number of difficulties in a fiercely competitive and rapidly evolving sector.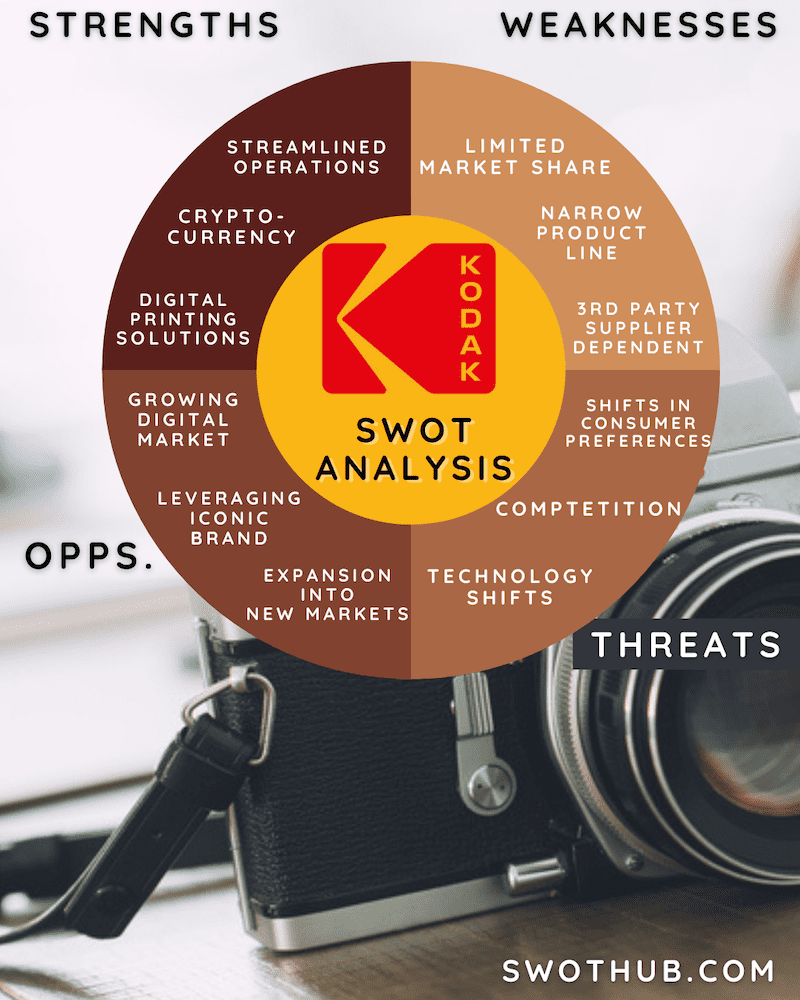 SWOT Analysis of Kodak Opportunities:
Kodak has a variety of ways to improve its market share. The following portion of the Kodak SWOT analysis will examine some of Kodak's opportunities compared to competitors including:
Growing Demand for Digital Printing: In the coming future, it is anticipated that demand for digital printing solutions will increase even further, driven by factors including the growing demand for customization and personalization as well as the move toward more sustainable and environmentally friendly printing methods. Kodak is in a good position to profit from this trend thanks to its selection of digital printing services and expertise in imaging technologies.
Expansion into New Markets: In a Kodak SWOT analysis they can expand into new markets and verticals, such as packaging, labels, and textiles, where digital printing is increasingly being used. Kodak's expertise in digital printing and imaging technologies can help it gain a foothold in these markets and win new customers.
Partnerships and Collaborations: Kodak has the opportunity to form partnerships and collaborations with other companies to expand its reach and capabilities. For example, the company has partnered with GOEX to develop sustainable printing solutions, and with the US government to produce essential pharmaceuticals. These types of partnerships can help Kodak expand its business and access new markets.
Embracing New Technologies: Kodak has the chance to keep embracing cutting-edge technologies and industries like blockchain and cryptocurrencies. Kodak can establish itself as an industry pioneer and leader by embracing new technologies early.
Leveraging Its Brand: Kodak has a strong brand that is recognized worldwide for quality and innovation. The company can leverage this brand to promote its new products and services, and to differentiate itself from competitors. For example, Kodak can emphasize the durability and longevity of its prints, which are backed by the company's reputation for quality and reliability.
Overall, in a Kodak SWOT analysis they have several opportunities to compete and grow against its competitors in the digital printing and imaging industry, by focusing on digital printing solutions, expanding into new markets, forming partnerships and collaborations, embracing new technologies, and leveraging its strong brand.
Kodak Threats in SWOT Analysis:
Threats pose a risk to every company's stability and profitability. This Kodak SWOT analysis will address some of the threats that are important to examine.
In a SWOT analysis of Kodak, some of its largest threats compared to competitors include:
Intense Competition: The market share is fiercely competitive in the highly established digital printing and imaging sector. Kodak is up against established businesses like HP, Canon, and Epson as well as new entrants to the market.
Rapid Technological Change: In a SWOT analysis new technologies and innovations can quickly make existing products and services obsolete, and Kodak could fail to keep up with these changes and risk falling behind.
Shifts in Consumer Behavior: The demand for Kodak's products and services may change in response to shifts in consumer behavior and preferences. For instance, the popularity of digital photography and videography has decreased the demand for conventional film products, and the rise of mobile photography has decreased the demand for conventional cameras.
Dependence on Key Suppliers: Kodak depends on key suppliers for certain critical components in its products, such as inkjet printheads. Disruptions in the supply chain, such as shortages or quality issues, can impact Kodak's ability to deliver products and services to customers.
Is Kodak still going to make pharmaceuticals?
As part of an effort to use its knowledge of chemicals and materials science to help combat the COVID-19 pandemic, Kodak became involved in the pharmaceutical industry. Under the Defense Production Act, Kodak was granted a $765 million loan by the US government in July 2020 to start a new pharmaceuticals division with the intention of producing vital pharmaceutical ingredients (APIs) that were in short supply both domestically and abroad.
Kodak has had to navigate complicated regulatory requirements, form alliances with pharmaceutical firms, and construct new manufacturing facilities in order to successfully enter the pharmaceutical market, though. In addition, there was debate and scrutiny surrounding the loan announcement, with some questioning Kodak's suitability for the government loan.
Kodak's attempt to enter the pharmaceutical industry ultimately failed. After the Securities and Exchange Commission suspended the loan in August 2020 while looking into possible insider trading, Kodak decided not to proceed with its plans to make APIs. Since then, the company has returned to concentrating on its primary markets for digital printing and imaging technologies.
Kodak Competitors:
In a SWOT analysis of Kodak, its competitors would fall under the "threats" category. Here are some of Kodak's main competitors in the printing/digital products industry. Many people ask:
Who are Kodak's competitors?
Several reputable companies in the digital printing and imaging sector compete with Kodak. Here are a few of Kodak's main rivals:
Overall, Kodak will need to keep innovating and differentiating itself to remain competitive and expand its business because it faces fierce competition from established players in the digital printing and imaging industries.
Kodak Conclusion and Recommendations:
Kodak needs to focus on several key strategies to remain competitive in the imaging and printing industry.
Embrace Digital Technologies: To stay competitive in a market that is rapidly changing, Kodak should keep making investments in digital printing and imaging technologies. This entails creating fresh approaches to quick, high-quality printing as well as investigating fresh uses for digital printing technology in sectors like packaging, textiles, and industrial printing.
Expand into New Markets: By breaking into new markets like 3D printing or augmented reality, Kodak should try to increase its market share. By doing this, Kodak would be able to expand its clientele and diversify its business.
Focus on Sustainable Solutions: In a Kodak SWOT analysis, they should concentrate on creating environmentally and socially responsible practices that meet the growing demand for sustainable printing solutions. This includes creating eco-friendly ink and toner options, utilizing recycled materials, and minimizing waste during the manufacturing process.
Develop New Revenue Streams: In addition to its core businesses in digital printing and imaging, Kodak should investigate new revenue sources like software or services that enhance its current offerings.
Invest in Brand Awareness: To promote its goods and services and set itself apart from rivals, Kodak should spend money on marketing and brand awareness campaigns. This includes highlighting its track record for excellence and dependability as well as its dedication to innovation and sustainability.
FAQs for Kodak
1. What are the strengths of Kodak?
Kodak's strengths lie in its strong brand recognition, historical significance in photography, and extensive intellectual property portfolio. It has expertise in chemical and imaging technology, contributing to its resilience in a diverse range of markets.
2. What are the challenges faced by Kodak?
Kodak faces challenges in adapting to digital technology trends, managing financial stability, and competing in an increasingly crowded market. Its struggle to innovate at the pace of industry changes and shift from its traditional business model are significant hurdles.
3. Why is Kodak so successful?
Kodak's success stems from its pioneering role in photographic film and equipment, creating a strong brand synonymous with photography. Its success also lies in adapting its extensive knowledge in imaging technology to new markets and applications.
In this SWOT analysis, Kodak should keep innovating, diversify its clientele, and prioritize sustainability. Kodak can put itself in a position for growth and success in a market that is changing quickly by utilizing its knowledge of digital printing and imaging technologies, forming strategic alliances, and looking into new markets and revenue opportunities.