The world of tech and computers has been highly competitive over the last 30 years. A HP SWOT analysis will show how this company has managed to stay above the competition. Since its establishment in 1939, Hewlett-Packard (HP) has always been a notable name in the field of electronics device brands. Throughout the years, HP has been able to be in a leading position in selling computers. After its separation from HPE (Hewlett Packard Enterprise), its growth rapidly rocketed. But in the global pandemic, its sales curve has gone downwards.
Who are HP's Competitors in SWOT Analysis?
Due to its extensive offering of goods and services that meet a range of needs, HP enjoys a strong competitive position in the market. In terms of its advantages, HP has a solid reputation, a wide range of goods and services, a sizable distribution network, and a devoted clientele. In terms of its weaknesses, HP has had to make investments in improving its product offerings to stay ahead of rivals like Dell and Lenovo.
How can HP Competitors get ahead in SWOT Analysis?
HP Competitors would need to look at their opportunities and threats and use them to their advantage.
Regarding opportunities, HP has the capacity to take advantage of cutting-edge technologies, expand its market share in developing nations, and offer goods and services that are specifically suited to customer requirements. HP is at risk from a slowdown in demand from established markets, rising rivalry, and technological advancements. Generally speaking, HP has significant competitive advantages that should support its continued dominance of the market in 2022. HP Competitors have a great opportunity to take the market if they examine HP's strengths.
HP SWOT Analysis – At A Glance
| | |
| --- | --- |
| Company Name | Hewlett-Packard Company |
| Industry | Computer |
| Founded | January 1, 1939 |
| Founders | Bill Hewlett, David Packard |
| CEO | Enrique Lores |
| Headquarter | Palo Alto, California, U.S. |
| Annual Revenue | $56.6 Billion (FY 2020) |
| Website | www.hp.com |
The Decline of HP – What happened to Hewlett-Packard?
HP SWOT Analysis – Hewlett Packard SWOT Analysis
A SWOT Analysis is an excellent tool to get an overview of a company at a particular time. It helps the policymakers of companies to figure out room for improvement. Using this analysis, one can easily present the strengths and weaknesses of HP. At the same time, future opportunities for the company along with the possible threats can also be shown. So, this framework will help the management to explore its strategic factors, both from an internal and external view.
HP can use the SWOT matrix to enhance its strengths and also resolve its weaknesses. Similarly, they can exploit their opportunities and avoid threats.
As this analysis has a significant role in improving the companies' performance in the business sector, it is very crucial for the company.
HP SWOT Analysis Strengths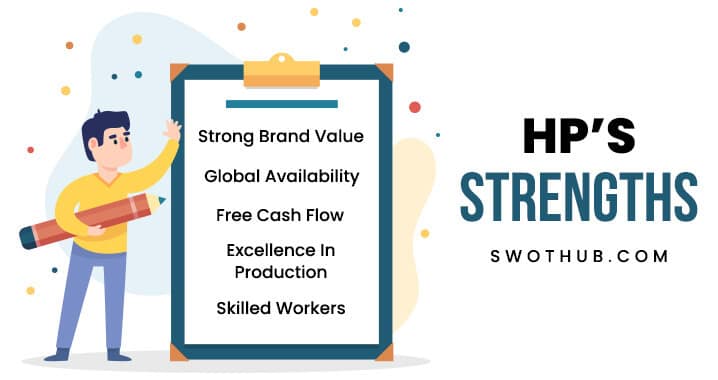 Being one of the most promising tech companies in the world is never an easy task. But this has been made possible by HP for roughly 80 years since its establishment. Behind this brilliant success, there were a lot of strength factors of the company that helped them to be in this position today. Here are some HP strengths that can be used by HP competitors.
Strong Brand Value: HP has a strong presence in the market with its brand value as a manufacturer of personal computers and printers. This company has worked very hard to reach today's position of customer trust. Their brand image is helping to strengthen their foundation of trust and extend their sales. Again, this has helped them to enter new markets and flourish easily.
Global Availability: The products of HP are available in all the large cities around the world. At the same time, most of the popular tech shops are retailers of HP products. Being one of the largest manufacturers of their products, they have been able to earn 35.6% of their total revenue from the United States in 2020. Not only in the US, but HP has also made its products available in the furthest corners of the globe by offering international shipping.
Free Cash Flow: HP has generated not only a huge amount of cash but also free cash flow. This strong free cash flow has provided them with resources to expand into newer ideas followed by projects. According to their reports, HP's cash flow grew by 359% in the fourth quarter of 2020 when compared to the previous year. It's very positive for the company because it suggests that they are doing better.
Research And Development: Every moment, something newer should be served to the customer. It can be a modification of the existing one, or it can also be a completely new technology. HP has a brilliant team of research and development which helps them to grow under the continuous pressure of other companies and market dynamics. The HP labs are growing and successfully overcoming the challenges of the industry.
Excellence In Production: Keeping higher sustainability of the products and customer satisfaction in focus, HP is dominating the production of personal computers and printers. Even amidst the pandemic and global lockdown, they have been successful in maintaining their quality without compromising a little.
Skilled Workers: HP believes in brilliant minds and that's why every year they recruit skilled employees to the workforce, which plays a vital role in their excellence. These employees are improvising the products, bringing up changes for the betterment of the company and the growth of HP is rising.
HP SWOT Analysis Weaknesses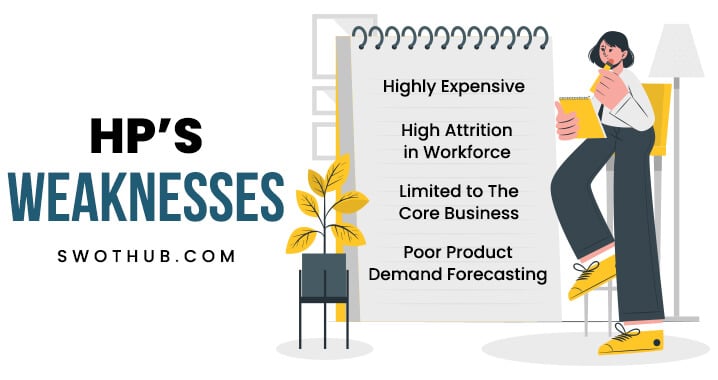 Since no creature on earth is perfect, there is always room for improvement. The weakness of HP is those areas where they can bring up modifications for their betterment which can make them even more competitive in the market.
Highly Expensive: Many HP products are very expensive, which is driving customers away. Though HP focuses on sustainability and excellence in products, still higher prices can harm sales.
Not Available in Less Popular Stores: HP products are available in popular stores. But in distant parts of the world and less populated areas, retailers hardly sell HP products on a regular basis.
Poor Product Demand Forecasting: The demand for personal computers has decreased and so has the demand for printing systems. Again, smartphone demand has rocketed during the last few years. HP is far behind in the production of smartphones as it failed to focus on public demand.
High Attrition in Workforce: HP has a higher attrition rate in the industry if compared to the other industries. As a result, they can't help spending a lot of money on training, research, and development.
Limited To The Core Business: Compared to other competitors, HP was always limited to its core business and hardly received any success beyond that boundary. Though it is one of the leading companies in the field, it faced many challenges to move.
HP SWOT Analysis Opportunities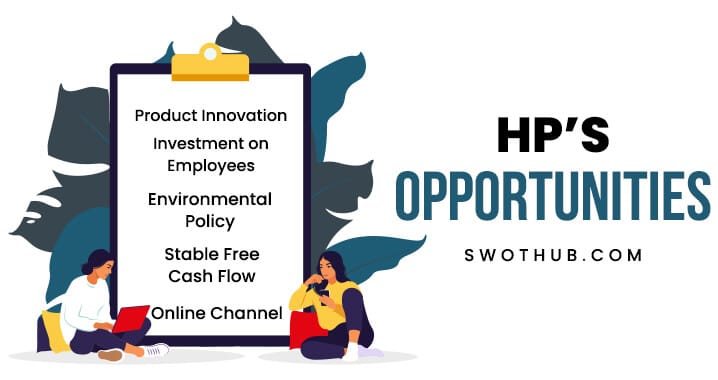 Opportunities are the stairs to success which must be chosen wisely even taking some risks. HP should also have some opportunities that can be very useful for them in the upcoming years. Here are some of the opportunities for HP:
Product Innovation: This leading manufacturing company has always given its best to evolve and innovate according to the demand of the customers. This has led to its production and sales growth in notebooks during the pandemic. Now their main focus is on efficiency, which can be gained by investing in product innovation.
Investment in Employees: HP allows its employees to flourish by giving them opportunities to make a better version of themselves. Allowing them to rise throughout the company plays an important role in the overall success of the company.
Environmental Policy: HP has taken a new environmental policy which will create a great opportunity for HP to advance in the market.
Stable Free Cash Flow: Stable free cash flow allows the company to invest in new projects and products. As HP is increasing its growth, there's a higher probability that the company will extend its market to newer ideas.
Online Channel: With the help of digital marketing, HP is getting a lot of customers. In the last few years, they have seen real progress after investing in creating an online platform for customers. By collecting data from the clients, they can even improve their online platform and serve the customers in a better way.
HP SWOT Analysis Threats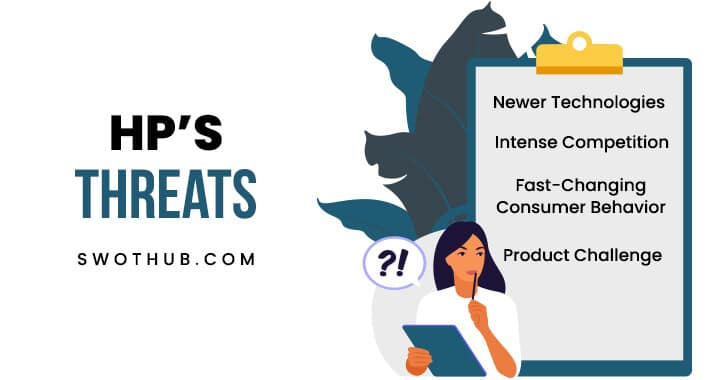 Every opportunity comes up with inevitable threats. But they should not be ignored and if they can be handled carefully, it might bring positive results. The probable threats for HP are:
Newer Technologies: Newer technologies are getting invented overnight and the old schools are lagging. So, to cope with the situation, HP must focus on other competitors developing new technologies. HP Competitors can invent advanced tech that hasn't been used before.
Intense competition: The competition is really intense and very much pressurized. But there's no solution, but to update themselves with new technologies and keep shining amidst the dark clouds of competition.
Fast-Changing Consumer Behavior: Customers' behavior may change with the passage of time and situation. HP should focus on it and act accordingly. They should collect data from customers and move to newer markets if necessary.
Product Challenge: It's really difficult to maintain the quality of the product at the rising cost of raw materials and labor. This can create a huge pressure on them.
HP SWOT Analysis Overview Template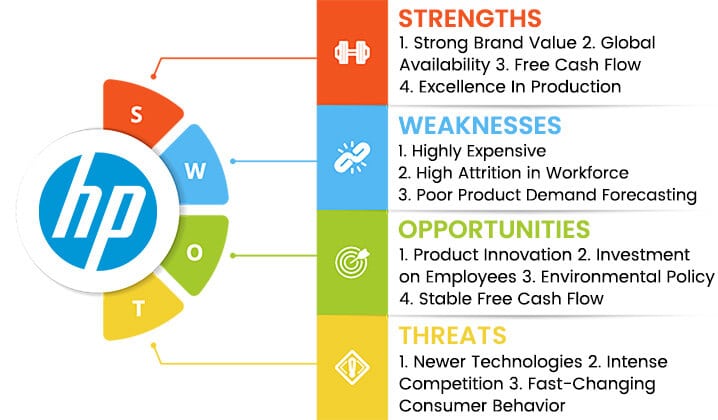 HP SWOT Analysis Recommendations and Conclusion
The world is changing rapidly, and so is the marketplace. HP should keep that in mind, and while producing new products, they should focus on customer demand. As the demand for smartphones is increasing, they can take that into consideration. Also, their products are expensive in many ways which their research and development team should emphasize. Another important factor here is the highly increasing global competition in the business sector. Tech giants are trying to grasp newer technologies, which are a real threat to business. So keeping that in mind, they should extend their horizons.
Finally, HP should focus on customer behavior because it can play a very crucial role in the upcoming years of business and technology.
FAQs for HP SWOT Analysis
What is HP's competitive advantage?
HP excels in a diversified product portfolio spanning from laptops to enterprise solutions. It maintains strong brand equity and global distribution channels. Additionally, their focus on innovation and customer service helps them stand out.
How successful is HP today?
As of 2021, HP remains a Fortune 500 company with revenues exceeding $56 billion. They hold a competitive edge in the personal computing and printing markets, indicating a robust market position.
What was the HP failed product?
The HP TouchPad was a notable failure. Launched in 2011, it was discontinued just 49 days after release due to poor sales. It couldn't compete against Apple's iPad, mainly because of its subpar ecosystem and higher price point.
It can be said that HP as a leading manufacturer of PCs and peripherals is still highly promising and profitable. But some threats and weaknesses may ruin their journey in the long run, which can be solved, if necessary, measures are taken. The SWOT analysis will help them to make HP a better company with more profit and more customer-friendly.