The tourism industry has seen many ups and downs since the pandemic. This means the competition between airline companies is fierce! This Delta Airlines SWOT analysis will shed light on how they have fared against their competition and what challenges lie ahead.
Delta Airlines, popularly known as Delta, is one of the world's oldest airlines in operation. Delta's headquarters is in Atlanta, Georgia. The airline has not only its own business but also other subsidiaries and regional affiliates like Delta Connection (Est. 1984), which is well known for operating regional airlines. Under the Delta Connection, individually owned airlines operate short- and medium-haul routes through code-sharing agreements to increase the frequencies.
In this Delta Airlines SWOT Analysis, we'll cover how Delta Airlines is currently operating in 52 countries, besides 5,000 flights every 24 hours. Even the number of employees, almost 83,000, makes it a must-make SWOT for Delta Airlines.
Obviously, SWOT analysis is our primary aim, but before that, a short portfolio of the company will make it for you to understand.
Delta Airlines SWOT Analysis: At A Glance
| | |
| --- | --- |
| Company Name | Delta Airlines |
| Industry | Airline |
| Founded | March 2, 1925 |
| Founders | C.E. Woolman |
| CEO | Ed Bastian |
| Headquarter | Atlanta, Georgia, U.S. |
| Annual Revenue | $29.90 Billion (FY 2021) |
| Website | www.delta.com |
Delta Airlines SWOT Analysis
Why do you think SWOT analysis is important? SWOT analysis is an important tool to have a proper overview of an organization and find its strengths and weaknesses. By doing so, future opportunities and threats are forecasted accurately. So what are we waiting for? Let's find out the biggest assets and forecast Delta Airlines strategic issues in the future.
Delta Airlines SWOT Analysis Strengths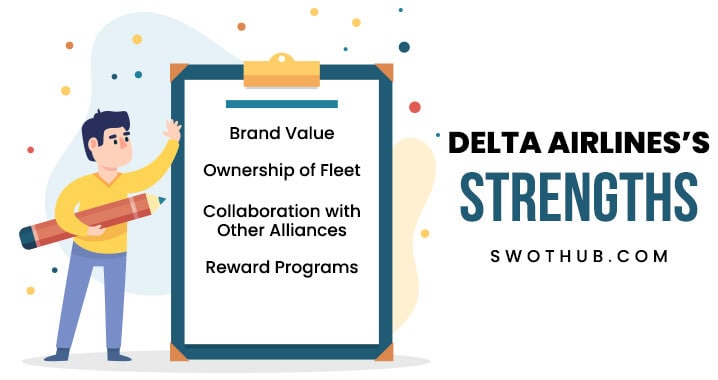 Delta Airlines is a vast company; it has to go through ups and downs from time to time. Still, the company is in the race with other aviation companies and serving its customers wholeheartedly.
Brand Value: Delta Airlines has been in operation for almost the past ten decades, and this organization has become a global brand. Above its aviation service and hospitality, the company got many international and national awards as an exemplary organization in the airline sector and for all sectors.
This is not our information. According to Forbes magazine's estimation, Delta Airlines had a market capitalization of 30.31 billion dollars. Furthermore, it enlisted in the list of Global 2000 companies and got the rank of 263rd. Annually, 180 million customers take service from Delta Airlines.
To gain more brand value, Delta Airlines has engaged itself in CSR and charitable activities to become more familiar with people. So powerful brand values are one of its biggest strengths.
Ownership of Fleet: The ownership of the fleet is a significant issue in the airline business because Delta Airlines completely opposite to other airline organizations. Delta Airlines owns 75% of the fleet of aircraft. They operate 877 commercial aircraft, many of which they own. Among them, 491 are from Boeing, and 386 aircraft are from Airbus.
Now, why does this ownership matter? The only reason Delta Airlines doesn't require renting many airlines is that it saves a significant amount of money and is now a way to break the tax. Paying such an amount of tax is a financial strength for the company.
Collaboration with Other Alliances: Having alliances in any business feels like raining blessings from the sky. Delta Airlines is in the alliance group of SkyTeam, which has only 18 airline members, and together they provide a seamless travel experience. So passengers are always looking forward to traveling on Skyline Alliance airlines because they get so much convenience.
Delta Airlines has a partnership with Codeshare, allowing them to sell the DL code to other flights operated by partner airlines from SkyTeam. It helps two or more airlines to have one flight which ultimately ensures more hospitality to tourists and makes Delta Airlines Popular.
Reward Programs: Rewards like earning 3 miles per dollar on Delta Airlines sound like lucrative rewards. To have this reward using the Delta SkyMiles @Reserve American Express card and spending money on the Delta Sky Club lounge at the airport or having a sky bonus helps the service recipients more conveniently.
Delta Airlines SWOT Analysis Weaknesses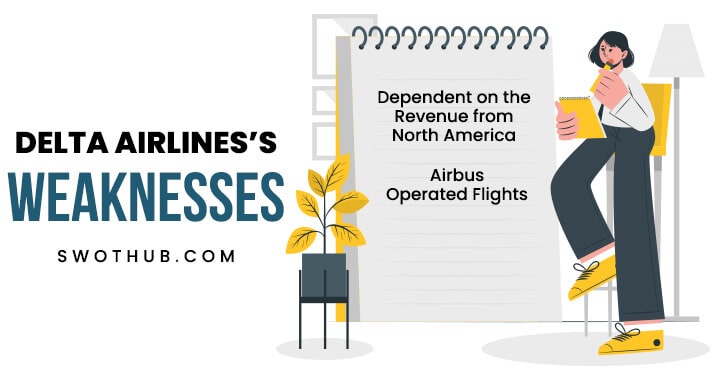 Like strength, every company must have weaknesses, but that doesn't mean the weaknesses are hidden. All know the weaknesses, but no organization can eliminate them entirely.
Dependent on the Revenue from North America: The weakness of Delta Airlines is the most criticized one, as the company has a network across 6 continents. Still, the airlines' service is not equally distributed according to the operation routes. Sooth to say, 80% of their profit is guaranteed from North American Flights. So imagine they barely operate the rest 20% of flights locally and internationally, which means Europe, Asia, and Oceania.
Typically, we don't see any harm as long as it is profitable, but what if Delta Airlines North America's market continues to be out of reach? It is not unimaginable; that the entire company will then fall head over heels.
Airbus Operated Flights: In a Delta Airlines SWOT analysis, most of the aircraft are from the Airbus after Boeing in Delta Airlines. But Airbus has an issue with the engine. Even recently, in 2020, in India, there was an incident of shutting down Pratt & Whitney in midair.
But it is nothing new for Airbus; the turbine issue is familiar to his aircraft. That's why the Federal Aviation Administration set a new guideline for inspection for Airbus. Still, people are using Airbus aircraft willingly. If any more incidents happen, then people will overlook riding on Delta's Airbus services.
Delta Airlines SWOT Analysis Opportunities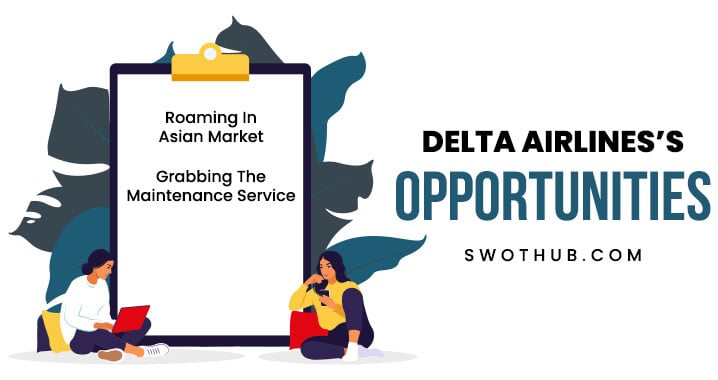 Strengths and weaknesses are the things an organization is currently facing. Still, forecasting the opportunities it may have soon and taking full advantage of any opportunity should be the nature of any well-organized company.
Roaming In the Asian Market: In a Delta Airlines SWOT analysis, Asia has the world's most populated continent, and because of the 21st century's globalization effect, more and more countries in Asia are getting developed. Thus traveling by aircraft is increasing. Most Asian people are trying to migrate to the USA, and thousands of students are going to the USA and Canada to study in Asia.
So if Delta Airlines reaches out to grab the Asian market, it may bring out the best economic period of the airline's lifetime.
Grabbing the Maintenance Service: Maintenance, repair, and overhaul is a subdivision of the airline industry. If you see Delta Airlines' market segmentation, you won't find anything related to MRO. But they have a large workforce and have operated flights for almost 100 years. Experience matters sometimes. It is high time for Delta Airlines to expand the MRO section and give service to the other newly founded airline companies.
Threats for Delta Airlines in SWOT Analysis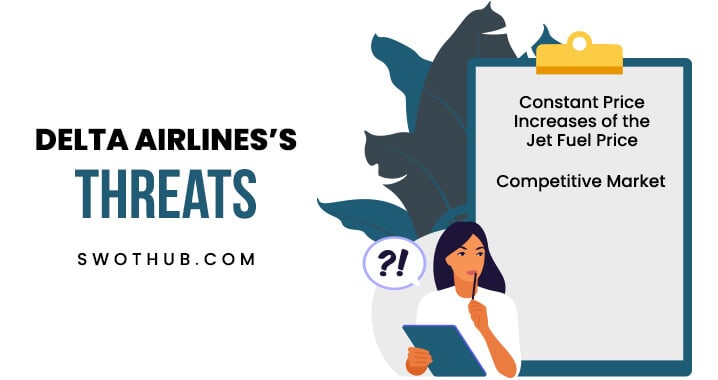 Preparing for the enemy never surprises us when the enemy comes home. Sometimes, invisible threats never make us concerned, but by analyzing the market and other businesses, every company should sit tight.
Constant Price Increases in the Jet Fuel Price: In the last two and half years, the world has faced the most crucial time of the 21st century. No one forecasted or expected the effect of COVID-19. As every organization is trying to get up from the loss they have suffered, the war between Russia and Ukraine threatens another phase of the economic crisis.
It's already started; the fuel price has increased so much that, as a result, every airline is being forced to increase the ticket price. So people are traveling less because income has not increased yet. That's why Delta Airlines may face some serious economic issues, as they did in the past with the bankruptcy.
Furthermore, because of COVID-19, regulations are being strictly followed by every country, so the number of flights is decreasing.
Competitive Market: It's not a time when any company can relax. Every company has competitors. Delta Airlines' biggest competitors are British Airways, American Airlines, Republic, SkyWest, and Southwest Airlines. So, if Delta doesn't expand its market and continuously analyze the other competitors, then it won't have a second chance to achieve customer reliability.
SWOT Analysis of Delta Airlines Overview Template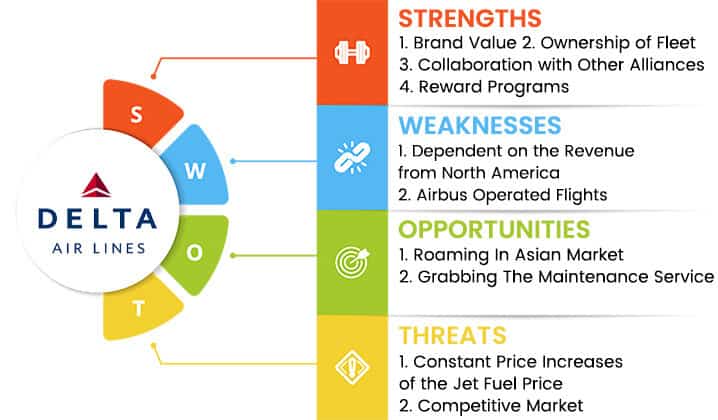 SWOT Analysis for Delta Airlines' ways to Stay Ahead of Competitors:
In a Delta Airlines SWOT analysis it can improve against its competitors by focusing on several key areas, such as:
Customer service: Providing excellent customer service can help differentiate Delta from its competitors and create a positive experience for passengers.
On-time performance: Minimizing flight delays and cancellations can increase customer satisfaction and loyalty.
Routes and destinations: Expanding their route network and offering more non-stop flights to popular destinations can attract more customers.
Pricing and fare options: Offering competitive pricing and a variety of fare options, such as basic economy, can attract price-sensitive customers.
Amenities and in-flight experience: Investing in new planes and improving in-flight amenities, such as in-flight entertainment and Wi-Fi, can enhance the overall travel experience for customers.
Use of technology: Improving the use of technology in the booking, check-in, and boarding process can make the travel experience more convenient and efficient for customers.
Loyalty program: Enhancing the loyalty program can help to increase customer retention and repeat business.
Environmental sustainability: Delta Airlines can improve against its competitors by focusing on environmental sustainability by reducing emissions, using renewable energy sources, and recycling.
Delta Airlines SWOT Analysis Recommendations
So far, we've discussed about Delta Airline's positives, negatives, and limitations. But we talked about the opportunities too. It's time to give some of our recommendations for making its progress dynamic.
Delta Airlines should try to reach different continents other than North America. During the COVID pandemic, many students from Asia couldn't apply to universities and colleges in USA, Canada, etc. So, now more and more students are applying and Delta Air Lines should grab this Chance.
Advertisements on Social Media work far better than on television and billboard advertisements. It's time to spend more budget on social media and make people understand what convenience, Delta Airlines is offering them.
FAQs for Delta Airlines
What are Delta Airline's strengths?
Delta Air Lines boasts a robust route network, with a strong presence in key markets. They excel in operational reliability, with a track record of on-time flights. Their loyal customer base and innovative cabin upgrades also stand out as strengths.
What is Delta's competitive advantage?
Delta's competitive edge lies in its extensive fleet, including fuel-efficient aircraft. They prioritize customer satisfaction through superior service, and their SkyMiles loyalty program fosters brand loyalty. Furthermore, their financial stability and alliances enhance competitiveness.
What are the weaknesses of Delta Air Lines?
Delta faces challenges with high operational costs, primarily fuel-related. Labor disputes have occasionally disrupted services. Additionally, their heavy reliance on the domestic market leaves them vulnerable to economic fluctuations. Balancing costs while maintaining quality is an ongoing challenge.
To get an exquisite idea of Delta Airlines SWOT Analysis, look for Delta Airlines PESTLE analysis because it helps to understand the political, economic, social, and technological state of Delta Airlines. We suggest you go through the American Airlines SWOT analysis and United Airlines SWOT Analysis to understand the different perspectives of different airlines.