Communications have become the reason why our world is accessible in a matter of seconds. This Verizon SWOT analysis will highlight how they became king of the communications industry over the last 20 years.
Founded in 1999, Verizon Communications Inc. is one of the biggest telecommunications companies in the world. The company now has over 135,000 employees and a market cap of $218.11 billion. Verizon is a joint venture of two of the most iconic telecommunications companies, Bell Atlantic and Vodafone. Bell Atlantic is related to Alexander Graham Bell, as the company is the brainchild of the inventor of the telephone. Today, Verizon serves over 120 million subscribers and is the largest telecom company in the US.
Verizon – At A Glance
| | |
| --- | --- |
| Company Name | Verizon |
| Industry | Telecommunications |
| Founded | October 7, 1983 |
| Founders | Ivan Seidenberg |
| CEO | Hans Vestberg |
| Headquarter | New York City, New York, U.S. |
| Annual Revenue | $133.61 Billion (FY 2021) |
| Website | www.verizon.com |
Verizon SWOT Analysis
In order to make a company successful, making major and minor decisions is inevitable. Hence, the need to analyze all the factors of the business is highly essential. The analysis will give you insight into your operations, your efficiency, and the potential of your business. Same for Verizon as well. This Verizon SWOT analysis will help you understand their strengths, weaknesses, opportunities, and threats.
Verizon SWOT Analysis Strengths
In the Verizon SWOT Analysis, the first element we will discuss is strengths. These factors are the key reasons why the company is a leading name in the industry. Strengths keep the company stable, profitable, and sustainable. Let's see some of the strengths of Verizon.
Strong Market Presence: Verizon is the biggest telecommunications network company in the US. According to Camscore, Verizon is the industry leader with the highest market share in the US, with a 31% market share. AT&T is the closest rival, with a 27% market dominance. However, Verizon falls a bit short of AT&T when it comes to smartphone share. Here, Verizon holds around 27% of the market, whereas AT&T has a market share of 38%.
Innovation and Advancements: When it comes to technology, Verizon is always in the first line. The company doesn't compromise to bring the best innovation to its customers. No matter whether it's 4G LTE or 5G, they will be the first to implement the technology. For this, Verizon invests heavily in innovation. Just recently, Verizon invested more than $200 in the customers of North Carolina.
Smart Acquisitions: Verizon doesn't keep its business only in the telecommunications industry but also acquires companies from different industries. Some of Verizon's notable acquisitions are Yahoo, Straight Path Communication, LQD WiFi, AOL, AllTel, MCI, etc. Verizon has an approximate acquisition value of over $58 billion.
Verizon SWOT Analysis Weaknesses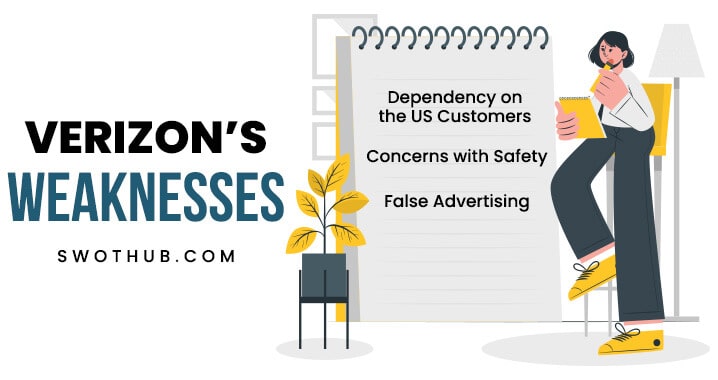 Just like its strengths, the company also has quite a few weaknesses, which we are going to discuss in this Verizon SWOT Analysis. Weaknesses are the drawbacks of the business, which play a vital role in making the business unsuccessful. If they are taken lightly, chances are high that the business will succeed. Now, let's have a look at what Verizon should work on.
Dependency on US Customers: Verizon's business plan is heavily based on the US market. Even though this has led the company to capture the biggest share in the US industry, this has also made the company depend on this market only. According to Investopedia, the biggest telecom company in the world is AT&T, whereas Verizon is second.
Concerns with Safety: Telecommunication companies have been criticized for their several safety concerns already. Data security is always a thing, especially for telecommunication companies, which have a fair share of our information. Verizon has already released an article regarding that. Also, the role of 5G has already created concerns about airline safety. Hence, both Verizon and AT&T delayed their 5G rollout until January 2022.
False Advertising: Verizon is notorious for its false and misleading advertisements. In one ad, the company showed that with a Verizon account, you are supposed to get a free iPhone, which is a false advertisement. Similarly, their 5G ads received mixed opinions due to misleading claims.
Verizon SWOT Analysis Opportunities
Strengths and weaknesses are part of the internal environment. But a business is also affected by the external environment and one of that is opportunities. Opportunities are how a business can succeed. In the next section of the Verizon SWOT Analysis, we will check some of the opportunities the business can exploit. A
Global Expansion: We have already mentioned the threats of Verizon's over-dependency on the US market. Verizon can benefit from that situation too, as they have a high potential to penetrate the global market. By expanding its business overseas, Verizon can drastically increase its customer base. A bigger customer base will surely generate a high amount of revenue.
Service Diversification: The presence of the pandemic has opened up a new era of work, and that is working from home. One of the biggest considerations of working from home is videoconferencing, which has now become a big topic. Verizon can easily take this as an opportunity and introduce services that can help its customers have a smoother video conferencing experience.
Differentiated Pricing Strategy: Verizon heavily focuses on differentiation. This is their main business strategy. They can bring this approach to their pricing too. They can bring a differentiated pricing strategy that can benefit the company and its customers. Not to mention, Verizon has already taken different pricing strategies that are in action. Those prices are high, based on psychology.
Verizon SWOT Analysis Threats
Tough Competition: Like any other big company, Verizon is competing with the likes of AT&T and T-Mobile. In some areas, Verizon is yet to beat AT&T. Additionally, T-Mobile is gaining more and more customers on a regular basis. Also, there is Sprint, which is also thriving in the market. The main issue is the aggressive pricing of the competitors, which is the biggest headache for Verizon.
Buyer's Bargaining Power: Compared to other industries, in the telecommunication and wireless industries, customers have more power than usual. This means that companies are always on the verge of losing customers. The same goes for Verizon. Thus, it must always go above and beyond to keep its customers in a SWOT analysis of Verizon Communications Inc
Rising Pay Level: As the inflation rate is rising day by day, the wages of the employees are also rising regularly. This is highly impacting Verizon's profit margin. To keep the business profitable, the company now needs to increase the prices of its services, which can lead to losing customers. Verizon has already increased prices in June 2022.
Verizon SWOT Analysis Overview Template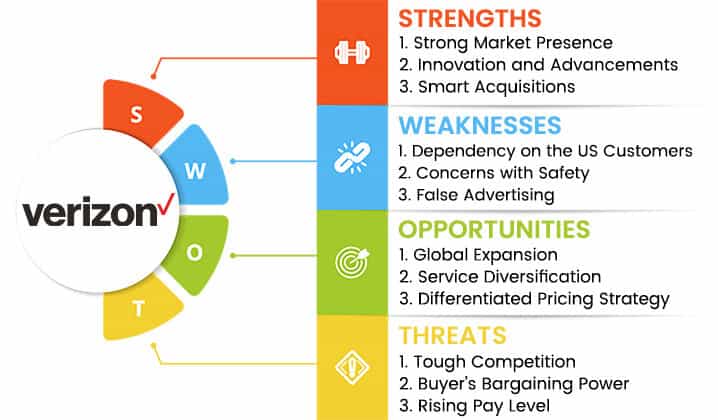 Suggested Verizon Business Strategy – Verizon SWOT Analysis
Verizon has many opportunities for growth and success that can be identified through this Verizon SWOT analysis.
The strengths include the fact that Verizon is a well-known and trusted brand with a large customer base. Its strengths also include its large network infrastructure, its ability to offer a wide range of services, and its financial stability.
Verizon's weaknesses include a lack of geographic diversity and a lack of innovation in some areas. The opportunities for Verizon include the growing demand for wireless services and the potential for further expansion into international markets.
Verizon's threats include competition from other wireless providers, government regulations, and changes in consumer demand.
By conducting a SWOT analysis, Verizon can identify areas for growth as well as potential threats and use this information to make informed decisions about its future.
Verizon SWOT Analysis Recommendations & Conclusion
The following recommendations from industry experts can help Verizon increase its market share:
Acquire more diversified companies to bring more diversity to the business portfolio.
Regularly bring technological advancement and innovation to ensure market leadership.
Focus on global expansion and increasing international customers.
Keep environmental safety in mind and enforce data security.
Refrain from promoting false and controversial advertisements.
Create a competitor analysis and update it regularly.
Focus on reducing operational costs so that service prices remain stable.
Overall, we can conclude that Verizon is a pioneer in the telecommunications industry in the US. The company has been in business for a long time, and the customer base is larger than ever before. While having such strengths, the company is regularly open to its weaknesses, which it should never neglect. Additionally, staying away from important threats and exploiting opportunities can provide significant possibilities for the business.
1. What are the weaknesses of Verizon?
Verizon's weaknesses include higher pricing compared to competitors, a significant debt load, less presence in international markets, and some customer service challenges that impact customer satisfaction and loyalty.
2. How does Verizon differentiate itself from its competitors?
Verizon differentiates through its superior network quality, extensive coverage, particularly in rural areas, a strong focus on technology innovation, and a diverse range of telecommunications services, catering to both individual and business needs.
3. What is Verizon's strategy?
Verizon's strategy centers on expanding and enhancing its 5G network, investing in fiber optics, diversifying into new business areas like the Internet of Things (IoT) and digital media, and improving customer experience through technology advancements and service enhancements.
To make Verizon more successful, the need for insightful SWOT analysis is inevitable. This Verizon SWOT analysis will allow the company to understand where it should focus and where it should bring stability. The analysis shows what internal factors of the company can play a big role in making the company the world's biggest. Aside from that, there are also factors mentioned that show which elements are pulling Verizon down. By doing this, the company will have a profitable and sustainable future.