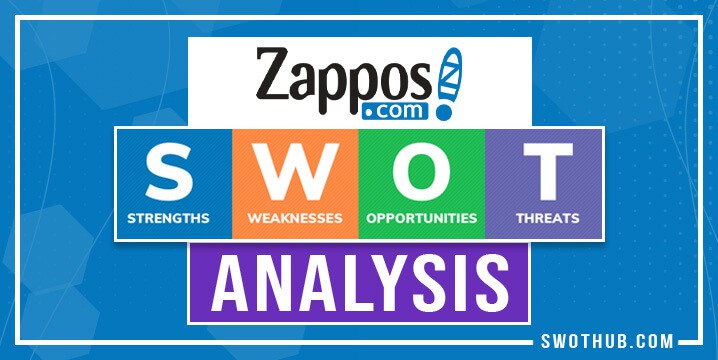 From a shoe-selling company in 1999, Zappos has grown to a billion-dollar company with over 1500 employees. The company now sells handbags, clothing, and other accessories in addition to shoes. The biggest eCommerce brand 'Amazon' acquired this company in July 2009. Zappos didn't achieve its success overnight. But what made the company so successful?
Zappos – AT A Glance
| | |
| --- | --- |
| Company Name | Zappos |
| Industry | Retail |
| Founded | July 12, 1999 |
| Founders | Nick Swinmurn |
| CEO | Kedar Deshpande |
| Headquarter | Las Vegas, Nevada, U.S. |
| Annual Revenue | $2 Billion (FY 2015) |
| Website | www.zappos.com |
Zappos SWOT Analysis
When buying shoes, Zappos is the first name that comes to anyone's mind. Being one of the biggest retailers of shoes and other products in the US market, Zappos has always been regarded highly for its mentality to go beyond for its customers. Also, other stories contribute to their success. Today, in our Zappos SWOT analysis, we will have a deeper view of what makes the company great!
Strengths of Zappos in SWOT Analysis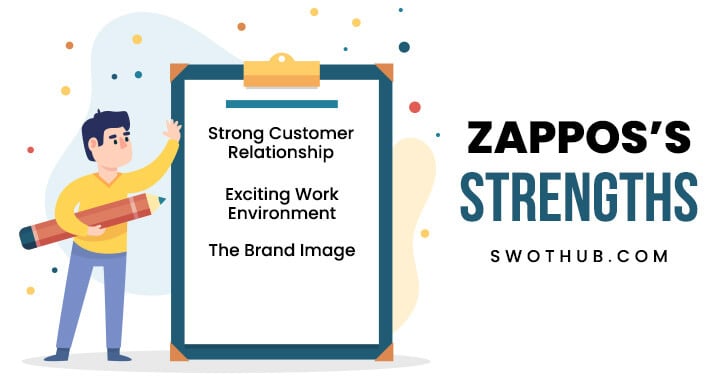 Zappos is a big brand whose success came from some of its core strengths. The strengths are a company's internal element that help it stand against its competitors. In the Zappos SWOT analysis, we will discuss a few company strengths.
Strong Customer Relationship: Customers are the key to any business, and people at Zappos believe that more than anything. Hence, the customer relationship is so good. Zappos is obsessed with providing the best customer service to create lifelong customer relationships. The company's success highly relies on this element of the company. Several case studies have been conducted on how well Zappos maintains customer relationships.
Exciting Work Environment: Zappos is also known for its excellent working culture. The environment of the Zappos office is fun, weird, and full of family spirit. The culture highly focuses on happiness and will do everything to keep the employees happy and motivated. Such kind of working culture is known as Customer-Centric, and keeping the employees happy is the best way to achieve that.
The Brand Image: Zappos has a unique branding approach, starting with its employees. What Zappos does is quite magnificent. Zappo's new employees should undergo a training period (f weeks), where the brand's core values are implemented. These proceeds to 2 weeks of phone calls to customers where the branding through the service is done. This has made the brand a customer-friendly organization in the mind of the customers.
Weaknesses of Zappos in SWOT Analysis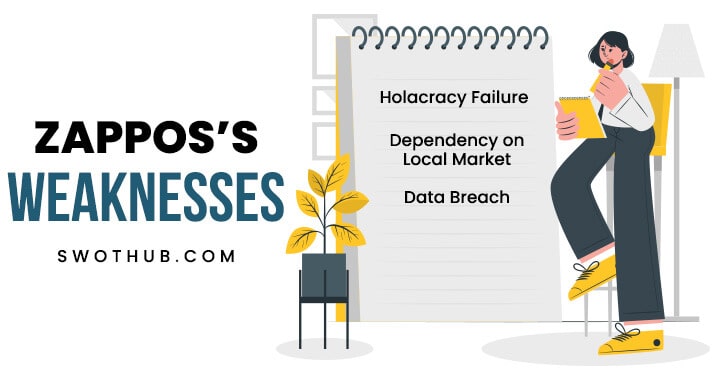 Just like there are good internal factors, there are also bad ones. Weaknesses are those internal factors that need nourishment. Like any other company, Zappos has its fair share of weaknesses, which we will explain in the Zappos SWOT analysis.
Holacracy Failure: Zappos has adopted a different type of management structure called the Holocracy. This organogram is a decentralized approach to management where there will be no particular job designation. Therefore, there is no manager either. However, this approach of Zappos has proven to be quite disoriented. The issue is with the employee where a lack of morals has been noticed among the employees, and just because there is no manager, the productivity has gotten lower.
Dependency on Local Market: Zappos is highly dependent on the local market. More than 90% of its market share are from the USA alone. The other countries are Canada (0.83%), the UK (0.55%), and the Republic of Korea (0.43%). Even though the company earns a high amount of revenue from the US market if the company focuses on sustainability, depending on the local market is not a very good idea.
Data Breach: In 2012, the company experienced a data security travesty where hackers stole personal information about the customers. The hacked information contains the customers' addresses, names, and numbers. Fortunately, the hackers were unable to breach credit card information. Since then, the company has been constantly under supervision regarding data security.
Opportunities for Zappos in SWOT Analysis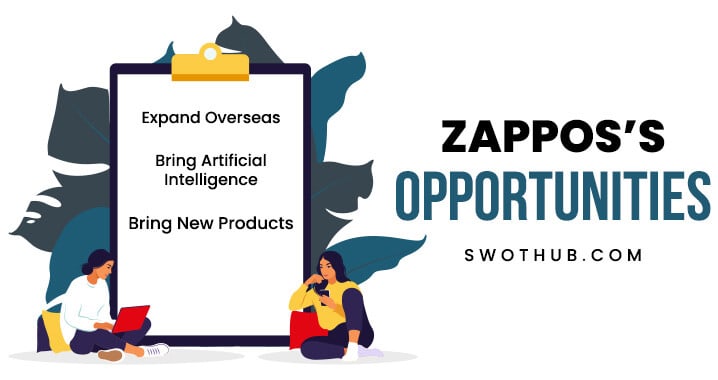 When it comes to a company's external environment, the opportunities are the positive aspects. They give a company a chance to stay ahead of the competition. Hence, it is extremely important to take the opportunity and flourish. As a company, Zappos has a few possibilities. In the next section of the Zappos SWOT Analysis, we will talk about them.
Expand Overseas: As we mentioned already, more than 90% of the company's consumers are from the USA. So, that gives the company a huge opportunity to expand to other countries and start capturing those markets as well. Countries like Canada and Mexico have a good demand. The company already operates in those countries but in a smaller scale. Upscaling will result in a much better outcome.
Bring Artificial Intelligence: Zappos can introduce AI into their products to make the line even more effective and efficient. The company has already used artificial intelligence in its search engine, and the outcome is high. The system is called Genetic Algorithms, which uses historical data and aligns them with new keywords to provide better-personalized results. The result of the new system has already given the company more than a million of unique search queries, which is a big increase compared to previous periods.
Bring New Products: Zappos offers a wide variety of products. However, what they most sell in the shoe. This is the product Zappos started its business with. Aside from the shoes, the company also sells bags, clothing, accessories, and other products. However, despite their big product portfolio, they mostly sell shoes. This opens an opportunity for them to focus on other products such as sports gear and outdoor gear.
Threats for Zappos in SWOT Analysis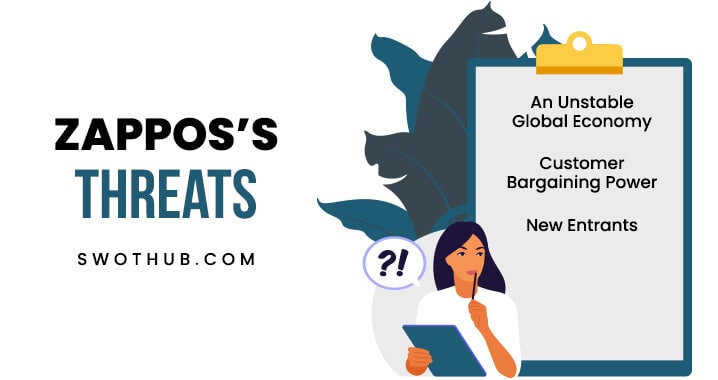 Another aspect of the macro environment is the threats that can affect the business model of any company. Threats can come from any external element, such as digitalization, economic instability, change of policy, etc. Threats are an essential part of a business like Zappos. Therefore, these aspects should never be neglected. Today, we are going to discuss those in the Zappos SWOT Analysis.
An Unstable Global Economy: The world economy has been going through a lot lately. The recent conflicts between Russia and Ukraine, which have resulted in war, have significantly impacted the global economy. The prices of products have been rising at a rapid pace. Products such as commodities and fuel have seen the biggest rise among all. This economic instability can negatively impact its customers, as their ability to purchase will decrease, leading to a decrease in revenue.
Customer Bargaining Power: At present, customers have higher bargaining power as compared to any company. The same has been noticed for Zappos as well. The presence of the online market has put Zappos on the backstage as customers can now choose from other competitions easily. As a result, the sale of Zappos products depends highly on the customer's preference.
New Entrants: There is an open chance of new entrants in the commodities market, especially shoes, which Zappos sells the most. Besides, the business model of Zappos is quite easy to relocate, allowing newer businesses to copy and start their business. Furthermore, more recent entrants focus heavily on cost leadership, which leads to offering products at a very low price.
Zappos SWOT Analysis Overview Template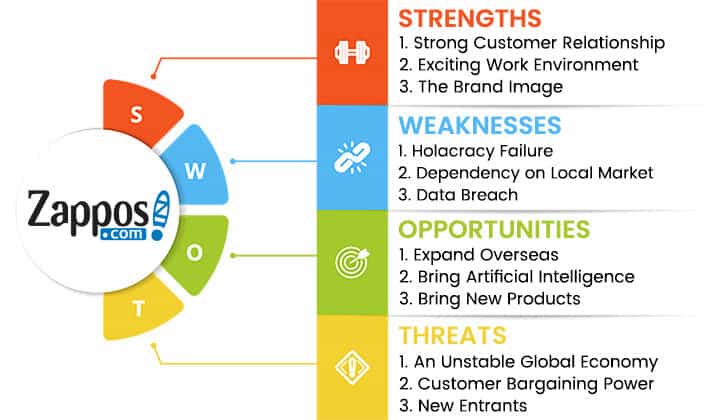 Conclusion and Recommendations for Caterpillar
Zappos can advance its market with these recommendations from industry experts.
Keep the customers happy. Customer satisfaction should always remain at its highest peak.
Focus on globalization. Zappos should try to expand its business to other countries to grab more customers.
Zappos should bring new products and sell them as much as possible. It should move away from its present dependency on shoe items.
Introduce artificial intelligence to operations and products to make the line more efficient, fast, economical, and productive.
Strengthen the data security so that no further data breaches can occur.
As a business, Zappos has always been regarded one of the best in terms of customer satisfaction. One thing they can do the best compared to others is how they can keep the customers happy. However, only customer satisfaction won't sustain a company in the present market dynamics. Therefore, additional measures need to be taken.
Therefore, our Zappos SWOT Analysis is a great way to understand what the company can do to succeed in the future. We tried to cover all the aspects of SWOT analysis which shows what the company is good at and what they should consider improving. This is a useful tool for effective higher management decisions.