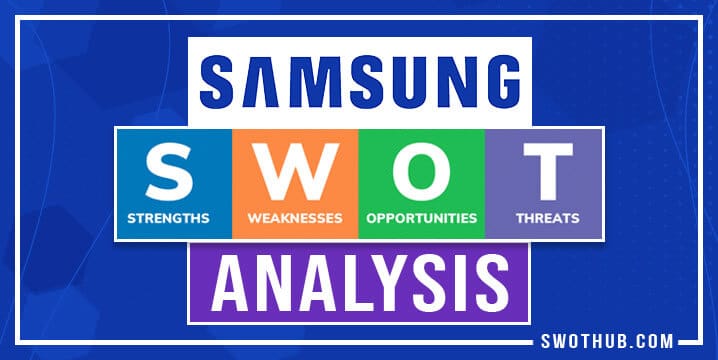 Samsung is an electronic company that mainly focuses on developing and selling electronic gadgets. It was founded in 1938 in South Korea. It sells its product in 190 countries gives or takes. A Samsung SWOT analysis helps the company executives to analyze and assess all the internal and external factors of the community.
A Samsung SWOT Analysis is a proven management framework that enables Samsung to benchmark its business & performance as compared to the competitors and industry.
Samsung – At A Glance
| | |
| --- | --- |
| Company Name | Samsung |
| Industry | Conglomerate |
| Founded | 1 March, 1938 |
| Founders | Lee Byung-chul |
| CEO | Lee Jae-yong |
| Headquarter | Seocho District, Seoul, South Korea |
| Annual Revenue | $212.3 Billion (FY 2020) |
| Website | www.samsung.com |
Samsung SWOT Analysis
SWOT analysis is a strategic planning frame that can be used by the company managers to get a successful situation analysis of the company. A Samsung SWOT analysis framework can assist them to realize their internal strategic factors such as strength and weakness, and also their external strategic factors such as opportunity and threats.
Samsung maintains its intimidating presence in the business sector only by reviewing the SWOT analysis regularly and improving itself. So, a Samsung SWOT analysis will be of great use for this company.
Strengths of Samsung in SWOT Analysis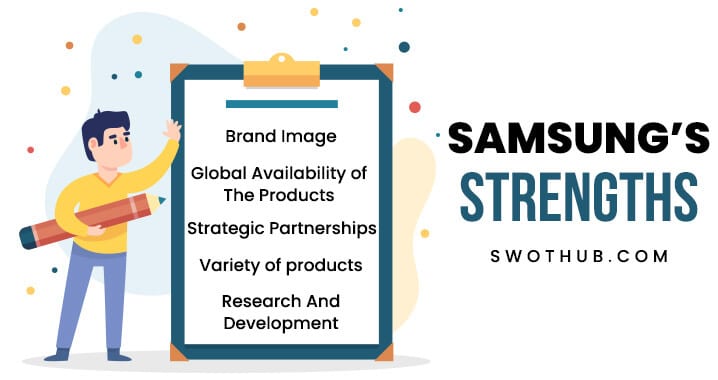 Samsung has a plethora of strengths that will help it to thrive in the main field. A Samsung SWOT analysis will help to focus on these strengths. Some of these strengths are enlisted below:
Brand Image: Samsung Electronics Co. Ltd is a renowned brand throughout the world. According to the famous Forbes Magazine, Samsung ranked 8th in the world's most valuable brand in 2020. This strong brand value takes the company closer to its target market and reaches them more easily.
Strong dominance in smartphone manufacturing: Samsung has been very successful in the field of smartphones. In the first quarter of 2020, the company was dominating the global marketplace with an 18.5% share. The Galaxy series of Samsung smartphones are very popular. As Samsung strongly holds the Asian market, especially China and India, the huge population of these two countries is adding a good amount of revenue for the company.
Global availability of the products: In every region of the world, there's a very high probability of Samsung products being available. Even in this global pandemic, Samsung was selling its electronic products in 74 countries with the help of its 230 global bases and more than 287K employees.
Strategic Partnerships: Developing strategic partnership with software developers and online firms are always an opportunity to grow revenue for Samsung. Thus the company gets more functionalities from the developers that can be used to enhance their electronics quality.  For example, Spotify has a non-exclusive agreement with Samsung that allows users to use Spotify as an integrated music streaming service.
Research and Development: Samsung has always focused on the research and development part not only for the flourishing of the company, but also for providing quality products to its customers. According to its financial statement, it spent more than 17 billion USD in 2019 for research and development which is fascinating and outstanding.
Variety of products: Though it is known as an electronics company, Samsung also produces and sells semiconductor parts, LCD panels, memory, SIM chip to other manufacturers which is notable. Thus, the company can keep expanding itself in different ways. Also, Samsung is very successful in every type of product it produces from TV to smartphones and refrigerators.
Weaknesses of Samsung in SWOT Analysis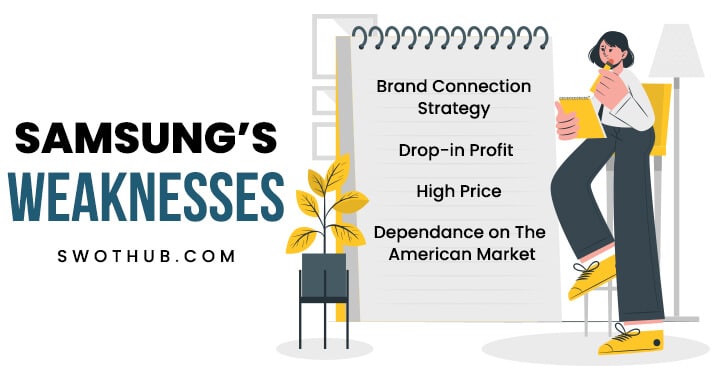 Weaknesses are part of the internal factors of a company. A Samsung SWOT analysis will bring many of these to light.
Brand connection strategy: The world is changing rapidly. So, it is high time, Samsung changed its strategies to cope with it. Its traditional branding and communication methods need a revolution. It needs to change not only the messages, but also the media. Social branding plays an important role in this case. If Samsung is adamant about not changing these customs, it will cost them heavily in the future.
Dependance on the American market: Though Samsung has diversified its products, resources, and market, it is still highly dependent on the American market. Roughly 70% of its smartphones are sold in the US. But as the American economy is very unpredictable, it can not only cause damage to Samsung's sales but also can jeopardize its total infrastructure.
Drop-in profit: Since 2017, the sales of smartphones have been declining in the covid-19 pandemic and the company has observed a fall in its profit since then. The lack of safety in Samsung smartphones also contributed to this loss. Many smartphones of the Samsung Galaxy Note 7 series showed overheating batteries leading to an explosion. At the same time, some refrigerators and washing machines were reported to start firing.
High price: To maintain the high quality of its products, Samsung products has always been high priced. Its competitors like Apple, Huawei, and Xiaomi are trying to outperform each other by improving quality and price range. Samsung should focus on balancing quality and finances so that they can cope up and survive in this immense competition.
Opportunities for Samsung in SWOT Analysis
The opportunities are outside factors of a company that they can exploit for profit and benefits for themselves. A Samsung SWOT analysis will help the executives to contemplate them before their next big move.
New markets: As the government has agreed to lend a hand to the economic development there are new markets in the making. This will help Samsung broaden its already wide horizon of business.
Business Diversification: Even though Samsung has plenty of products to sell, there are many new products that it could launch. People are now aware of its presence. So this will be advantageous for the company. Business diversification can get people more interested and invested in the company. This will work as publicity and raise the profit.
Innovation: The research and development team of Samsung is always working hard to come up with innovative ideas. The company can use this opportunity to control the marketplace by developing dynamic products like the recently launched "Foldable phone". If the trend can be created and quality can be enhanced, Samsung can easily triumph over other manufacturers.
Threats for Samsung in SWOT Analysis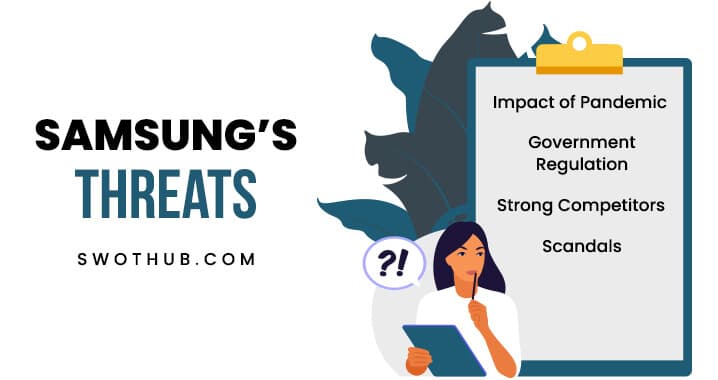 Threats are the most important part of a swot analysis. A Samsung SWOT analysis will point out the threats for this community that has been holding it back.
Impact of Pandemic: This is the time of pandemics. Samsung is one of the leading companies in the consumer goods department. Even though this pandemic has failed to make any big impact on the sales figure, that does not mean that the magnitude of the situation is any less. This pandemic has affected the manufacturing, distribution, and purchasing of Samsung products. This has fueled major changes in Samsung's business strategies.
Government Regulation: The rules and regulations that the government imposes may be a major threat for Samsung, especially if it does not abide by its profit-based agenda.
Strong Competitors: Though, the main competitor of Samsung is Apple. But newer Chinese brands like Xiaomi and Huawei are rapidly progressing in the marketplace. These new companies are manufacturing and selling smartphones at a much cheaper price than Samsung which may become a matter of concern. On the contrary, though Apple is not providing cheaper products, its marketing policy is trying to make a better impression on the market than Samsung.
Scandals: The president of the company was found guilty of bribing the government which caused his imprisonment for about a year. Also, since its founding, Samsung has always been under the leadership of the founding family members. But many scandals of these leaders have shown up which could really break the image of the company and for which the president of the company has publicly announced about not handing over the leadership to his children in 2020.
Samsung SWOT Analysis Overview Template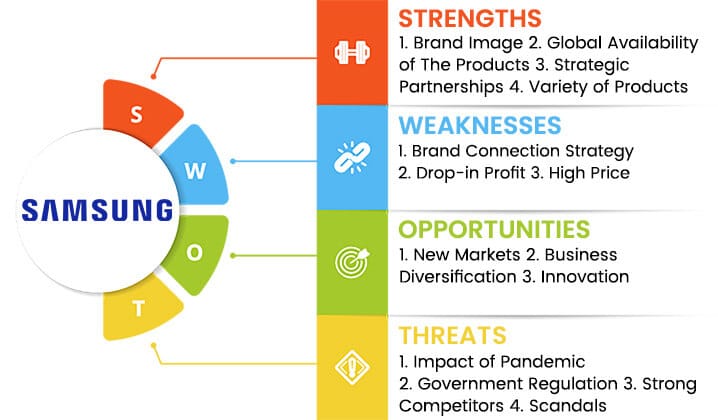 Recommendations and Conclusion for Samsung in SWOT Analysis
Here are some recommendations for Samsung to improve their market game from the experts:
Improving the health and safety of the company's employees.
Enhancement of the people by a long shot.
Encourage the workers to be creative
Lifting the team morale by achieving the team goals.
Samsung should explore the markets of Asia and Europe so it can stop depending on the US.
By being acquainted with the new technologies, Samsung should focus on bringing those to the customers.
The Company should keep a keen eye on the legal issues.
As price plays a vital role in sales, maintaining the quality of the products and keeping the price balanced with it.
Samsung should pay more attention to its competitors and customer base to stay in the race.
In conclusion, it can be said that a steady line of profit and global reach are the key strengths of Samsung. As for its greatest weakness, that would be over-dependence on the American market. It may not look like much, but it is a huge load to carry.
A Samsung SWOT analysis helps the company in many different ways. Only because it would allow the executive directors to theoretically take apart the company's strategic approach to this day and scrutinize them.