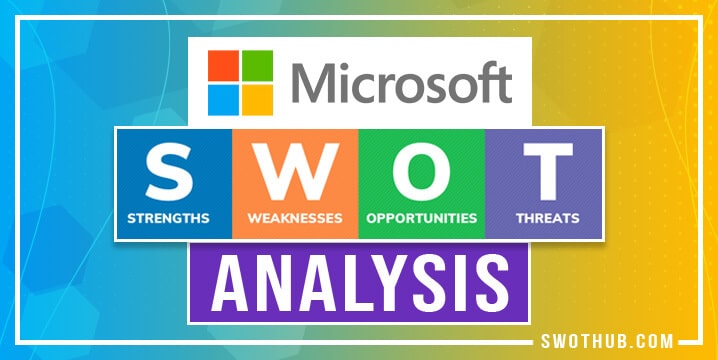 In 1975, two friends decided to start a company. Little did they know that the company would be the second-largest company in the world. The project Bill Gates and Paul Allen, Microsoft is the largest software maker in the entire world. Here, we will do a Microsoft SWOT Analysis to better understand how well this company operates.
Microsoft – At A Glance
| | |
| --- | --- |
| Company Name | Microsoft |
| Industry | Tech |
| Founded | April 4, 1975 |
| Founders | Bill Gates, Paul Allen |
| CEO | Satya Nadella |
| Headquarter | Washington, U.S. |
| Annual Revenue | $161 Billion (FY 2021) |
| Website | www.microsoft.com |
Microsoft SWOT Analysis
The Microsoft SWOT Analysis is an approach that Microsoft can take to understand the internal and external factors of the company. While internal factors consist of strengths and weaknesses, external factors consist of opportunities and threats. Therefore, it is much easier to determine the power and shortcomings of a company from this analysis. A SWOT analysis can assist the company in identifying possible risks and preparing them to deal with them.
Strengths of Microsoft in SWOT Analysis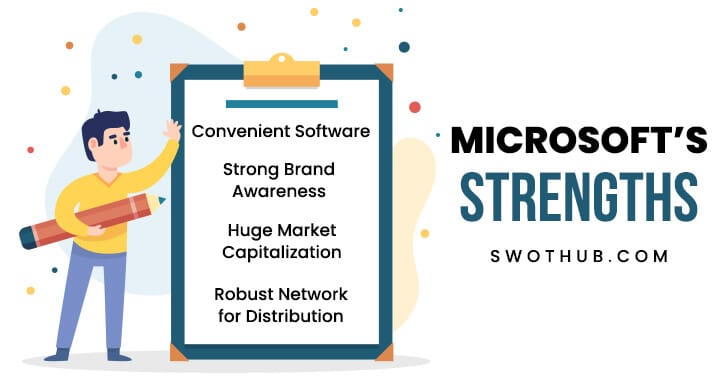 The core competencies, strengths consist of a set of strong factors. These factors distinguish the company from its competitors and let the company offer unique value. Here are the attributes that make Microsoft one of the world's top companies in Microsoft SWOT Analysis.
World's One of the Biggest Company: There is no doubt that Microsoft is among the world's top companies. According to Investopedia's recent report, Microsoft stands right behind Apple with a staggering market capital of $2.6 trillion. If you are wondering how much is that, in 2017, India's GDP was around $2.6 trillion, according to WorldOMeter. Hence, Microsoft's dominance in the world's IT sector, especially in the software industry, is immense.
Vast Market Share in Software Industry: If you think of an operating system, Windows is the first thing that comes to mind. No matter where you are living, you will find a PC running on Windows OS. In 190 countries, this company operates. According to a report from mspoweruser, in 2019 alone, there were 800 million users of Windows 10.
On October 5, 2021, Microsoft released their latest operating system, Windows 11. According to ComputerWorld, at the end of 2021, 8.9% of people had migrated to Windows 11 from Windows 10. The number may seem large; however, the migration speed is still considered slow. Yet, the number is still huge compared to how much market macOS has. According to StatCounter, in 2021, Windows holds 73.72% compared to macOS's 15.33%.
Huge Market Capitalization: In terms of market capitalization, Microsoft is one of the top dogs in the world. As we have already mentioned, Microsoft's market capitalization is around $2.6 trillion. This company only trails Apple. Most of Microsoft's capital comes from its operating system, Windows. Besides, Skype, Xbox, Microsoft Suite, and other products from Microsoft hold a fair share of this sheer amount.
Strong Brand Awareness: Everyone knows about Windows. The brand awareness of Microsoft is one of the best in the world. According to an article from Forbes, Microsoft ranks 3rd on the ranking of most valuable brands. In the current digital industry, the impact of the brand of Microsoft is impeccable.
Convenient Software: A universal comment about Microsoft's products is their ease of use. No matter which product you will use from Microsoft, you will notice it is very simple. For example, Windows is extremely convenient to use. Compared to other operating systems like Linux OS or macOS, Windows feels like a child's play. Many of Microsoft's other products are also easy to use. This means that even people without much technical knowledge can use Microsoft's products.
Robust Network for Distribution: Microsoft highly depends on its distribution channel. The primary medium is highly dependent on a few key intermediaries. That includes parties like Replicators who are authorized and independent distributors. Microsoft also uses retailers like Wal-Mart and Microsoft's own stores. Furthermore, Microsoft works with some of the biggest names in the hardware market, such as HP, Lenovo, Dell, Asus, Acer, etc. So, Microsoft's products get distributed through these companies' channels as well.
Weaknesses of Microsoft in SWOT Analysis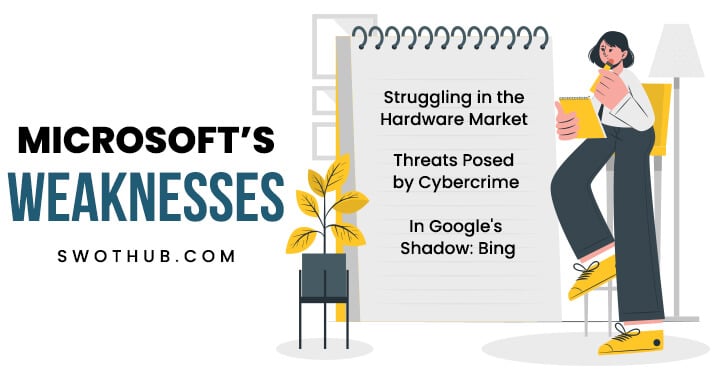 Weaknesses, the opposite of strength, define what the company lacks or doing badly and needs improvements. This is where the company is behind the competition and needs to put in additional efforts. In spite of being one of the world's largest companies, Microsoft has a few weaknesses. And in this Microsoft SWOT Analysis, we are going to explain those.
Struggling in the Hardware Market: In the hardware industry, Microsoft is the opposite of what they do in the software industry. The company has little to no existence in the hardware market. Hence, Microsoft depends highly on other hardware manufacturers. However, on October 26, 2012, Microsoft introduced their Surface 1. While being a good product to thrive in the market, Microsoft Surface is still overshadowed by the industry's top dogs.
Threats Posed by Cybercrime: Today, the essential task that any company should perform is to ensure information safety. As time passes by, hackers are getting more powerful than ever before. Thus, keeping the vault of personal information intact is getting tougher and tougher. It was in 2013 Microsoft took a great effort to have a stance against the cybercriminals, according to threatpost.com. Year after year, Microsoft's system is more vulnerable to cyber attacks than ever before.
In Google's shadow – Bing: If you don't know already, Microsoft has a search engine called Bing. Bing is great, but people don't know that. Even to know how great Bing is, you are probably going to use Google. According to Statista, Google had 86.19% of users, whereas Bing in second place only had 7.2% in December 2021. That's 12 times more users than Bing.
Microsoft Edge – Great yet not Popular: Just like Bing, Microsoft has another great product, and that is Microsoft Edge. No, this is not the old and slow Microsoft Explorer; this is the better version. With any Windows 10, you will have an integrated Microsoft Edge that everyone uses to download and install Google Chrome. Google is again crashing this market with their Chrome. To beat them, Microsoft will need a mountain to climb.
Opportunities for Microsoft in SWOT Analysis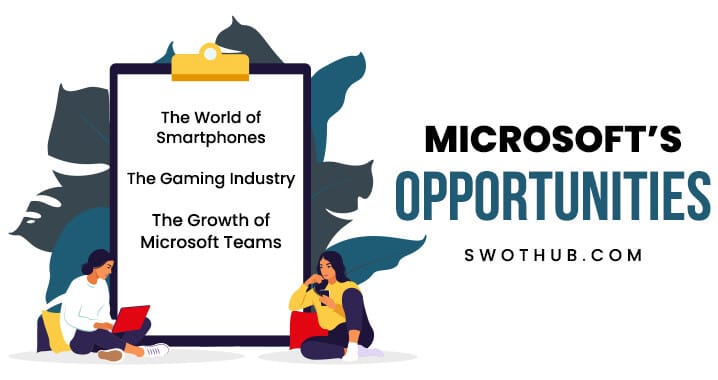 An external factor, opportunity, defines the areas where a company can take a competitive advantage. Bear in mind opportunities are not controlled by the company as it is a part of the external environment of a company. Nonetheless, opportunities can have a significant impact on the company. It's no different for Microsoft. They have a few lucrative opportunity sectors where they excel and this is what we will discover now in the next segment of Microsoft SWOT Analysis.
The World of Smartphones: The smartphone industry is a world in which Microsoft never succeeded. They started with their Symbian OS-based phones and then migrated to their Windows OS-based Lumia Phones. Although they acquired Nokia, they still struggled to win the market from Apple and Samsung. On the other hand, Android, another product, Google, is still the top dog in the smartphone OS market. Microsoft failed to have an enriched play store like Android and iOS. Hence, they are struggling here.
The Gaming Industry: Xbox is a great product from Microsoft. This product has a high potential in the gaming console market. In 2021, gaming consoles constituted around 28% of the world's gaming market share, according to WPC. Despite this, Xbox is still trailing behind Sony and Nintendo. With a proper product strategy, Microsoft has the capability to win this market. A recent move has been taken as some reports claim Microsoft is trying to buy Activision, one of the world's largest video game makers, for $68.7 billion.
The Growth of Microsoft Teams: Do you know Microsoft has a product that is similar to Zoom and Google Meet? Well, that is Microsoft Teams. This is one of Microsoft's products of the 365 family. The reason why we consider this to be a huge opportunity for Microsoft is that in the recent pandemic situation, it saw a huge rise in users. In fact, the growth of the Microsoft Team was higher than Zoom in some periods. Surely Microsoft can dethrone Zoom and make this the best video conference software if they focus greatly on it.
Threats for Microsoft in SWOT Analysis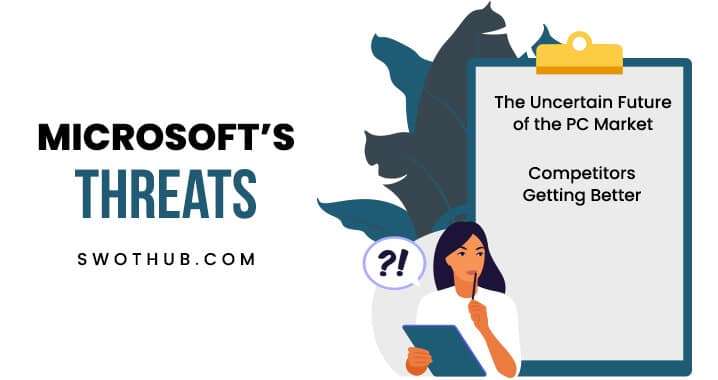 The negative side of the external environment, threats are those that can damage the business. These external factors can make any company go out of business if they are not taken seriously. In spite of Microsoft's size, threats are present, and they should not take them lightly. Therefore, a set of threats in the Microsoft SWOT Analysis will be explained below.
The Uncertain Future of the PC Market: Over time, people are losing their interest in using a personal computer. Personal computers, whether they are desktops or laptops, are being replaced. Increasing smartphone usage has resulted in people moving away from computers more than ever before.
While Microsoft's primary product is Windows and other utility software, this is indeed proving to be an intimidating threat. Although, with the Office Suite and Skype, Microsoft is still trying to catch the smartphone app market. But the outcome is not what Microsoft could call a success.
Competitors Getting Better: There is no denying that two of Microsoft's biggest competitors (Google and Apple) are getting better day by day. With the new Mac, Apple already has a storm in the laptop market. As other laptop manufacturers are failing to be as good as the new Macs, the users are gradually moving to macOS. The failures of other companies mean the failure of Microsoft as windows are used in almost all of them.
On the other hand, Microsoft rivals Google in the browser industry, where the difference is staggering. According to W3Schools, in December 2021, Chrome had 81% of users, whereas the second-placed Microsoft Edge was only 6.6%. Since Chrome is growing in popularity, Microsoft has an uphill task in winning this race.
Microsoft SWOT Analysis Overview Template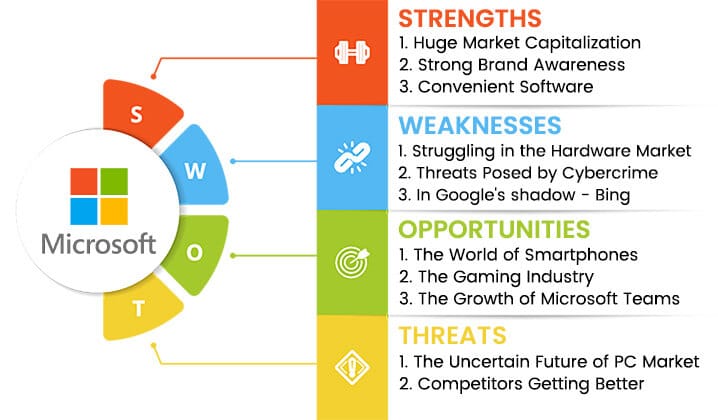 Conclusion & Recommendations for Microsoft
Microsoft should improve their market game by taking a look at these recommendations from industry experts:
Focus more on the hardware industry. As Microsoft provides the operating system to every other hardware manufacturer, making hardware for themselves will give them an edge.
Invest more time and effort on Microsoft Teams. This product from Microsoft is good and has a high potential to beat the top dogs.
Build a robust security system that cybercriminals cannot break into easily.
Make more games exclusive to Xbox.
Put more attention when acquiring other companies. In the past, Microsoft has acquired companies that ended up losing money.
Overall, it can be said that Microsoft is still one of the most powerful companies, even with all the threats and weaknesses. Their impact on the operating system industry is so vast that they will not see any loss in the near future. However, Microsoft' should not remain content with all the unimpressive performances from the other products.
Therefore, a SWOT analysis is highly recommended for any company like Microsoft to evaluate. As this focuses on internal and external factors, companies like Microsoft can understand in which department they should enforce. Our Microsoft SWOT analysis shows the company has immense strengths and can even thrive if they take advantage of its opportunities.