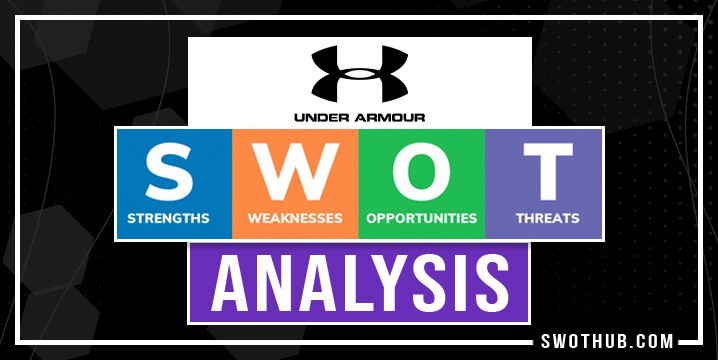 A young lad from Maryland, founded Under Armour in his grandmother's basement. Kevin Plank, the founder of Under Armour, perfected the way of making t-shirts from microfiber, and that took the market by a storm. Since then, the brand has kept going, and now, Under Armour is competing with Adidas, Nike, and Puma. But the success did not come effortlessly. Today, we will look at the factors (strengths and opportunities which made this company so great. Additionally, we will also discuss the possible negative aspects (weaknesses and threats).
Under Armour – At A Glance
| | |
| --- | --- |
| Company Name | Under Armour, Inc. |
| Industry | Textile, sports equipment |
| Founded | 1996 |
| Founders | Kevin Plank |
| CEO | Patrik Frisk |
| Headquarter | Baltimore, Maryland, U.S. |
| Annual Revenue | $5.27 Billion (FY 2019) |
| Website | www.underarmour.com |
Under Armour SWOT Analysis
No matter how big a company is if the right decisions are not taken. Hence, making a proper strategic decision is undeniably important. However, the right choices are tough to make, and it takes adequate information to make one. Therefore, a SWOT analysis can be quite helpful in this regard. The same goes for a company like Under Armour. The Under Armour SWOT Analysis will help the company to identify its four key factors – strengths, weaknesses, opportunities, and threats. To make a proper strategic decision, this analysis will surely be handy.
Strengths of Under Armour in SWOT Analysis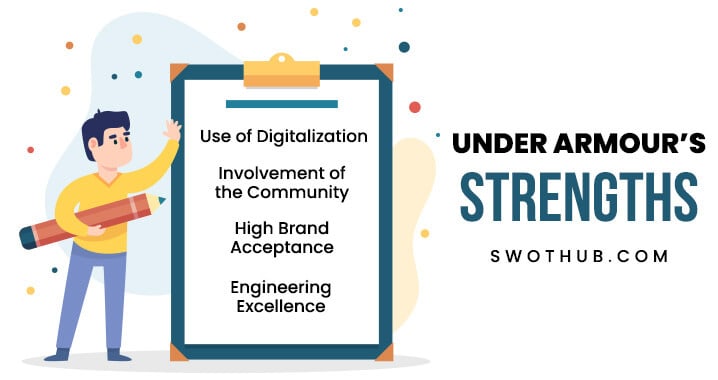 Strengths are the core features that make a company stand in the crowd. These are the core competencies that differentiate the brand from its competitors. Under Armour is a huge company and has quite a lot of strengths. In the next section of our Under Armour SWOT Analysis, we will discuss some of them.
Use of Digitalization: A great strategy of Under Armour is they have taken the benefits of digitalization and made them fruitful. Under Armour has released apps like MapMyFitness and MyFitnessPal. These apps are really handy to give you the convenience while remaining fit. The subscription plans of these apps also generate a good amount of revenue for the brand.
Involvement of the Community: Under Armour is unlike any other sports brand. The company has created several communities for its customers. Some of the successful community campaigns are UA Give Back, UA Power in Pink, and UA Freedom. Campaigns like this made Under Armour not just an ordinary sports brand, but created a different tie with its customers through involvement in the community.
High Brand Acceptance: Under Armour is a big brand, and almost everyone who is involved in sports knows the name. The logo is so iconic that everyone recognizes it at first glance. In 2021, Under Armour became the second-largest sports brand, according to FDRA. The only brand that is bigger than Under Armour is Nike. The brand has already surpassed the German giant Adidas.
Engineering Excellence: You can notice the excellence of engineering in every product of Under Armour. Let that be shoes to sportswear, and they have been made so that you will get the best out of them. The company hires so many engineers that it is even comparable to a technology company.
High Revenue: What makes Under Armour a very strong company is its revenue stream. In 2021, the company made a total of $5.7bn revenue, which is a clear indicator. This came from a 27% increase in revenue from the previous year. Even the bad effects of Covid hinder the success of the company.
Weaknesses of Under Armour in SWOT Analysis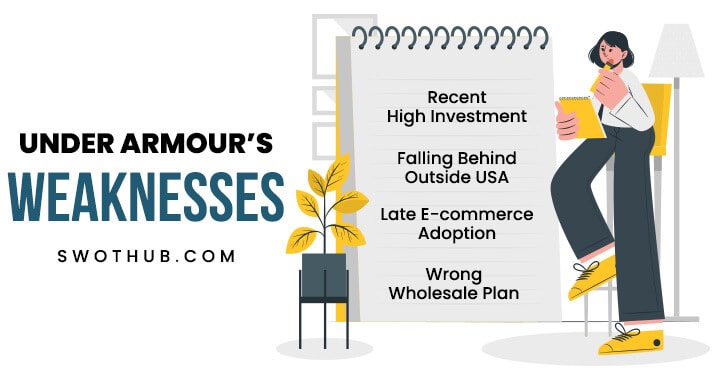 Just like strengths help a company succeed, weaknesses are pulling it down. Weakness is the problematic area where the company needs improvement. Despite being a huge company, Under Armour also has a few weaknesses. Therefore, now we will discuss them in this next section of Under Armour SWOT Analysis.
Recent High Investment: Investment is never a problem, but it sure does increase the risks. In recent times, Under Armour has risen extensively in several projects. The restructuring plan announced in 2020 shows an expenditure of around $600 million, which shows how much the company is spending.
Falling Behind Outside USA: Under Armour is a huge brand in the US market. However, the company's market presence outside the US market is still low. IN 2021, the company generated a revenue of $3.8 billion from the US market. However, in Europe, the revenue was $842 million, and around $832 million in Asia.
Late E-commerce Adoption: Under Armour made a mistake in forecasting the market. They thought investing in new shops would generate more revenue instead of making a presence in the e-commerce sector. This made them a latecomer in this area. Competitors like Nike and Adidas have already made their presence in the e-commerce sector.
Wrong Wholesale Plan: Recently, Under Armour has taken a different wholesaling strategy. Hence, according to CNBC, they have canceled their contracts with some whole retailers, especially in the North American region. This decision can create a problem for the company in terms of sales.
Opportunities for Under Armour in SWOT Analysis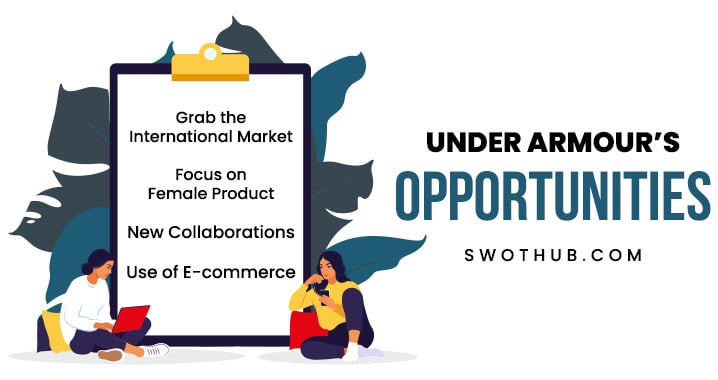 The first external factors are the chances that a company can exploit for its success. Even though no company has any control over the opportunities, taking advantage of them is the only thing that can company can do. In the following the Under Armour SWOT Analysis., we will be discussing the opportunities.
Grab the International Market: The international market has a huge potential which Under Armour can easily exploit. The company is indeed generating colossal revenue from the US market, but grabbing the global market will multiply its market cap. This is where the company is lacking against its competitors, and taking this opportunity will reduce the gaps.
Focus on Female Product: In recent times, Under Armour noticed that its female products are selling quite a lot. According to the news by Forbes, the company's female products had a 46% increase. This gives the company a good opportunity to bring more products to increase their sales.
New Collaborations: In the apparel industry, collaboration with a celebrity is the norm. Under Armour can use this approach and increase its sales. In 2016, the brand announced collaborating with Dwayne "The Rock" Johnson.
Use of E-commerce: Even though, Under Armour is late to the e-commerce sector, they still have a huge opportunity in that sector. The brand already has a nicely made website where customers can buy their desired products. Most importantly, online sales incorporated 33% of the company's total sales.
Threats for Under Armour in SWOT Analysis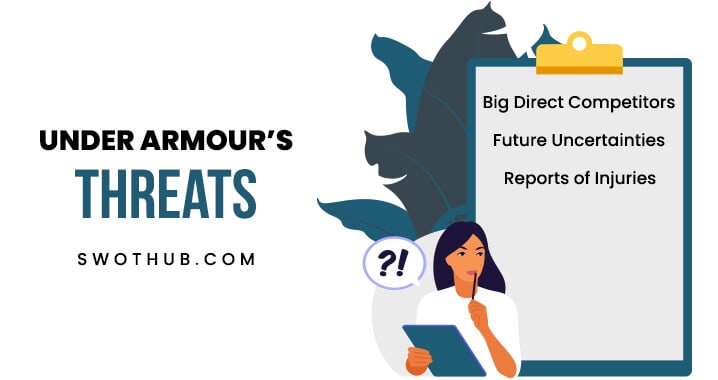 Threats are the negative part of the external environment. These are the elements that can ruin one company if taken lightly. No venture has any control over them, so any organization can do its best to remain prepared. Just like any other business, Under Armour has its fair share of threats. Now, in the Under Armour SWOT Analysis, we will discuss them.
Big Direct Competitors: If Under Armour is a shark, the brand is swimming with the whales. Two of its biggest competitors are Nike and Adidas. Both the companies are incredibly huge, with a very high market cap, market share, and one of the highest revenues in the world.
Future Uncertainties: For a few years, the company has seen a decline in sales. Even though the company is still making a profit, sales and revenue decline is never appreciated. The 42% drop in sales for Under Armour is an indication that it must make a timely decision.
Reports of Injuries: Recently, Under Armour products have been accused of reasons for several athletes' injuries. One of Under Armour's products, Chin Straps, has been a reason for approximately six injuries. Under Armour recalled all the products already.
Under Armour SWOT Analysis Overview Template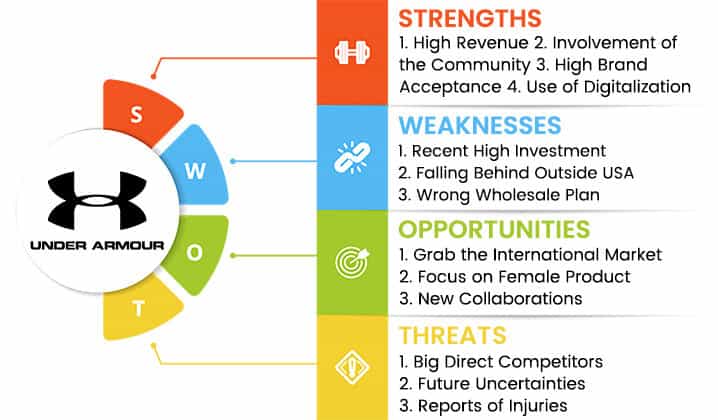 Conclusions & Recommendations for Under Armour
The following suggestions from industry experts can help Under Armour improve its market presence and sales.
Focus on the market outside of the US.
Bring new products for the female demographic.
Check the safety of the product before launching.
Focus on e-commerce and push for online sales.
Collaborate with brands and celebrities to increase brand awareness.
Reduce expenditure and invest strategically.
Keep an eye on the direct competitors and observe their moves.
If you are asked which are the top five sportswear companies globally, Under Armour must be there. The company has made its reputation with its excellent products, stellar marketing campaign, and effective strategic decisions. However, there is still a lot that needs to be done to remain in the ever-changing market.
To make taking strategic decisions simple, a SWOT analysis is a must. In this Under Armour SWOT analysis, we tried to cover what the brand lacks and how it should overcome those. Besides, possible dangers are also mentioned. This analysis can be useful if Under Armour decides to make them a competing brand among the whales in the sea.