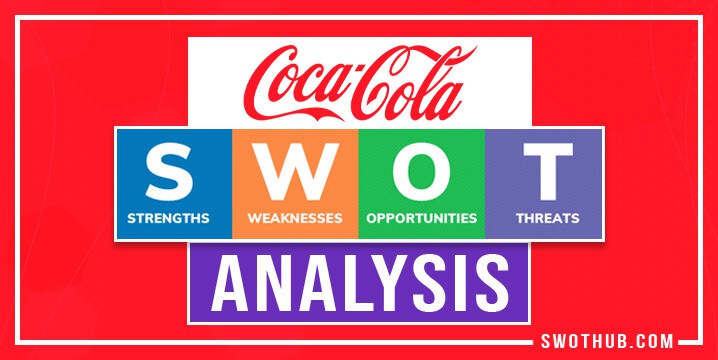 Evolving from medicine to Soft Drink, Coca-Cola was born. A miracle by Atlanta pharmacist John S. Pemberton, Coca-Cola is now sold more than a billion each day worldwide. The strengths and the opportunities of the company made that happen. Today, we are going to see what makes Coca Cola so great!
Coca Cola – At A Glance
| | |
| --- | --- |
| Company Name | The Coca-Cola Company |
| Industry | Cola |
| Founded | January 29, 1892 |
| Founders | John Stith Pemberton, Asa Griggs Candler |
| CEO | James Quincey |
| Headquarter | Atlanta, Georgia, U.S. |
| Annual Revenue | $37.27 Billion (FY 2019) |
| Website | www.coca-cola.com |
Coca Cola SWOT Analysis
To understand the power of a company or a brand, a clear view of the internal and external resources is inevitable. And to make that much easier to find, Coca Cola should create Coca Cola SWOT Analysis. SWOT analysis stands for strengths, weaknesses, opportunities, and Threats. Here, both the strengths and weaknesses are internal factors, whereas the opportunities and threats are external factors. With the help of the SWOT analysis, Coca Cola can easily find its shortcomings and then make proper decisions.
Strengths of Coca Cola in SWOT Analysis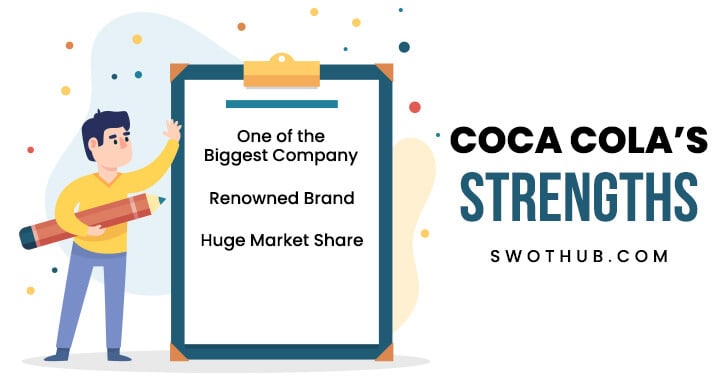 It is the internal factors that make a company indestructible. The strengths of a company are the most important internal factor. If a company has a lot of strengths, we can easily say that the company is extremely stable in the market. Here, in our next section of the Coca Cola SWOT Analysis, we will focus on that.
One of the Biggest Companies in the World: Colca-Cola is the biggest name in the beverage industry. No matter where you go in the world, you will see a can or a bottle of cold Coca Cola. According to Business Insider, Coca Cola is available in every country other than two countries. The unfortunate countries are Cuba and North Korea. Coca Cola is also a Fortune 500 company, where it ranks at 93.
That's not it; Coca Cola is also considered one of the largest non-alcoholic beverage sellers. In the beverage industry, Coca Cola is bigger than Pepsi and Heiniken. Because of this huge company size, Coca Cola is extremely strong and stable. Therefore, it will take years for a company like this to fall.
Renowned Brand: In a ranking published by NS Business, Coca Cola ranked number one brand in the entire world. The company came above Lay's, Nescafe, and L'Oréal Paris. Brand Marketing Blog mentioned that around 7.1 billion people would recognize what Coca Cola is.
The brand awareness of Coca Cola is immensely high. The company achieved this through its extremely creative, smart, and intuitive campaigns. Coca Cola doesn't go for standard campaigns, but rather extremely personalized ones. The personalized campaigns are according to a country's culture so that the consumers can relate the products to them, which makes them buy the drink.
Huge Market Share: If you consider anything that is not alcoholic, you will be thinking about Coca Cola by default. No festival is complete without this drink. Hence, the market share of this company is so high. According to a research paper published on Globalization and Health, in 2020, Coca Cola had a market share of 20.8%, whereas the second largest beverage company had nearly half of the market share of 10.0%.
Weaknesses of Coca Cola in SWOT Analysis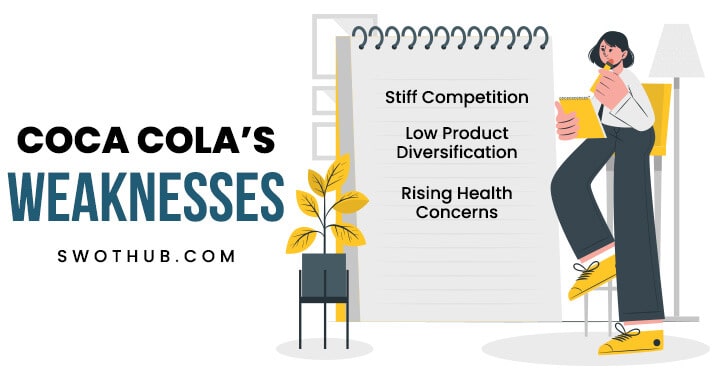 Weakness in the Coca Cola SWOT Analysis refers to the negative points of the company that the higher management should highly consider. The weaknesses of a company are its shortcomings relative to its competitors. Now, in the next section, we will look at what are the headaches of Coca Cola.
Stiff Competition: Pepsi, Coca Cola's biggest rival, is right behind the company in sales. According to a comparison published by Leaders League, Coca Cola's market cap was 245 billion compared to Pepsi's 166 billion. Even though the difference is around 79 billion, Pepsi is still the closest to Coca Cola than any other beverage drink.
Low Product Diversification: If you look at the product line of Coca Cola, you will notice the company has low product diversification compared to Pepsi. The cola beverage Coca Cola is so popular globally that the company may not need to have a lot of products to serve, but in this competitive market, relying on one product can be a wrong decision.
Rising Health Concerns: Soft drinks are the first to be accused of being unhealthy. Coca Cola also receives the same drill. Drinking Coca Cola regularly is not a good idea as it puts one in a hazardous health situation. WebMD reports that Coca Cola intake could increase your chances of developing type 2 diabetes.
Opportunities for Coca Cola in SWOT Analysis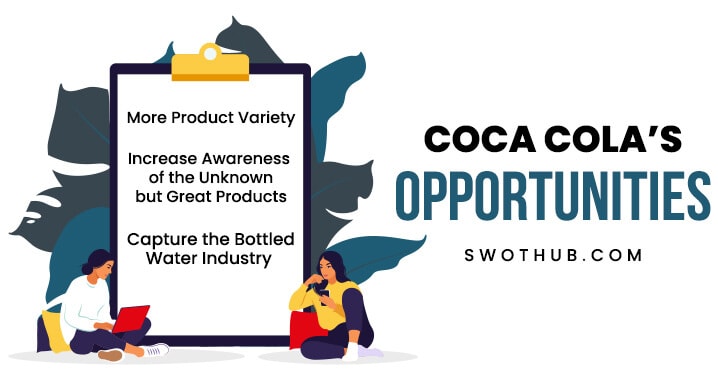 The first of the external factors are the chances that a company can exploit for its success. Even though no company has any control over the opportunities, taking advantage of them is the only thing that can company can do. In the following the Coca Cola SWOT Analysis., we will be discussing the opportunities.
More Product Variety: What Coca Cola is failing to do is not bringing enough products to the customers. For that reason, they are generating less revenue than PepsiCo, which has a lot of product diversification. This can be the biggest opportunity for Coca Cola. They can bring exciting new products for the customers so that the company doesn't have to depend on only one product.
Increase Awareness of the Unknown but Great Products: Do you know that Coca Cola has over 3500 products? Besides, they sell their products under 500 brands. It's kind of crazy that we just mentioned they need to bring more product, but at present, they already have a sufficient amount of product to generate revenue.
The main reason here is that most consumers are unknown about the other great products that Coca Cola sells. There is no doubt that Coca Cola's marketing team is one of the best in the world, and they are doing a great job at making the cola beverage Coca Cola one of the biggest brands in the world. But what about the rest? Coca-Cola has other great products such as Glaceau Vitaminwater and Glaceau SmartWater.
Capture the Bottled Water Industry: Despite being the biggest non-alcoholic beverage company in the world, Coca-Cola lacks to top the bottled water industry. According to Facts Factors, Coca Cola is far behind the companies such as Nestlé S.A, Brunnen GmbH & Co. KG, and PepsiCo Inc in this industry. Coca-Cola's brand awareness gives it a lot of possibilities to exploit this market.
At present, Kinley, a product of Coca-Cola, is doing great in India. According to the Times of India, Kinley is the second most sold bottled water brand in India, with a 25% market share. The brand is catching up early on the first choice of the Indians, Bisleri, which has around 35% market share.
Threats for Coca Cola in SWOT Analysis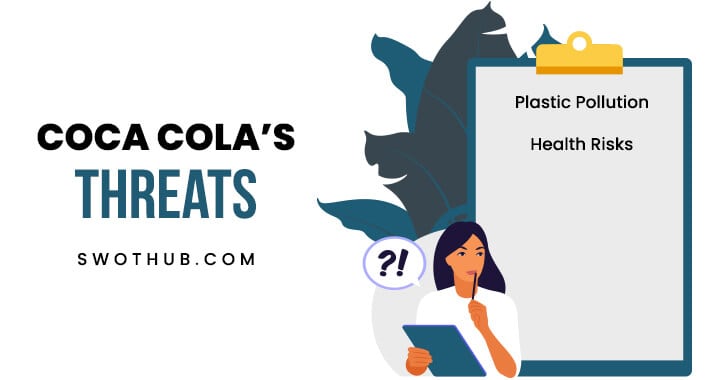 Just like the external environment can bring you opportunities, they are can quite negative as well. The negative aspects that can harm a business are known as threats. Threats are one of the most important considerations of a company like Coca Cola. Hence, in the next section of the Coca Cola SWOT Analysis, we will discuss those.
Plastic Pollution: In a lawsuit, Coca Cola has been accused of being the biggest offender of plastic pollution. The main focus of the case is how modern beverage companies pollute the environment with their plastic product and give consumers wrong information about recycling.
Recycling is good, but when it is done properly. If a company only promises to recycle but eventually they don't, it will even harm the environment. One previous study revealed that only 10% of plastic products actually get recycled. This means the rest of the 90% are polluting the environment.
Health Risks: People are getting more and more health-conscious nowadays. Yes, Coca Cola tastes excellent, but it surely is risky for the health. Coca Cola is full of sugar. And what can this sugar do? Well, according to the Medical News Today, it increases the risk of obesity, tooth decay, and type 2 diabetes,
Health concerns are one of the main reasons the company had a major downfall in 2020. Coca-Cola faced 28% fewer sales in 2020 due to covid and rising health issues. Also, another reason was Cristiano Ronaldo, who removed Coca Cola from the conference table due to its bad impacts on health. The result was Coca Cola lost 4 billion in market value in a single day.
Coca Cola SWOT Analysis Overview Template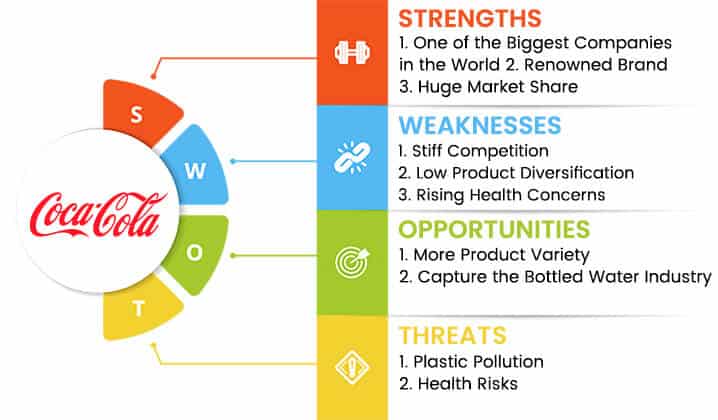 Conclusion and Recommendations for Coca Cola
These recommendations from industry experts can help Coca Cola improve its market game:
Bring more products for the customers that are actually as good as their beverage drink Coca Cola.
Properly promote their unpopular, but great products so that the consumers can understand what they are missing.
Consider the presence of PepsiCo as a threat and take action accordingly.
Take immediate steps to reduce plastic pollution as much as possible.
Put an enhanced focus on the bottled water industry, which has high potential.
Everyone knows and loves Coca Cola. This is the biggest success of the company. However, only relying on this can go wrong too. Well, all know what happened to Kodak and Nokia. Therefore, appropriate actions should be taken so that the company can sustain itself in the future.
And how can Coca Cola take those decisions? By making a SWOT analysis just like this one. In our Coca Cola SWOT analysis, we covered what the great about Coca Cola and what is not. Besides, we also focused on the external positive and negative factors. The insights of this analysis can help the company make better decisions in the foreseeable future.