Whether you are considering owning a restaurant, food truck, or eatery, the restaurant business is a highly lucrative one. This SWOT Analysis for food business will highlight the biggest threats and strengths of the restaurant industry.
What is the importance of a SWOT Analysis for Food Business?
Strong demand: People will always need to eat, and many enjoy dining out as a social or leisure activity.
Variety: There are many different types of restaurants, catering to a wide range of tastes and budgets.
Low barriers to entry: Starting a restaurant can be relatively inexpensive and easy.
Local presence: Restaurants are often rooted in local communities, which can help build loyal customers.
High margin: Food costs are typically a small percentage of the overall revenue for a restaurant, which can lead to high-profit margins.
SWOT Analysis for Food Business
At the yearly Black Box Intelligence Global Best Practices Conference (in the past known as the TDn2K), participants had the golden opportunity to witness the HR Summit in person. This HR Summit is originally an exceptional discussion session of specialists who are committed to tending to the most major problems and obstacles regarding the professionals of human resources.
So, Joe Kefauver and Franklin Coley paired up with the Align Public Strategies and focused on the weaknesses and opportunities in the restaurant industry while starting the panel.
While reflecting back on the valuable information acquired during the meeting, a SWOT Analysis for food business will most definitely assist in the task of analyzing its current position along with assessing its business prospects and future growth.
SWOT Analysis for Food Business Strengths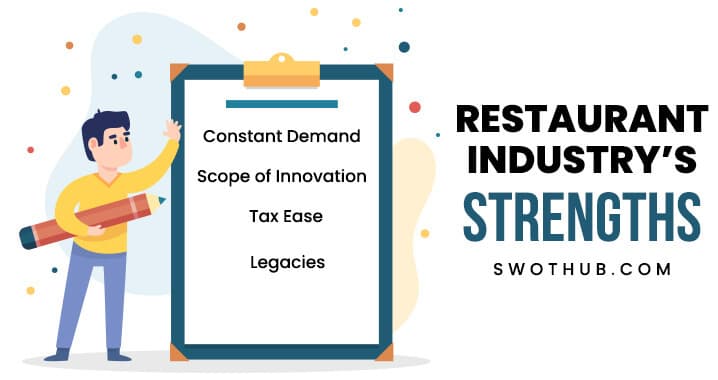 At the very beginning of our SWOT analysis for food business chart, we are going to explore the strengths of the restaurant industry:
Constant Demand: Restaurants are still a part of our life. Some people tend to think that sharing meals with your loved ones is a blessing in itself. Sharing a bottle of cold beverage over a nice warm meal is perhaps all it takes to relax. People still go to restaurants in order to celebrate different events and milestones of their life.
Scope of Innovation: If you happen to be an independent, you are particularly prevailing over the chain. Also, your chains are more popular with the Millennials. Presumably, you are also recruiting better head supervisors. They may even be experienced members of other bigger chains. In any case, chain administrators, you are not to be overwhelmed.
You are utilizing innovations and are fairly successful in some sectors. This may especially include straightforward and simple online ordering that enhances the sales of the same stores.
Tax Ease: Relief can be expected on regulations and taxes.
Legacies: A large number of our leaders are putting a good amount of effort to communicate with their subordinates. It is a remarkable shift indeed. The Vice President and Chief People Officer of White Castle, John Kelly is setting an amazing example of the said notion. He has started a revolution in the field of employee engagement and feedback. Due to his determination, he is a five-time Best Practices Award winner as well as the 2015 Diamond Catalyst Award winner.
In the summer of 2019, he drove to over 400 locations only to meet with his subordinates. This occurrence happened in a span of 100 days only. This contribution of his is now a part of the company's legacy which has forever changed Its course for the better.
SWOT Analysis for Food Business Weaknesses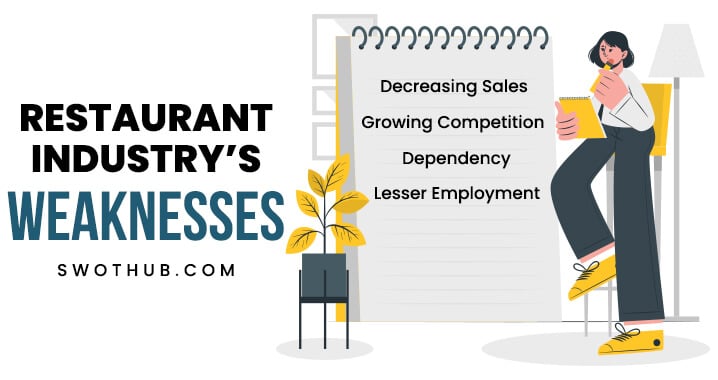 The weaknesses or areas to improve are discussed next in the food business SWOT analysis:
Decreasing Sales: Excluding independents, sales from the same stores are steadily decreasing.
Growing Competition: Grocery stores, convenience stores, food trucks, and delivery concepts such as Blue Apron are stealthily stealing the market for restaurants.
Dependency: A lot of its members are closely connected with shopping malls and various entertainment centers. In the previous year, over 2500 retail stores were shut down and approximately 1100 more malls were assumed to be closed over the span of the next three to five years.
Lesser Employment: The rate of unemployment is under 3 percent in some of its pockets which are still developing. The rate of job openings is greater than that before this break. Also, claims of not having a job have decreased more than what we had in the last 43 years.
Regardless of having plenty of openings in the job sector, the experience, and geography of the restaurant harbor quite a discrepancy. If this continues, the labor market will tighten exponentially. A decent number of potential employees are whisked into the healthcare and eldercare industries. This may be due to the sudden expansion of the general population.
SWOT Analysis for Food Business Opportunities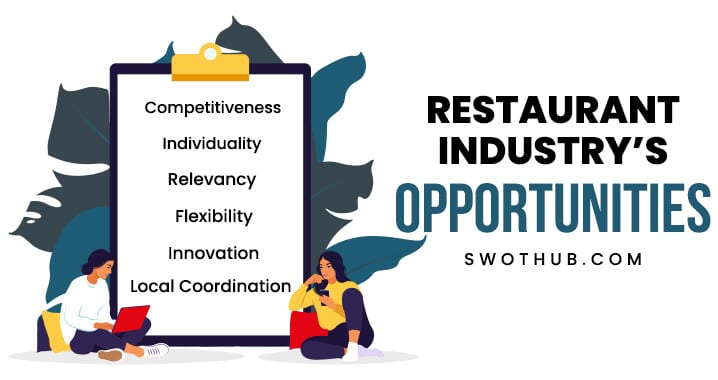 Competitiveness: The restaurant industry has the upper hand in service when it comes to competitiveness. In the usual cases of sales and traffic, the high-level performers seem to have the lowest turnovers. The key to having regular customers lies in the heart of people management. This includes, but is not limited to recruitment of employees, training them, and culturing them to suffice the company's needs.
In SWOT analysis for food business, what are the largest opportunities?
Increasing demand for convenient, healthy, and locally sourced food options.
Growth in online and delivery services, allowing for increased reach and accessibility to customers.
Expansion into international markets, as global demand for food products increases.
Development of new technologies and processes that can improve efficiency and reduce costs.
Increasing interest in plant-based and organic food options, which can open up new market segments.
Government initiatives and policy changes that support the growth of the food industry.
It's important to note that the best opportunities for a specific food business will depend on the specific industry and the company's unique strengths and weaknesses.
SWOT Analysis for Food Business Threats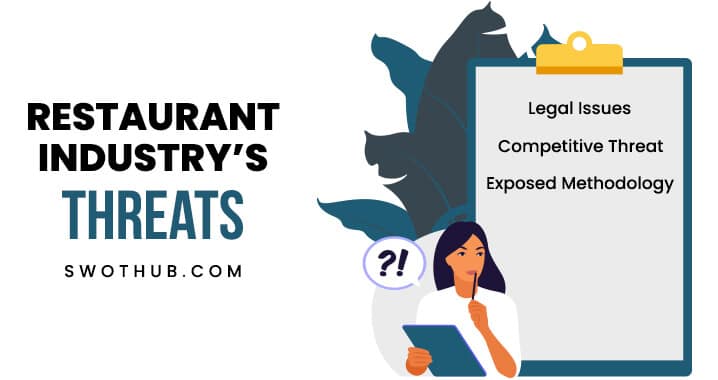 Each analysis that has been considered helpful, comes with a unique perspective for threat concern. Some of the threats to a food business are listed below:
Legal Issues: They are losing the discussion on the nature of our positions just as our worth to the local area and economy. They may have "one of their own" at the Department of Labor with Andrew Puzder's assignment. The disadvantage is that they are as of now seeing his selection become a public stage for our foes to vilify the industry.
Competitive Threat: Exchange and trade changes may make them powerless against the absence of talented laborers.
Exposed Methodology: The recent methods of employee advocacy are now accessible online.
Who are the Restaurant Industries' Largest Competitors?
In a SWOT analysis for food business, the biggest competitors are typically other restaurants or food service providers in the same geographic area. These can include other chains, independent restaurants, fast food establishments, food trucks, and even grocery stores and convenience stores that offer prepared meals.
Other potential competitors could include delivery services, meal kit companies, and online ordering platforms. The key is to identify any company or service that is offering a similar product or experience to the one your restaurant is offering.
SWOT Analysis for Food Business Overview Template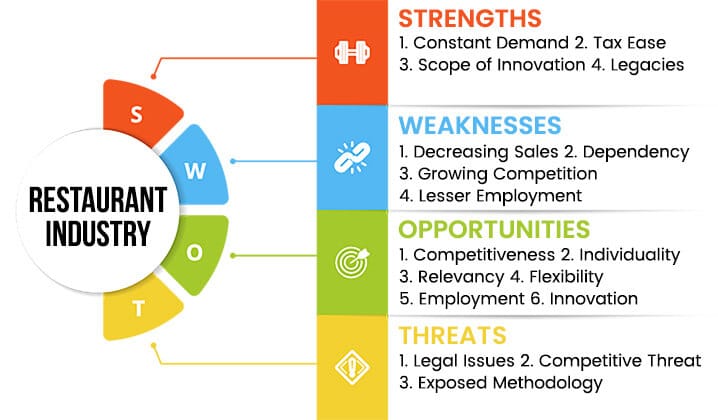 SWOT Analysis for Food Business Conclusion
In conclusion, it is clear as day that the restaurant and food business industry must excel at customer understanding, satisfaction, and operational perfection for its plan of ruling the local and world economy to work. In order to attain, regular and loyal customers, it heavily depends on its amazing services and awesome operating system.
The restaurant industry focuses heavily on its employees, especially those of younger generations to introduce modern-day working systems into their culture.
Amplify the usual belt of the products to enhance their field
More thoroughly individualize their products
Mainline products would help to earn more profits and attract new eyes
Widen their usual chain which will result in widening their usual geographical reach
Give more thoughts and effort to online presentation
Pursue growth while building allies
Make use of sponsorships to spread their name
Building close relations with different social media influencers will surely pay off in earnest
A SWOT analysis for food business will surely assist one to speculate where they stand on their business. It works wonders to draw attention to which parts of their store need improvement and which parts are already flourishing. This results in finding an unexplored field more often than not. It also helps to single out different roadblocks that may prevent their productivity level to escalate. While one reassesses their position from an analytical point of view, this will help them to build a solid foundation while the other pieces fall into their respective places.
FAQs for SWOT Analysis for Food Business
What are the strengths of a food business?
Food businesses have high demand, repeat customers, and diverse revenue streams. They offer creative freedom, opportunities for growth, and the ability to build strong community connections.
What is an example of a weakness in a food business?
Inconsistent quality, high perishability of ingredients, and seasonality can be weaknesses. Additionally, reliance on customer reviews can make or break a business.
What food business is most profitable?
The profitability varies, but successful examples include fast-casual restaurants, food trucks, and specialty bakeries. Catering services and niche delivery platforms can also be profitable.
What is the best food business to start?
The best food business to start depends on your skills, passion, and local demand. Consider starting a food truck, coffee shop, or small-scale catering service. Market research and a unique selling proposition are essential.
This SWOT analysis for food business highlighted each of the strengths, weaknesses, threats, and opportunities of the restaurant industry on the market.