The world of computers in business is big business for Dell, HP, Microsoft, and, of course, IBM. This IBM SWOT analysis will help us highlight this successful company and how they have stayed on top.
With over 100 years of experience, IBM is synonymous with the business machine we use today. International Business Machines, more commonly known as IBM was founded in 1911 and has revolutionized the modern business world. Referred to as "Big Blue," the company was a merger of various small businesses and now ranks 49th in the Fortune 500. What made it so successful?
| | |
| --- | --- |
| Company Name | IBM (International Business Machines Corporation) |
| Industry | Technology |
| Founded | June 16, 1911 |
| Founder | Charles Ranlett Flint |
| CEO | Arvind Krishna |
| Headquarter | Armonk, New York, U.S. |
| Annual Revenue | $57.35 Billion (FY 2021) |
| Website | www.ibm.com |
IBM SWOT Analysis
Analyzing SWOT involves examining the organization's internal strengths and weaknesses, as well as external opportunities and threats. The effectiveness of a SWOT analysis is immense as it has proven to be a valuable resource in making managerial decisions. We will look at the IBM SWOT analysis and the IBM competitors to understand what makes the company so big.
IBM Strengths in a SWOT Analysis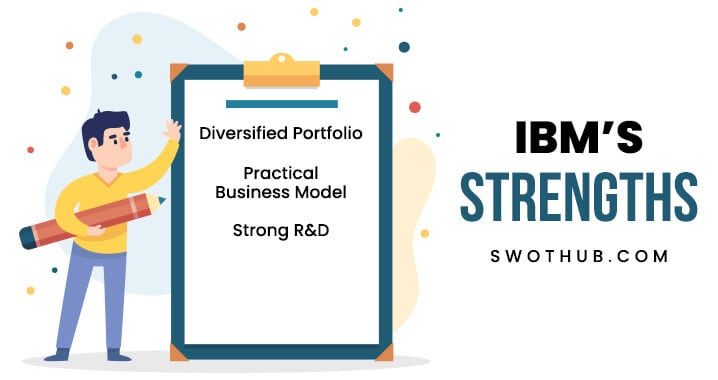 Several factors help a company succeed in tight competition. The factors could be traits, resources, elements, or the business plan. These factors are also known as the strengths of a company. Now, in the IBM SWOT analysis, we will look at some of IBM's critical and powerful traits.
Diversified Portfolio: IBM has a presence in different types of markets. The company started as a computer hardware manufacturer and later moved to the software industry. Additionally, IBM is also doing business in the service and financial markets. The diversified portfolio of IBM has given the company a solid foundation against losses. According to IBM, diversification plays a massive role in succeeding in this dynamic market.
Practical Business Model: IBM has an effective business model that played a significant role in its success. IBM's business model heavily caters to customers. The business model highly emphasizes customer relationships. IBM is dedicated to the value proposition and comes with innovation and development to ensure that. However, customers are not the only focus point here. The stakeholders are also given due importance. Additionally, the business model places a high focus on operations.
Strong R&D: Research and development is one of the main departments of a company, especially if that is a technology company. IBM has always left its mark in the technology sector with its excellent innovation, research, and development. IBM constantly spends money in the research sector, and the number speaks for itself. In 2020, IBM spent around $6.5 billion in the R&D sector. In 2021, the annual expenditure was $6.567 billion.
IBM SWOT Analysis Weaknesses
Being the best at everything is a challenging task, and it becomes even more daunting for a company. The weaknesses are always there, and room for improvement is always present. An organization like IBM should recognize how much it lacks in a particular area and how to overcome it. Now in this IBM SWOT analysis, we will look at the weaknesses.
High Price: IBM products are expensive, no matter what you get. IBM competitors have been able to focus on this and offer less expensive options, IBM offers a comprehensive solution that can be very costly. For this complete solution, a company will have to pay for hardware, software, and additional services. In most cases, the initial cost can get extremely high, which is a negative factor for smaller companies.
Decreasing Brand Awareness: There is no doubt IBM is one of the most popular companies in the world. However, popularity is seeing a dip. Over the past few years, IBM has lost brand awareness, and it's reflected in the rankings. In 2017, the brand value of IBM was around $103 billion, whereas in 2022, the brand value is $91.34 billion. According to Rankingthebrands, IBM was the 14th best global brand in 2020. In 2021, IBM was in 18th place.
Constant Litigations: IBM has dealt with legal issues already. Due to a faulty system from IBM, Bridgestone America, the largest tire and rubber manufacturing company, filed a $600 million lawsuit due to its flawed IT implementation in 2016. Also, in 2019, four former employees of IBM sued the company for age discrimination. Also, in 2022, the federal judge ordered IBM to pay AT&T $1.5 billion for fraud, one of the most significant lawsuits in history.
Opportunities for IBM in SWOT Analysis
Strengths and weaknesses are part of the internal environment of a company. Just like the internal environment, the external environment also has an impact on the performance of a company like IBM. The positive aspects of the external environment are known as the opportunities we will discuss in this IBM SWOT Analysis.
Taking Advantage of Cloud Technology: The cloud competition has got its momentum in recent years and IBM Cloud can take the most of it. IBM Cloud focuses on digitalizing the business platform, something that is in high demand. Digital transformation of business in the future. After the impact of COVID-19, more and more companies are moving towards digital transformation. The situation has proven to be a massive opportunity for IBM Cloud to expand its growth in the cloud service industry.
Business and IT Consultancy: IBM already has a presence in many industries. Getting into the consulting business can be a profitable decision. Business and IT consulting have become quite popular in recent years, and a tech giant like IBM can exploit this opportunity. With its experience, expertise, brand image, and reliability, IBM can quickly excel in this industry. Additionally, IBM is already working with some of the leading businesses in the world, and it can easily reach their customers.
Service and Software Expansion: IBM already offers a wide variety of services for different types of consumers. IBM's software and service sector has seen good growth recently. Therefore, IBM will be more likely to become more profitable if it focuses on the above-mentioned sectors.
Threats for IBM in SWOT Analysis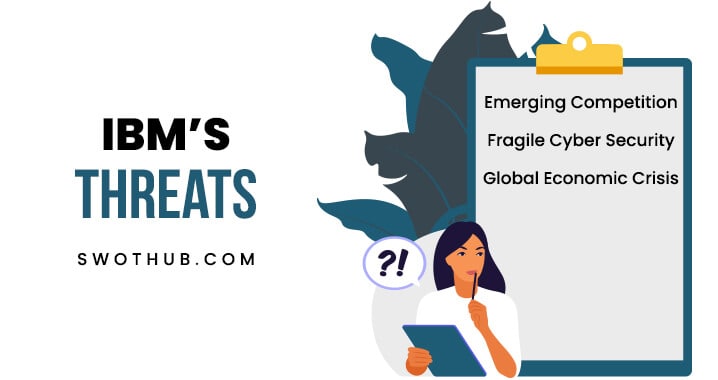 Competition, economic situation, innovation, and customer preference can drastically affect a company's performance. Just like positive impacts, it can go another way too. These are known as threats. A company should always remain aware of what is happening in its external environment to avoid threats. In this IBM SWOT Analysis, we will also cover the perils of IBM.
IBM competitors continue to emerge: IBM is a pioneer in the IT industry. However, other companies have caught up quite closely recently. Accenture, IBM's closest competitor in the IT industry, has a market cap of over $150 billion. In the hardware market, HP is quite close to IBM, with a market cap of over $30 billion. Some other notable competitors of IBM are Apple, Microsoft, Amazon, Oracle, Dell, HP, etc.
Fragile Cyber Security: Businesses today are going digital, which has resulted in a rise in cybercrime. Year by year, cybercrime has increased rapidly. There was a 62% increase in cyber in 2022 compared to 2021. A company that provides cyber security, IBM should highly focus on its security strategies to defend against ever-rising hackers. Motherless, further legal issues will be on their way.
Global Economic Crisis: The global economy is experiencing a crisis at present. The dollar value has risen dramatically, fuel resources have been limited, and political embargoes have been imposed. Developing countries are struggling so are the businesses. A crisis like this always threatens companies like IBM, as most of its customers are enterprises.
Who are the top IBM competitors?
Technology firms such as:
Microsoft
Oracle
Hewlett-Packard (HP)
Dell
These companies rank among IBM's top competitors in a SWOT analysis. These businesses also offer a wide range of technology products and services, such as hardware, software, and consulting services. Smaller, specialized firms that focus on particular industries in which IBM operates, like cloud computing or artificial intelligence, could be another potential rival.
IBM SWOT Analysis Overview Template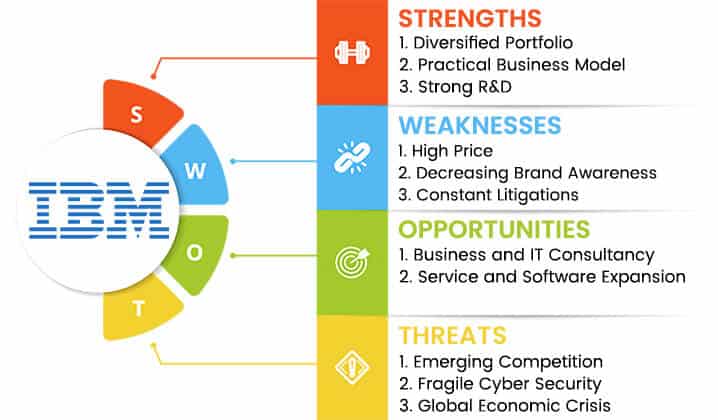 IBM SWOT Analysis Conclusion & Recommendations
IBM can ensure that it stays above IBM competitors in business by implementing a variety of strategies. Some potential strategies include:
Innovation: IBM can continue to invest in research and development to create new and innovative products and services that set them apart from its competitors.
Diversification: IBM can diversify its product and service offerings to reduce its dependence on any one market or technology.
Global Expansion: IBM can expand its global reach to increase its customer base and tap into new markets.
Strategic Partnerships: IBM can form strategic partnerships with other companies to expand its capabilities and gain access to new technologies and markets.
Strong Brand: IBM can continue to build and maintain a strong brand associated with quality, reliability, and innovation.
Emphasis on customer service: IBM can ensure that it provides excellent customer service to build strong, long-term relationships with its customers.
Emphasis on Employee engagement and development: IBM can ensure that it attracts and retains top talent by creating a positive and engaging work environment, providing opportunities for employee development and growth.
Sustainability: IBM can ensure that it is not only environmentally friendly but also socially responsible; it can also create a sustainable business model that will reduce costs and increase efficiency.
Cybersecurity: IBM can ensure that it has strong cybersecurity measures in place to protect its own systems and those of its customers.
FAQs for IBM SWOT Analysis
What are the strengths of IBM?
IBM's strengths include its strong brand reputation, extensive experience in the technology industry, significant investments in research and development, and a diverse product portfolio that spans across various technology sectors
What risks does IBM face with its current strategy?
IBM's current strategy exposes it to risks such as intense competition in technology markets, rapid technological changes that can render its offerings obsolete, and potential challenges in integrating acquired companies effectively.
What are some weaknesses for IBM?
IBM's weaknesses include its dependence on the ever-evolving technology market, potential challenges in adapting quickly to market changes, and the complexity of managing a vast and diverse global operation which can lead to operational inefficiencies.
It's important to note that no single strategy is guaranteed to ensure success and that IBM will need to continually adapt and evolve its approach in response to changes in the business environment.