Apple has significantly impacted the technology world, and an Apple SWOT analysis reveals its strengths, weaknesses, opportunities, and threats. Apple strengths include its reputation for innovation, strong brand recognition, an ecosystem of products and services, and ample financial resources. However, Apple weaknesses include high prices, a closed ecosystem, and dependence on key products such as the iPhone.
Apple has opportunities to expand into new markets such as healthcare and automotive technology, take advantage of the growing wearables market, and invest in emerging technologies such as augmented reality and artificial intelligence. On the other hand, Apple competitors with other technology companies, such as Samsung, Google, and Microsoft. Take a look at SWOT analysis for Apple to see how this tech giant stays competitive.
SWOT Analysis Apple – Apple History
Since 1976, Apple, Inc. has led the world to a new way of looking at technology. This Apple SWOT Analysis will take you through its history and its competitive empire. Apple is a multinational technology company in the USA specializing in consumer electronics, software, and online services. It is the largest technology company in the world since January 2021. Steve Jobs, Steve Wozmark, and Ronald Wayne established Apple on 1 April 1975 in California, USA. An Apple SWOT analysis helps the company executives to analyze and access all the internal and external factors of the community.
Apple – At A Glance
| | |
| --- | --- |
| Company Name | Apple Inc. |
| Industry | Technology |
| Founded | 1 April, 1976 |
| Founders | Steve Jobs, Steve Wozniak, Ronald Wayne |
| CEO | Tim Cook |
| Headquarter | 1 Apple Park Way Cupertino, California, U.S. |
| Annual Revenue | $365.817 Billion (FY 2021) |
| Website | www.apple.com |
Apple SWOT Analysis
The SWOT Analysis of Apple is a vital strategic planning framework that can be used by Apple managers to do a situational analysis of the company. It will be a very useful appearance of resolution for recognizing the strengths, weaknesses, opportunities, and threats of the Apple company. An Apple SWOT analysis will help to build a good structure to address what things the company is lacking. By conducting a SWOT analysis, this company will minimize the risks and can take the greatest possible advantages for gaining success.
Apple maintains its intimidating presence in the business sector only by reviewing the SWOT analysis regularly and improving itself. So, an Apple SWOT analysis will be of great use to this company.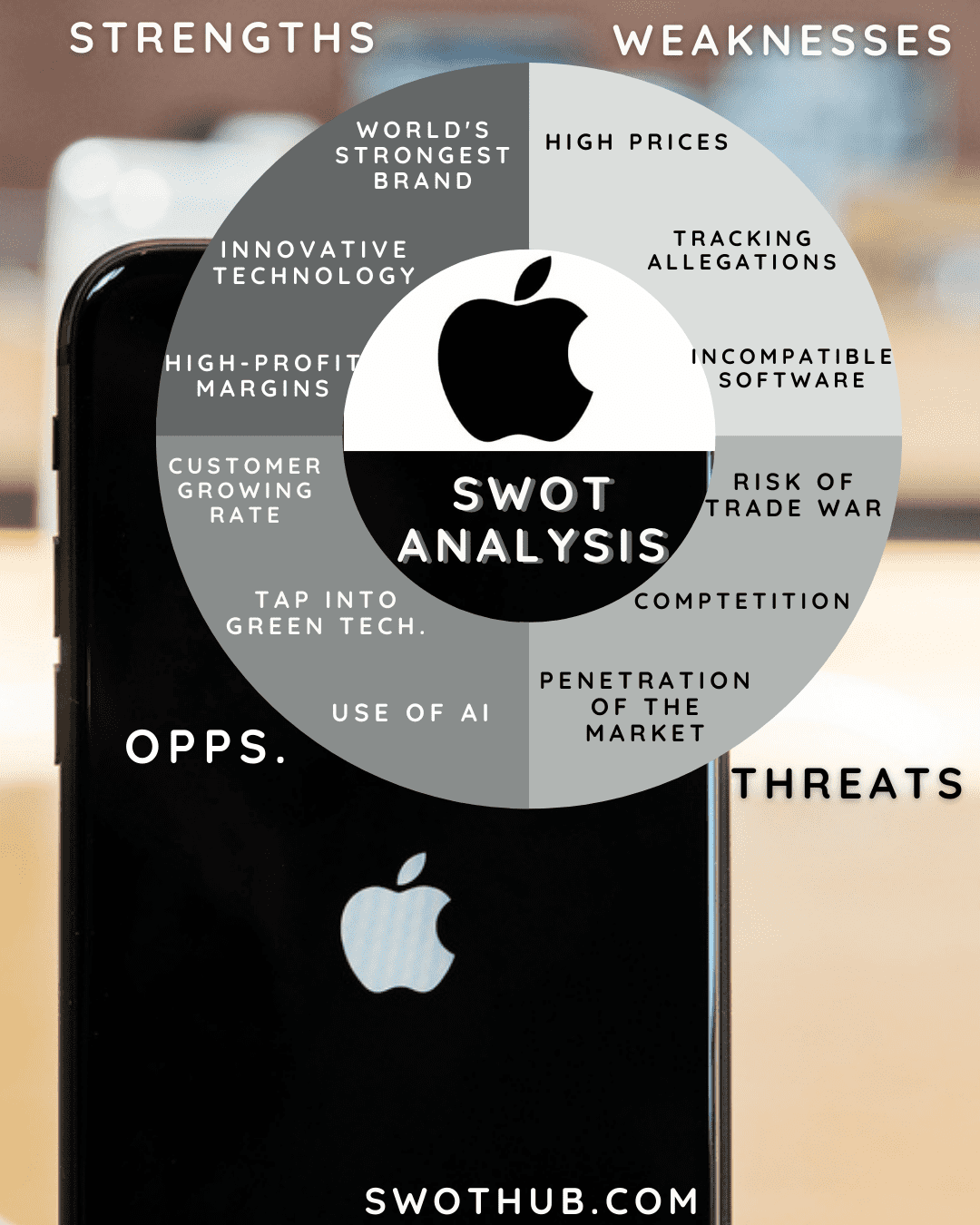 The Apple company can pinpoint its competitive assets and its competitive liabilities. It can also help the company to identify the resources, and strengths and identify the company's best marketing opportunities.
Apple SWOT Analysis Strengths
: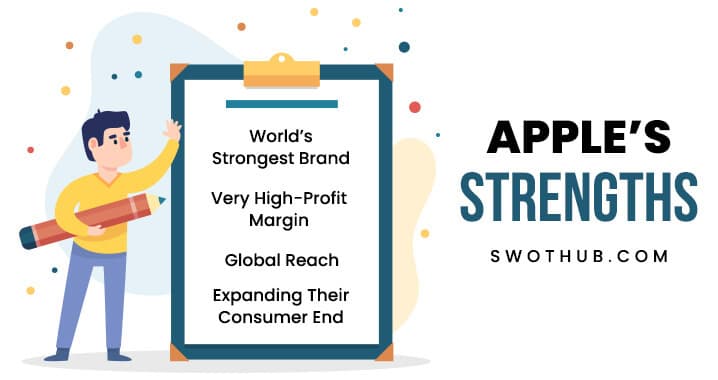 Among all the leading brands of the era, Apple is one of the best. It has retained its leadership position in the market successfully. It has a reputation for strengths in the market. Apple Inc. has a plethora of strengths that will help it to thrive in the main field. An Apple SWOT analysis will help to focus on these strengths. An Apple SWOT Analysis will help to recognize and focus on these strengths. Some of the strengths are enlisted below:
World's strongest brand:
Apple is now the world's number 1 brand for the 8th consecutive year with a brand value of $322 Billion. It is one of the most reliable companies when it comes to personalizing advanced computers and smart technology devices. It was the first brand to introduce some of the most innovative products.
Innovation solely based on Technology:
For all, we can remember Apple has a strong foot in the industry fueled solely by technology. The inevitable strength of Apple has been showering the industry with one after another hit technological goods. It first comes with the MacBook then the iPod, Apple Watch. To sum things up, Apple has got it covered when it comes to any desire a man can come up with.
Very high-profit margin:
Apple is one of the leading companies when it comes to earning profit. It has a large array of products that are sold all over the world. Since people around the world simply adore their products, every time a new gadget is released people rush to buy it. Recently, Apple has started to sell its iPods and chargers separately, this has also helped them to maintain higher profit margins.
Expanding their Consumer End:
All over the globe, Apple has a sole proprietorship of 470 companies and 17 different stores. The company also launched the genius bar to directly solve customer issues. It is a great strong point for Apple.
Global reach:
Apple is a worldwide multinational company. It operates in more than 160 countries across the globe. So, it has a great deal of a global footprint. This makes it more recognizable to the public and helps with its publicity. So, it can implement its global thinking with local execution. This means that it can pursue its ubiquitous goals and can still win the hearts of its consumers.
Weaknesses of Apple in SWOT Analysis: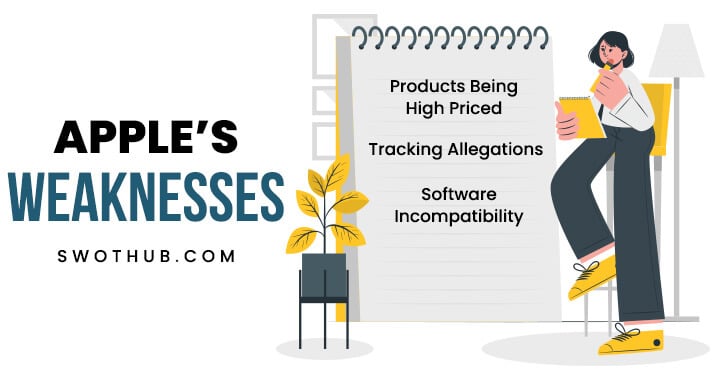 Weakness is any resource or process by which the internal business lacks can be recognized. As a part of strategic planning, Apple's SWOT analysis will bring these points as weaknesses:
Products being high priced:
The Apple company's products can be considered a luxury due to their premium pricing, only middle- or high-class people can afford their products. Low-income buyers can't simply afford Apple products.
Tracking Allegations:
In iPhones, Apple has been accused of using tracking apps in its phones which revealed the location of the users. Even though in the latest version Apple's phones give users the right to decline the tracking.
Software Incompatibility:
Closed Ecosystem: Apple's ecosystem is tightly controlled, which means that users are limited to the apps and services that Apple approves. This can be frustrating for some users who prefer more open systems.
Innovation: Apple has been criticized for not innovating as much as it used to, and some users feel that recent product releases have been more incremental than groundbreaking.
Apple SWOT Analysis Opportunities: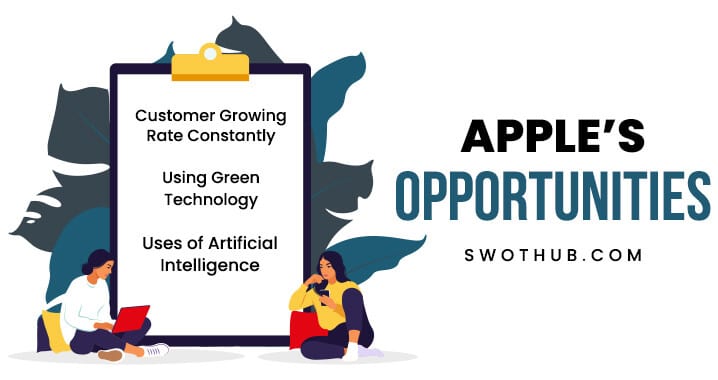 Opportunities are external favorable factors that could give an organization a competitive advantage and protect against risks. An Apple SWOT analysis will help the executives to settle upon them before their next big step. Some of these are enlisted below:
Customer growing rate constantly:
For many years, Apple is dominating the technology sector. Top-quality and cutting-edge technology are offering a breakthrough in customer experience. Their customer retention rate of 92% is growing up day by day.
Using green technology:
In the new term of innovation, Apple is yet to launch products that are being created using, and friendly. Apple has not yet participated in creating sustainable technology.
Uses of artificial intelligence:
Using artificial intelligence in the sectors, Apple will be a great opportunity of keeping its height. The company should utilize artificial intelligence. Recently, the company has extended its AI portfolio.
Innovating Apple's Driverless Car / iWatch / Apple TV:
Apple is focusing on delivering self-driving software technology. The demand for autonomous cars is increasing rapidly. The company has the expertise needed to deliver self-driving car technology rather than electric cars.
Other Apple opportunities include:
Expanding into Emerging Markets: Apple can target emerging markets where smartphone penetration is still low, such as India and Africa. These markets present a significant growth opportunity for the company.
Increasing Services Revenue: Apple's services, such as Apple Music, Apple TV+, and iCloud, are growing in popularity and can generate significant revenue for the company. Apple can continue to invest in these services and develop new ones to further grow this revenue stream.
Innovating in Wearables: Apple is a leader in the wearables market with its Apple Watch and AirPods. The company can continue to invest in this area and develop new products to expand its presence in the wearables market.
Expanding into Health and Fitness: Apple has made significant strides in health and fitness with the Apple Watch and Health app. The company can continue to develop these products and services to cater to consumers' increasing interest in health and wellness.
Expanding its Product Line: Apple can continue to expand its product line, such as developing new products in the smart home market or entering new markets altogether.
Threats for Apple in SWOT Analysis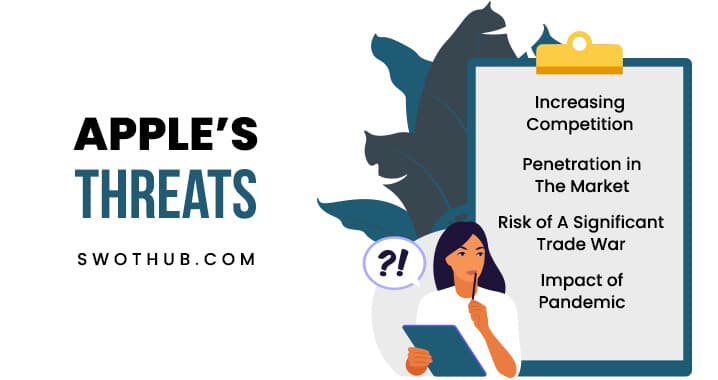 The most important part of the analysis is threats. An Apple SWOT analysis will point out the threats to this community that has been holding it back:
Increasing Competition:
The brand Apple has solidified itself. It is continuously facing threats from its competition. Brands like Samsung, Google, and Dell are creating competition with Apple.
Penetration in the market:
A very significant change in the market penetration by another brand in the mobile market. Many companies like Samsung, HTC, and Lenovo are using Android software and creating new smartphones. Currently android has captured 72.23% of the market. While Apple has only 24.55% of the market share globally.
Risk of a significant trade war:
As Apple is producing its products in Asia and Apple's main market is North America. This can create a trade war between Apple and the other brands and Apple would be at a loss. This trade war can make Apple less purchasing brand than other brands.
Impact of the Pandemic:
This is the time of the pandemic. Apple is one of the leading companies in the consumer goods department. Even though this pandemic has failed to make any big impact on the sales figure, that does not mean that the magnitude of the situation is any less. This pandemic has affected the manufacturing, distribution, and purchasing of Apple products. This has fueled major changes in Apple's business strategies. The experts are thinking this may affect the post-pandemic sales rate.
Other Apple Threats are:
Economic Conditions: Apple's revenue is dependent on the global economy, which can be impacted by various factors such as inflation, currency fluctuations, and geopolitical tensions. Economic downturns can impact consumer spending, which can impact Apple's sales.
Regulatory Environment: Apple operates in a heavily regulated environment, and changes in regulations can impact its business operations. For example, new data privacy laws can impact how Apple collects and uses consumer data, which can impact its services revenue.
Apple SWOT Analysis Overview Template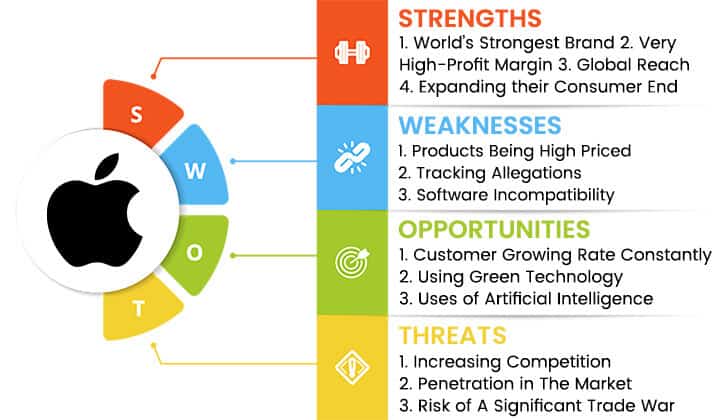 Conclusions & Recommendations for Apple
Here are some recommendations for Apple to improve its market game from the experts:
Expanding the business and spreading the business to rural areas.
Collaborate with the business with cryptocurrency so that customers can buy their products by exchanging cryptocurrency.
Apple will need to focus on the latest technologies like ML (Machine Learning) to create new channels of growth.
For the remote working trends, Apple should increase the sales of notebooks and Tablets.
The company should increase the number of its showroom.
Apple company should launch some products that are affordable for everyone
Improving the health and safety of the company's employees.
Lifting the team morale by achieving the team goals.
In conclusion, it can be said that there are several challenges before Apple, but the company has sustained its performance level through a higher focus on innovation. Apple's financial performance in 2020-2021 was impressive even in the face of the pandemic that had caused demand to fall and growth to slow in the first quarter of 2020.
FAQs for Apple SWOT Analysis
What are Apple's strengths and weaknesses?
Strengths: Strong brand loyalty, innovative product design, robust ecosystem, and high-profit margins.
Weaknesses: High product prices, limited customization options, closed ecosystem, and dependency on iPhone sales.
Who are the top 5 Apple competitors?
*Samsung: Offers a wide range of devices and technologies.
*Google: Competes with its Pixel phones and Android ecosystem.
*Microsoft: Rivals Apple in software and Surface devices.
*Amazon: Competes with Apple in tablets and smart devices.
*Huawei: Known for its smartphone and telecommunications equipment.
What is Apple's biggest competitive advantage?
Apple's biggest competitive advantage is its seamless integration of hardware, software, and services, creating a cohesive ecosystem that enhances user experience across multiple devices.
Who is Apple's biggest market?
The United States is Apple's biggest market, accounting for a significant portion of its global revenue due to its large customer base and strong brand presence.
An Apple SWOT analysis helps the company in many different ways. Only because it would allow the executive directors to theoretically take apart the company's strategic approach to this day and scrutinize them. The future may be full of challenges for Apple, but with its strong cash flow and investment in research and development, it could achieve accelerated growth momentum in the post-pandemic period.