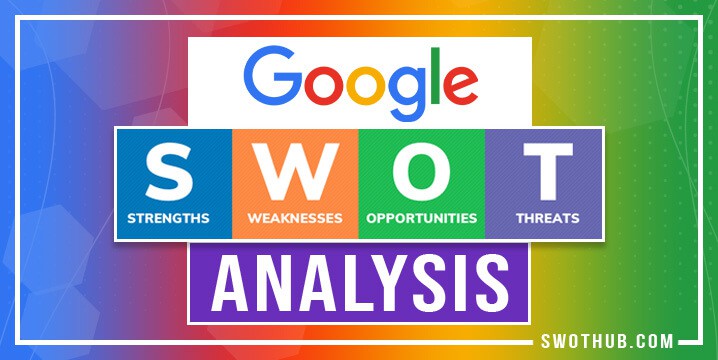 From a research project by two Ph.D. students to one of the biggest companies in the world, the success story of Google is inspiriting. After its start in 1996, the growth was first noticed in 1999, after moving to Silicon Valley, when the company started selling ads. The founders, Larry Page and Sergey Brin ensured that Google would become the default search engine of Yahoo. After all the success stories, in 2015, Google announced Alphabet, the parent company which owns Google, YouTube, Gmail, Google Office Suite, Google Drive, Android, and all other Google products.
Google – At A Glance
| | |
| --- | --- |
| Company Name | Google LLC |
| Industry | Technology / Internet |
| Founded | September 4, 1998 |
| Founders | Larry Page, Sergey Brin |
| CEO | Sundar Pichai |
| Headquarter | Mountain View, California, U.S. |
| Annual Revenue | $257 Billion (FY 2021) |
| Website | www.google.com |
Google SWOT Analysis
A SWOT analysis is an in-depth analysis of a company's strengths, weaknesses, opportunities, and threats. This analysis is done to ensure that the company can make appropriate and effective business-level decisions to help the business succeed and sustain itself. A company like Google always competes with the most prominent tech giants like Apple, Microsoft, Amazon, Twitter, etc. Hence, a Google SWOT analysis is the perfect way to understand the company's factors fully.
Strengths of Google in SWOT Analysis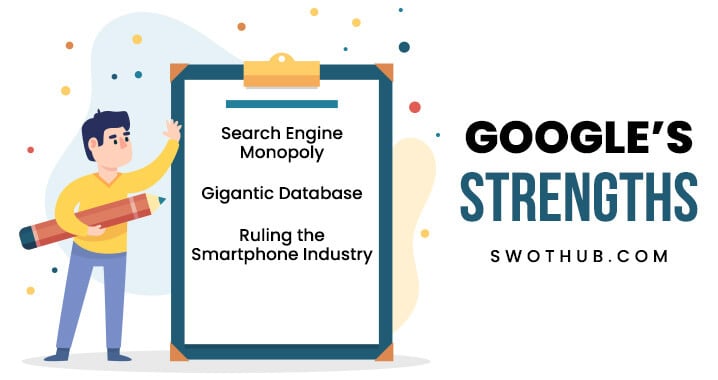 Strengths are the resources and skills that the company has in-house. These are the company's internal factors that make it competitive and able to stand in the competition. As one of the world's biggest companies, Google has many strengths. Today, in the Google SWOT Analysis, we will shed light on some of them.
Search Engine Monopoly: Yes, we admit Google is not the only search engine out there, but when you look at the statistics of users, monopoly is actually not a wrong word here. According to Statista, Google held more than 85% of users in January 2022 worldwide. Bing, with 7.61%, ranks second! You can see the sheer difference between the first and the second. Google has been holding the lion's share since its introduction.
Gigantic Database: Google's database is insanely large. In a ranking report, Google's database ranked fourth in the world, trailing only the World Data Centre for Climate, National Energy Research Scientific Computing Center, and AT&T. This database is a big reason for all the money Google makes. As the company highly depends on Adsense, the database helps the company segment users based on many criteria. Hence, you get so many personalized ads now and then.
Ruling the Smartphone Industry: The search engine is not the only place Google is thriving. Android, a product from Google, is leading the smartphone industry. Today, Android holds more than 72% of the global smartphone users, whereas Apple's iOS holds 27.22%. However, Android is trailing in the tablet market, where Apple's iOS is superior, with more than 52% market share compared to Android's 47.54%.
Weaknesses of Google in SWOT Analysis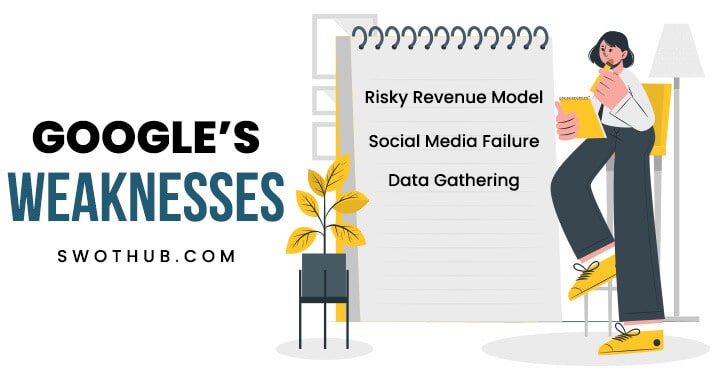 As opposed to strengths, Google also has a few weaknesses that can be problematic for the company. Weaknesses can be a strong reason for a company to fall; the same goes for Google. Our next section of the Google SWOT Analysis will discuss the significant weaknesses Google may have to gain a better understanding.
Risky Revenue Model: Most of Google's revenue comes from the ads you see while watching YouTube videos or searching on Google. If you are wondering how much it can be, let us tell you that 80% of Google's money comes from this sector. The amount was $209 billion in 2021. This model's problem is that if ads demand fluctuates, Google's revenue will fall dramatically. So Google better come up with different revenue plans on which the company can rely.
Social Media Failure: On the web, anywhere you go, you will see at least one product from Google. But that's not the case in social media. Despite thriving in other online sectors, Google has been relatively unsuccessful in the social media industry. Compared to the likes of Facebook, Twitter, Instagram, Pinterest, Snapchat and Reddit, nothing from Google is there to compete. Google had Google+, but did anyone use that?
Data Gathering: Google keeps all of your data. Not just your personal information, but also what you do on the web. Google tracks everything. No wonder you chat about football boots with your friend on Facebook Messenger, and the next you know, you see hundreds of ads from Amazon. There are ways to stop Google from tracking your searches; you better do it now.
Opportunities for Google in SWOT Analysis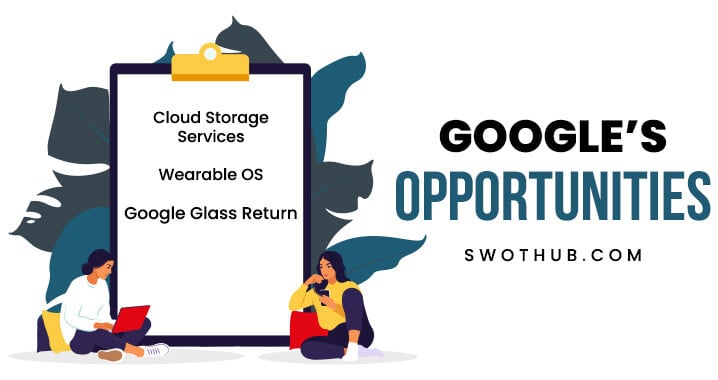 No matter how big a company is, there are always ways to improve. The same goes for Google. While the company is an industry leader in several markets, it can still be even more successful if it takes its opportunities. To better understand, read the next section of the Google SWOT Analysis.
Cloud Storage Services: Besides Android and search engines, Google has other services. Among them are the Google cloud services such as Google Drive and Google Photos, where you can store your data. Previously, the service was free for use with limited storage. Google can now make further revenue from this sector by providing additional space for a premium. Google is already doing this, but focusing on this sector can generate a good amount of cash inflow. Current Google Drive is facing a loss.
Wearable OS: When it comes to wearables, Apple is still the champion here with its excellent Apple Watches. Google is trying well to get into the business, but still trailing behind. In the first quarter of 2021, watchOS held almost 22% of the market share, whereas WearOS from Google was slightly over 17%. Google should focus extra on making the WearOS move convenient and available so that people use it more.
Google Glass Return: When Google Glass came out, it was way ahead of its time. Hence, it didn't get the same level of attention it deserved. People were confused, and most of them didn't like it. A new generation of Google Glass will sell like hotcakes now that wearing technology is a regular thing.
Threats for Google in SWOT Analysis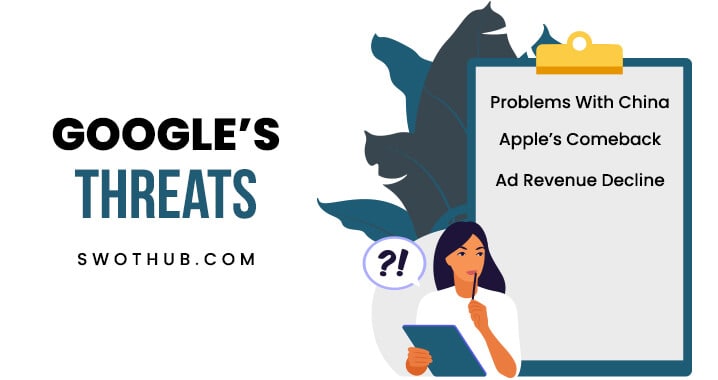 In the Google SWOT Analysis, threats are that fact that comes from the industry, and the surrounding can hamper the business. The economic environment, competitors, nature, and the law can all negatively affect a company like Google. Below, we will talk about a few threats to Google.
Problems With China: Google has already cut ties with the Chinese giant Huawei where the company will not use Android. This has become a massive blow for the company and the users. Similarly, there are other areas where Google is having tension with China, which has led to the demand fall of the company in the Chinese market.
Apple's Comeback: With the help of Samsung, Google has already captured a fair share of the smartphone market. However, Apple's new generation smartphones are radically gaining market share, which is a considerable threat to the company.
Ad Revenue Decline: In 2020, Google saw the first ad revenue decline in more than 26 years. It declined roughly 8%, and the amount of $29 billion is indeed not small. The same went for another company of Google, YouTube, which saw a slowdown in revenue growth. Google will start losing money if this continues.
Google SWOT Analysis Overview Template
Conclusion & Recommendations for Microsoft
In order for Google to sustain, the following recommendations are offered by industry experts:
Reconsider the revenue model and create a portfolio of different revenue-generating ideas other than only relying on ad revenues.
Focus on wearable technology and bring products that can beat Apple products.
Data collection should be done with the customer's consent, and Google should ensure security.
Google Glass should be reintroduced.
Take immediate action to stop the decline in revenue by investigating the reason.
Despite the weakness and threats, there is no sign of Google is slowing down in the next 50 years. The company has changed the way we interact with the internet, and it will continue going this way. However, Google should not neglect the opposing side either.
To eradicate the negative and make the opportunities useful, Google should consider business-level decisions. For this, the Google SWOT analysis is the right way to make a proper and practical decision.