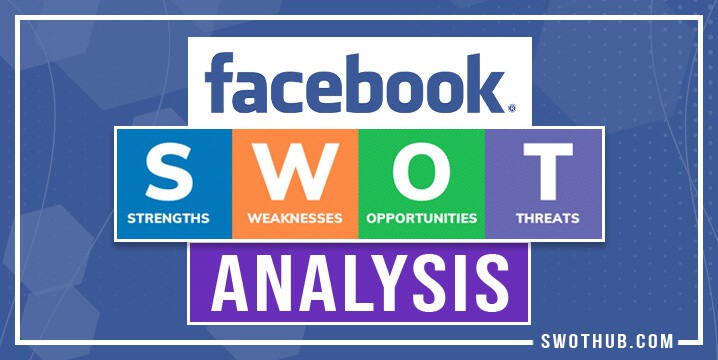 Facebook is a social networking platform and technology company that started on February 4, 2004, and has a global user base of 2.89 billion people. Mark Zuckerberg, Eduardo Saverin, Dustin Moskovitz, and Chris Hughes are the founder of Facebook, which is now called META. Facebook's headquarters are in Menlo Park, California. The company's yearly sales are $70.7 billion US dollars, with Facebook's net income of $18.5 billion.
According to statista.com, Facebook, the market leader, was the first social network to reach one billion registered account and now has more than 2.89 billion monthly active members. The corporation also controls four of the most popular social media platforms, all of which have over one billion monthly active users: Facebook, WhatsApp, Facebook Messenger, and Instagram.
Facebook – At A Glance
| | |
| --- | --- |
| Company Name | Facebook |
| Industry | Social Networking |
| Founded | February 04, 2004 |
| Founders | Mark Zuckerberg, Eduardo Saverin |
| CEO | Mark Zuckerberg |
| Headquarter | Menlo Park, California, U.S. |
| Annual Revenue | $117.92 Billion (FY 2021) |
| Website | www.facebook.com |
Facebook SWOT Analysis
SWOT analysis highlights the internal and external strategic variables important to the firm. While Facebook is one of the industry's top companies, this Facebook SWOT Analysis reveals difficulties that the firm must solve to maintain its worldwide market position. Facebook can assure that its shortcomings are limited and that its strengths are adequate to compete globally.
Strengths of Facebook in SWOT Analysis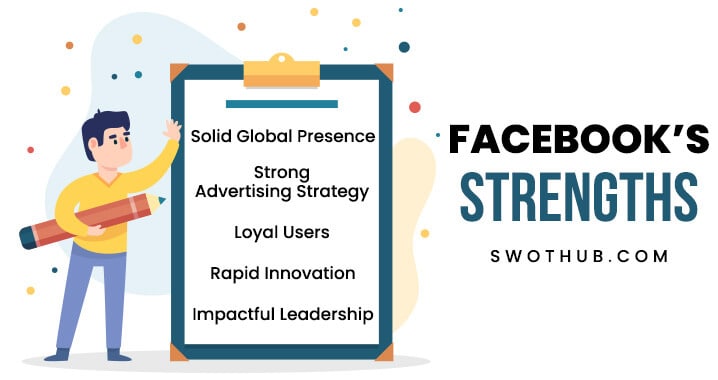 The strengths of Facebook justify its market dominance as one of the most important companies in the social media and Internet advertising markets. Facebook SWOT Analysis relies on the company's strengths, demonstrating how it keeps its market-leading position. Facebook's ability to develop gradually is based on internal and external qualities. Facebook's key strengths are as follows:
Solid Global Presence: Facebook's popularity has exploded in just a few years. The number of active users has surpassed 2 billion and continues to rise. According to Forbes, Facebook was listed as the 5th most powerful brand in 2019. Facebook is one of the most influential brands in social media, with a market capitalization of $88.9 billion.
Strong Advertising Strategy: Over the years, the organization has captured many marketers and enterprises due to its unique advertising skills. Facebook's appeal to marketers and companies has risen due to its effectiveness as an advertising platform, resulting in improved financial returns over time. Their crucial source of revenue is advertising, accounting for a significant portion of net income.
Loyal Users: Around 40% of the world's population, Facebook's active users see its product portfolio as indispensable. It's due to the period's diversity, innovation, and consistency. That is why many are glued to Facebook and remain loyal to it. A significant and ever-growing amount of exceptionally devoted clients says a lot about a company's strength, sustainability, and achievement.
Rapid Innovation: Facebook's most valuable asset is its technical innovation. It's also one of the main reasons for its worldwide success. Facebook has maintained its market share despite Google's stronghold in digital marketing and advertising. Through investment in innovation, Facebook has expanded its technical expertise. According to Facebook's recent annual report, it has 17 data centres worldwide. It intends to continue investing in data centre technology, servers, and network technologies.
Research and Development: As a large social media company in the digital age, they must continue to supply innovativeness and originality through research and development. Facebook is one of the world's top R&D spenders, having raised its R&D spending from $4.8 billion in 2015 to $13.6 billion in 2019, accounting for around 19 per cent of its yearly sales.
Impactful Leadership: Mark Zuckerberg's excellent and innovative leadership is something that other firms can only dream of. Unlike other organizations, Zuckerberg's strategic vision has resulted in corporate sustainability, culture, earnings, creativity, and stability, with minimal internal disagreements within the company's levels and management.
Weaknesses of Facebook in SWOT Analysis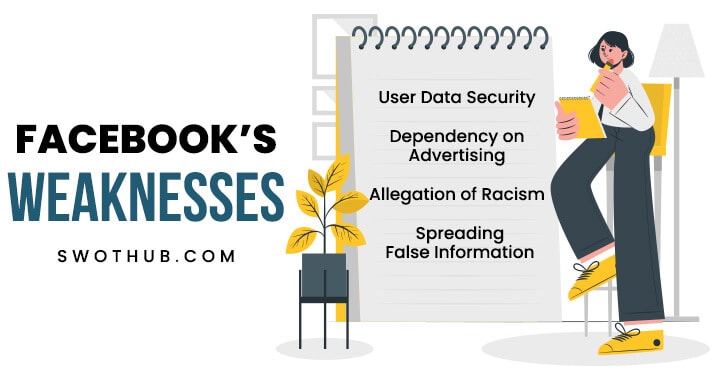 The corporation has various disadvantages due to its social networking industry and other endeavours. The primary objective of this part of the Facebook SWOT Analysis is on the internal and external issues preventing Facebook from reaching higher levels of success. These weaknesses are as follows:
User Data Security: It has recently come to our knowledge that user data on Facebook is not secure. Facebook is continuously getting backlash for failing to safeguard users' privacy. The company's popularity is declining in several parts of the world. If Facebook does not respond to users' privacy concerns timely and efficiently, it risks losing its reputation.
Dependency on Advertising: The company's online advertising system is a flaw since customers may consider ads intrusion into their social media experience. Facebook's economic strategy is primarily reliant on advertising income. It is believed that advertising accounts for 98.5 per cent of company revenue. In 2019, its advertising revenue was $69.66 billion out of $70.70 billion in yearly revenue.
Allegation of Racism: The recent inequality demonstrations have brought countless instances of racial prejudice on Facebook's part. The corporation has enabled marketers to deny certain rights to minority groups on its platform. Over 750 firms have stopped advertising on Facebook due to the outpouring of rage. The company has been compelled to investigate if its analytics are explicitly racist.
Spreading False Information: Facebook has become a place for transmitting false information, manipulation, and fake news in recent times. Surprisingly, Facebook hasn't been able to address and restrict such content. If this continues, serious users will abandon Facebook permanently.
Opportunities for Facebook in SWOT Analysis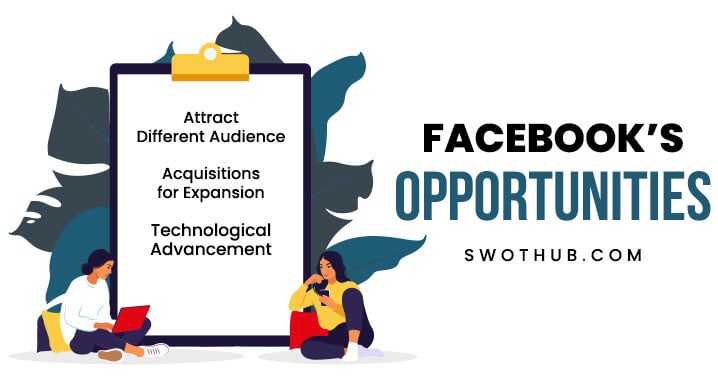 The corporation has several prospects to expand its social media company overseas. This section of the Facebook SWOT Analysis lists the external elements that the firm may use to enhance its financial status. In Facebook's instance, the following opportunities stand out:
Attract Different Audience: While Facebook is extremely popular, most of its users are youth and more tech-savvy. Facebook offers the ability to reach a wide range of audiences in various ways. Facebook may be able to attract other groups by introducing new features, such as the previous generation of commercial platforms with high-end functionality.
Acquisitions for Expansion: Facebook may also achieve faster growth by acquiring new brands. It has increased chiefly its product offering through acquisitions. Facebook purchased all of these companies, including WhatsApp, Instagram, and Oculus. Facebook has a good cash flow that it can utilize to acquire new firms that will help it secure its position and expand revenue more quickly.
Technological Advancement: Technological advancement is a critical component that will promote growth for Facebook. The technology sector is characterized by severe rivalry. The industry's growth rate necessitates a greater emphasis on R&D., While the corporation has invested much in R&D in recent years. It will need to constantly focus on technical innovation to preserve its higher growth rate and competitive edge in the sector.
Threats for Facebook in SWOT Analysis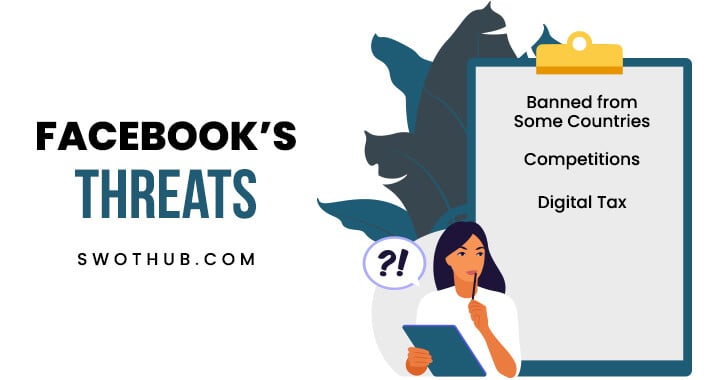 Because of the features of the internet, Facebook, as a social networking site, presents unique hazards. At the same time, Facebook's internal conditions indicate that it may jeopardize users' privacy. This section of the Facebook SWOT Analysis examines the variables that impede growth and development. Facebook faces many threats:
Banned from Some Countries: Fake and misleading information is acceptable in a free democracy, but it poses a significant challenge to authoritarian regimes. At the same time, despotic nations block access to Facebook to limit freedom of expression. China, North Korea, Iran, and Russia just banned Facebook in their respective nations.
Competitions: Facebook users are expected to decline due to pressure from old and new platforms. With new companies joining the industry, such as TikTok, creating tailored platforms for the younger population, Facebook's future grows increasingly bleak. Facebook has developed its form of the short video site "Lasso" to compete with TikTok. Alongside, the other social networking platforms like Twitter, LinkedIn, Snapchat are always considered as threats.
Digital Tax: Governments and governmental organizations worldwide have been closely monitoring Facebook's business activities. New digital taxes have already been imposed on Facebook in certain countries, including the United Kingdom and the European Union. According to Reuters, Canada is also contemplating a new digital tax for significant technology companies like Facebook, beginning in 2022.
Facebook SWOT Analysis Overview Template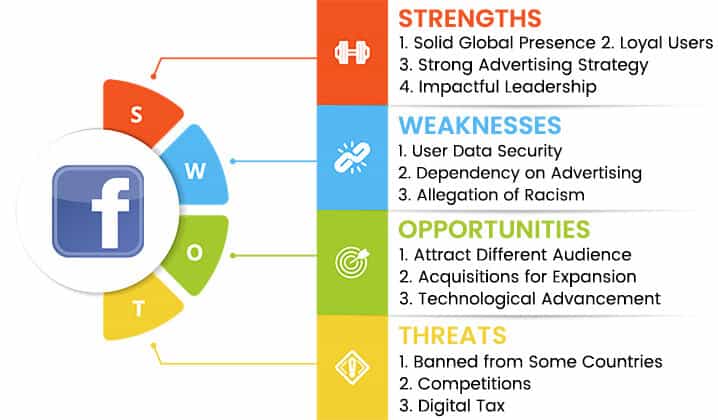 Recommendations and Conclusion for Facebook
Here are some recommendations for Facebook's future development are as follows:
Facebook diversifies its operations to reduce market risk while pursuing alternative income streams to keep the company expanding.
To sustain Facebook's status as an engaging platform for online communication, strategic management actions are required to address the company's data security vulnerabilities.
They must negotiate with governments to access markets where they now have little or no presence.
They must invest religiously in research and development to improve their skills in combating cybercrime that targets social media users.
Facebook is a social media giant that everyone admires. Despite a slew of privacy scandals involving CEO Mark Zuckerberg, Facebook remains the world's most popular social networking site. According to this Facebook SWOT Analysis, Facebook deserves to be the most popular social media network, yet it faces risks. To provide a more excellent user experience, Facebook should continue to innovate and focus on cybersecurity in the future.