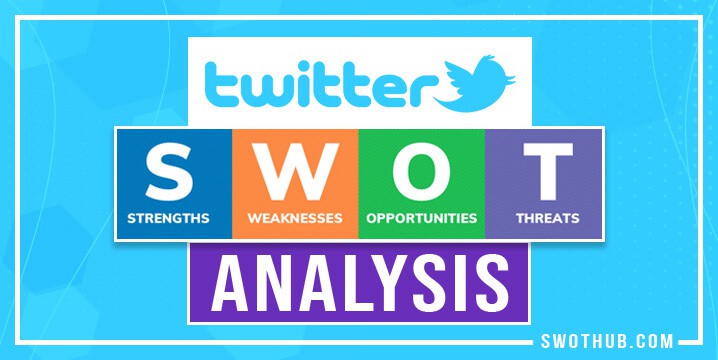 During a brainstorming session in 2006, Jack Dorsey presented a new idea to the board members of Odeo. The plan included SMS services to communicate within a small group. The service started as Twttr, and then after six months, they changed the name to Twitter. The project began in March 2006, and they launched Twitter on July 15th, the same year. Since then, Twitter has been a pioneer in the social media industry. Today, our topic is Twitter, and we will look at the company's SWOT in the Twitter SWOT Analysis.
Twitter – At A Glance
| | |
| --- | --- |
| Company Name | Twitter, Inc. |
| Industry | Social Media |
| Founded | March 21, 2006 |
| Founders | Jack Dorsey, Noah Glass, Biz Stone, Evan Williams |
| CEO | Parag Agrawal |
| Headquarter | San Francisco, US |
| Annual Revenue | $5.08 Billion (FY 2021) |
| Website | www.twitter.com |
Twitter SWOT Analysis
If you want to take a business-level strategy, the first thing you should do to create a SWOT analysis of your company. A SWOT analysis will give you an in-depth knowledge of your company's strengths and weaknesses with its internal resources. Besides, A SWOT analysis will also help you understand what external factors will bring you blessings and curses. For a company like Twitter, a SWOT analysis is highly important as it will help the company to compete with strong competitors.
Strengths of Twitter in SWOT Analysis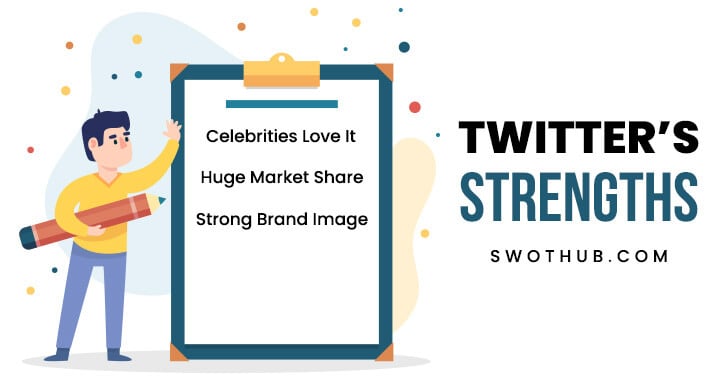 Strengths are the business's internal factors that keep the company in the competition. Based on this, a company is considered to be strong or weak. In this section of Twitter SWOT Analysis, we will look at the strengths of Twitter.
Celebrities Love It: Celebrities mostly follow Twitter. Let that be the movie stars or the band members or athletes. They just love this microblogging social media platform. In fact, a large portion of Twitter followers follows certain accounts. Not just celebrities, many big companies also use Twitter to let the world know what they are up to. Twitter is an effective way to communicate with such big names.
According to a study published by Harvard Business Review, 10% of Twitter accounts send 90% of Twitter. Most of these accounts are celebrity accounts. According to Statista, Twitter's top three most followed accounts are Barack Obama with 131.67 million, Justin Bieber with 114.36 million, and Katy Perry with 108.9 million followers.
Huge Market Share: Twitter is the second most popular social media platform in the world. According to statecounter, in April 2022, Twitter held 7.13% of the market share. However, the difference between the first (Facebook) is drastic. In Europe, Twitter has less market share (5.74%) than its cumulative average worldwide presence. But in North America, they have a better hold of the market at 8.18%. In terms of users per country, the USA is at the top.
Twitter has more market share than popular Instagram, Pinterest, Reddit, and YouTube. What helped Twitter gain this much market share was the early market entry. It was the year 2006 when Twitter first launched. Hence, so many celebrities are obsessed with this platform.
Strong Brand Image: As a brand, Twitter has made its name. Twitter's logo, color, and mascot are all distinctive, making it unique and easy to recognize.
Almost anyone you ask will know about Twitter. Everyone notices the bluebird of Twitter at first glance. That's how strong Twitter is in the industry. Besides, Twitter is highly used too. According to a report from FinancesOnline, in the most visited website ranking, Twitter ranked fourth. Recently, Elon Musk (CEO of Tesla) offered Twitter to acquire it for $44bn and the deal is under processing. If the deal finally become done, Twitter will get more brand exposure.
Weaknesses of Twitter in SWOT Analysis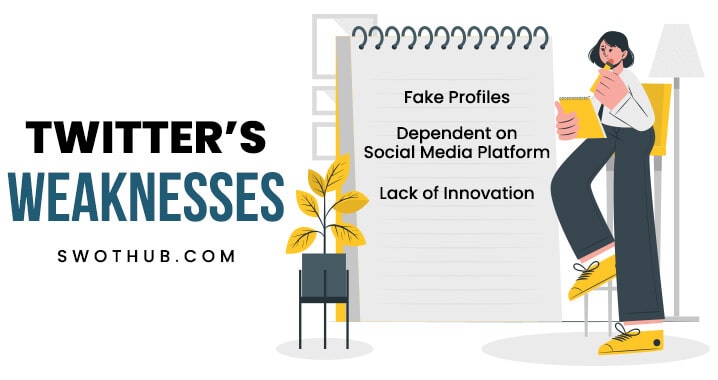 Strengths are the things that a company already excels at. But weaknesses are the ones that the company should heavily focus on. Hence, these internal factors are more important than the strengths. In this section of the Twitter SWOT Analysis, we will discuss Twitter's weaknesses!
Dependent on Social Media Platform: The business model of Twitter is highly dependent on its social media platform. In fact, social media ads are the company's main revenue stream. Over 80% of Twitter's income is from advertising services.
This approach made Twitter highly dependent on one platform. Even though their presence is extremely strong, doing business on a single place is very risky. If Twitter loses many users, its revenue will see a drastic fall. Hence, Twitter should focus on bringing more diversified products.
Fake Profiles: Twitter has a large number of fake profiles.  According to socialmedia hq, around 40.9% of followers of Barack Obama are fake. Fake profiles have been a concerning matter for Twitter for many years now. It is expected that a good number of followers of most-followed accounts on Twitter are fake.
Lack of Innovation: Twitter is great for information, news, and updates. But there is one thing Twitter lacks for a good amount of time: innovation. Still, now, there is no edit function on Twitter. If you have misspelled something wrong, you need to delete the tweet and post it again.
The lack of innovation has caused Twitter some serious concerns. People are leaving (mostly the newer generation) as they find Twitter to be boring. Hence, the company is experiencing slow user growth. Besides, the fake accounts and the bots are making the situation even worse.
Opportunities for Twitter in SWOT Analysis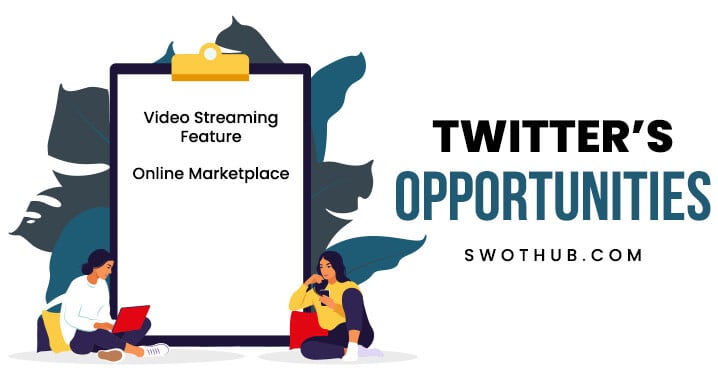 Opportunities are just like strengths, but these are external factors. Therefore, the company doesn't have any control over them. The only thing a company can do with the opportunities is they can exploit them for better performance. We will discuss what opportunities Twitter currently has in the next section of Twitter SWOT Analysis.
Video Streaming Feature: The database on Twitter is huge, and they can take advantage of that. If they bring out a video streaming feature, just like Facebook did to compete with YouTube, Twitter can increase users. Although, Twitter is gaining new and new users each year.
However, to keep them retained, Twitter needs to bring more. Video streaming is a great way to start. Additionally, Twitter can also introduce music streaming functionalities that are highly in demand.
The video streaming feature can be allowed for an unlimited time or a smaller period. Instagram used to allow its users to only post videos for 1 minute. Twitter can adopt that feature.
Online Marketplace: A great way to keep your customers on your platform is by letting them be more engaged. And a marketplace is a great way to do that. Your users will interact with each other, know the news and buy something from your channel. That's three apps in one!
Facebook has already created its marketplace, and so did Instagram. Both marketplaces are performing great, which makes a great opportunity for Twitter to take advantage of this. As celebrities mostly use Twitter, they can sell their merchandise through this channel, generating more revenue for Twitter.
Threats for Twitter in SWOT Analysis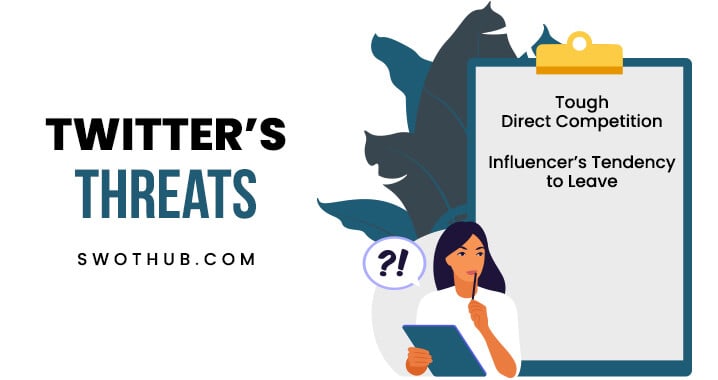 Threats are the external factors that can break your company. If a company doesn't consider threats, it can fail miserably, just like Kodak and Nokia. In the next section of Twitter SWOT Analysis, we will see the threats of Twitter.
Tough Direct Competition: Who is the biggest competitor of Twitter? Facebook. Facebook is too big to be even considered a competition. The difference between the market share of Facebook and Twitter is drastic, and Twitter should acknowledge that as soon as possible.
Influencer's Tendency to Leave: Just like celebrities love Twitter, they leave too. Already there are a lot of stars who have already left the platform. And now, if bigger profiles also leave the program, the platform will lose a lot of their fanbase from the channel. This will drastically reduce the users of Twitter which is a huge threat.
Twitter SWOT Analysis Overview Template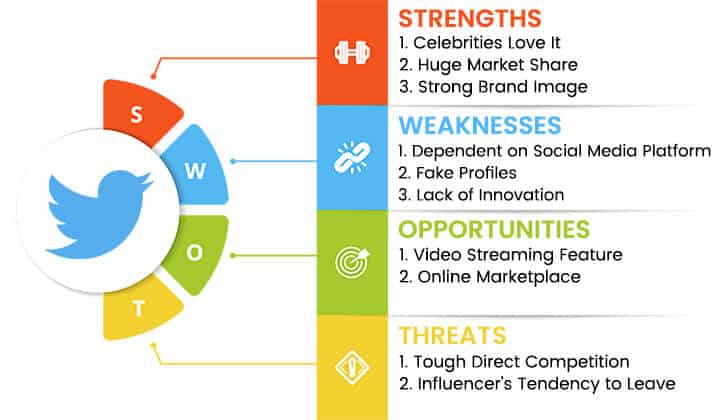 Conclusion and Recommendations for Twitter
According to the industry experts, Twitter can make a few decisions to keep them stable in the competition. The suggestions are below,
Take proper steps to reduce fake accounts as soon as possible.
Work on the innovation and bring more features to the app and the social media platform. This will keep the users engaged and retained to the platform.
Consider Facebook as a big threat and take appropriate actions urgently.
Step aside from relying on the US market and the celebrities. Rather take diversified decisions, so the risk is well distributed.
Overall, we can see that Twitter is still one of the biggest social media platforms with a huge number of users. However, they are still at high risk, and immediate actions are needed to face future challenges.
A SWOT analysis is highly important for a company like Twitter which can either be one of the biggest companies in work or may drown in the see. Hence, this Twitter SWOT Analysis aims to make it easier for Twitter to make a proper business-level decision.