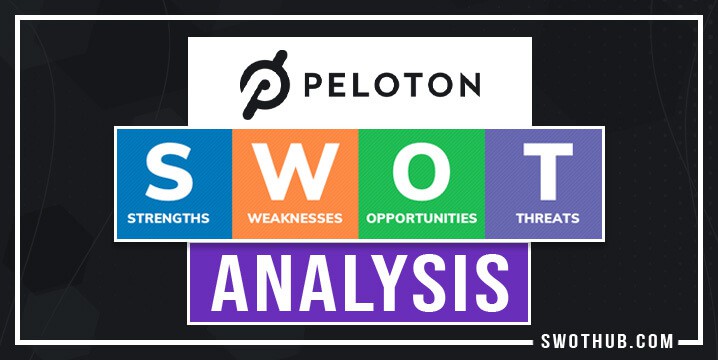 Founded a decade ago, Peloton is an exercise equipment manufacturing company that believes fitness is a key to better health. With this in mind, the company sells stationary bikes and treadmills that can keep anyone active and in good shape. Peloton's concept is clear – use the technology and let people have a full cardio workout session directly from their homes. Sounds unique, right? Today, we will look at the Peloton SWOT Analysis to give you a broader idea about the company and how they have succeeded.
A SWOT analysis is an essential tool that a company can use to identify its internal and external powers. Besides, this analysis also shows which departments they lack and how they can reinforce to make those weaknesses into strengths. Based on this Peloton SWOT Analysis, Peloton's higher management can make better business decisions to make their company a market leader.
Peloton – At A Glance
| | |
| --- | --- |
| Company Name | Peloton Interactive, Inc. |
| Industry | Exercise equipment |
| Founded | January 03, 2012 |
| Founders | Graham Stanton, Hisao Kushi, John Foley, Tom Cortese, Yony Feng |
| CEO | Barry McCarthy |
| Headquarter | New York City, US |
| Annual Revenue | $1.825 Billion (FY 2020) |
| Website | www.onepeloton.com |
Strengths of Peloton in SWOT Analysis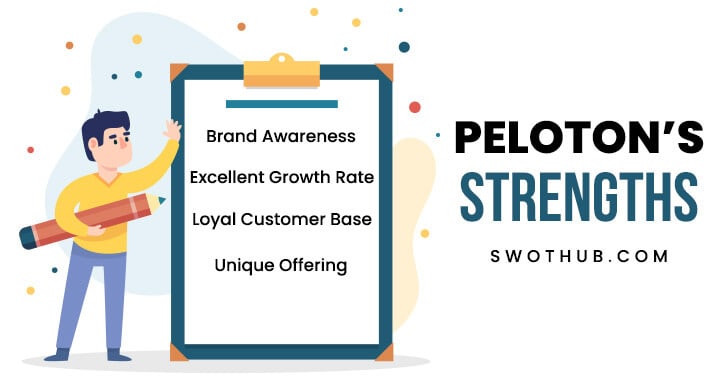 Strengths are the most powerful factor of a company. Hence, they are also known as the core competencies, the aspects you use to differentiate your company from the competition. In the next section of this article on Peloton SWOT Analysis, we will discuss its strengths.
Brand Awareness: Peloton has become a popular band in the USA. Aside from their huge customer base, they are also recognized by several magazines and newspapers. This gave them more exposure to the consumers.
Furthermore, the company offers a unique service that makes the name stand out in the crowd. Specializing in their product, gives them a unique perspective, which makes the brand more popular on the market.
Excellent Growth Rate: Covid was a nightmare. But not for everyone. Peloton's market grew drastically during the covid period. In September 2019, the company had a member count of 1.6 million. Impressive, right? Wait till you read the rest.
In September 2020, the company had a member count of 3.6 million members. That's a 125% increase in just one year. The more crazy fact is that, from September 2020 to December 2020, the company gained 8,00,000 members!
Loyal Customer Base: Peloton has a huge customer base. In fact, in June 2021, Peloton had over 5.9 million members. That's not it. Their membership program is also huge. Currently, over 2.3 million people are subscribed to their connected fitness program. Moreover, Peloton also has nearly 8,75,000 digital-only subscribers. The numbers are impressive, and this is one of their core competencies.
Unique Offering: What Peloton offers is something quite rare. Therefore, when you look at the direct competition, you will notice that there are few direct competitors available for the company. Yes, competition is present, but not every competitor is a direct competitor.
Aside from selling exercise equipment, Peloton also offers exercise classes which are a unique offering. Other manufacturers only sell exercise items. But here, Peloton could combine a product as a service in one form.
Weaknesses of Peloton in SWOT Analysis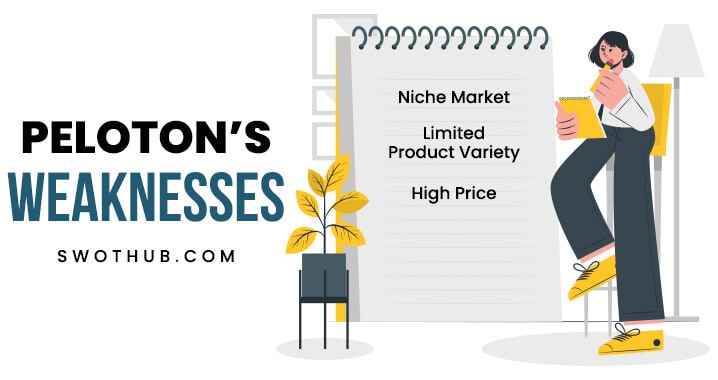 Weaknesses are the exact opposite of strengths, the factors that your company lack. Knowing weaknesses can help you to solve your problems and become even stronger. Therefore, in Peloton SWOT Analysis, we will discuss Peloton's weaknesses.
Niche Market: One of the weaknesses of Peloton is its market. Their target market is extremely niche. Therefore, even if they want to increase their customer base drastically, they can't without changing their target customer.
Limited Product Variety: Another fact about Peloton is its product line is very limited. The company only sells two workout products. One is Peloton Bike+, and the other one is Peloton Tread. Additionally, the customers also can buy other things as add-ons. These can be workout shoes or headphones.
High Price: There is no doubt that Peloton products are great, but they are expensive. In fact, if you compare them with your local gym membership, the cost is significantly more. And as the effects of Covid are decreasing, more and more gyms are opening up. Consequently, Peloton's price may be a problem for customers as they might switch to gym memberships.
Opportunities for Peloton in SWOT Analysis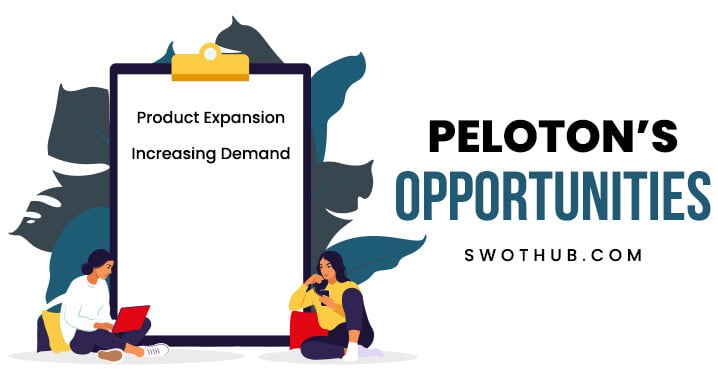 The way to achieve a competitive advantage, the opportunities are the external factors that can make the company shine in the competition. Taking advantage of them can help any company win a very large market share. The following section of the Peloton SWOT Analysis discusses that.
Product Expansion: At present, Peloton only offers two exercise equipment. One is a bike, and the other one is a treadmill. This allows Peloton to have a huge chance of increasing its product variety. Bridging newer exercise items can increase the demand for the product. Moreover, more products will bring more new customers, which lets the company grab the market even stronger.  
Increasing Demand: During Covid, one awareness grew quite high among the people: the consciousness for health. Therefore, more and more people got interested in fitness. As Peloton is an exercise manufacturing company, this is a huge opportunity for them to grab the chance and succeed. In fact, they are already exceeding expectations. However, there are still many things left to achieve!
Threats for Peloton in SWOT Analysis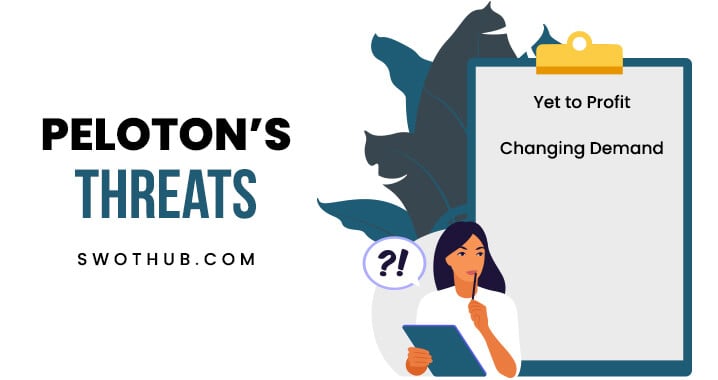 An external damaging factor, a threat, can end any company. Despite the fact that it is not an internal factor, ignoring this can put the company in a very bad state, which can be a reason for bankruptcy. The following sector of this article on Peloton SWOT Analysis shares insights into the threats.
Yet to Profit: Peloton is a public company. Yet, they haven't seen profits. In fact, they are facing losses every year. For this, they had to halt their product in 2022. Although the company is too big to fade away, no big name is strong enough to remain forever. Take Kodak for an example. Once a revolutionary brand went bankrupt just because it didn't analyze its threats properly.
Changing Demand: Although Covid has caused havoc to many of our lives, some got the advantage. And among them, Peloton is a shining example. Due to the gym remaining close, people wanted something to have similar at home. Exactly what Peloton offers.
However, as the Covid is fading away and gym and community places are opening, the demand for their products decreased as the market's needs changed, and the sales started to fall. This is indeed a huge risk for the brand, which they should try to overcome as soon as possible.
Peloton SWOT Analysis Overview Template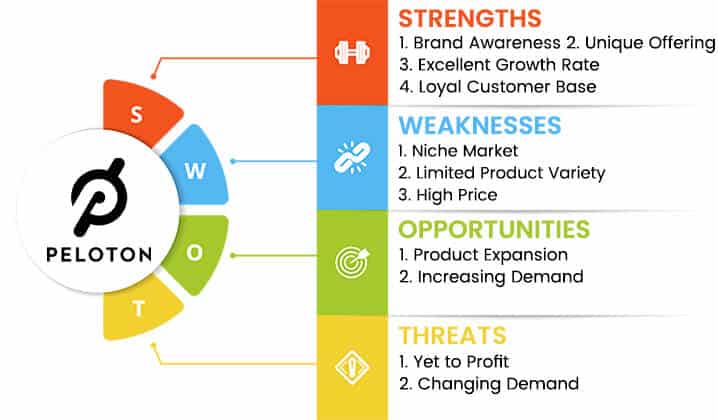 Conclusion and Recommendations for Peloton
Experts from the industry have made the following recommendations that can help Peloton improve its present performance:
Bring more product diversity. Consequently, Peloton can't limit itself to selling only two products. To attract more customers, Peloton should introduce more exercise machines.
Although Peloton already has a huge market share, they still operate in the niche market. They should bring products that are not highly niche and have a broader customer demand, which will help them concrete their position more strongly.
Peloton needs to reduce its prices to compete with the local gyms, which are significantly cheaper.
The market demand is changing. Peloton will need to take further strategic decisions that will enable them to transition from loss to profit.
Overall, we can say that Peloton is still in a strong position due to its huge customer base and unique products. However, the performance is seeing a dip in the current periods, and they should never stay content with this. Moreover, they should take preventive measures to get the company back to growth.
A SWOT analysis can be extremely helpful for determining future actions and understanding the current situation. Similarly, in this Peloton SWOT Analysis, we talked about why Peloton is not performing as well as last year and what they should do to overcome this potential loss.