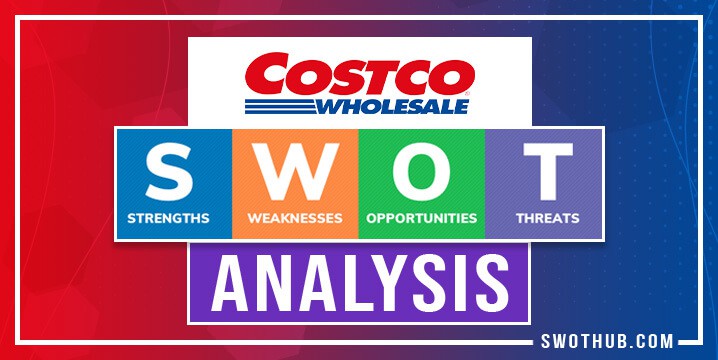 Costco is a huge American Multinational Corporation specializing in a minimal-cost, membership-only network of retail stores. It is one of the world's top retailing brands, ranking second only to Walmart. James Sinegal and Jeffrey H. Brotman created Costco Wholesale Corporation in 1983.
According to statista.com, Costco produced 141.4 billion US dollars in sales from its activities in the United States in 2021. Costco has warehouse clubs in several countries across the world. However, a large percentage of the retailer's warehouses are located in the retailer's domestic market in the US.
Costco – At A Glance
| | |
| --- | --- |
| Company Name | Costco Wholesale Corporation |
| Industry | Retail |
| Founded | September 15, 1983 |
| Founders | James Sinegal, Jeffrey Brotman, Sol Price, Robert Price |
| CEO | W. Craig Jelinek |
| Headquarter | Issaquah, Washington, U.S. |
| Annual Revenue | $166.76 Billion (FY 2020) |
| Website | www.costco.com |
Costco SWOT Analysis
Costco's management can study the tactics that can assist them in enhancing its place and maximizing income through this Costco SWOT analysis. It focuses on the consequences of competition and the corporate culture and structure. By examining opportunities, the organization may rebuild its plans and activities.
Costco's competitive analysis will assist them in resisting competition and developing strong plans that will increase revenue. They can seek commercial development in order to generate profit and long-term market stability.
Strengths of Costco in SWOT Analysis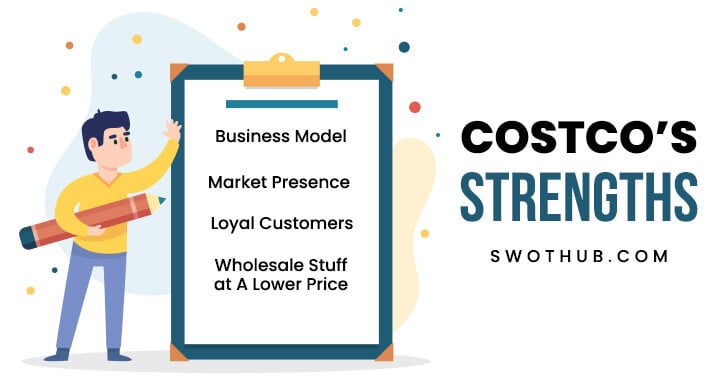 Costco's initial goal is to extend its market into places with high purchasing power. Market penetration appears to be significant for the majority of businesses. Costco's corporate best practices determine its strength. The following are the strengths according to the Costco SWOT Analysis.
Business Model: Costco's business strategy differs from most other stores in that members pay a $60 yearly membership fee. Costco is also exclusively open to paying members. Unlike Target, you can't just go into Costco and buy stuff; you have to go through a system many people appreciate. It also concentrates more on customer loyalty and commitment, which many businesses overlook.
Wholesale Stuff at A Lower Price: Costco has a cost-cutting approach to provide customers with a wide range of items at low costs. To increase client pleasure, the corporation uses a tactic that sells things in quantity at low-profit margins. Costco offers at least 15% cheaper pricing than the market price on most wholesale items, allowing them to keep a loyal client base. As a result, the company has a reputation for producing high-quality, low-cost things marketed at wholesale costs.
Market Presence: Costco has 804 warehouses globally as of March 2021. It is most recognized for its exclusive membership model, personal product selection, and excellent treatment of its staff. Compared to other retailers such as Walmart, Costco provides benefits to staff, pays an average compensation of $20 per hour, and has a low employee turnover rate. Costco's goal is to keep a positive image of its products, which has resulted in strong brand loyalty.
Loyal Customers: Costco can retain consumers and establish a loyal client base because of its pricing policy and membership model. Even in the middle of the COVID crisis, it has created a large, devoted, effective client base. There have been 105 million Costco cards worldwide as of 2020.
Solid Supply And Distribution Chain: One of Costco's most valuable advantages is that it has created its supply and distribution chain base. Costco maintains 804 shops worldwide, making it one of the largest retail chains in the world. Its solid supply and distribution chain infrastructure enables it to maintain a worldwide network while running smoothly.
Weaknesses of Costco in SWOT Analysis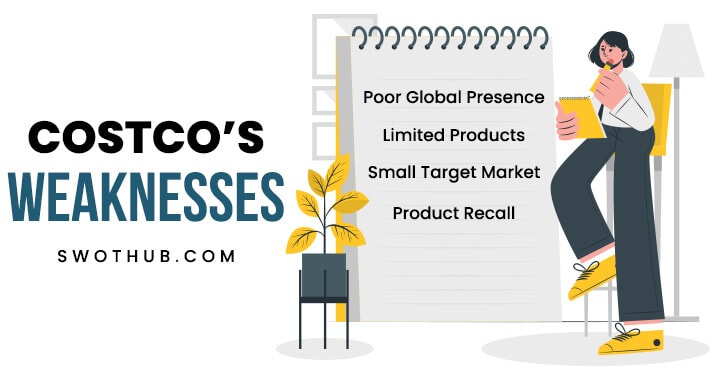 To create the ideal strategy, we must first understand the firm's strengths and shortcomings. Costco's vulnerabilities may be analyzed and used to generate successful tactics in this Costco SWOT Analysis. They can take action to control the effect once they discover the factors that are limiting their company's growth. The following are some weaknesses:
Poor Global Presence: Costco has a small worldwide footprint, with most of its locations in the United States and Canada. Costco lacks a significant international presence despite its forays into foreign markets, making it easier for rivals to establish themselves in underserved markets. If the company expands into other nations, it may be able to lessen the likelihood of being severely impacted by economic downturns.
Limited Products: When you visit Costco, you'll find many clothes, housewares, jewelry, toys, televisions, etc. However, compared to other retail behemoths, your product selection is limited. With such a limited inventory, any retailer may quickly become a Costco competitor. This might be Costco's worst flaw right now.
Small Target Market: The majority of Costco's clients are mostly aged people. As a result, the company lacks ways to attract younger customers, making its target customers a source of concern. The absence of promotion and poor e-commerce presence is mostly to blame for the consumer group. Costco seems unable to target young customers since they may choose rapid shopping at local businesses and through e-commerce platforms.
Product Recall: Any product recall, particularly produce recalls, has an impact on Costco. The recalls harm sales as well as Costco's image. Customers are less inclined to buy at Costco if they are concerned about their health. They will return there till they feel comfortable again, especially with so many other rivals around the block.
Opportunities for Costco in SWOT Analysis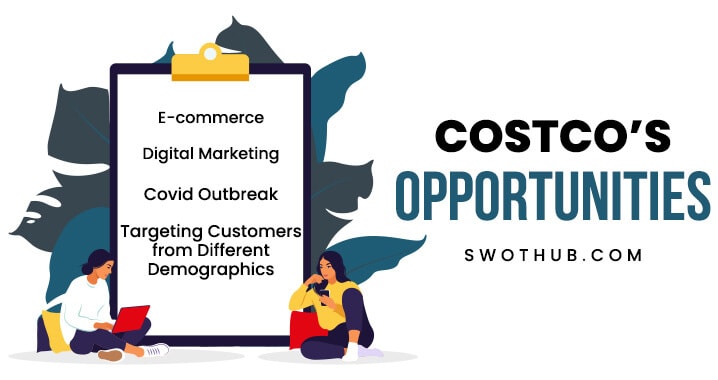 To assure a profit increase, the Costco corporation might select to couple the prospects with their capabilities. Costco SWOT Analysis demonstrates how they can take advantage of their opportunities right now. Costco may focus on the ones that are a good fit for them. As a renowned brand, Costa has various characteristics which allow them to leverage many of the chances to assure their success. The following are some opportunities:
E-commerce: Costco has lately joined the e-commerce business by launching an online store. E-commerce stores are quite profitable in today's market. This will undoubtedly help Costco extend its business options and draw clients from locations that don't have any stores. Costco's e-commerce revenues are expected to reach $14.8 billion in 2021, with the US accounting for around 85% of that total.
Targeting Customers from Different Demographics: By having older customers, Costco has implications for the company's earnings projections in the future. Costco has to do more to recruit a younger audience with higher spending power to make up for this revenue loss. To appeal to health-conscious youngsters, the firm plans to provide higher-quality clothes and expand its organic food range.
Digital Marketing: Social media has become significantly popular during the Covid-19 crisis. It allows Costco to sell its services more cost-effectively and engage with customers in areas where its operations are less well-known. Costco will be able to reach a new target demographic for the younger generation by using digital channels for marketing.
Covid Outbreak: During the COVID phase, Costco has already made a decent revenue. Many families are purchasing plenty and preparing for the unpredictable future. It needs to improve its system's efficiency and productivity to assure even greater growth.
Threats for Costco in SWOT Analysis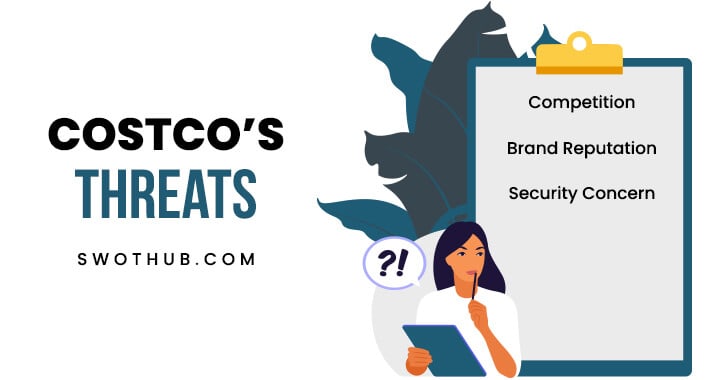 Threats characterize the company's vulnerability in this Costco SWOT Analysis, and if disregarded regularly, they might impair its growth. With the advancement of E-commerce, the benefits of online shopping have caused individuals to prefer purchasing items through websites. Offline retailing may be severely harmed, particularly at this time, and Costco's major concern is how to develop in such an environment. The following are some threats:
Competition: Costco confronts fierce competition in the retail market, as most merchants use the cost-leadership approach to attract more customers. Costco's competitors, including Walmart, Target, Home Depot and other online retailers like Amazon, have massive growth strategies and technological advantages.
Brand Reputation: It is extremely difficult to restore an organization's reputation after being compromised. Its reputation in the retail industry determines a brand's long-term performance. In November 2015, a product recall impacted Costco. Due to an outbreak of E. Coli, its rotisserie chicken salad was withdrawn from all of its locations, infecting 19 individuals. Costco's reputation has suffered as a result of this.
Security Concern: The corporation has employed third-party cloud computing services to keep and safeguard its customer data. As a result, consumer data and personal financial information are subject to cyberattacks and data breaches. Given that most of Costco's revenue comes from members-only consumers, losing client identification might cost the corporation much money in profits and reputation.
Costco SWOT Analysis Overview Template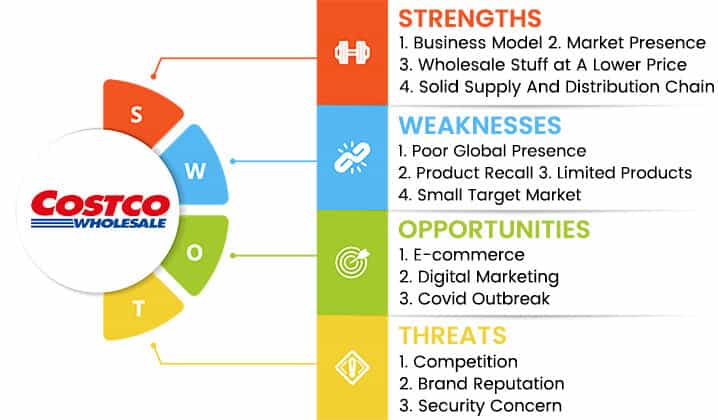 Conclusion and Recommendations for Costco
Some recommendations for Costco's potential development are as follows:
They may use the E-commerce potential to reach a wider audience with a wider choice of items.
Expand the range of its warehouses in various locations for various target audiences.
Assist new members in readily joining by making them aware of the numerous advantages of membership.
For firms like Costco that want to interact with their consumers, Facebook may be a valuable tool.
They must stay on top of the newest trends and technology in order to avoid falling behind.
Costco has been a crucial player in the retail business for many years. The company succeeds due to its innovative business approach. This Costco SWOT Analysis reveals that its business strategy restricts its development and potential, particularly in the face of fierce competition. Costco Wholesale has to strengthen its product mix by offering additional goods to attract more customers. To take full advantage of high-growth economies, the corporation must also expand abroad.