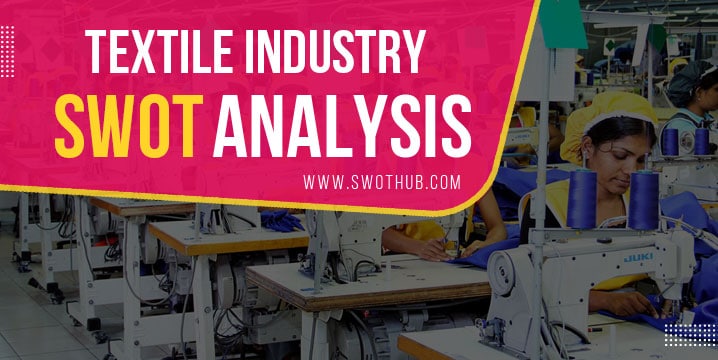 The textile industry has been a major part of our economy for decades. It is a sector that accounts for 14% of the total industrial production. The textile industry caters to one of the most basic and regular needs of mankind. It maintains Its growth by providing humanity with improved quality of life. This industry is very incomparably self-reliant. Over the years it has proven to be one of the heaviest contributors to a nation's economy. The textile industry has gone through phenomenal growth in recent times. This has earned it quite an amount of attention from foreign countries.
Textile Industry SWOT Analysis
A SWOT analysis is a structured planning method that is used to evaluate the strength, weakness, opportunity, and threat involved in a project or a business venture. SWOT analysis can be carried out for a place, person, or product. A textile industry SWOT analysis will help the proper management to know about the ins and outs of this sector.
Strengths of Textile Industry in SWOT Analysis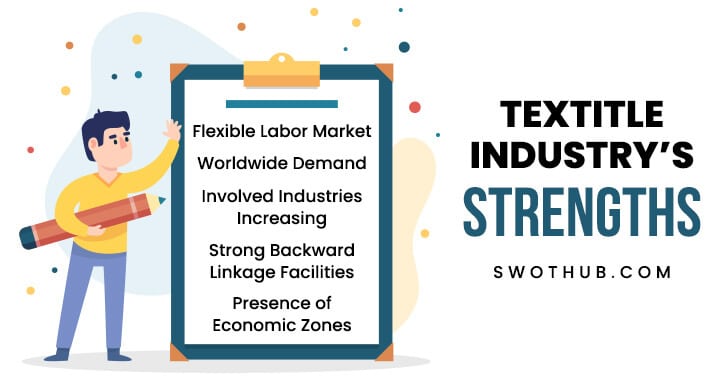 Strengths are a key part of this textile industry swot analysis. This will help one to pinpoint the strong points of their business. This will most definitely result in the improvement of the business. Some of the strength of textile industry swot analysis are enlisted below:
Flexible Labor Market: This sector in particular needs an abundance of manpower. However, in Asia, the price of labor is very low. The labor rates in the textile industry (compiled by Warner International) show that the average hourly wage rates for Bangladesh, India, Pakistan, and Sri Lanka were respectively 0.23, 0.56, 0.49, and 0.39 USD.
Worldwide Demand: Clothing articles are one of the basic human needs. Everyone wants to have a good quality product for a cheaper price.  That's where the textile industries come in. They offer decent clothes for a reasonable price. This is the main reason, they get many buyers.
Involved Industries Increasing: In modern society, many support industries are growing. These industries form a relationship of mutualism with the textile industry. Both parties are dependent on each other. These industries are dyeing, finishing, embroidery, printing, etc.
Strong backward linkage facilities: This industry possesses strong backward linkage facilities. This has proven to be a great asset on multiple occasions. This causes this sector to improve more in its own way. Also, it provides the industry with some much-needed support.
Presence of economic zones: An economic zone is a type of facility that ensures that the buyer gets to buy many products with the least tax possible. This encourages buyers to buy more from this industry. This, as a result, allows the industry to make more sales and earn many profits.
Weakness of Textile Industry in SWOT Analysis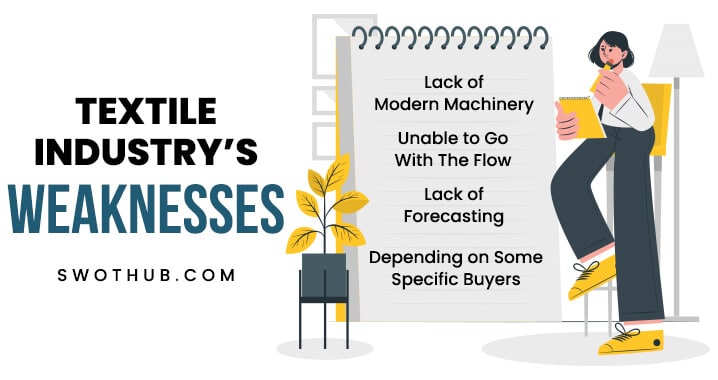 This part of the textile industry swot analysis will solely focus on the weaknesses of this sector. These points are the ones that hold back this industry's overall growth. These are enlisted below:
Lack of modern machinery: The textile industry lacks technology-oriented machinery and production systems. If these aren't updated then they could take a heavy toll on its production. This will later reflect in its sales and profits.
Unable to go with the flow: Once a steady line of the production system is in place, it is very hard to suddenly change it to accommodate any new type of clothing article. As a result, it lacks product diversification. It also has a very short lead time which is not good for this line of work. It holds back the whole industry.
Lack of forecasting: Lack of forecasting is the main cause of production setbacks. If an industry is unable to provide a good forecast, it often causes major issues in the marketing sector. The quantity available does not match the assumed quantity.
Depending on some specific buyers: Dependency on a few particular buyers can be the downfall of this industry. Many of the farmhouses depend on a few of their known customers for their sales. They do not get many new buyers most of the time and this causes their sales rate to pummel once any of these buyers drop out or change their choice of farmhouses.
Higher bank interest and insurance policy: This industry has to face a lot of unfair treatment. Especially when it comes to banks and insurance companies. Banks require a high interest while taking loans which is nothing short of illogical. Many insurance companies, if not all, have a high-priced insurance policy with partial conditions. The industry has to suffer for this.
Opportunities for Textile Industry in SWOT Analysis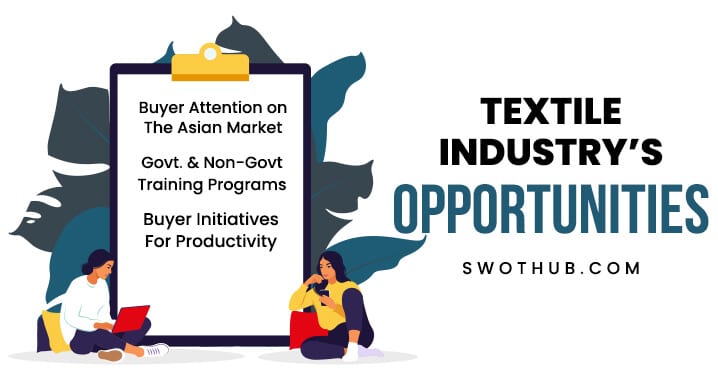 A textile industry swot analysis offers the best possible opportunities for the textile industry. This will clearly show which part of the sector could be so much better with a little push. Let's take a look at them:
Buyer attention on the Asian market: Many of the international buyers are being more interested in the Asian section of the market. This may be a golden opportunity for the Asian industries to take the market by storm. It will also be a huge turning point for this industry in general.
Open costing facility for the international buyer: Many international customers find their interest in this field being renewed by the open costing facility. This gives them a huge advantage to draw more buyers in.
Government and non-government training programs: There are a lot of people who work in this field. Even though they have curiosity, they often lack the skills that are needed. So, these government and non-government training programs can help them to enhance their skill-set. This provides the chance of improvement to this sector.
Buyer initiatives for productivity: In this field, many times buyers take responsibility to initiate the push for productivity. This shows that the buyers are actually interested in the said products. So, this gives a huge boost to the morale.
Threats for Textile Industry in SWOT Analysis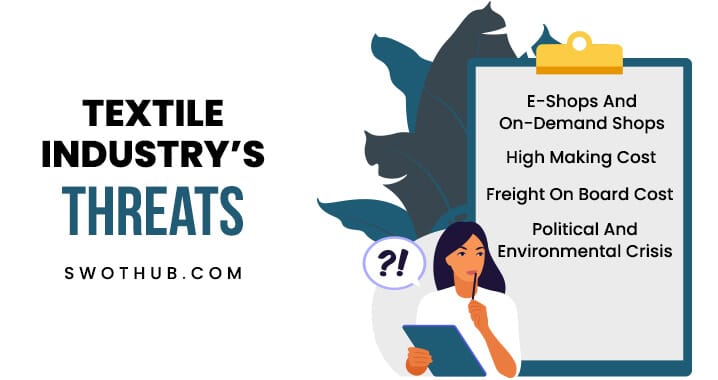 Any swot analysis that has helped the business in any way has a stunning compilation of the factors that pose threats to it. A textile industry swot analysis will help to highlight these threats. They are enlisted below:
Any swot analysis that has helped the business in any way has a stunning compilation of the factors that pose threats to it. A textile industry swot analysis will help to highlight these threats. They are enlisted below:
E-shops and on-demand shops: There are many e-shops and on-demand shops that are mushrooming their way into the market. Now, the market actually has some Internal competition going on. So, these new shops often end up stealing a lot of customers away from the industry.
High making cost: The making cost for this industry is quite high and very hard to achieve. So this makes having profit very hard.
Freight on board cost: Many times, the seller has to take the responsibility for goods, freight, and marine insurance. This is a convenient system no doubt. But if an accident happens the loss is very hard to deal with. This will majorly impact the earnings of it.
Political and environmental crisis: Countries that have a troublesome political environment, have fewer buyers than those that don't have them. Environmental issues can also influence the flow of buyers in a country.
Textile Industry SWOT Analysis Overview Template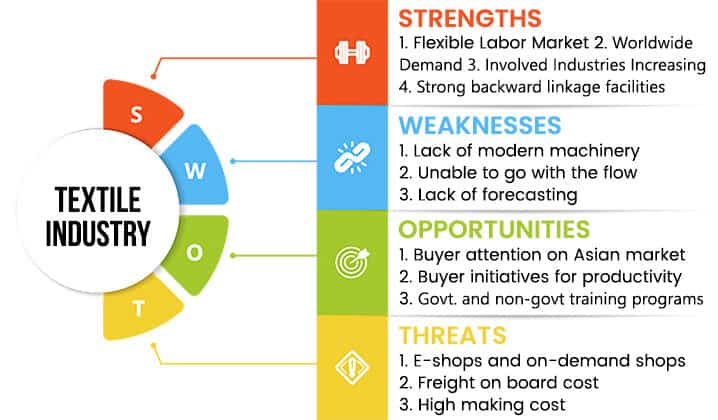 Conclusion and Recommendations for Textile Industry
In conclusion, it can be observed that the textile industry has a bright future ahead. It usually relies on its labor and wide range of demands to rise its way to the top. It also relies on its excellent strategy for labor management.
It would probably help them a lot of these things were worked out.
Review of free-trade pacts with countries that have zero duty access to the targeted market.
Amendment of existing archaic labor laws.
Fast track disbursal of subsidies for technology up-gradation.
Maintenance can simply not be neglected.
Delivery of products needs to be as fast as possible.
After this particular textile industry swot analysis, it is certain that there is a bright future ahead for the textile industry. Though it was not one of the most popular industries, it is currently has a much bigger impact on the economy. Given enough time it may even become the new leading industry for today's economy.