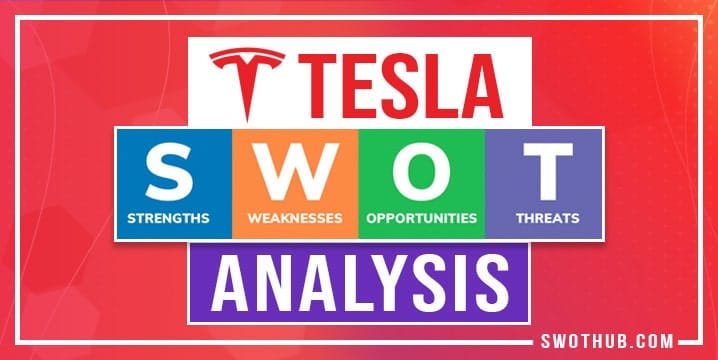 SWOT analysis is a way for anyone to run an impact analysis of their esteemed company or a competitor's company in an efficient manner. Tesla has been one of the world's top car industry with its energy saving and luxury-centered designs. The initial founders of Tesla Motors, Martin Eberhard and Marc Tarpenning, met Elon Musk on February 2004, which made contributions of 6.5 million US dollars from the original round of investment of 7.5 million US dollars.
Through its clean energy model, Tesla revolutionized the automotive sector and had a major global impact. The Roadster, the first car of Tesla to use lithium battery cells. Based in the United States, California, Tesla has become a popular model of high quality electric cars with innovative designs amongst the American population.
Tesla Inc. – At A Glance
| | |
| --- | --- |
| Company Name | Tesla Inc. |
| Industry | Automotive, Energy Storage and Production |
| Founded | 1 July, 2003 |
| Founders | Elon Musk, Marc Tarpenning, Martin Eberhard, Ian Wright, JB Straubel |
| CEO | Elon Reeve Musk (Oct 2008 – Present) |
| Headquarter | Palo Alto, California |
| Annual Revenue | $31.5 Billion (FY 2020) |
| Website | www.tesla.com |
SWOT Analysis of Tesla [Detailed Report]
A Tesla SWOT analysis will help determine the company's current positioning and assess its business prospects and future plans. The company's name is inspired by Nikola Tesla, a renowned scientist and inventor. The company was founded in 2003. Tesla's dynamic business model and innovative automotive designs are examined in the following SWOT Analysis of Tesla.
Strengths of Tesla in SWOT Analysis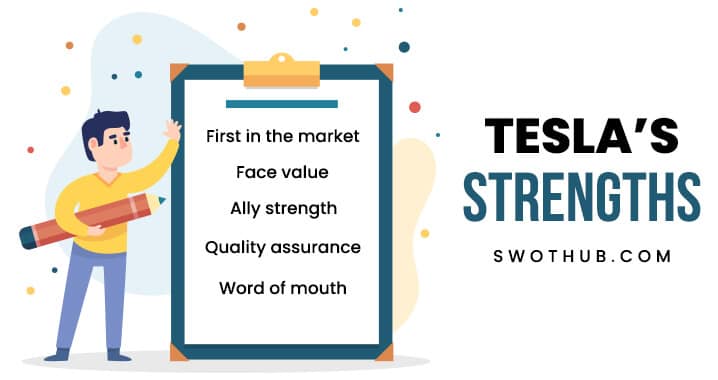 First of all, in the swot analysis chart, we should analyze about the strength of Tesla.
First in the market: On the automotive market, Tesla has a unique position. This is not just the sale of cars, but the entire way we look at driving experience is completely redeveloped. The company has shown a quite robust growth in sales whether it is the best luxury vehicles, electric long-range vehicles or the most innovative low-ion cost models. Their sales have increased dramatically over the past few years.
In 2015 alone, it saw an increase of almost 30 percent after the previous year's growth of 50 percent. Mostly driven by their Model S, this increase. The quarter on quarter is particularly encouraging even if you see the 2016 demand from their Model X. So, given the enormous sales,  growth drivers are logically there given the enormous sales numbers, but exactly why the company cannot make a profit.
Face value: Over the years, the company overcame many obstacles to the auto industry's revolution. One of the brightest and most reliable employees in Tesla. The company is led by a management team with a broad background in startups. CEO Elon Musk has founded two multi-billion dollar enterprises: a SpaceX aerospace and space services manufacturer and PayPal, the leading online payment service in multi-billion dollars.
Ally strength: Tesla works with major giants such as APDA in the Southeast, Yes Energy etc. These partnerships help to expand Tesla's efforts on renewable energy and on the world market.
Quality assurance: The design of Tesla is top quality. And during the design and the design of their electric vehicle they put a lot of thought into offering their consumers extreme comfort.
Word of mouth: The market is committed to clean energy and profitable products and expects it to develop. It became very well known.
Weakness of Tesla in SWOT Analysis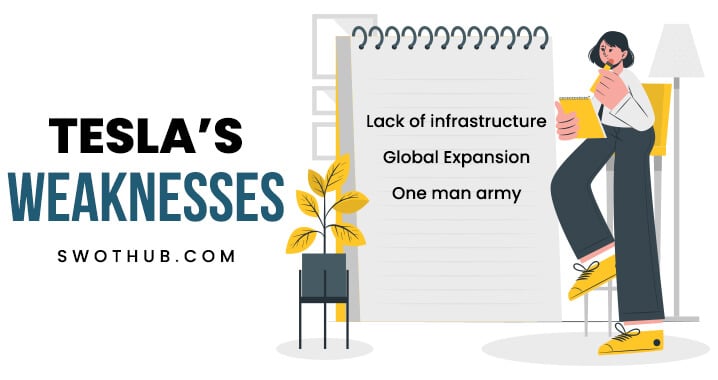 Next up in the SWOT analysis, we discuss the weaknesses or the areas to improve.
Lack of infrastructure: There is no infrastructure in place to support electric vehicles. Tesla Motors is attempting to change this by constructing Superchargers, which are identical to gas stations that only support electric cars. At these stations, you will be able to charge your Tesla Motors vehicle for free. They're also working on stations where you can switch out the battery for a recharged one, because charging the bat takes around 30 minutes.
Global Expansion: On the one side, Tesla is attempting to establish itself in a highly competitive automotive market, while also attempting to expand globally, which may lead to some bumps on the road because this is entirely a first world product, which the rest of the world countries with developing economies might not find so alluring.  Tesla is a well-known, high-end renewable energy brand. When it comes to electric vehicles, one of the challenges they may face is affordability and consumer trust.
One man army: Elon Musk has become the brand face of Tesla and it is embraced as a one-man-show. Despite the fact that Elon Musk has a lot on his plate.
Opportunities for Tesla in SWOT Analysis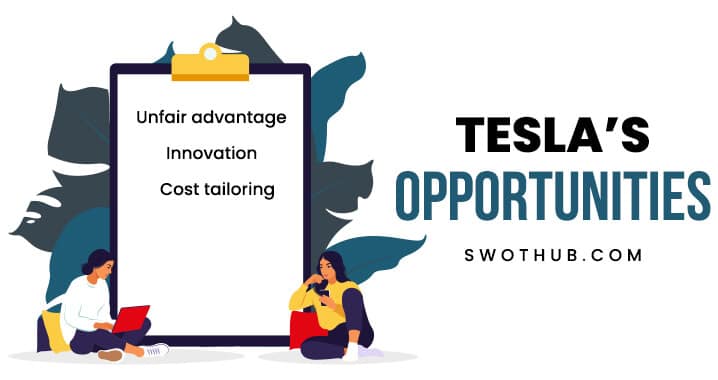 The brightest part of the SWOT analysis is the opportunities that the company provides. Let's take a look at them.
Unfair advantage: Tesla is First to market – As one of the first firms to cater to the premium electrified vehicle market, Tesla Motors has the opportunity to strengthen their position as the "pioneer" of electric cars. In China, Tesla and China Unicom have collaborated to build over 400 charging stations in 120 cities. China Unicom's interest, as demonstrated by the company's willingness to pay for all maintenance and electricity costs, may be just the beginning of the partnership. Product – The electric car concept has not reached its full potential due to technological and production costs that have prevented it from becoming fully commercial.
Innovation: Tesla's innovation represents one of its most significant opportunities. One key reason could be that even at $35,000 – one of its most affordable models – the Model 3 remains out of reach for the vast majority of consumers. The price is significantly higher than the highest range of budget for the majority of people.
Cost tailoring: The other factor is the type of cost that the company incurs each year. It is rather concerning that the expenses incurred by the company on an annual basis could be the cause of the severe dent in its overall profitability. To achieve profitability, the company would need to work on cutting costs.
Threats for Tesla in SWOT Analysis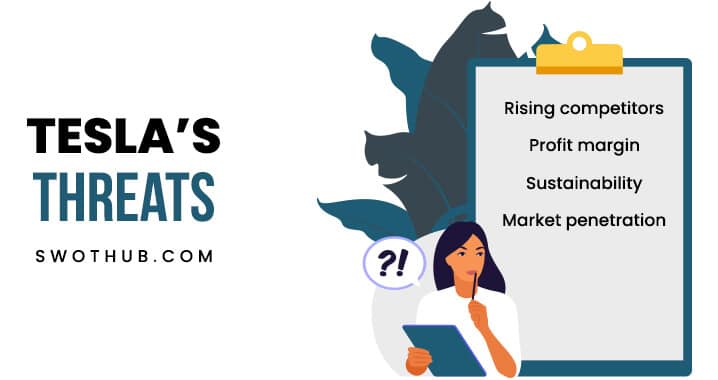 Every good Swot analysis comes with a great perspective for threat concern. Tesla has a few like:
Rising competitors: Heavy research is underway into renewable-energy automobiles, which are becoming Tesla's competitors for many big companies such as BMW and Volwe. As large car manufacturers concentrate on electric cars (EVs), the competition in this area is intensifying, which is considered the home of Tesla Motors. In December, Ford Motors announced an additional $4.5 billion in electric vehicles by 2020. The Chevrolet Bolt, a battery powered by General Motors, is expected to be launched in 2016 with a distance of 200 miles between charges. Given the focus on clean cars and long-term emissions targets, more and more car manufacturers are investing heavily in electric vehicles.
Profit margin: Innovative ways of using energy in vehicles are available. Competitive pressure can lead to high operating costs and lower margins for profit.
Sustainability: For a clean energy car company it is important to maintain long-term sustainability. It is a potential threat due to the volatile production conditions at Tesla in North American and several parts of Asia and the limited EV support infrastructure.
Market penetration: Tesla's supercharger network and direct selling model have a competitive edge in the market. In addition, most new players will enter the non-luxury segment, which will still be launched with Tesla's Model 3. Although the General Motors' Chevrolet Bolt seems to be a direct competitor to the model 3, we think that, given the low penetration of electric vehicles on the car market, as more players introduce these cars, it should lead to greater acceptability of this category.
Tesla SWOT Analysis Template Overview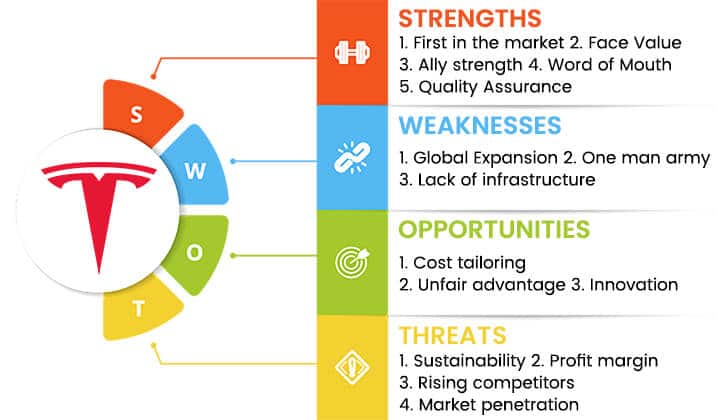 Conclusion & Recommendations for Tesla
To sum up, In sustainability and innovation, Tesla is an established pioneer. Tesla has the strength to be successful in the SWOT analysis. The company probably faces certain challenges. In Asia and elsewhere in the world. Expansion. Tesla needs to re-evaluate strategies and concentrate on global popularization. Tesla needs to – based on SWOT analysis
The research on renewable energy sources continues and increases.
Work to create consumer confidence and build long-term trust in the company.
Expand internationally and work to secure worldwide production
With this SWOT analysis, each of Tesla's strengths, weaknesses, possibilities, and threats on the market was emphasized by their company. Tesla needs to take vigorous action in order to increase its market share and financial stability. Yet it is undoubtedly a symbol of progress and innovation, despite the negative factors.