The world of luxury automobiles has been a competitive one for generations. One of the first cars that is thought of is the BMW "The Ultimate Driving Machine". A BMW SWOT analysis will help us understand how this company and BMW competitors outshine each other and how they compare in the automobile industry.
History of BMW
BMW stands for "Bayerische Motoren Werke AG". BMW was established in 1916 to develop airplane engines, which it did from 1917 to 1918 and from 1933 to 1945. It is a German international company with its headquarters in Munich, Bavaria, that produces high-end automobiles and motorcycles.
For the BMW SWOT analysis, it is crucial to know about its past and future planning. The automotive brands used for advertising include BMW, Mini, and Rolls-Royce, while the motorcycle brand BMW Motorrad is used. BMW's four business segments are automobiles, motorcycles, financial services, and other entities. According to BMW company analysis, the Group is now the top producer of luxury cars and motorcycles in the world and a top provider of financial and mobility services, thanks to its 31 production and assembly facilities spread over 15 different countries and a global sales network.
The BMW Group
The BMW Group, a leader in innovation, establishes trends in manufacturing technologies and sustainability through the use of intelligent material combinations, a technical push toward digitalization, and resource-efficient manufacturing. At the same time, value chains' adaptability and ongoing optimization assure competitiveness. BMW's competitor's analysis should be considered a matter of concern for BMW's board of directors are shareholders.
BMW At A Glance
| | |
| --- | --- |
| Company Name | BMW |
| Founded | 1916 |
| Headquarters | Munich, Germany |
| SIC Code | 3999 |
| Status | Public |
| Industry Sector | Automotive |
| Employees | 134,000 |
| Trading Symbol | BMW |
| Website | BMW |
100 Years of BMW: The History of a Global Company
BMW Competition in the Car Industry
BMW Competitors have a long list, and the global automotive market is already quite competitive. it is becoming much more so because of the excess of vehicles being produced, quick technological advancements, new entrants, and saturation of the main markets. It will be exceedingly difficult for BMW to compete in the electric car market against new competitors like Tesla with its electric vehicles.
BMW competitors include:
Porsche
Audi
Mercedes-Benz USA
Lexus
Fiat Chrysler
In terms of diversity score, when compared to its competitors, BMW Group comes in first. BMW's capacity to build high-quality vehicles gives it a competitive advantage. BWW competitors are always trying to beat its reputation as one of the world's most trustworthy brands, contributing to staff and customer retention.
BMW SWOT Analysis
Strengths weaknesses opportunities and threats are referred to as SWOT. Strategic planning frequently uses a technique called SWOT analysis, which was developed at Stanford in the 1970s. By taking BMW's strengths, weaknesses, threats, and opportunities into account, we may better gain in-depth knowledge about the company. In this article, we'll be taking a look at BMW's SWOT analysis framework to better understand its competitive position and potential for future growth. Read on to learn more about a SWOT analysis BMW.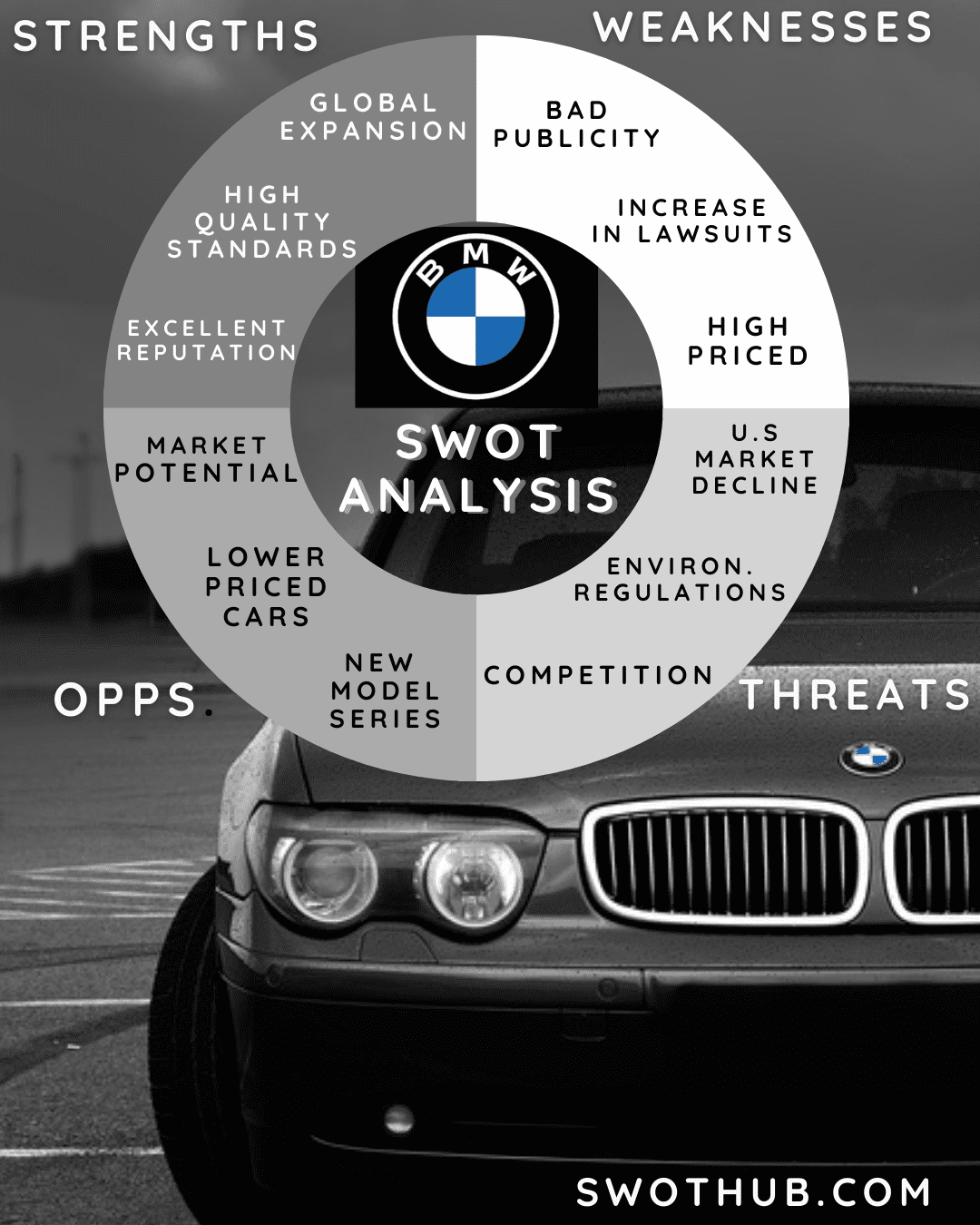 BMW SWOT Analysis Strengths
A company's strengths are those aspects in which it performs exceptionally well or in a way that sets it apart from its competitors. BMW's SWOT analysis details the company's strengths.
Global expansion: BMW is a multi-national automaker that produces vehicles under the Rolls-Royce, MINI, and BMW names. In addition to automobiles, BMW also sells a range of motorbikes and aircraft engines. It has a worldwide distribution network and runs more than 30 manufacturing and assembly sites in 140 nations.
High-quality standard: BMW is focused on finding the ideal combination of durability, performance, and premium luxury. Every vehicle that leaves the factory is expertly built to deliver cutting-edge vehicles for regular use. The cars and motorbikes have highly automated driving capabilities in addition to mind-blowing technology.
Outstanding Reputation: For luxury brands, the reputation of the brand is a key factor in consumer decisions. BMW is one of the brands that is most associated with excellence. Out of the top 100 global brands, Inter Brand identified BMW as the 11th strongest brand.
Excellent Marketing: Thanks to its innovative promotional tactics, the company gained recognition as one of the luxury brands. The company has a sizable following on Twitter and Instagram, where it is also very active in digital media.
Huge manpower: The large workforce of BMW is its greatest asset. The corporation employs roughly 100,000 highly competent and trained individuals. In this BMW SWOT analysis, these are the strengths that make this car company one of the best in the world.
BMW SWOT Analysis Weaknesses
In addition to its strengths, a company must be aware of its weaknesses. Weaknesses are attributes that limit an organization's potential, lower its level of competitiveness, and prevent it from achieving its goals. Following a discussion of BMW's strengths, this section of the BMW SWOT analysis will analyze some of BMW's weaknesses.
High price & difficult maintenance: BMW cars are expensive and difficult to maintain. For maintenance, the complex engineering system requires professional mechanics and dealers. It makes use of only parts and products of the highest caliber. BMW Competitors have been able to go make less expensive automobiles while keeping similar amenities that are sought after by BMW customers.
Market share decline: Sales of MINI and Rolls Royce vehicles are lower than those of BMW vehicles. The car has a significant impact on the business. A company could lose money if new, unique products entered the market or if consumer tastes changed.
Increasing lawsuits: BMW is currently involved in a number of legal battles, including an alleged conspiracy in South Korea and cooperation over emissions in Europe. Regularly breaking the law is a serious flaw since it makes it harder for customers to trust the business.
BMW SWOT Analysis Opportunities
BMW company exists in a world that offers countless opportunities. We will look at some of the opportunities for BMW to expand and diversify its business in the below section of the BMW SWOT analysis:
Eco-friendly mobility: BMW Offers Eco-friendly Mobility, and as we know demand for greener mobility options is rising quickly as the number of environmentally concerned consumers rises. BMW is well-positioned to capitalize on this demand as one of the market's pioneers in the electric vehicle space.
High fuel prices: Every year, the cost of fuel rises, and this trend will continue in the years to come. Due to a rise in demand for big cars like SUVs and pickup trucks, low fuel prices have increased BMW's chances. This condition has benefited a lot of businesses, including Ford, General Motors, and Chrysler.
Market potential: Thomas Schaefer, Head of Volkswagen Africa, estimates that sub-Saharan Africa has the capacity to produce 3 to 4 million new automobiles, a significant increase from the region's estimated 420,000 new vehicles in 2017. BMW can take advantage of untapped, developing markets.
Low-Price cars: BMW majorly targets the upper class of society. However, the company can develop the lowest price segment in which it would produce affordable cars for people in the middle class, expanding the company's customers. This creates a great opportunity to target large numbers of the population around the world. BMW Competitors like Ford in the USA have stepped up their production of cars to appeal to higher-end customers.
New Model series: The opportunity for BMW is the expanding auto market and the room for competitors. BMW needs to develop with the aid of technology and expand into new markets. The business might add a new series to its repertoire.
BMW SWOT Analysis Threats
Threats put any company's stability and profitability in danger. Some of BWM's threats that are critical to discuss will be covered in this article on the BMW SWOT analysis.
Intense competition: BMW faces fierce competition from other luxury brands like Audi and Mercedes because it is in the auto sector. Audi, Mercedes-Benz, Volkswagen, Toyota Motor Corporation, Nissan Motor, Honda, Hyundai, Daimler, and Porsche are BMW's main rivals.
Global economic recession: Global Recession on the Horizon: During difficult economic times, customers cut back on or forgo non-essential purchases like a BMW. Major economies are currently experiencing a recession as a result of the virus's devastation.
Environmental regulations: Government restrictions are becoming more severe in order to reduce the carbon footprint of consumer cars in response to growing environmental concerns from all around the world. This has a direct impact on BMW's sales and revenue, which might impede a company's growth.
US automotive market decline: The automotive sector occasionally has a decline in the US market, while in other years it experiences growth. These ups and downs, however, have an impact on BMW, posing yet another risk to the company's reputation.
BMW SWOT Analysis – Conclusion and Recommendations
This BMW SWOT analysis concluded that the company's numerous strengths & opportunities to perform better and weaknesses and threats to consider for BMW to prevent future losses are critically discussed. Hence, we can say that the company is undoubtedly one of the most well-known in the luxury auto sector, but taking a few calculated moves and carefully assessing the benefits and drawbacks might significantly expand its business. Here is a few considerations:
BMW is the market leader in the automotive industry, has a solid reputation, and offers top-notch services all over the world. Due to the brand's century-long reputation for quality, it also enjoys a significant market presence that should be maintained.
As the only automaker to combine both luxury and performance, BMW has positioned its brand as unique. Even BMW competitors know how good they are! Its German legacy, reliance on designs, as well as a creative marketing approach is great but BMW should more keenly focus on digital marketing.
Increasing market competition can have a negative impact on even the finest brands. Effective marketing becomes crucial for the business as competition increases. So, the company should come up with a new model series not much higher priced to cater for the fierce competition
In the case of BMW, a pricey product line and an uptick in lawsuits threaten the company's long-term prospects. Hence, higher authorities of the company must consider these aspects to prosper the brand in the future.
FAQs SWOT Analysis of BMW
What are the strengths of BMW cars?
BMW cars are renowned for their engineering excellence, luxury designs, and innovative technology. They have a strong brand reputation globally, consistently delivering vehicles that emphasize performance, safety, and driving pleasure.
What are the challenges facing BMW?
BMW faces stiff competition from luxury carmakers, increasing production costs, changing consumer preferences towards electric and autonomous vehicles, and regulatory pressures related to emissions and sustainability.
What is BMW's competitive advantage?
BMW's competitive advantage lies in its strong brand equity, pioneering innovations in automotive technology, commitment to quality, and a loyal customer base that values the unique driving experience offered by its vehicles.