Now that the world is traveling again, airlines are seeing a record number of travelers. Southwest Airlines has been known for offering affordable fares, friendly employees, and safe flights. Although in 2022 a SWOT Analysis Southwest Airlines needs to be addressed as the major airline had catastrophic customer service issues amongst other challenges. Take a look at how the airline industry and a SWOT analysis Southwest Airlines is essential.
Introduction and Southwest Airlines competitors
One of the major American airlines and the biggest low-cost airline in the world is Southwest Airlines Co. or Southwest. It operates scheduled service to 121 U.S. cities as well as 10 other nations. Its headquarters are in Dallas, Texas. Southwest carried more domestic passengers than any other American airline. Herb Kelleher and Rollin King founded the company on March 15, 1967. Southwest currently serves airports in 42 states and multiple Central American destinations. Delta Air Lines, Spirit Airlines, American Airlines, and Frontier Airlines are some of Southwest Airlines competitors. Comparably, Southwest Airlines has the highest CEO Score among southwest competitors.
The rolling hub concept, which is a component of Southwest's business model, enables the airline to book consecutive flights to several locations during peak travel times. The airline uses exclusively Boeing 737s and runs out of 107 airports throughout 40 states, cutting down on maintenance costs. Southwest is one of the biggest US airlines, operating 718 Boeing 737s and employing 60,000 people. Southwest Airlines' competition is a matter of concern for the SWOT analysis airline industry.
Southwest Airlines' competition in the airline industry is constantly changing. New airlines are entering the market, and established airlines are expanding their operations. This means that Southwest Airlines must continually adapt its strategy to stay ahead of the competition. Southwest Airlines has been very successful in recent years, but it faces stiff competition from other low-cost carriers such as Spirit Airlines and Allegiant Air. Also, Southwest airline's competitors offer similar prices on comparable routes, so Southwest must differentiate itself with its customer service and product offerings. A SWOT Analysis Southwest Airlines shows how its competitors are winning the price, routes, and customer service game.
In addition, traditional southwest airline competitors such as Delta and United have been investing heavily in their own low-cost subsidiaries to compete more effectively against Southwest. To stay ahead of the competition, Southwest must continue to offer low fares and great customer service. Airline SWOT analysis clearly mentions that it has been affected by many factors in recent years, including high fuel prices, economic recession, and terrorist activity. As a result, many airlines have filed for bankruptcy or ceased operations.
SWOT Analysis Southwest Airlines
| | |
| --- | --- |
| Name | Southwest Airlines Co. |
| Industry | Aviation |
| Founded | March 15, 1967 |
| Headquarters | Love Field Drive, Dallas, Texas |
| CEO | Gary C. Kelly |
| Revenues | $9.9 Billion |
| Profit | $1.5 Billion |
| Southwest Airlines Competitors | Delta Air Lines, JetBlue, American Airlines, United Airlines, AirTran Holdings, Virgin America |
| Website | |
Southwest Airlines SWOT Analysis
Strengths, Weaknesses, Opportunities, and Threats are referred to as SWOT. Strategic planning frequently uses a technique called SWOT analysis, which was developed at Stanford in the 1970s. In this article, we'll be looking at SWOT Analysis Southwest Airlines framework to better understand its competitive position and potential for future growth. Read on to learn more about their Strengths, Weaknesses, Opportunities, and Threats!
Cancellation Problems Explained – Advantage for Southwest Airlines Competitors
An internal analysis of Southwest Airlines should be examined to understand why their outdated tracking systems and point to point connections systems.
Strengths of SWOT Analysis Southwest Airlines
A business's strengths are what it does particularly well or in a way that distinguishes it from its competitors. Southwest Airlines SWOT analysis details the company's strengths.
Low Fares
Due to its inexpensive or low-fare flights, Southwest Airlines has achieved success. There is a low-cost calendar for the airline. On the calendar, travelers may purchase one-way tickets for flights for as little as $45 each. Southwest has always retained the distinction of having affordable airline prices.
Top-notch customer service
Excellent customer service is one of Southwest Airlines' tactics (and what they're renowned for). Their track record of prioritizing customers and responding quickly to complaints maintains the brand strong (Peek, 2021). Despite the fierce southwest airline competition, customer service is one of the major strengths of southwest Airlines that none of its rivals in the industry can compete. Southwest Airlines external environment analysis has shown in the past that the company was known for its customer service and uniqueness from other major airlines.
Customer loyalty and brand value
Enhanced customer loyalty and brand value can be achieved by making each customer feel like a family member. Using its invitingly friendly LUV culture, the airline has mastered the art of integrating the passenger into the Southwest family. With a brand worth $6.6 billion, Southwest Airlines is the 4th most valuable airline in the world just because of its strong brand repute and customer value proposition.
Regularly profitable
Southwest Airlines generated profits for the 47th year in a row in 2019. Given how competitive the airline sector is, it is a remarkable achievement. Compared to southwest Airlines' competitors, the airline revenue model is excellent.
Point-to-Point Routes
In the hub-spoke architecture approach, the airline concentrates on significant urban areas known as hubs. This model is broken by Southwest Airlines. As an alternative, it runs regular flights between smaller or downtown airports. These airports have higher asset utilization since they are less crowded.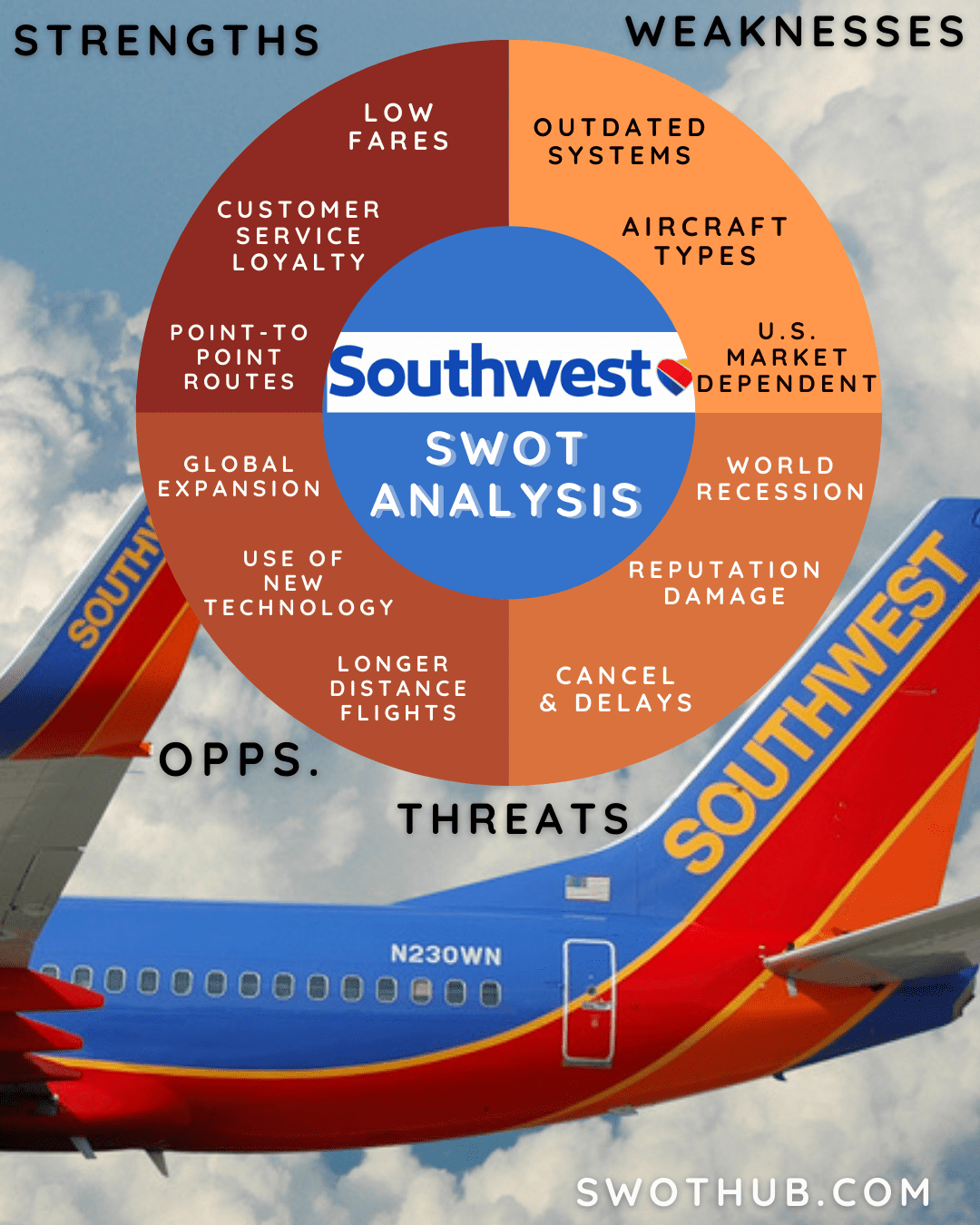 SWOT Analysis Southwest Airlines Weaknesses
What are Southwest Airlines weaknesses? These are qualities that limit an organization's potential, make it less able to compete, and keep it from achieving its objectives. Following a discussion of the company's strengths, we will examine some of the company's weaknesses in this section of the Southwest Airlines SWOT analysis.
Outdated technology
The airline had to reduce its flight schedule over Christmas week in order to "catch up" after severe weather overtaxed its systems. Southwest had to manually schedule crews because of its outdated technology, which some people within the company had been warning about for years, while other airlines with more recent cloud-based technology are able to be more adaptable and swiftly recover.
Single-type of aircraft (Boeing 737s)
Southwest Airlines has always operated all of its flights solely on Boeing 737 aircraft. It has a total of 747 Boeing 737 aircraft as of December 2019. Southwest Airlines has found that using a single kind of aircraft is an efficient and affordable method. It enables streamlined maintenance, scheduling, flight operations, pilot, staff, and ground crew training as well as efficient aircraft usage.
Higher supply chain & logistic network cost
Southwest Airlines must spend more money establishing a new, more reliable supply chain network since the Internet and artificial intelligence have fundamentally changed the business model in the transportation sector. This is because the dealer network has become less important over time. That might be very pricey.
Relies heavily on the US market
Southwest Airlines only serves domestic US airports and has no foreign service (with the exception of a few tropical vacation islands in Mexico, Central America, and The Caribbean). It comes to mind that "don't put all your eggs in one basket." Southwest may cease to be profitable and viable if the US market suddenly collapses.
SWOT Analysis Southwest Airlines Opportunities
Southwest airlines operate in a world that offers countless opportunities. Organizations will continue to benefit from these prospects. We will look at some of the opportunities for Southwest to expand and diversify its business in the section of the Southwest Airlines SWOT analysis that follows.
Global Expansion
Southwest Airlines recently increased the number of local flights it offers to Hawaii, and it has room to grow even more to meet the rising demand for air travel in developing nations brought on by globalization and better financial conditions. To begin with, South America is an untapped market and maybe the ideal first step in Southwest's global expansion.
Changing customer trends
Customers are moving from lower-end products to higher-end ones, which creates a fantastic opportunity for Southwest Airlines since its brands in the lower segment are known for their excellent customer service while the company's premium brands have strong brand recognition in that market.
Make Use of New Technologies
Southwest Airlines has the opportunity to directly sell its services to a large audience because of the internet's ever-growing use cases. Additionally, the airline can implement cutting-edge technological developments like biometric boarding kiosks to expedite the security procedure.
Conduct long-distance flights
As more millennials enter the workforce and dare to work and live farther away from home than previous generations, the demand for longer flights is growing quickly. In order to capitalize on rising demand, Southwest Airlines can increase the number of long-haul flights.
SWOT Analysis Southwest Airlines Threats
Threats pose a danger to the stability and profitability of any business. In this article on Southwest Airlines SWOT analysis, we will discuss some of the threats the airline faces in the market.
Cancellation & delays
Southwest Airlines faces a serious threat from flight cancellations and delays caused by weather and air traffic control problems. Because this may negatively affect the airline services' reputation in the eyes of the customer.
Worldwide recession
Because of the uncertain times, economies all over the world are falling into economic crisis, from Southeast Asia to Europe, Africa, America, and Australia. Southwest's operations are in danger as a result of the US's record unemployment rate and the impending recession.
Reputational Damage
According to a US government assessment, the airline flew jets without verified maintenance documents for more than two years, risking the safety of almost 17 million passengers.
Increasing Cost of Fuel
Fuel prices have a significant impact on the profitability and sustainability of airlines. Southwest's profitability and sustainability may be at risk if gasoline prices rise since operating expenses will go up.
Southwest Airlines SWOT Analysis Conclusion
The Southwest Airlines SWOT analysis highlights the fact that there are many opportunities for the business to operate better. Unquestionably, the corporation is one of the most prestigious in the American aviation industry. Southwest airlines must consider the following considerations:
To prevent any significant crisis for the airlines, it needs to diversify its revenue sources.
Southwest Airlines can excel in its future only without solely relying on the US market & Boeing 737s engines.
When businesses are faced with strong competition, standing out seems to be of significantly greater importance. Southwest Airlines can only thrive in challenging conditions through innovative technologies, growing market share, and improving service quality.
Southwest Airlines' competitors define the appropriate scope for the analysis. If the scope is too broad then the Swot analysis airline industry won't able to highlight internal factors and if the scope is kept too narrow then managers can miss the macro environment opportunities and threats.
The airline's competitive advantage over southwest Airlines competitors is its top-notch customer service. But the recent controversies about southwest Airlines related to cancellation & delays of flights also outdated technology should be taken seriously by the higher authorities of Southwest Airlines. However, Southwest Airlines has remained steadfast in its commitment to affordable prices and first-rate customer service despite the above circumstances.
Looking for more industry SWOT analyses? Take a look at the hospitality and pharmaceutical industries too!