The entertainment industry is a fiercely competitive market that Apple, Samsung, and Microsoft dominate. In this SWOT analysis of Sony, we take a look at how this innovative company revolutionized the iconic Walkman, PlayStation, and OLED TVs to create an electronic company that seemed untouchable. Although Sony's weaknesses and threats have made them have to break into divisions to stay ahead of its competitors. Look at how a SWOT analysis of Sony helps to determine if they can keep ahead in the market.
Sony's History
Sony is a well-known Japanese multinational conglomerate company that produces electronics, entertainment, and gaming goods. Masaru Ibuka and Akio Morita founded the business in Tokyo, Japan, in 1946. The Latin word "sonus", which means sound, and the slang term "sonny," which at the time was used to describe young men, were combined to create the name, Sony.
Early on, Sony was a modest business that made tape recorders and rice cookers, among other electronic devices. The transistor radio, however, was what really made Sony famous after its invention in the 1950s. Sony became a market leader in the electronics sector thanks to the success of its first transistor radio, the TR-55.
In a SWOT analysis of Sony, they continued to innovate and release new products throughout the 1960s and 1970s, including the first portable television, the Betamax videocassette recorder, and the Walkman portable cassette player. Particularly the Walkman was a cultural phenomenon that revolutionized how people listened to music while on the go.
With the release of the Sony PlayStation, which quickly rose to the top of the video game console sales charts, Sony entered the gaming market in the 1980s. The first CD player, the first digital audio tape recorder, and the first high-definition television were all developed by Sony in the audio and video industries.
Sony has been innovating and adjusting to the shifting technological environment in recent years. In addition to other things, the company has been a pioneer in the development of smartphones, music players, digital cameras, game consoles, and virtual reality technology.
In a SWOT analysis of Sony, today the main business units are:
Sony Mobile Communications Division
Sony Games Division
Sony Imaging Products Division
Sony Pictures Division
Overall in a SWOT Analysis of Sony has been successful in keeping up its position as a market leader in the electronics sector by consistently releasing new and cutting-edge products, as well as by adjusting to shifting consumer preferences and technological advancements. Although there are many other players in the electronics market, Sony has managed to maintain its position as a dominant force thanks to its dedication to innovation and ability to stay one step ahead of the competition.
SWOT Analysis of Sony – At-A-Glance
| | |
| --- | --- |
| Company | Sony, Sony Group Corporation |
| Industry | Technology, Entertainment |
|  Founder(s) | Akio Morita, Masaru Ibuka |
|  Year founded | 1946 |
|  CEO | Kenichiro Yoshida |
|  Headquarters | Minato City, Tokyo, Japan |
|  Number of employees | 108,900+ (2022) |
|  Revenue (FY 2022) | US $88.301 Billion (2022) |
…

SWOT Analysis of Sony:
A SWOT analysis of Sony is a framework used to assess a company's competitive situation and to create strategic planning. By taking Sony's strengths, and weaknesses of Sony's threats of Sony as well as opportunities of Sony into account, we may better gain in-depth knowledge about Sony Corporation. In this article, we'll be taking a look at Sony's SWOT framework to better understand its competitive position and potential for future growth. See how Sony's competitors fare against them and learn about Sony's Strengths, weaknesses, opportunities, and Sony threats.
What are Sony's strengths and weaknesses?
The areas where a company excels above average or in a manner that distinguishes it from its rivals are its strengths. Sony's strengths are outlined in this SWOT analysis of Sony some of its strengths compared to competitors include the following…
SWOT Analysis of Sony Strengths:
Strong brand reputation: Sony has a solid brand image that it has developed over the years because of producing high-quality, cutting-edge products. This reputation, which is well-known throughout the world, contributes to the company's status as a pioneer in the electronics sector.
Diversified product portfolio: Sony has a diversified product portfolio that includes electronics, gaming, and entertainment products. This diversification has helped the company to capture a broad customer base and reduce its reliance on any one product line.
Innovative Products: In a SWOT Analysis of Sony, it has a strong track record of innovation, with a history of introducing new and innovative products such as the Walkman, the PlayStation, and the OLED TV. This innovation has helped the company to stay ahead of the curve in the electronics industry.
Some of Sony's most successful products in recent years:
PlayStation 5: The PlayStation 5 (PS5)
Sony Bravia OLED TVs: Sony's Bravia OLED TVs are among the best OLED TVs available,
Sony Alpha Mirrorless Cameras
Sony WH-1000XM4 Headphones:
Sony Xperia Smartphones:
International reach: With operations in more than 180 nations, Sony has a significant global reach. The company has access to a variety of clients and markets because of its global presence.
Overall, Sony's strengths provide a strong foundation of high-quality products, a diverse customer base, a solid reputation, and a history of innovation, which help the company to maintain its position as a leader in the electronics industry. These advantages enable Sony to maintain a competitive edge in a fiercely competitive market and to grow and expand its business. ⁠⁠⁠⁠⁠⁠⁠
SWOT Analysis of Sony Weaknesses:
Weaknesses of a company are those that limit its potential, make it less competitive, and prevent it from achieving its goals. In this section of the Sony SWOT analysis, we'll look at Sony's weaknesses. In this SWOT analysis, some of their weaknesses compared to competitors include:
Cost structure: Sony's cost structure is relatively high compared to some of its competitors, which can make it difficult to compete on price in certain markets.
Dependence on a few key markets: Sony depends heavily on a small number of important markets, including the US and Japan, for a large portion of its revenue, making it susceptible to changes in those markets' economic conditions.
Limited market share in certain areas: While Sony is a major player in the electronics and gaming industries, it has a relatively limited market share in other areas, such as smartphones and personal computers.
Complex organizational structure: Sony's complex organizational structure can make it difficult to implement changes quickly and efficiently.
Marketing efforts could be improved: Sony's marketing for their popular PlayStation could use increased efforts and expand to other markets than the typical gaming market. High competition in the gaming industry can show Sony's weaknesses in this area in a SWOT analysis for Sony.
These weaknesses might make it more difficult for Sony to compete successfully with rival companies in some markets, which might restrict its room for expansion. To maintain its competitiveness and boost its business, Sony must address these weaknesses. ⁠⁠⁠⁠⁠⁠⁠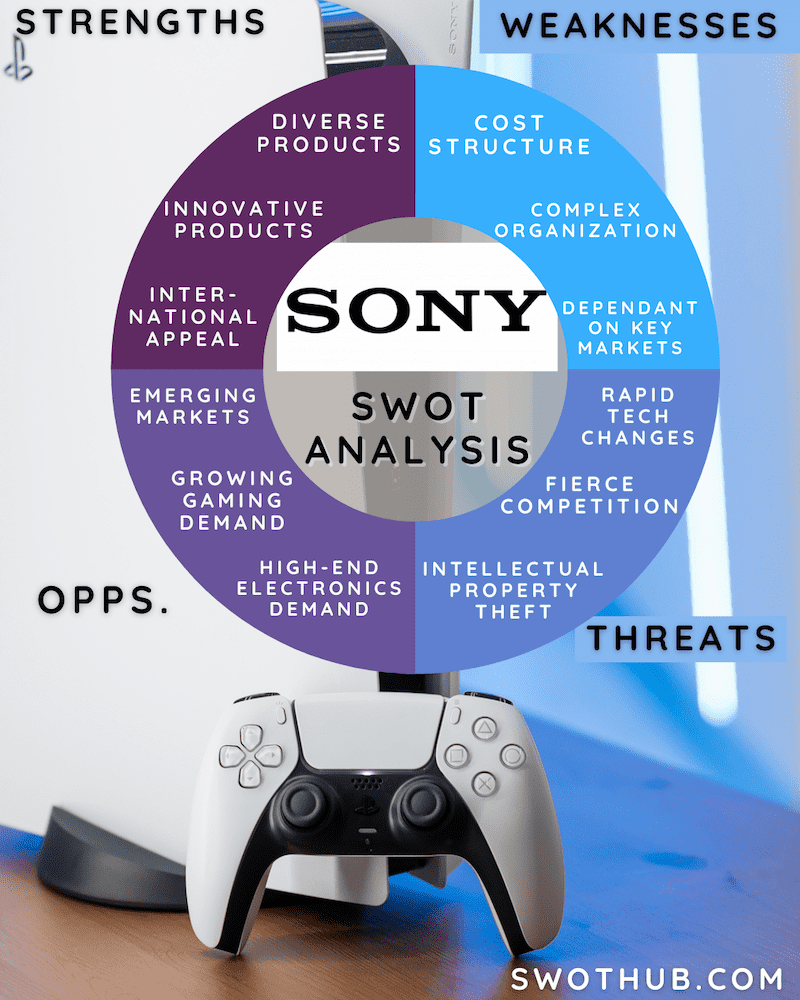 Sony SWOT Analysis Opportunities:
Sony has many opportunities to help it succeed and pull ahead of competitors. The following portion of this Sony SWOT analysis will examine some of Sony's opportunities compared to competitors include:
Growing demand for gaming and entertainment products: The global market for gaming and entertainment products is expected to continue to grow, which provides Sony with opportunities to expand its PlayStation and entertainment businesses.
High-end electronics are in greater demand: In a SWOT analysis of Sony, its strengths in these markets play a major role. Examples of high-end electronics products that are in demand include OLED TVs, high-end audio gear and its PlayStation console.
Emerging markets: There are many emerging markets around the world that represent significant growth opportunities for Sony's diversified product portfolio.
Digital transformation: Sony may capitalize on this to boost the quality of its products, the satisfaction of its customers, and the effectiveness of its operations. This involves creating new digital goods and services, enhancing its e-commerce capabilities, and improving its digital marketing and customer engagement strategies.
All in all, these possibilities offer Sony potential paths for growth and expansion into new markets and product categories, which can aid the company in maintaining an advantage over rivals. Sony can strengthen its competitive position and keep expanding its business by concentrating on these opportunities and employing successful strategies. ⁠⁠⁠⁠⁠⁠⁠
Sony SWOT Analysis Threats:
Threats pose a risk to every company's stability and profitability. This Sony SWOT analysis will address some of the threats that are important to examine against its competitors:
Sony's Competitors:
An array of competitors include:
Among others Sony competitors are putting it under a lot of pressure to perform well. To maintain or grow its market share in some markets, Sony may find it challenging due to the competition. Sony will need to stay ahead in innovation and marketing to stay effective in this saturated electronics market.
Rapid technological change: The electronics industry is characterized by rapid technological change, which can make it difficult for Sony to stay ahead of the curve and to effectively compete with its competitors.
Economic conditions: Sony is vulnerable to changes in economic conditions, which can impact consumer spending on electronics and entertainment products.
Intellectual property theft: Sony's products and technologies are open to theft, which could have a negative impact on the company's earnings and profitability.
For Sony to effectively compete and expand its business, it is crucial for the company to address these threats because they could have a significant impact on Sony's business operations and financial performance. Sony can strengthen its position in the market and expand its business despite shifting market conditions by putting into place efficient strategies to counteract these threats.
Sony SWOT Analysis – Conclusion and Recommendations:
Sony needs to focus on several key strategies to remain competitive in the electronics and entertainment industry.
Based on a SWOT analysis of Sony against its competitors, here are some recommendations for staying ahead of its competition:
Focus on innovation: Innovation has been a key strength for Sony, and the company should continue to focus on developing new and innovative products to stay ahead of its competitors. This includes investing in emerging technologies such as 5G, artificial intelligence, and the Internet of Things (IoT).
Improve their cost structure: Sony has a relatively expensive cost structure compared to some of its competitors, which can make it challenging to compete on price in some markets. The business should put its attention on streamlining its supply chain and lowering costs in its manufacturing procedures in order to improve its cost structure.
Focus on market diversity: Despite being a major player in the electronics and gaming industries, Sony has a relatively small market share in other industries, such as smartphones and personal computers. To address this, Sony should think about investing in these sectors in order to grow its market share and compete more effectively against rivals.
Embrace digital transformation: Digital transformation is key to staying competitive in the rapidly changing technology landscape. Sony should continue to invest in digital products and services, improve its e-commerce capabilities, and enhance its digital marketing and customer engagement strategies to stay ahead of its competitors.
Ultimately, Sony can stay one step ahead of its rivals and expand its business in the dynamic and constantly changing electronics sector by concentrating on innovation, enhancing cost structure, increasing market share in key areas, and embracing digital transformation.