In the world of luxury fashion, there are several brands that exude affluence and Gucci is definitely one of them. In this SWOT Analysis of Gucci, we will look at how the Gucci family has gone through a turbulent and chaotic history as one of the world's top luxury brands but continues to be plagued by Gucci competitors. Can Gucci's strengths keep them ahead or will Gucci's threats eventually bring their competitive edge down to the ground? The infamous family who sparked a hit Netflix show has become a competitor that all fashion brands want to see fail.
History of Gucci
Guccio Gucci established the renowned luxury fashion house in Florence, Italy, in 1921. The brand, which at first specialized in leather goods with an equestrian theme, has gone through many changes and made a lasting impression on the fashion industry.
In a SWOT Analysis of Gucci, Guccio Gucci returned to Italy and opened a store selling upscale leather goods, such as luggage and equestrian accessories, after spending time working in opulent hotels in London and Paris. The company quickly established a reputation for using premium components and expert craftsmanship, drawing in wealthy customers.
In 1947, Gucci unveiled the bamboo-handled bag, which quickly became a fashion icon. The company kept growing, opening stores in Milan and New York, as well as introducing other iconic items like the GG logo, the Flora print, and the Web stripe. These symbols assisted Gucci in standing out from its rivals and establishing its position as the top luxury fashion brand.
The Gucci family's internal disputes and mismanagement led to a decline in the brand's reputation and profitability. In 1993, Guccio's grandson, Maurizio Gucci, sold his shares to Investcorp, a Bahrain-based investment company, effectively ending the family's involvement in the business.
In 1994, American fashion designer Tom Ford was named creative director. He quickly revived the brand with a sensual and provocative aesthetic. After Ford's departure, Frida Giannini was appointed creative director in 2006. She continued Gucci's success by incorporating the brand's heritage symbols into her collections while maintaining a modern, feminine style.
In a SWOT analysis of Gucci, Gucci was purchased by the French conglomerate Pinault Printemps Redoute in 1999; this company later changed its name to Kering. The following brands are also under Kering:
Gucci
Saint Laurent
Bottega Veneta
Balenciaga
Alexander McQueen and others
In a SWOT Analysis of Gucci, in 2015, Alessandro Michele was appointed creative director, and his eclectic, maximalist vision has redefined Gucci once again. Combining elements of vintage fashion, streetwear, and high fashion, Michele's collections have been widely praised for their originality and inclusivity.
SWOT Analysis of Gucci – At-A-Glance
| | |
| --- | --- |
| Company | Gucci |
| Parent Company | Kering Group |
| Industry | Fashion, Retail |
|  Founder | Guccio Gucci |
|  Year founded | 1921 |
|  CEO | Marco Bizzarri |
|  Headquarters | Florence, Italy |
|  Number of employees | 17,175 (2019) |
|  Revenue (FY 2022) | Eu $10.5 Billion (2022) |
…

What is the Demographic for Gucci?
In a SWOT analysis of Gucci they are a high-end clothing company that sells to affluent people from all over the world. Rich people who are willing to pay a premium for high-end fashion items like clothing, accessories, and fragrances have historically been Gucci's main target market. But in recent years, Gucci has broadened its appeal to include younger customers as well, putting an emphasis on streetwear-inspired designs and partnerships with well-known musicians and influencers. Age, gender, and ethnic diversity are all represented in Gucci's customer base, which also includes a growing number of buyers from developing nations like China, India, and Southeast Asia.
Gucci has succeeded in changing the fashion industry and staying one step ahead of its rivals by constantly reinventing itself, making use of its rich heritage, and embracing innovation in design and marketing. The company's capacity to change and grow while staying true to its core values has ensured both its long-term success and its pervasive influence in the fashion industry.
SWOT Analysis of Gucci:
A SWOT analysis is a framework used to assess a company's competitive situation and to create strategic planning. By taking Gucci's strengths, and weaknesses of Gucci's threats of Gucci as well as opportunities of Gucci into account, we may better gain in-depth knowledge about Gucci company. Lets look at Gucci's SWOT framework to better understand its competitive position and potential for future growth. See how Gucci competitors fare against them and learn about Gucci's Strengths, weaknesses, opportunities, and Gucci threats.
SWOT Analysis of Gucci Strengths:
The areas where a company excels above average or in a manner that distinguishes it from its rivals are its strengths. Gucci's strengths are outlined in this SWOT analysis of Gucci. Some of its strengths compared to competitors include:
Brand recognition and reputation: With a long history of excellence and innovation, Gucci is one of the world's most recognizable and prestigious luxury fashion brands.
Strong product portfolio: Gucci offers a diverse range of high-quality products across categories such as apparel, accessories, and fragrances, which appeal to a broad customer base.
What are the strengths of Gucci?
Digital and social media presence: Gucci has a solid digital and social media strategy, and the brand is present and active on a variety of platforms, such as Instagram, WeChat, and YouTube, allowing it to connect with a large and interested audience.
Innovative and creative design: Gucci's designs are often unique and creative, which differentiates the brand from its competitors and helps to drive customer loyalty and repeat business.
Vertical integration: Gucci has a strong control over its supply chain, from design to production, which allows the brand to ensure high-quality products, streamline operations, and maintain profitability.
SWOT Analysis of Gucci Weaknesses:
Weaknesses of a company are those that limit its potential, make it less competitive, and prevent it from achieving its goals. In this section of the Gucci SWOT analysis, we'll look at Gucci's weaknesses. 
Price point: Gucci's luxury products come with a high price tag, which can limit the brand's accessibility and appeal to certain consumer segments, particularly during periods of economic downturn.
Logo-centric design: Gucci has been criticized for relying too heavily on its logo-centric products, despite having a reputation for innovative and creative designs. This may limit its appeal to customers looking for more understated or subtle luxury items.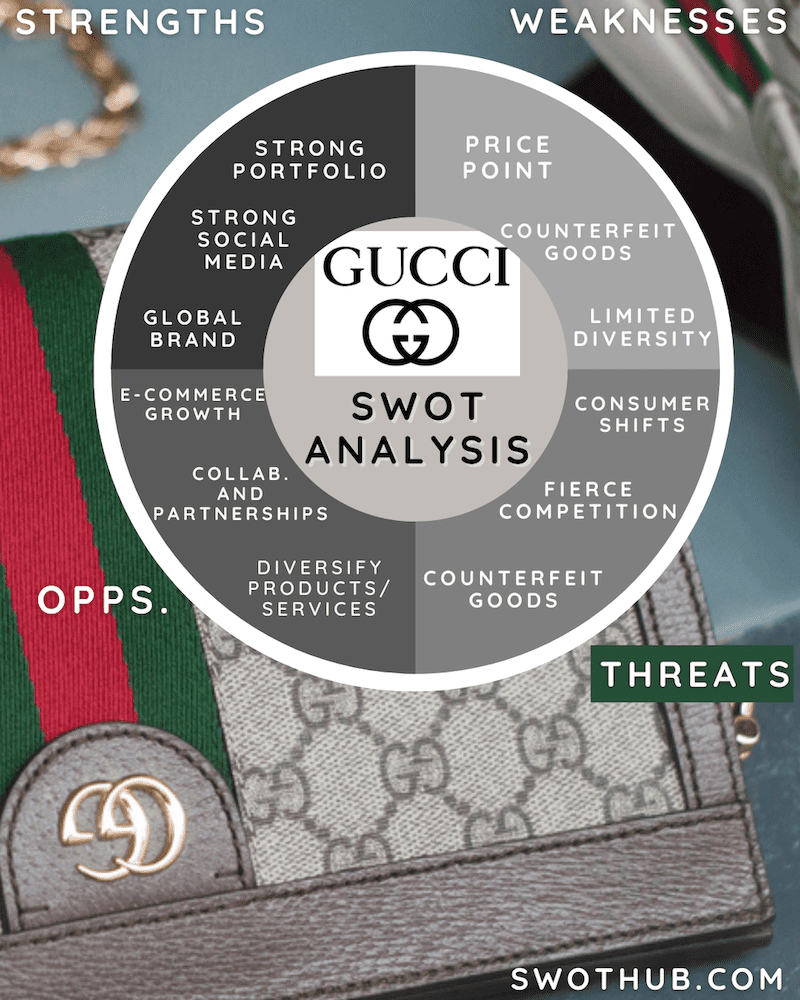 What are some weaknesses of Gucci?
Limited product diversification: While Gucci offers a range of products across categories, the brand has historically focused on apparel and accessories, which may limit its appeal to consumers seeking a broader range of products or services.
Dependence on specific markets: Gucci has a strong presence in certain geographic markets, particularly Europe and North America, which can leave the brand vulnerable to fluctuations in regional economic conditions or shifting consumer preferences.
Counterfeit goods: Due to its strong brand reputation and popularity, Gucci is a target for counterfeit goods, which can diminish the brand's value and erode consumer confidence in its products.
SWOT Analysis of Gucci Opportunities:
The Gucci brand exists in a world full of opportunities. The following portion of the Gucci SWOT analysis will examine some of Gucci's opportunities compared to competitors include:
Growth in e-commerce: The growth of e-commerce presents an opportunity for Gucci to reach a wider customer base and expand its online sales channels.
Collaboration and partnerships: Gucci has the chance to work with other companies or designers to produce one-of-a-kind goods or collections that appeal to both potential and current clientele.
Sustainable and ethical practices: There is a growing consumer demand for sustainable and ethical products and practices in the fashion industry. Gucci can leverage its resources and reputation to position itself as a leader in this area and appeal to environmentally and socially conscious consumers.
Product and service diversification: Gucci can broaden its product and service offerings beyond apparel and accessories, such as home goods or travel experiences, to appeal to a wider range of consumer preferences and needs.
Gucci SWOT Analysis Threats:
Threats pose a risk to every company's stability and profitability. In a SWOT analysis of Gucci, some of its largest threats compared to competitors include:
Competition is fierce: With many brands vying for consumer attention and market share in the luxury fashion industry. Both well-known and emerging brands compete with Gucci.
Gucci's Competitors:
In a SWOT analysis of Gucci, its competitors would fall under the "threats" category.
In a Gucci SWOT analysis, its top competitors include other top luxury fashion brands in the retail industry such as:
Louis Vuitton
Prada, Chanel
Burberry
Economic volatility: In a SWOT analysis of Gucci, economic downturns or instability can impact consumer spending on luxury goods, which can reduce demand for Gucci's products and impact its revenue and profitability.
Shifting consumer preferences: Consumer preferences and trends in the fashion industry can change rapidly, which can make it difficult for Gucci to stay ahead of the curve and meet evolving customer demands.
Adapting regulatory environment: Gucci's business operations and brand reputation may be impacted by changes in laws governing intellectual property, labor practices, or environmental impact. These changes may also have an effect on the brand's competitiveness and financial success.
Counterfeit products: Counterfeit products are a persistent threat to Gucci's brand reputation and profitability, as they can dilute the value of the brand and reduce customer trust in its products.
Gucci SWOT Analysis – Conclusion and Recommendations:
Gucci needs to focus on a number of key strategies to remain competitive in the luxury fashion industry.
In Gucci's SWOT analysis reveals that the brand has several strengths that allow it to maintain a competitive advantage in the luxury fashion market and attract a diverse and loyal customer base. However, the analysis also highlights areas of weakness and potential threats that Gucci may face, including a high price point, overreliance on logo-centric designs, limited product diversification, and intense competition.
To address these challenges, Gucci has several opportunities to expand and innovate its business, such as entering emerging markets, investing in e-commerce, collaborating with other brands or designers, and diversifying its product offerings. By leveraging these opportunities and addressing its weaknesses, Gucci can maintain its competitive position in the luxury fashion market and appeal to new and existing customers.