The world of retail grocery stores has been competitive for generations! In a Trader Joe's SWOT analysis we take a look at how this grocery store who actually has ties with Aldi has become one of the smaller grocers that packs a massive following. See how Trader's Joe's competitors such as Whole Foods, Aldi, Kroger and Publix haver faired against their unique private label foods and unique store experiences. We take a look at Trader Joe's strengths, weaknesses, opportunities and threats in a SWOT analysis of Trader Joe's.
Trader Joe's History
Trader Joe's has an interesting history that dates to 1958, when it was founded by Joe Coulombe. The first business, called "Pronto Market," debuted in Pasadena, California. It began as a little convenience store with only a few nearby customers.
In the 1960s, Coulombe saw a shift in consumer behavior as more people began to consider visiting overseas and showed an interest in foreign food. After noticing this trend, he transformed Pronto Market into a store that offered a remarkable selection of foods and beverages from all over the world. This served as Trader Joe's' conceptual foundation.
The genesis of Trader Joe's as we know it today was the first store to employ the new name, in Pasadena. The adventurous and sailorly adventures of the South Seas traders of the 19th century served as inspiration for the store's theme, which had a distinctly tropical style.
Early on, Trader Joe's launched cutting-edge ideas that set the company apart from traditional stores. Coulombe wanted to make shopping fun and affordable. He sold a wide range of products, including rare wines, gourmet foods, and items from many countries. By being offered at a lower price than specialty stores, these products were made accessible to a wider audience.
Before expanding outside of California, Trader Joe's continued to expand. The company was acquired in 1979 by the Albrecht family, proprietors of the Aldi grocery chain in Germany. Through this partnership, Trader Joe's was able to take advantage of Aldi's sourcing and purchasing expertise, enabling them to offer high-quality products at competitive prices.
Over the years, Trader Joe's has stayed committed to providing distinctive, high-quality products at affordable prices. They have placed a great deal of emphasis on their private label brands to ensure that customers can trust the quality and value of the products they buy.
Trader Joe's currently has hundreds of stores around the US, all of which are designed to make shopping enjoyable. Their commitment to providing top-notch customer service, a variety of high-quality products, and a focus on value have helped them garner a fervent following and take up a large amount of real estate in the grocery retail market.
Trader Joe's is opposed by other grocery store chains despite having a number of advantages. However, it does succeed in standing out by utilizing its distinctive qualities. Aldi, Publix, and Whole Foods are some of its main rivals.
In terms of product quality, Trader Joe's competes with Whole Foods, which is renowned for its assortment of organic and natural goods. Contrarily, Trader Joe's attracts customers with its reduced costs and greater selection of products.
The low-cost grocery store Aldi, on the other hand, is comparable to Trader Joe's. While providing goods at reasonable prices is a focus for both shops, Trader Joe's differentiates itself by providing a more upmarket and carefully selected shopping experience.
Trader Joe's Faces Stiff Competition:
Trader Joe's competes mostly on convenience and general customer satisfaction with a nearby supermarket company called Publix. Contrarily, Trader Joe's attracts customers with its unique and frequently changing product selection.
Trader Joe's has become well-known in the US because of its distinctive method of food buying. Trader Joe's has established a reputation in the market for its wide selection of odd products, first-rate customer service, top private label brands, and affordable rates. It distinguishes itself from competing supermarket chains by providing a unique and pleasurable shopping experience. Find the treasure trove of items waiting for you at Trader Joe's!
Trader Joe's SWOT Analysis At-A-Glance
| | |
| --- | --- |
| Company | Trader Joe's |
| Industry | Grocery Retailer |
| Founder | Joe Coulombe |
| Year founded | 1958 |
| CEO | Bryan Palbaum​ |
| Headquarters | Monrovia, California |
| Number of employees | 50,000+ (2022) |
| Revenue (FY 2022) | US $13.3 Billion (2022) |
Trader Joe's SWOT Analysis:
A SWOT analysis is a framework used to assess a company's competitive situation and to create strategic planning. By taking Trader Joe's strengths, and weaknesses of Trader Joe's' threats of Trader Joe's as well as opportunities of Trader Joe's into account, we may better gain in-depth knowledge about Trader Joe's company. In this article, we'll be taking a look at Trader Joe's SWOT framework to better understand its competitive position and potential for future growth. See how Trader Joe's competitors fare against them and learn about Trader Joe's Strengths, weaknesses, opportunities, and Trader Joe's threats.
Trader Joe's SWOT Analysis Strengths:
The areas where a company excels above average or in a manner that distinguishes it from its rivals are its strengths. Trader Joe's strengths are outlined in this Trader Joe's SWOT analysis. In a SWOT analysis of Trader Joe's, some of its strengths compared to competitors include:
Product Diversity: Trader Joe's is well known for its upscale and large selection of goods. To add unique and cutting-edge products to their shelves, they frequently work with independent firms and import goods from all over the world. Since they provide a distinctive selection that draws customers, this distinguishes them from regular grocery stores.
Excellent Customer Service: The staff at Trader Joe's is renowned for their friendliness and assistance. Employees are known as "crew members" and undergo considerable training in offering first-rate customer service. They go above and beyond to help clients and guarantee that their purchase will satisfy them. Customers feel respected and appreciated in the friendly environment this personalized approach creates.
Private Label Products: Trader Joe's places a lot of emphasis on its premium private-label brands. Before they are regularly offered for sale under the Trader Joe's brand, these goods are carefully selected and put through quality inspections. Trader Joe's can keep control over the products they sell by owning their own brands, ensuring constant quality and affordable prices.
Tremendous Value: Trader Joe's puts a premium on value by charging reasonable prices without sacrificing quality. They may transmit savings to customers by streamlining operations and buying goods in bulk. People on a tight budget who respect fair rates without compromising quality will be attracted to this tactic.
Trader Joe's SWOT Analysis Weaknesses:
Weaknesses of a company are those that limit its potential, make it less competitive, and prevent it from achieving its goals. In this section of the Trader Joe's SWOT analysis, we'll look at Trader Joe's weaknesses. In a Trader Joe's SWOT analysis, some of their weaknesses compared to competitors include:
Limited Store Locations: When compared to some of its rivals, Trader Joe's store footprint is considerably smaller. Despite their continued growth, they are still mainly concentrated in a few areas of the United States. Customers who do not have easy access to a nearby Trader Joe's store may experience inconvenience as a result of this limited supply.
Limited Product Variety: Trader Joe's is renowned for its distinctive and varied variety of goods, but some shoppers might discover that their selection isn't as wide-ranging as that of bigger grocery chains. Even though this simplified method enables more concentration and quality control, it could restrict the options accessible to customers looking for a larger selection of brands or items.
Small Store Format: When compared to larger grocery chains, Trader Joe's stores are typically smaller in size. When it's busy, this might make for a warm and intimate shopping experience, but it can also lead to packed aisles and a shortage of room. Due to space limitations, some consumers may find it difficult to maneuver through the store or may feel constrained in their ability to shop.
Limited Online Presence: Online shopping is becoming more common in today's digital world. In contrast to some of its rivals, Trader Joe's has taken a while to build a strong online purchasing platform. They do provide some online choices, such as delivery services in some areas, but they do not have as much of an online presence or availability as other grocery merchants.
Pricing Perception: Trader Joe's is renowned for offering prices that are focused on value, yet some customers believe that their prices are a little higher than those of budget supermarkets like Aldi. Price-sensitive clients who look for the best deals while making purchases may be impacted by this notion.
It's crucial to note that Trader Joe's has thrived despite these flaws and has developed a devoted following by building on its own advantages and serving a particular market niche. These disadvantages can be minimized, and Trader Joe's can continue to maintain its competitive edge in the grocery retail sector by making constant improvements and adjusting to changing consumer expectations.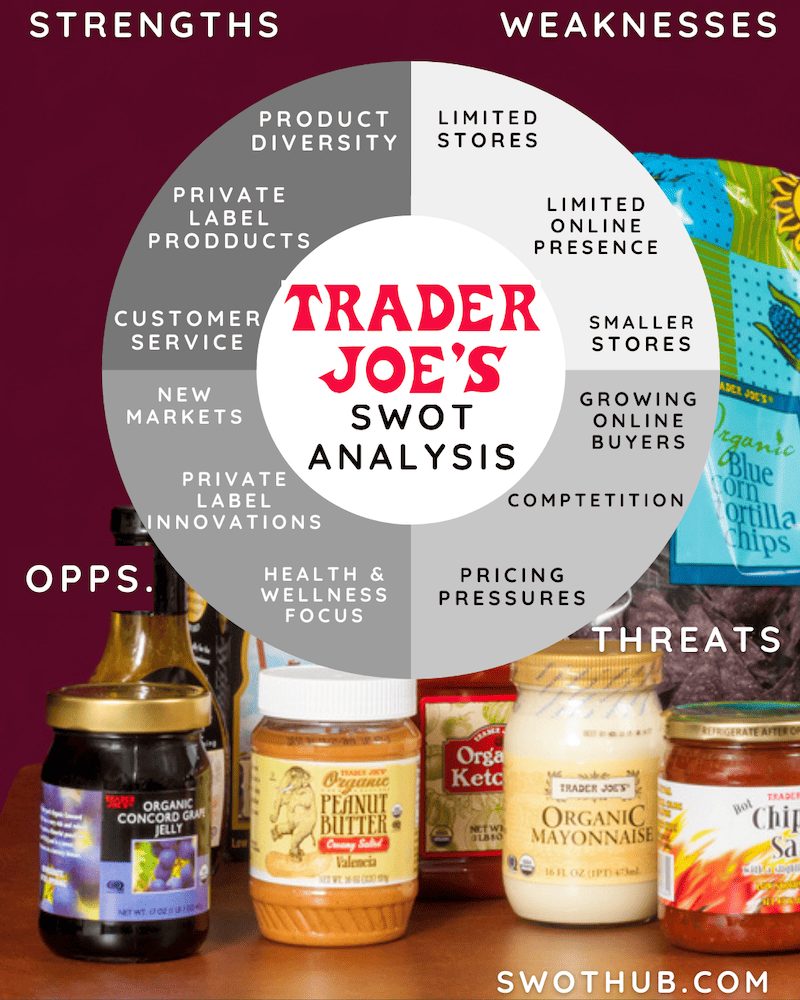 Trader Joe's SWOT Analysis Opportunities:
Trader Joe's exists in a world full of opportunities. The following portion of the Trader Joe's SWOT analysis will examine some of Trader Joe's opportunities compared to competitors include:
Expansion into New Markets: Trader Joe's has the chance to increase the number of its retail locations in new areas. Trader Joe's can reach out to new consumer bases and grow its market share by deliberately expanding into areas where it is presently either underrepresented or completely absent. The company would be able to reach a larger market and improve brand recognition because of this expansion.
Expansion of online retail: As the popularity of online shopping rises, Trader Joe's has the chance to boost its online retail capabilities. The desires of customers who prefer the convenience of shopping from home can be met by Trader Joe's by improving its e-commerce platform and providing practical online ordering and delivery choices.
Focus on Health and Wellness: The market for organic and health-conscious products is expanding. By further enhancing its variety of organic, natural, and healthy food options, Trader Joe's may take advantage of this trend.
Private Label Innovation: Trader Joe's has the chance to develop and broaden its line of private label goods. Trader Joe's may set itself apart from rivals and preserve its reputation for high quality and reasonable prices by introducing fresh and distinctive products under their own brand.
Enhanced Customer Interaction: To promote better connections and brand loyalty, Trader Joe's can improve its customer interaction techniques even further. This can include programs like customized promotions, loyalty schemes, and engaging in-person and online experiences. Trader Joe's can build a loyal client base and promote repeat business by developing deeper relationships with customers and delivering memorable shopping experiences.
Trader Joe's may strengthen its position in the market, draw in new customers, and beat the competition by taking advantage of these chances. Trader Joe's can continue to prosper by embracing expansion, engaging in online retail, catering to health-conscious consumers, creating private label brands, and placing a priority on customer connection.
Trader Joe's SWOT Analysis Threats:
Threats pose a risk to every company's stability and profitability. In a SWOT analysis of Trader Joe's some of its largest threats compared to competitors include:
Like any company, Trader Joe's is subject to several threats from rivals and other forces. Let's look at a few of the dangers Trader Joe's faces using a SWOT analysis:
Intense Competition: There are many businesses seeking market share in the grocery retail sector. Both established grocery companies and low-cost stores compete with Trader Joe's. Trader Joe's is under pressure from fierce competition to consistently innovate, set itself apart from its competitors, and preserve its distinctive value proposition.
Growing Online Retail: Trader Joe's faces a serious threat from the expansion of online retail. Customers may choose to buy groceries online from rivals or larger e-commerce platforms due to the convenience of online shopping and the rising popularity of delivery services. To effectively compete in the digital environment, Trader Joe's needs to adapt and make investments in its online retail skills.
Pricing Pressures: Customers who are price-sensitive may be drawn to lower-priced rivals like discount supermarket chains or bigger merchants who provide competitive pricing. It's imperative for Trader Joe's to maintain a sense of value and affordability to reduce the risk that customers may select substitute options purely based on price.
Challenges with suppliers and distribution: Trader Joe's depends on its distributors and suppliers to keep its stores stocked with goods. Any supply chain snags, such as missing ingredients, traffic jams, or problems with suppliers, might affect the consistency and accessibility of a product.
To maintain its competitive position in the market, Trader Joe's must recognize and proactively counteract these risks. Trader Joe's can successfully handle these dangers and stay one step ahead of its rivals by regularly analyzing the industry landscape, responding to shifting consumer preferences, investing in online retail capabilities, and streamlining supply chain processes.
Trader Joe's Competitors:
In a SWOT analysis of Trader Joe's, its competitors would fall under the "threats" category. Here are some of Trader Joie's main competitors in the grocery retail industry.
Whole Foods Market: Owned by Amazon, Whole Foods is a chain of supermarkets that emphasizes products free from hydrogenated fats and artificial colors, flavors, and preservatives, like Trader Joe's focus on healthy and organic options.
Aldi: Aldi is a network of inexpensive supermarkets with German roots. Aldi and Trader Joe's are related, which is interesting because Aldi Nord owns Trader Joe's while Aldi Süd runs the Aldi stores in the United States.
Sprouts Farmers Market: concentrates on organic and wellness-related goods.
Costco is a significant rival in the grocery industry and is renowned for selling goods in bulk, even though it works on a membership basis.
Kroger: The largest supermarket chain in the U.S. by revenue, Kroger operates under several banner names across different regions.
Trader Joe's SWOT Analysis – Conclusion and Recommendations:
Trader Joe's needs to focus on several key strategies to remain competitive in the retail grocery industry.
Trader Joe's has established itself as a beloved and successful grocery store chain, but like any business, it faces its share of weaknesses and threats in the competitive retail grocery industry. However, by identifying areas for improvement and taking proactive measures, Trader Joe's can continue to strengthen its position and outperform its competitors.
Trader Joe's can focus on expanding its store footprint into new markets, allowing more customers to access their unique shopping experience. They can also explore ways to increase product variety while maintaining their commitment to quality, catering to a broader range of customer preferences.
Investing in online retail capabilities is crucial to remain competitive in the evolving digital landscape. Trader Joe's can enhance its online shopping platform, improve delivery options, and optimize the overall online customer experience. This will help them reach a wider customer base and cater to the growing demand for online grocery shopping.
Trader Joe's should also consider strategic partnerships and collaborations to further strengthen their private label brands and introduce exclusive, innovative products. By continuously innovating and staying ahead of emerging trends, Trader Joe's can maintain its reputation as a destination for unique and high-quality products.
Trader Joe's should stay attuned to evolving consumer preferences and invest in research and development to cater to changing needs. By offering a wider range of health-conscious and sustainable options, they can position themselves as leaders in the industry and attract a larger customer base.
In a Trader Joe's SWOT analysis it has a solid foundation with its strengths, but it can further improve by addressing its weaknesses and seizing the opportunities that lie ahead.
By expanding into new markets, enhancing their online retail capabilities, nurturing their private label brands, and catering to evolving consumer preferences, Trader Joe's can stay ahead in the retail grocery industry. With their commitment to value, quality, and unique shopping experiences, Trader Joe's is well-positioned to maintain its loyal customer base and continue to thrive in the dynamic and competitive marketplace.