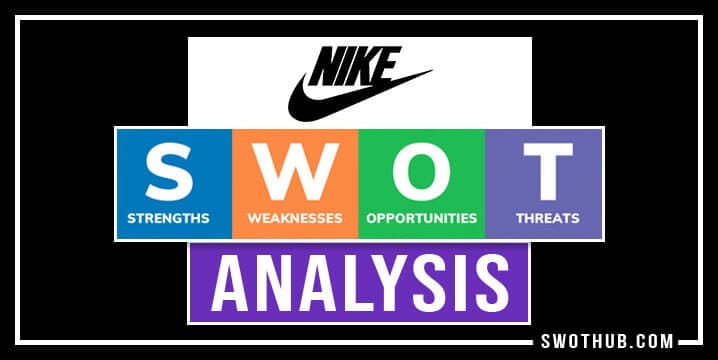 Nike is a multinational company that mainly focuses on development, design, manufacturing, marketing and sales of footwear, apparel, accessories, equipment and services. It was founded on January 25, 1964. It sells its product in approximately 190 countries. Its headquarters are in Beaverton, Orgon, in the Portland metropolitan area. A Nike SWOT analysis helps the company executives to analyze and assess all the internal and external factors of the community.
A Nike SWOT Analysis is a proven management framework that enables Nike to benchmark its business & performance as compared to the competitors and industry.
Nike – At A Glance
| | |
| --- | --- |
| Company Name | Nike Inc. |
| Industry | Apparel, Accessories, Sports Equipment |
| Founded | January 25, 1964 |
| Founders | Bill Bowerman, Phil Knight |
| CEO | John Donahoe |
| Headquarter | Beaverton, Oregon, U.S. |
| Annual Revenue | $37.40 Billion (FY 2020) |
| Website | www.nike.com |
Nike SWOT Analysis
SWOT analysis is a strategic planning frame that can be used by the company managers to get a successful situation analysis of the company. The Nike SWOT analysis framework can assist them to realize their internal strategic factors such as strength and weakness, and also their external strategic factors such as opportunity and threats.
Nike Inc. maintains its intimidating presence in the business sector only by reviewing the SWOT analysis regularly and improving itself. So, the Nike SWOT analysis will be of great use for this company.
Strengths of Nike in SWOT Analysis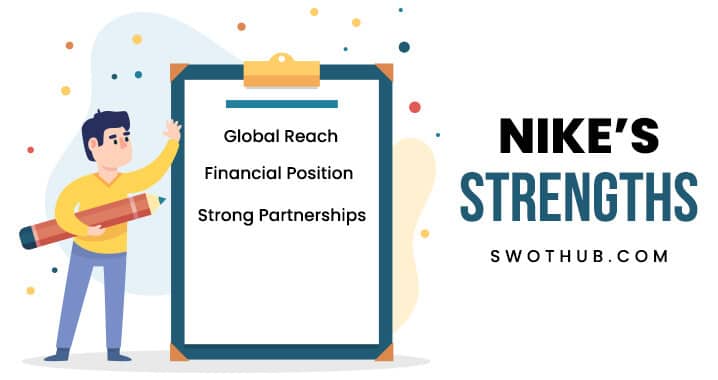 Nike Inc. has a plethora of strengths that will help it to thrive in the main field. The Nike  SWOT analysis will help to focus on these strengths. Some of these strengths are enlisted below:
Global reach: Nike is a worldwide multinational company. It operates in more than 190 countries across the globe. So, it has a great deal of the global footprint. This makes it more recognizable to the public and helps with its publicity. So, it can implement its global thinking with local execution. This means that it can pursue its ubiquitous goals and can still win the hearts of its consumers.
Financial position: Nike has a strong financial base. For the fiscal year 2018, Nike reported earnings of US$1.933 billion, with an annual revenue of US$36.397 billion, an increase of 6.0% over the previous fiscal cycle. Nike's shares traded at over $72 per share, and its market capitalization was valued at over US$114.5 billion in October 2018. It has been gaining market slowly but surely for about 57 years. It has earned the public trust as a star company. Its financial position has it on a point of a pure advantage that increased its market value and brand name by leaps and bounds. So, this financially secure position does good for the company.
Strong Partnerships: Nike has been in a long-term relationship with another leading footwear company named "Michael Jordan". This partnership has resulted in many good stuffs for Nike. They were able to collaborate and come up with a new shoe named "Air Jordans 1".  This caused quite an uproar in the sneaker collectors' community. Both companies made decent profit from this model. The model itself secured a spot in top ten collectable sneakers for itself. It also gave Nike a good spotlight that helped its popularity.
Weaknesses of Nike in SWOT Analysis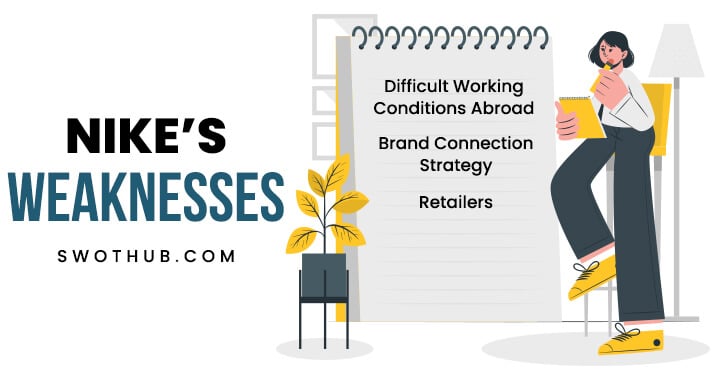 Weaknesses are part of the internal factors of a company. A Nike SWOT analysis will bring many of these to light.
Difficult working conditions abroad: One of the biggest weaknesses of Nike is that they are dependent on labor. This is not the main weakness though. The problem is that many of these countries are not financially well off. So, their laws regarding labor-safety is very lax. This often results in having minor work in several unsafe environments. Many vegans and humanitarian volunteers encourage people to not buy from Nike's for this very reason. This is a huge drawback for them.  There are several reports that state these manual laborers are highly underpaid.  This puts another damp in Nike's reputation.
Brand connection strategy: The world is changing rapidly. So, it is high time, Nike changed its strategies to cope with it. Its traditional branding and communication methods need a revolution. It needs to change not only the messages, but also the media. Social branding plays an important role in this case. If Nike is adamant about not changing these customs, it will cost them heavily in the future.
Retailers: Nike is very sensitive to Its pricing. This makes it very vulnerable to the outside world of secondhand purchases. So, retailers are the core customers of Nike. A study shows that Nike Inc. sells about 65% of their total products to retailers or wholesalers. This makes their pricing structures drop. Since the retailers refuse to co-operate, this problem keeps on bloating and bloating. If Nike does not take measures to tackle this as soon as possible, they are going to have a lot more to worry about than unhappy retailers.
Opportunities for Nike in SWOT Analysis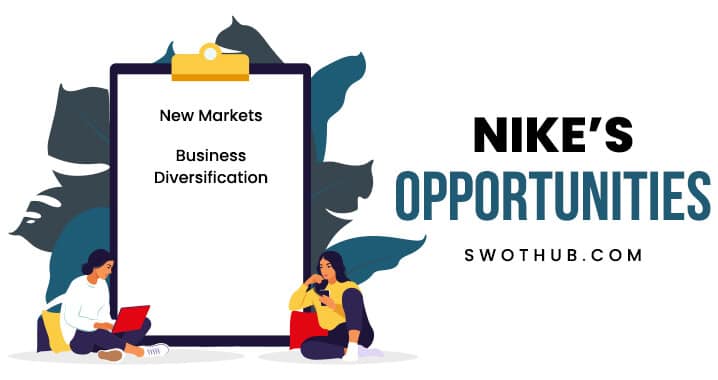 The opportunities are outside factors of a company that they can exploit for profit and benefits for themselves. The Nike SWOT analysis will help the executives to contemplate them before their next big move.
New markets: As the government has agreed to lend a hand to the economic development there are new markets in the making. This will help Nike broaden its already wide horizon of business. Especially this Olympic could be a great opportunity for Nike to up its ante in the marketing and promoting sectors of their business.
Business Diversification: Even though Nike has plenty of products to sell, there are many new products that it could launch. People are now aware of its presence. So this will be advantageous for the company. Business diversification can get people more interested and invested in the company. This will work as publicity and raise the profit. Throughout the 1980s, Nike expanded its product line to encompass many sports and regions throughout the world.
Threats for Nike Inc. SWOT Analysis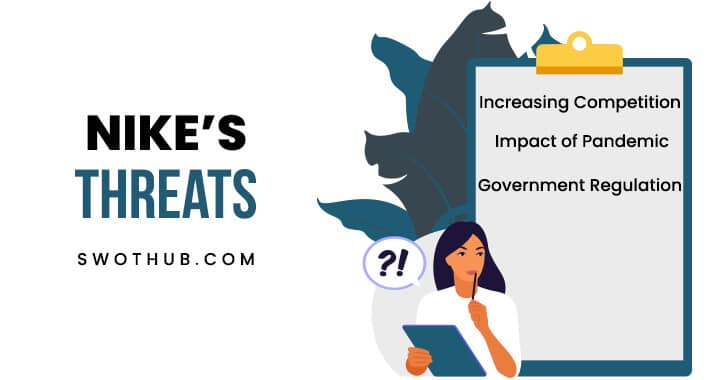 Threats are the most important part of a swot analysis. A Nike SWOT analysis will point out the threats to this community that has been holding it back.
Increasing competition: In recent times, many new companies are mushrooming in this new market. This increases the competition. In the consumers' sector, Nike has many deadly competitors like Adidas, Under Armour, Rebook, Anta, lululemon etc. Even though it is currently the most dominating brand, it still needs to be weary of its competitions. Nike has spent 3.5 billion dollars in marketing. The safest bet for them is to come up with innovative products.
Impact of Pandemic: This is the time of pandemics. Nike is one of the leading companies in the consumer goods department. Even though this pandemic has failed to make any big impact on the sales figure, that does not mean that the magnitude of the situation is any less. This pandemic has affected the manufacturing, distribution, and purchasing of Nike products. This has fueled major changes in Nike's business strategies.
In March 2020, Nike reported a 5% drop in Chinese sales associated with the store's closure due to the COVID-19 outbreak. It was the first decrease in six years. At the same time, the company's online sales grew by 36% during Q1 of 2020. Also, the sales of personal-training apps grew by 80% in China.
Government Regulation: The rules and regulations that the government imposes may be a major threat for Nike, especially if it does not abide by its profit-based agenda. Nike has faced its fair share of complaints and cases from various parties. So, it is imperative that Nike stays in the good graces of the government. Because one troublesome regulation can do them a lot of damage.
Nike SWOT Analysis Overview Template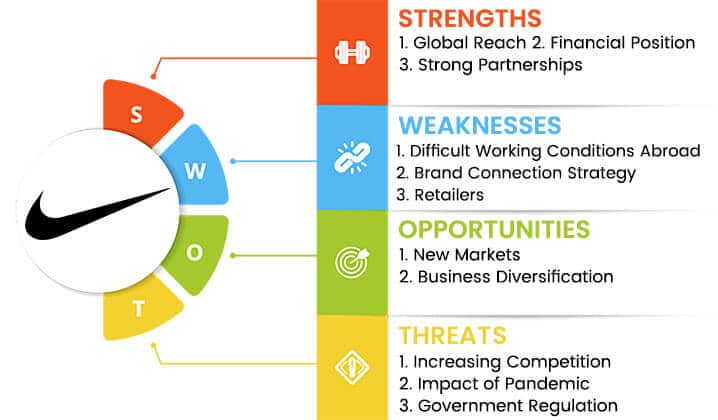 Conclusion and Recommendations for Nike
Here are some recommendations for Nike to improve their market game from the experts:
Improving the health and safety of the company's employees.
Enhancement of the people by a long shot.
Encourage the workers to be creative
Lifting the team morale by achieving the team goals.
In conclusion, it can be said that a steady line of profit and global reach are the key strengths of Nike. As for its greatest weakness, that would be retailers. It may not look like much, but it is a huge load to carry. But the good news is that Nike has realized this weakness and now is thinking about cutting up some of its retailer customers.
The Nike SWOT analysis helps the company in many different ways. Only because it would allow the executive directors to theoretically take apart the company's strategic approach to this day and scrutinize them.