Streaming music and TV have been an essential part of modern entertainment over the last decade. A Spotify SWOT analysis will help you determine if the streaming service giant has a good market share in the marketplace.
For over a decade, people's way of listening to music has gone through a revolution. The mass has slowly shifted its attention from physical media to digital music libraries. This has made them more interested in digital files rather than CDs and DVDs. This is where Spotify and other digital music libraries come in. Spotify is a Swedish multinational company for audio streaming. It has taken some great steps to improve itself and remain ahead in this competitive field.
Spotify SWOT Analysis – At A Glance
| | |
| --- | --- |
| Company Name | Spotify |
| Industry | Audio Streaming, Podcasting |
| Founded | 23 April, 2006 |
| Founders | Daniel Ek, Martin Lorentzon |
| CEO | Daniel Ek |
| Headquarter | Stockholm, Sweden |
| Annual Revenue | €7.88 Billion (FY 2020) |
| Website | www.spotify.com |
Spotify SWOT Analysis
A SWOT analysis is a structured procedure of collecting and compiling data that will help pinpoint different sides of the industry, ideas, documents, established, and whatnot from a corporate point of view. It mostly concentrates on the strengths, weaknesses, opportunities, and threats of the targeted subject. It also enables the related personnel to take a step back reconsider their game plan and rethink their tactics.
A Spotify SWOT analysis will enlist the strengths, weaknesses, opportunities, and threats, of top Spotify competitors. This Spotify SWOT analysis also entails its target market, USP, positioning, and segmentation.
Spotify SWOT Analysis Strengths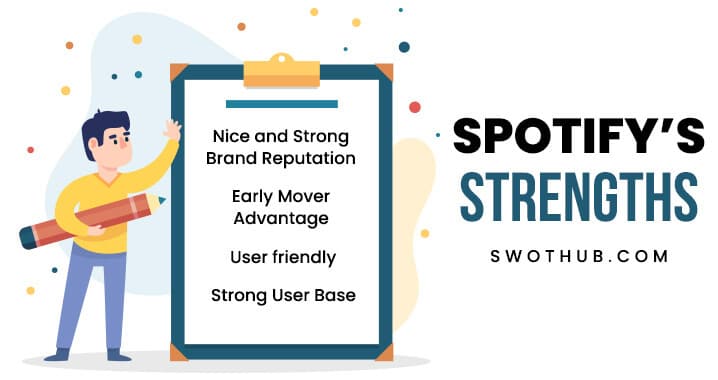 A Spotify SWOT analysis will zero in on the best internal strengths and strong points. This will help the company managers to hone those aspects of the company. This in turn will work in their favor of them. A Spotify SWOT analysis will help in this case:
Nice and Strong Brand Reputation: Spotify has a strong brand reputation. It is one of the most common music apps. Also, the most popular. It is well-known and this helps them a lot in the field of marketing. They can often use their brand value to their advantage. The brand value of Spotify has increased by 52% and has a net worth of 8389 million dollars in the year 2020. It was also ranked 70th in "The Best Global Brand" in the same year.
Early mover advantage and a good lead: Spotify is one of the very few that entered the music streaming field in its earliest days. This gave them a huge advantage that the newcomers in this field do not get. They know the market better than anybody. It earned this position only after giving high-rated music services. It has gained a high market share.
Widespread music collection: Spotify provides its users with a vast choice of music that many other platforms may fail to provide. It has about 70 million songs and 2 million podcasts in its digital library and that is just a rough estimation. It also adds 40,000 new tracks every day. This attracts a huge audience as they want to have access to this collection.
User friendly: Spotify is often known to be quite user-friendly. A large number of songs, random facts about an album, and lyrics of some songs have made Spotify popular among its user base. It has used algorithms and AIs effectively. It customizes the playlists and suggests new songs, playlists, and artists according to it. It is estimated that listeners spend one-third of their time listening to these playlists provided by Spotify.
Strong user base: Millennials are the target user base for this company. It is seen that they are quite supportive of this platform. A study has shown that most American millennials spend their time listening to Spotify.
Spotify SWOT Analysis Weaknesses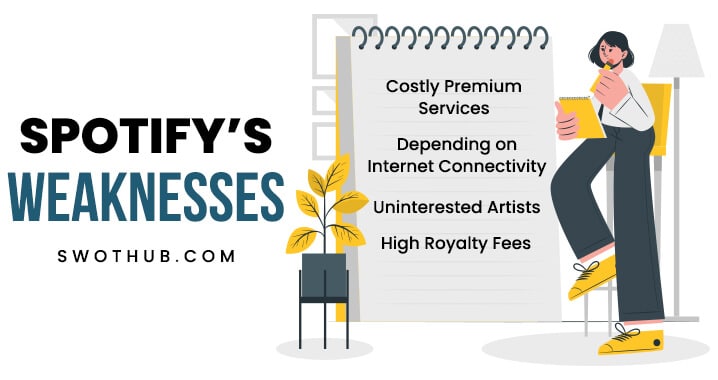 A Spotify SWOT analysis will point out all the points of that company that need to be improved. Some of them are enlisted below:
Costly premium services: Even though Spotify has been giving its users an array of choices in the field of music, it often fails to give away quality services. For example, users cannot listen to a single song of their choice on their own. They have to listen to them in shuffled playlists. If one wants to have this luxury, one needs to purchase a membership. Quite frankly, most people are uninterested in paying such a high amount just to listen to songs.
Depending on internet connectivity: The free version of Spotify depends highly on the internet. If one is offline, one cannot browse through the platform. However, those who have a premium membership can easily have their favorite songs made available offline. But even they can't browse the platform.
Uninterested artists: Spotify pays a very low percentage to the artists. The artists earn about 0.00318 dollars every time someone listens to their track. So, it is a safe bet to say that they are rather ill-paid for their creativity. Many other platforms pay them more than that. Some of them even earn more money than this by selling CDs. That's saying something because not many people buy CDs these days. And for this reason, many artists are either uninterested or pulling out their works from this platform.
High royalty fees: Spotify has to distribute its earnings among the other parties that have helped create the music. For example, the publishers, composers, copyright holders, record labels, etc. This costs them a heavy amount of money. In accordance with an estimate, it has to spend about 75% of its earnings on this.
Opportunities for Spotify in SWOT Analysis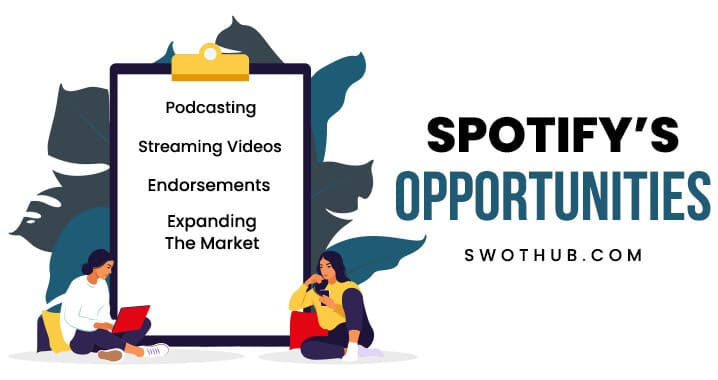 A Spotify SWOT analysis will assist the higher-ups of the company to pick out the best opportunities for their company. A Spotify SWOT analysis will also ensure what is best for the company.
Podcasting: In recent times people are slowly starting to be interested in podcasting. They are indulging in it of their own free will. The rising number of people in podcasts suggests that there is a great opportunity for business. So, Spotify has started to groom itself to be on its A-game when the opportunity arises. This is why they included podcasts in their library.
Streaming videos: Many people believe that the video streaming industry is the most popular industry of all time. This may become true as many estimates suggest that it would reach 71,237 million dollars by the time 2021 ends. So, entering this industry will surely boost Spotify's market value by leaps and bounds.
Endorsements: Different celebrities have a huge influence over the trends and products online as they have a huge fan base or follower base. This may help Spotify to up its game. Because every time a celebrity joins in the engagement of the app goes up by roughly 4 percent.
Expanding the market: Spotify has spread its services to many countries. They can spread them even more. They can cater to people who use computers, laptops, and tablets. They can also expand their market by including the older generations in their target mass. By including and expanding song collections from the early '70s, or around that time, they can easily tempt the older generations. Also simplifying their user interface, a bit more could work wonders.
Threats for Spotify in SWOT Analysis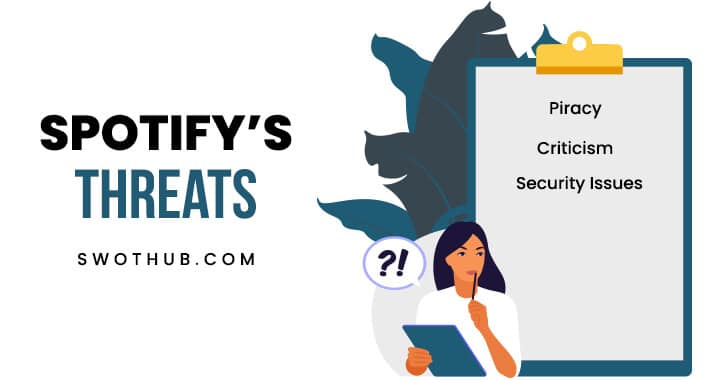 A Spotify SWOT analysis points out the threats regarding Spotify. This is the most crucial part of this Spotify SWOT analysis. Some of the threats are enlisted below:
Piracy: In this modern day and time, it is very easy to swoop in and steal another person's content. This problem is especially prominent in Spotify, second only to YouTube. This causes the content creators to withdraw their content from Spotify.
Criticism: As many artists and content creators are withdrawing their content from here, many people have started to criticize it. From the fans to professional critics, from artists to businessmen, everyone is starting to point out different flaws and lack of security. This is not good for Spotify's image.
Security issues: Spotify has been a bit weak in its security development. As it is a large platform that deals in several thousands of creative content it is a common target for hackers. There was this hacker named "Daniel" who was able to hack the server. Not only that but there are several Spotify accounts in the black market for sale.
Spotify SWOT Analysis Overview Template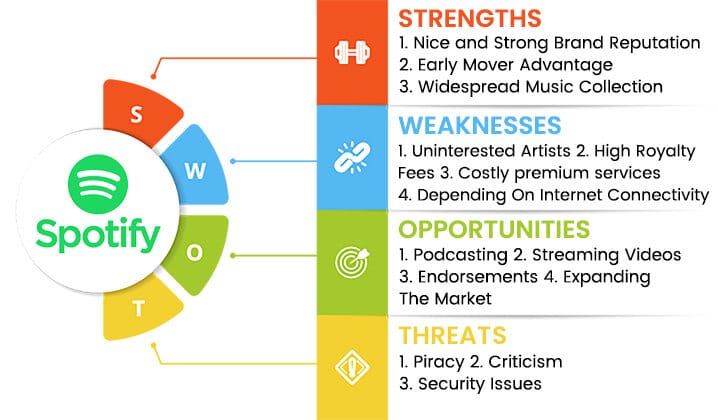 Conclusion and Recommendations for Spotify
There are some things that Spotify could improve that would obviously help its case. Here are some recommendations for Spotify to improve its game:
To curb the dependency on the internet they can introduce offline services to free users, even if in a small sphere.
They can stop introducing their own choices of songs into the personal playlists of the users.
They can also introduce new facilities to keep the users engaged.
They can show fewer ads between the songs.
They can also spend some money to improve their security system.
FAQs for Spotify SWOT Analysis
What are the potential threats to Spotify?
Potential threats to Spotify include competition from other streaming platforms, content licensing costs, and changing consumer preferences.
Can you make money selling on Spotify?
Yes, you can earn money on Spotify through streaming royalties, but significant income typically comes from high streaming volumes or successful music releases.
What is the generic competitive strategy of Spotify?
Spotify's competitive strategy is differentiation. Their enormous music selection, personalized playlists, and user-friendly design set them apart. This strategy tries to differentiate them from the music streaming competition by providing a premium experience.
After a thorough study, it can be seen from this Spotify SWOT analysis that it is indeed one of the biggest music streaming platforms. It is a brand that is well-known to people. However, piracy, lawsuits, and security issues are going to be major setbacks. If they can tackle these issues, they'll emerge stronger than ever.
Let us know if you think this Spotify SWOT analysis can help keep them on the competitive map!