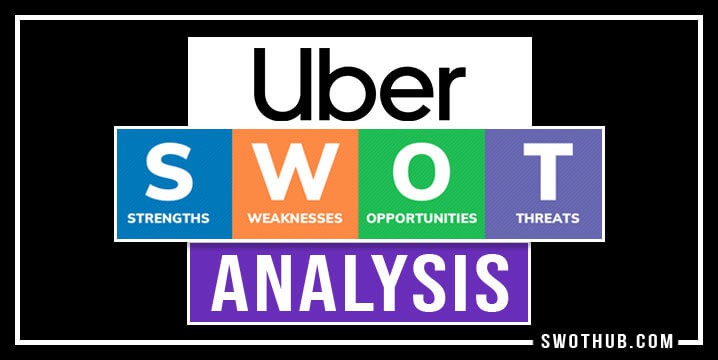 Uber is a high-tech company that mainly focuses on ride sharing. It was founded in 2009. The Uber SWOT analysis helps the company executives to analyze and assess all the internal and external factors of the community.
Uber SWOT Analysis is a proven management framework that enables Uber to benchmark its business & performance as compared to the competitors and industry.
Uber – At A Glance
| | |
| --- | --- |
| Company Name | Uber Technologies Inc. |
| Industry | Transportation |
| Founded | March, 2009 |
| Founders | Garrett Camp, Travis Kalanick |
| CEO | Dara Khosrowshahi |
| Headquarter | San Francisco, California, U.S. |
| Annual Revenue | $11.139 Billion (FY 2020) |
| Website | www.uber.com |
Uber SWOT Analysis
SWOT analysis is a strategic planning frame that can be used by the company managers to get a successful situation analysis of the company. The Uber SWOT analysis framework can assist them to realize their internal strategic factors such as strength and weakness, and also their external strategic factors such as opportunity and threats.
Uber Technologies Inc. maintains its intimidating presence in the business sector only by reviewing the SWOT analysis regularly and improving itself. So, this analysis report will be of great use for this company.+
Strengths of Uber in SWOT Analysis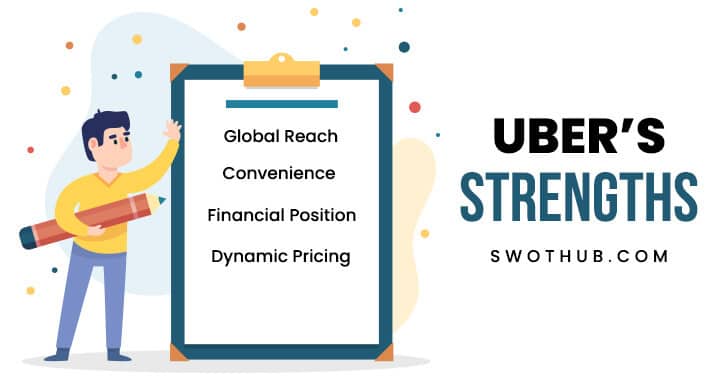 Uber Technologies Inc. has a plethora of strengths that will help it to thrive in the main field. The Uber SWOT analysis will help to focus on these strengths. Some of these strengths are enlisted below:
Global reach: Uber is a worldwide multinational company. It operates in 85 countries across the globe. So, it has a great deal of the global footprint. This makes it more recognizable to the public and helps with its publicity. So, it can implement its global thinking with local execution. This means that it can pursue its ubiquitous goals and can still win the hearts of its consumers.
Convenience: Uber trips are cheaper and more convenient than traditional car services. Innovations within the Uber app have made it easier for customers to use ride-sharing. No more time-consuming taxi stands, no more waiting on the sidewalks or the right amount of cash. The Uber app is easily accessible, easy to use and offers direct interaction between customer and driver. The cashless system means that payments are processed through the app, and customers can link their credit cards to their accounts in the app.
Financial position: Uber has a strong financial base. It has generated a total of $11.139 billion revenue in 2020. It has been gaining market slowly but surely for about 8 years. It has earned the public trust as a star/new blooming company. Its financial position has it on a point of a pure advantage that increased its market value and brand name by leaps and bounds. So, this financially secure position does good for the company.
Dynamic Pricing: Dynamic pricing helps drivers maintain morale and allows drivers to use Uber. Uber's dynamic pricing strategy, route prices increase with increasing demand, suitable for drivers who can make more money at night, bad weather and holidays. Receive travel inquiries to meet peak demand.
State of the art Technology development: Uber uses the artificial intelligence, willingness to pay algorithm to determine whether the ride is too expensive, because the driver pays more for the ride than the data shows, and whether the battery of the passenger's phone is roughly the same as the app during the night sleep. The battery on the passenger's phone the battery is low.
Weaknesses of Uber in SWOT Analysis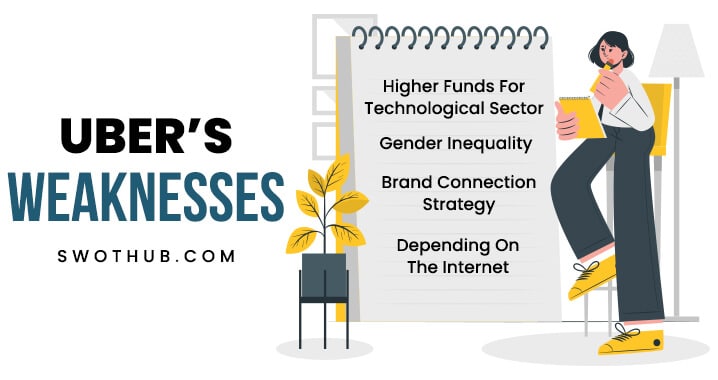 Weaknesses are part of the internal factors of a company. The Uber SWOT analysis will bring many of these to light.
Higher funds for technological sector: All though Uber spends enough money to develop its technological sites. It is still quite behind in this matter since many of its competitors are ahead of it in this matter. This puts it as quite an inconvenience as they put a damper on the team's morale.
Gender Inequality: It has been shown that Uber drivers still have gender inequality in terms of universality and pay gap. Although the sharing economy, business model provides a level playing field in terms of gender inequality, female Uber drivers earn less than their male counterparts because male Uber drivers can drive faster and take more trips per shift. Furthermore, feminine driver turnover remains at 76% as opposition 60% for men. This translates into male drivers being additional experienced, that translates into higher earnings. Finally, though the range of female drivers is increasing, solely 40.9% of Uber drivers are females. Feminine Uber Drivers earn 7% lower than their male counterparts.
Brand connection strategy: The world is changing rapidly. So, it is high time, Uber changed its strategies to cope with it. Its traditional branding and communication methods need a revolution. It needs to change not only the messages, but also the media. Social branding plays an important role in this case. If Uber is adamant about not changing these customs, it will cost them heavily in the future.
Depending on the Internet: Finally, Uber is heavily addicted to the internet. Combined with all the opposite unpredictable variables, the entire business model is of questionable longevity. Investors can't be confident that the corporation won't be surpassed by another rival next month or next year.
Opportunities for Uber in SWOT Analysis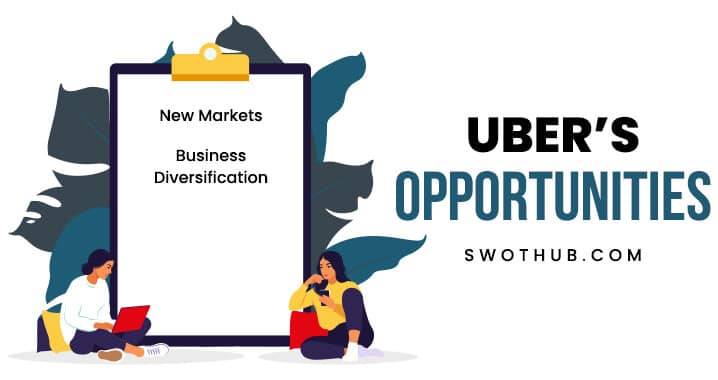 The opportunities are outside factors of a company that they can exploit for profit and benefits for themselves. The Uber SWOT analysis will help the executives to contemplate them before their next big move.
New markets: As the government has agreed to lend a hand to the economic development there are new markets in the making. This will help Uber broaden its already wide horizon of business.
Business Diversification: Even though Uber has plenty of products to sell, there are many new products that it could launch. People are now aware of its presence. So, this will be advantageous for the company. Business diversification can get people more interested and invested in the company. This will work as publicity and raise the profit. They might additionally diversify their offers by niching down to new sub-categories of transportation. An honest example, may be the transportation of animals and pets.
Threats for Uber in SWOT Analysis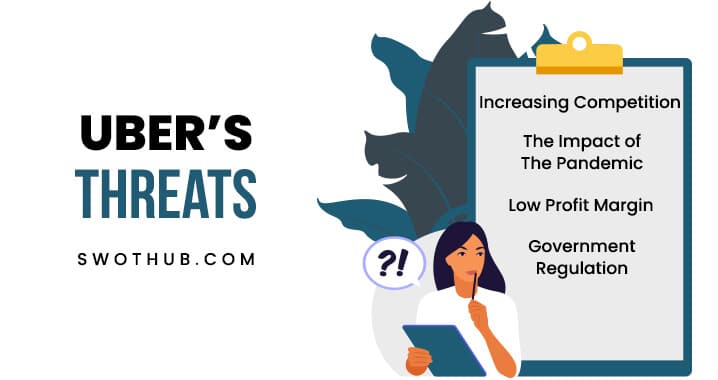 Threats are the most important part of a swot analysis. The Uber SWOT analysis will point out the threats to this community that has been holding it back.
Increasing competition: In recent times, many new companies are mushrooming in this new market. This increases the competition. In the consumers' sector, Uber's most deadly rival is Lyft.
The Impact of the Pandemic: This is the time of pandemics. Uber is one of the leading companies in the consumer goods department. Even though this pandemic has failed to make any big impact on the sales figure, that does not mean that the magnitude of the situation is any less. This pandemic has affected the manufacturing, distribution, and purchasing of Uber products. This has fueled major changes in Uber's business strategies
Low profit margin: Its low costs for riders means that Uber's profit margins are low. To keep up its customer-centric model, Uber keeps its rates low and solely takes between 5% to 20% of payments, resulting in low-profit margins. Uber's disadvantage has prompted it to withdraw from China, Russia, and Southeast Asia. Uber has an 80% market share in Brazil, however, it's still unprofitable there. None of the opposite prime ride sharing platforms are profitable.
Government Regulation: The rules and regulations that the government imposes may be a major threat for Uber, especially if it does not abide by its profit-based agenda.
Uber SWOT Analysis Overview Template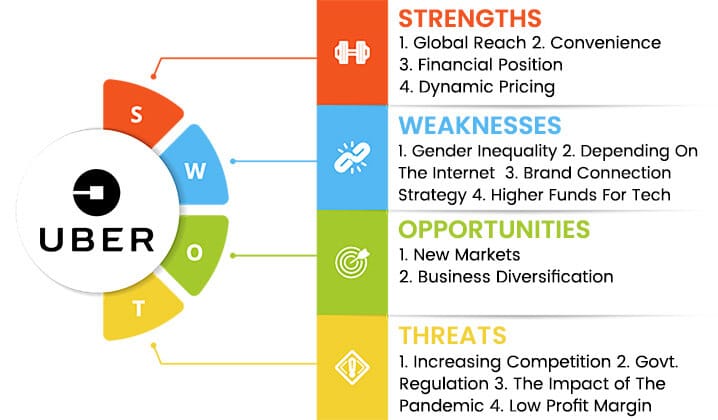 Conclusion & Recommendations for Uber
Here are some recommendations for Uber to improve their market game from the experts:
Improving the health and safety of the company's employees.
Enhancement of the people by a long shot.
Encourage the workers to be creative
Lifting the team morale by achieving the team goals.
In conclusion, it can be said that a steady line of profit and global reach are the key strengths of Uber. As for its greatest weakness, that would be ELEPHANT. It may not look like much, but it is a huge load to carry.
The Uber SWOT analysis helps the company in many different ways. Only because it would allow the executive directors to theoretically take apart the company's strategic approach to this day and scrutinize them.